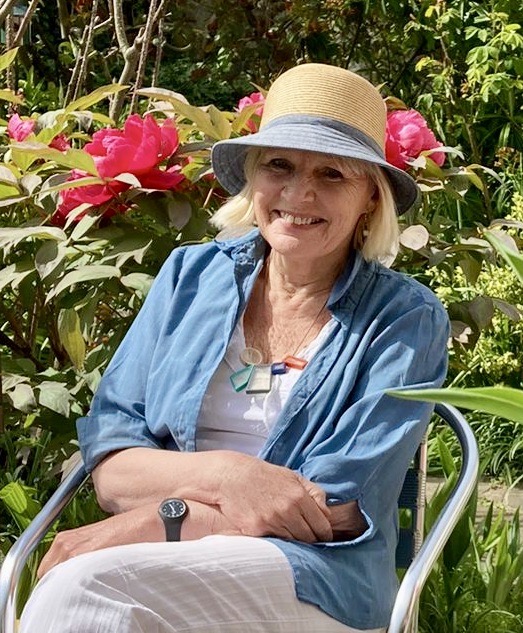 August Bank Holiday, glorious school summer hols over for another year, and the soft days of early autumn ahead of us. In the garden, it's harvest-time, but we can also get some very handy jobs done now.
How about getting started on the bulb-planting? Or sowing some veg seeds and hardy annuals, and ordering bareroot shrubs and trees…………………..
Beginning on the bulbs
If you're thinking about starting to plant bulbs (and you should be!) begin with the woodlanders – anemones, trilliums and the like. They prefer a longer autumn season than most spring bulbs, to get established. Plant some anemone de Caen corms into containers as well, to keep in a cold greenhouse over winter for a fab early wallop of bright spring colour.
After that, it's a bit of a free-for-all – you can start planting a mass of other gorgeous spring bulbs like daffs, grape hyacinths (as in our feature pic this week) crocuses and hyacinths. Leave the tulip bulbs till late October or November, though – they can be more prone to a weird disease called Tulip Fire if sown too early in the autumn.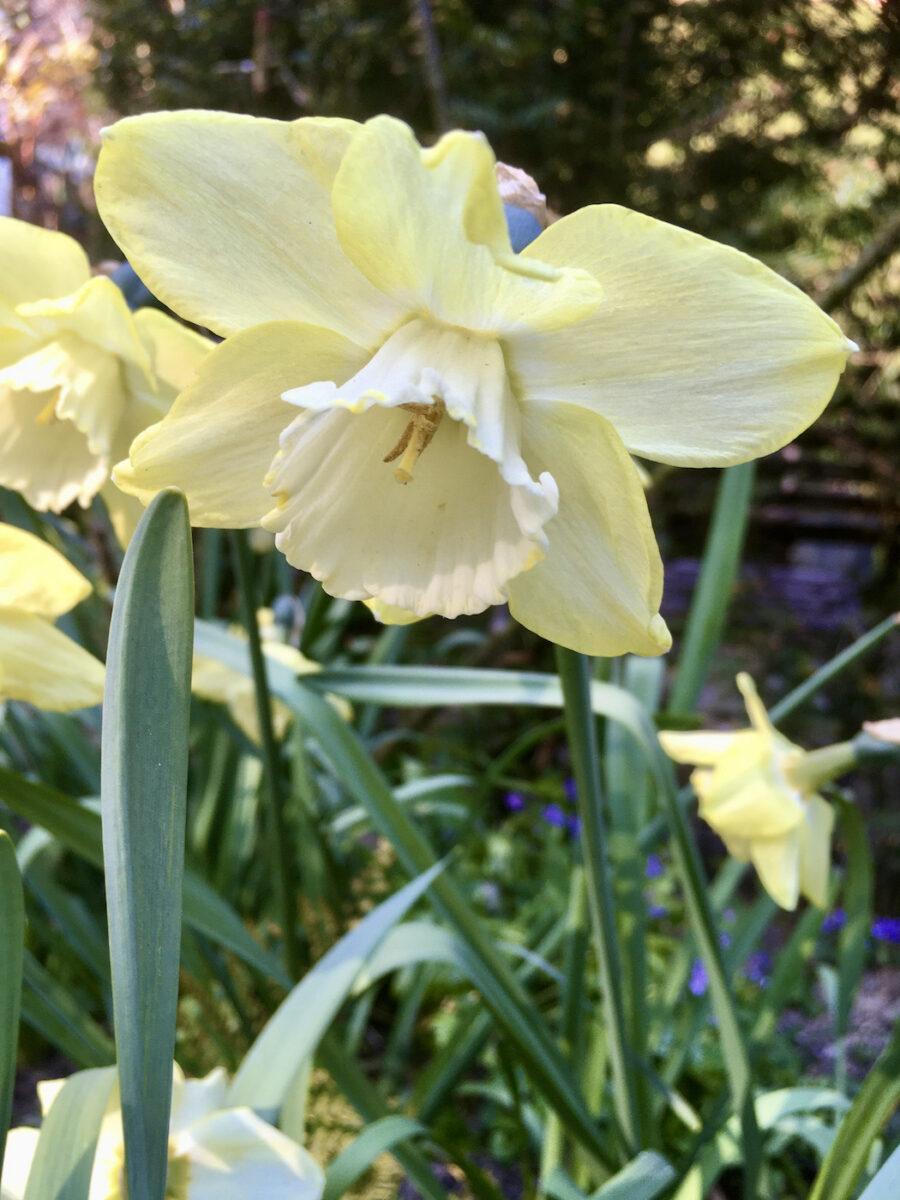 I hate seeing bulbs too regimented – if you stand in the middle of the area where you want them to flower, chuck them about and then plant them where they land, you can achieve a much more relaxed and pretty effect I think.
People can get in a bit of tizz-was about how deep to plant spring bulbs, and it's definitely true that daffodil bulbs planted too shallow-ly (is that actually a word?) will produce only leaves and not flowers. You are usually fine if you dig the hole 2 or 3 times the depth of the bulb i.e. bigger bulbs equal deeper planting. For most daffs, that's likely to be about 6" (15 cm), but if in doubt, go a little deeper rather than more shallow.
By the way, have you got a bulb-planter for this job? If not, get one immediately from our online shop – it honestly makes the job of planting a sackful of bulbs, or even just a handful, SO much easier! Click the link to it at the bottom.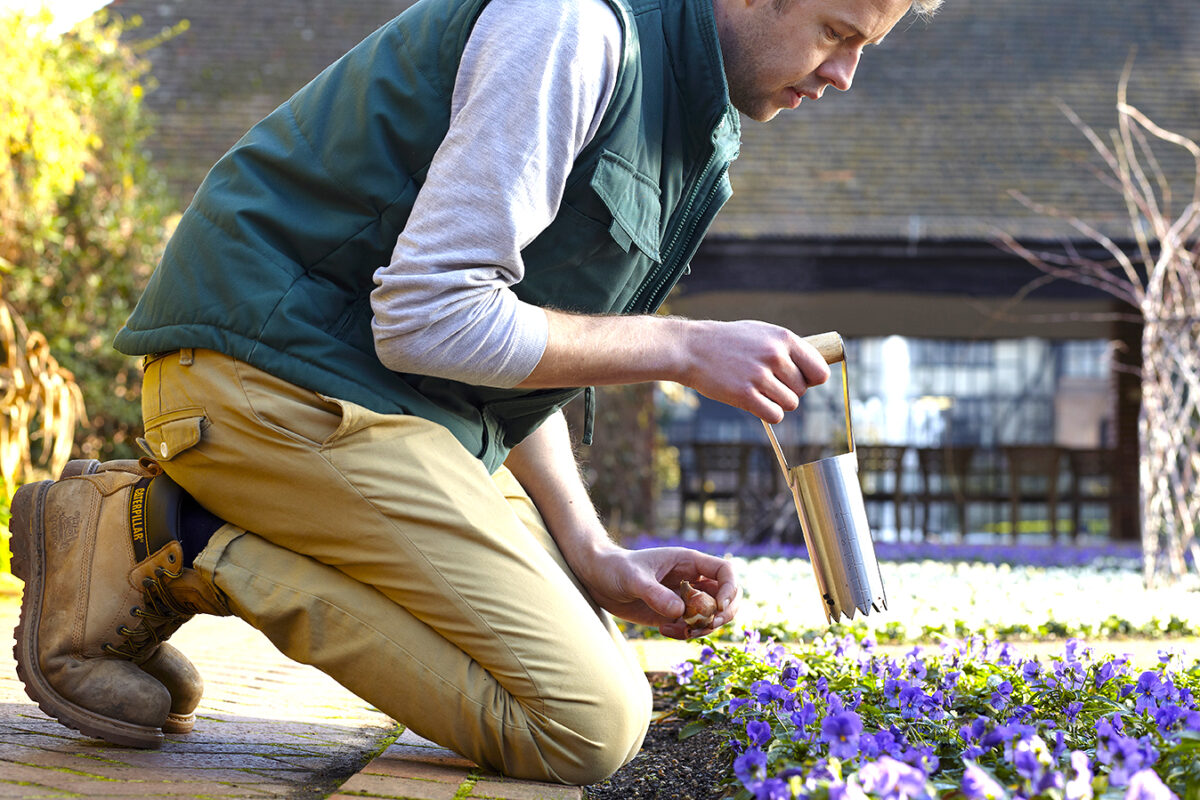 Emergency Lawn repairs
Moles may have a cuddly image but they are a menace in our neck of the woods! We have been told a depressing statistic which states that if you manage to catch a mole, it's almost guaranteed that another one will move into its tunnels within 24 hours! Nevertheless, we shall keep working on it!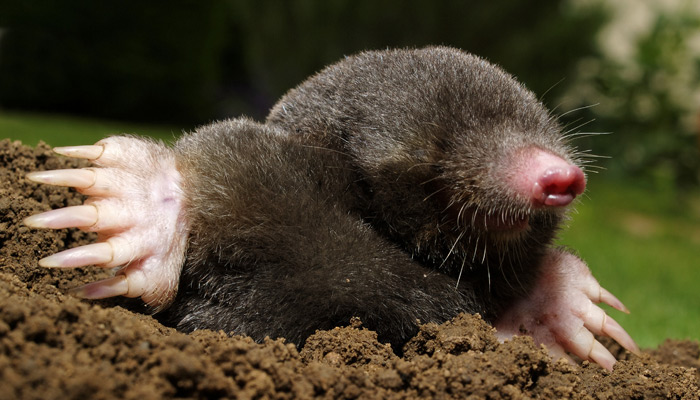 Unless we remove the soil of a molehill right away, we are left with unsightly bare patches where the grass has died. If you have these bare spots too (pet urine? A well-worn path? The footie goal-mouth?), September is a good time to make repairs. Rake the patches, scratching up the soil, sprinkle over some grass-seed (mixed with a little fertilizer if you have it) and sprinkle more soil over the top to protect the seed from pesky birds. It's important the seed is in close contact with the soil, so I like to tamp it down with a boot or a kneeler, before watering it well using a rose on the can.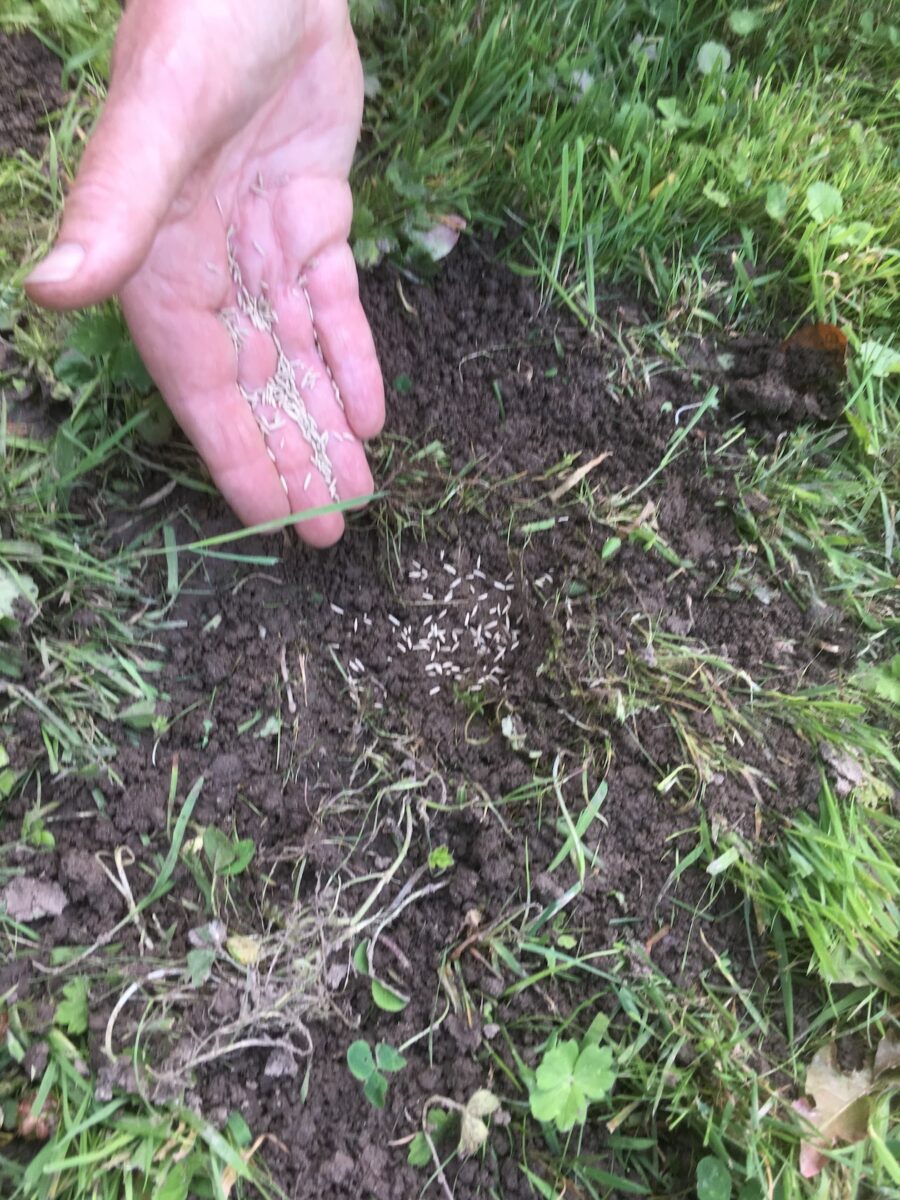 If flopped-over plants have ruined the lawn-edge, cut out a square of lawn that includes the bare patch and turn it round, so that the good side is now at the edge. Build up the worn bit with topsoil, and then sow grass-seed over it as before. Lovely job!
Gardening shorts
The late flowers on the buddleias are still attracting hosts of lovely butterflies as in our feature pic, but most of the blooms are over now. This is not generally the time to go bonkers with the pruning saw, and though you may be tempted to hack back late-flowering shrubs like Buddleia and Hydrangea, it's actually better to leave them until early spring because pruning might trigger fresh new growth that will be clobbered by winter cold and weaken your plant.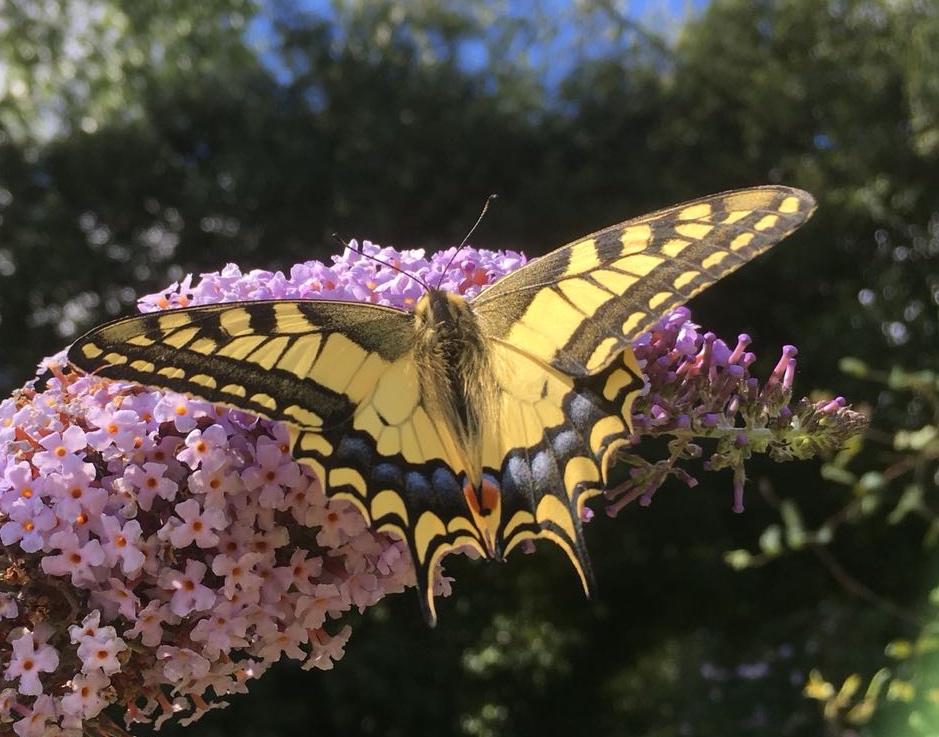 It could however be a good moment to peer into the centre of shrubs and trees and cut out any dead, diseased, crossing or otherwise unproductive shoots and twigs you find. If the middle has become matted with such material, the air flow becomes restricted and rotting can set in, especially if the winter is wet.
Peruse the catalogues and websites now for bareroot shrubs, roses and trees for delivery in November. They are cheaper than pot-grown ones and usually establish more quickly.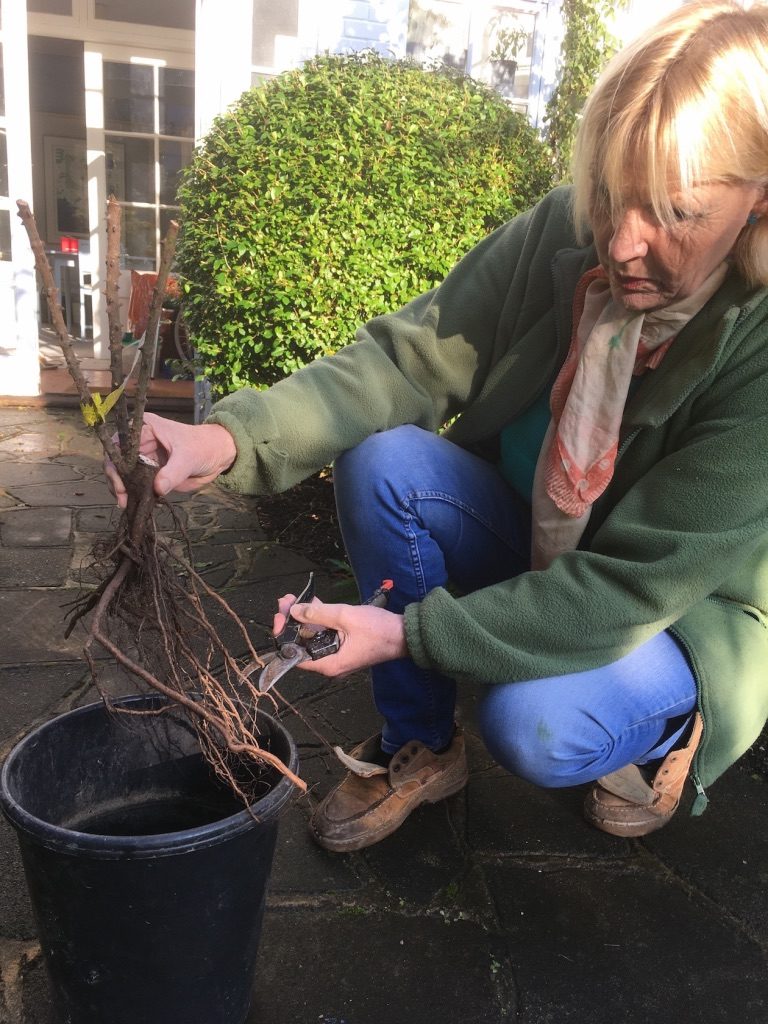 I was very, very glad that I'd sown some broad beans last September! They overwintered well, flowered and bore a delicious crop of beans before this summer's drought started to bite. The broad beans I sowed in the spring had a much shorter season. So I shall be sowing more this week into pots indoors ready to plant out in about 6 weeks. I always find this more reliable than sowing into the open ground – I think the pesky mice eat them. Also, in heavy claggy soils, the seeds can rot before they germinate. I have made a (really!) short video on this – link is at the bottom.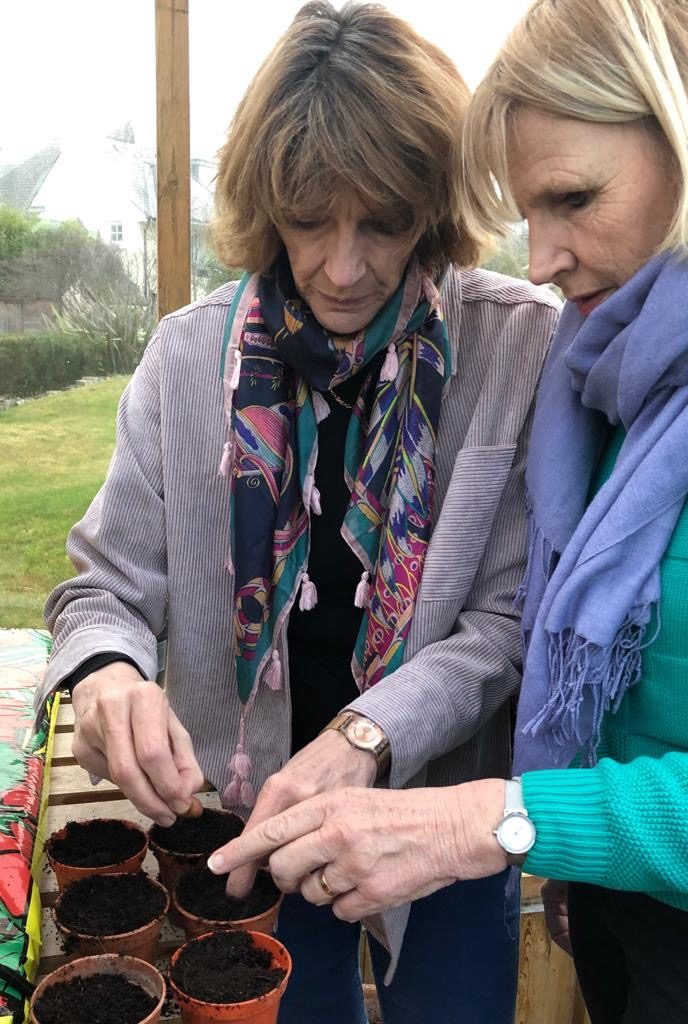 Sow some Hardy Annuals too, like Ammi, Calendula (marigolds), Nigella (Love-in-a-mist) and Eschscholtzia (Californian poppies) – they will make much stronger, more floriferous plants next summer than seeds sown next spring. I found out some rather wonderful things about Calendula the other day: its name derives from Calends, because it appears to be in flower every month of the year, and while it's edible and terribly pretty in salads and soups, it also has the reputation of being a powerful aphrodisiac that gives you the power to see fairies – you have been warned!
This is the link to our smashing RHS-endorsed bulb-planter.
The video about autumn-sowing broad beans is here.
More NB If you're not already a subscriber and you'd like a bit more gardening chitchat from the3growbags, please type your email address here and we'll send you a new post every Saturday morning.