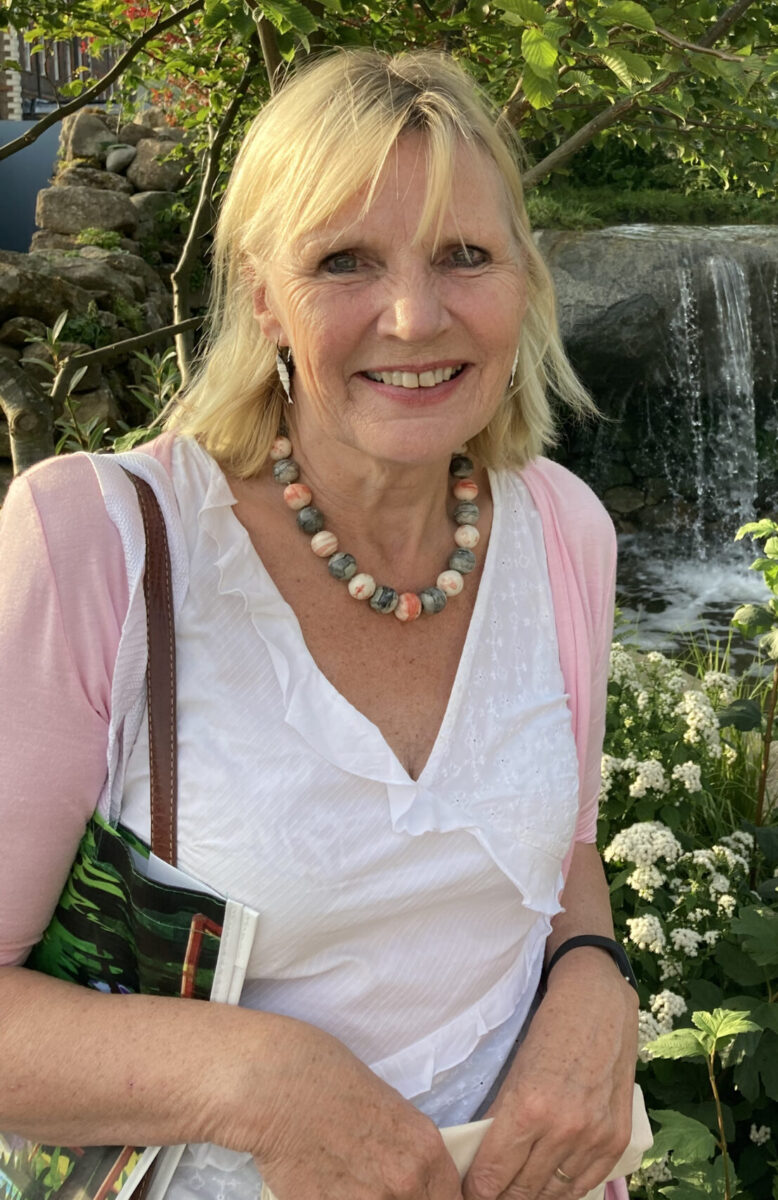 Oh, when named storms aren't blowing our trees sideways, you can sniff it on the air – spring is getting its snout above ground! Certainly here in the south, the birds are out singing, the weeds are out growing, and we should out there too, preparing for the coming horticultural havoc.
Let's have a go at some jobs like rose-pruning, tidying ornamental grasses, and prepping the veg bed, amongst other things………….
As usual, there is a short podcast of this blog-piece for those who want to listen rather than read – link is at the bottom.
Pruning roses
The roses that most folk grow these days are known as 'bush roses' – these are the hybrids that are either cluster-flowered or single-flowered, that you grow as….well, bushes! They encompass the rose-groups known as Hybrid Teas and Floribundas. In my experience, they will flower in summer, almost regardless of what you do to them (i.e. how much you neglect them). BUT you can massively improve your chances of a fabulous show by cutting them back now.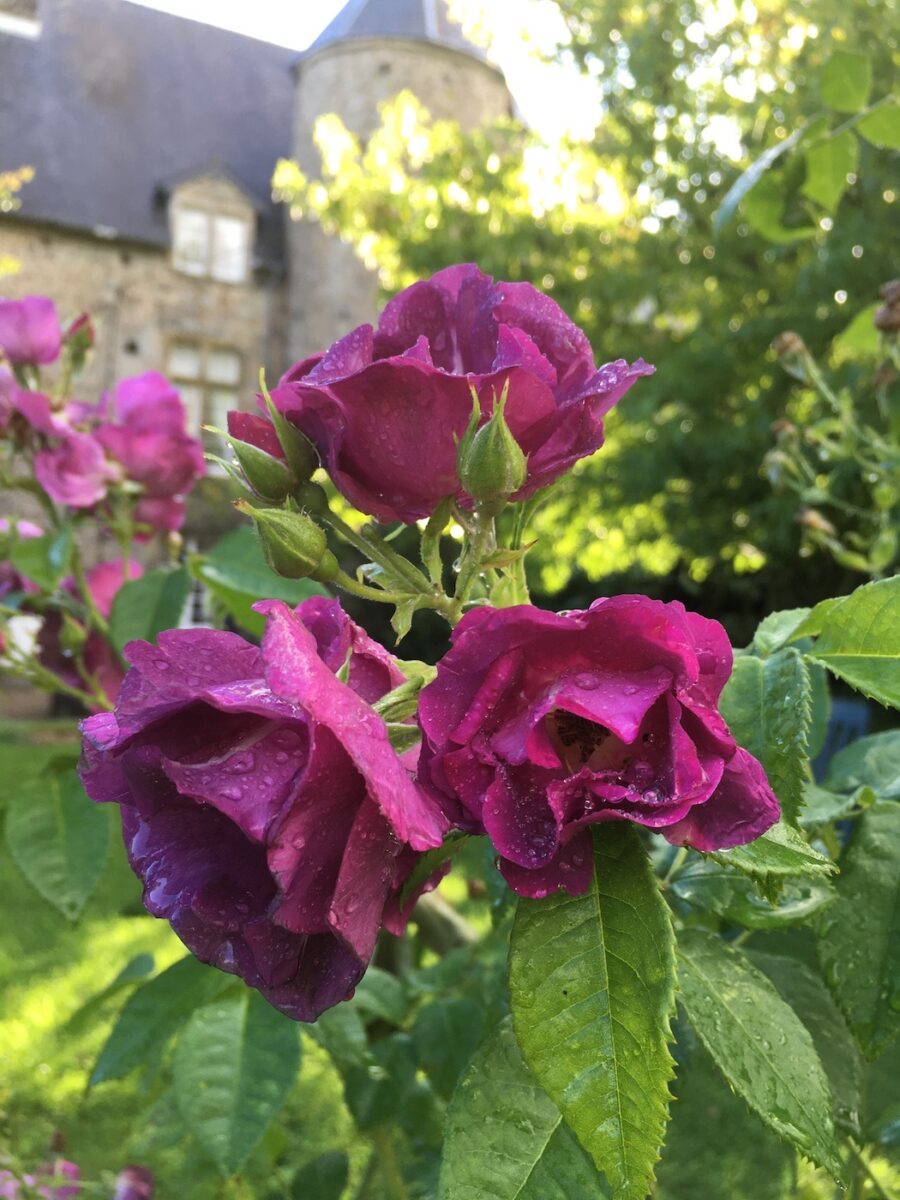 What you are trying to persuade them to do is to concentrate their resources into producing fewer shoots – I know, it does sound a bit mad, doesn't it. These stems will in fact carry much better-quality blooms this summer on a stronger, more disease-resistant plant. This is what you do:
Cut out completely any weedy thin growth – that is never going to yield you the flowers that you are after.
Cut out any dead stems or spurs or any parts that are damaged – or even broken by the recent severe weather.
Now look at the shape of the bush and cut out any stems that are growing determinedly into the centre of the plant – good air circulation will really help it to combat disease.
Lastly, prune all the remaining stems down to between a half and a third of their length. The received wisdom was always to cut down to 3 buds from the base, but I have to confess that I have a lot of these roses, and I simply cannot be faffed to do all the counting. But I do always cut down to a leaf-bud, and if that is outward-facing then so much the better.
That's it. With your bush rose now looking in much better fighting shape, give them a feed – roses are quite greedy when it comes to nutrition – and then repeat that treatment, if you remember, throughout the summer at say, monthly intervals. Tomato fertiliser, used at half the strength that you would use for tomatoes, is a good choice, or perhaps Top Rose Gold or Uncle Tom's Rose Tonic – you want to use something with a bit of oomph to it, if you can.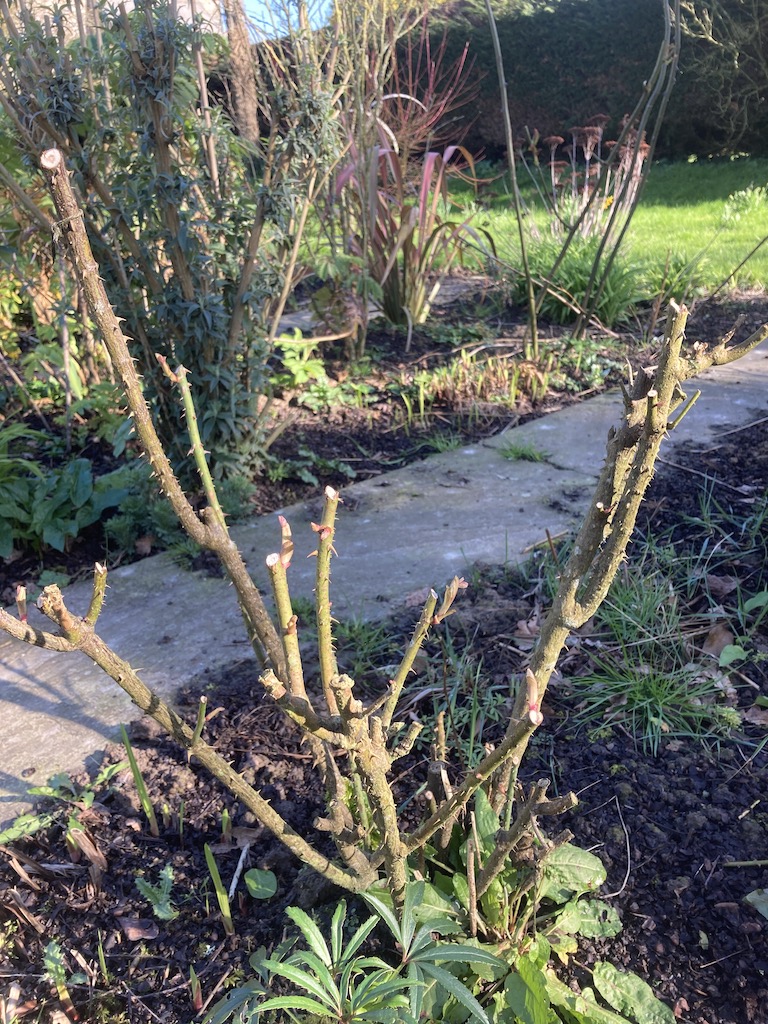 Little w-e-e-e-d!
Come now, who remembers Little Weed sitting between the Flowerpot Men on Watch With Mother – ah, as old as me, then! Look I know it's still cold out there and not very tempting from a human-comfort point of view, but those darn weeds don't mind AT ALL. Many keep on growing throughout the whole winter, and even the little annual weeds have already begun flowering and seeding surreptitiously.
Please don't consider banning so-called weeds from your garden entirely – so many of our disappearing insects rely on them – but I, for one, don't want them stealing space and nutrients from my decorative plantings any more than I can help.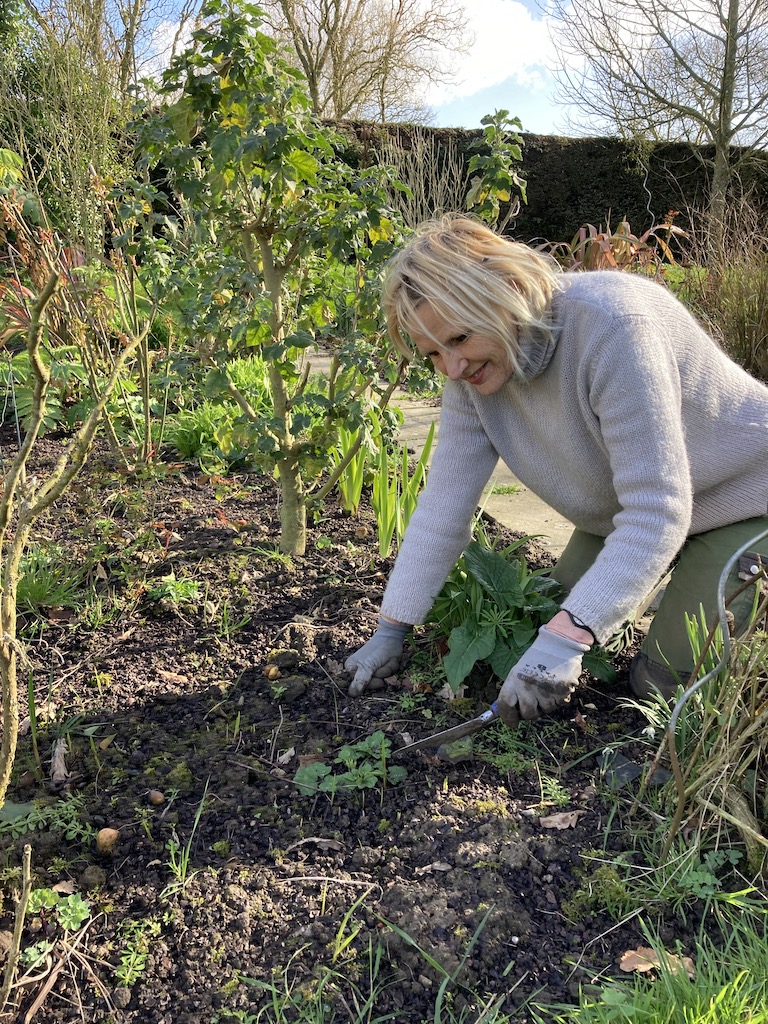 So get out there and oik out those weeds, roots and all, while they are still small and only contemplating their assault on your flower borders. If you need something to do it with, get armed with one of the new trowels in our online shop – perfect. Even better – it's FREE postage and packing on everything this weekend, so click on the button at the bottom and see what you can find for yourself or as a gift!
Give the weeds another month, and it will be too late – things like chickweed and shepherd's purse will have flung their seeds all over the place, and creeping buttercup and couch grass will have infiltrated their roots under at least three more precious plants.
Just one thing, while you're weeding, you'll actually be turning over the ground a little and exposing yet more weed seeds to the light and air they need to germinate. So if you can lay hold of a weed-seed-free mulch to spread over the soil afterwards, that would be a fabulous way of keeping the border 'clean' for the summer months.
Gardening shorts
At the lovely Oxford Botanic Gardens a couple of weeks ago, we admired the bright cheery sheets of winter aconites. As they finishing flowering, I shall be lifting and dividing some of mine while they still have green growth on them, to share with friends. It's accepted practice to do this division 'in the green' with this little spring beauties, just as you would with snowdrops.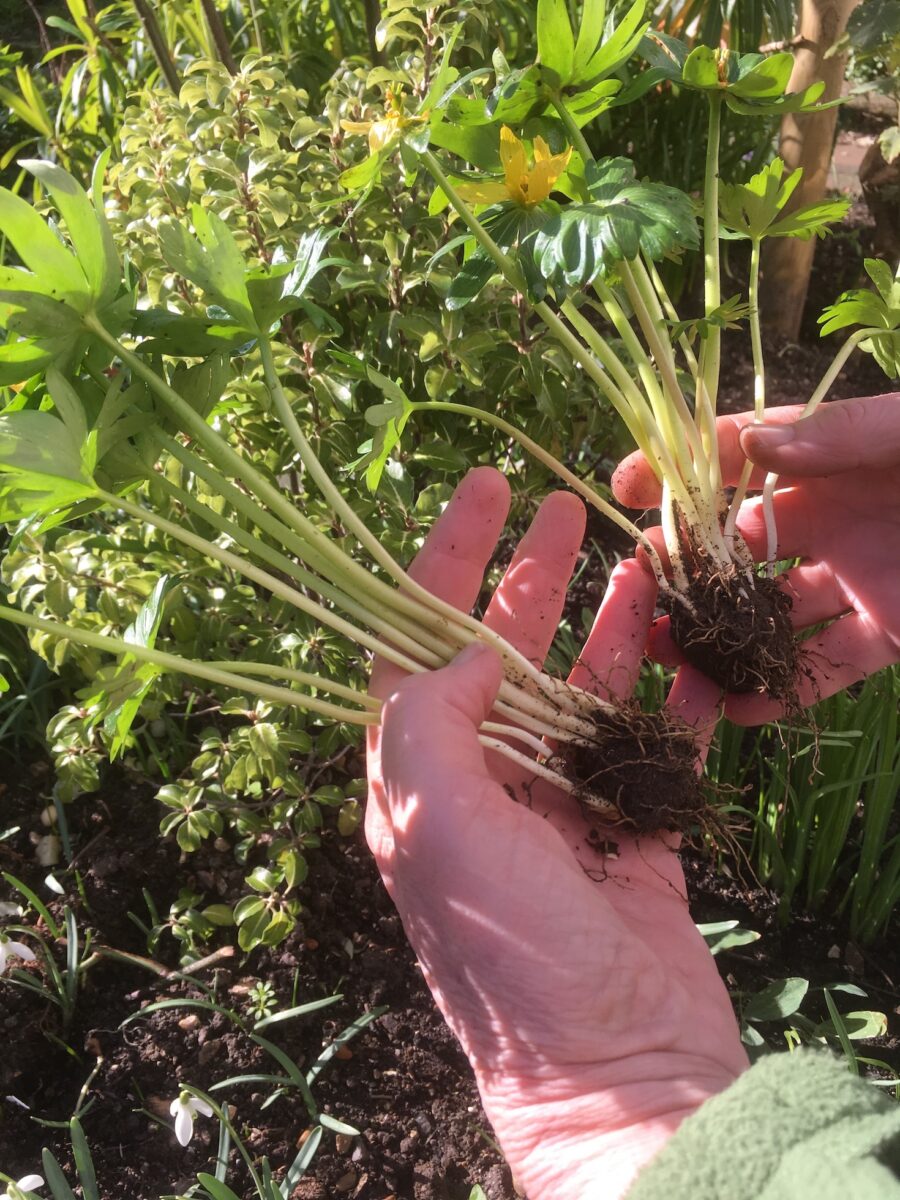 It's grass-tidying time for all but the coldest wettest parts of the country – if you live in one of those, probably better to leave it 2-3 more weeks because most grasses loathe getting winter wet into the crown. Grasses like Pennisetum, Deschampsia and Miscanthus can now have their top-growth cut right down, while 'evergreen' grasses like Anemanthele and Stipa gigantea need to be tidied by 'raking' through the top growth – I've made a short video on how I do this (you'll get to see our resident storks watching me too!) – the link is at the bottom.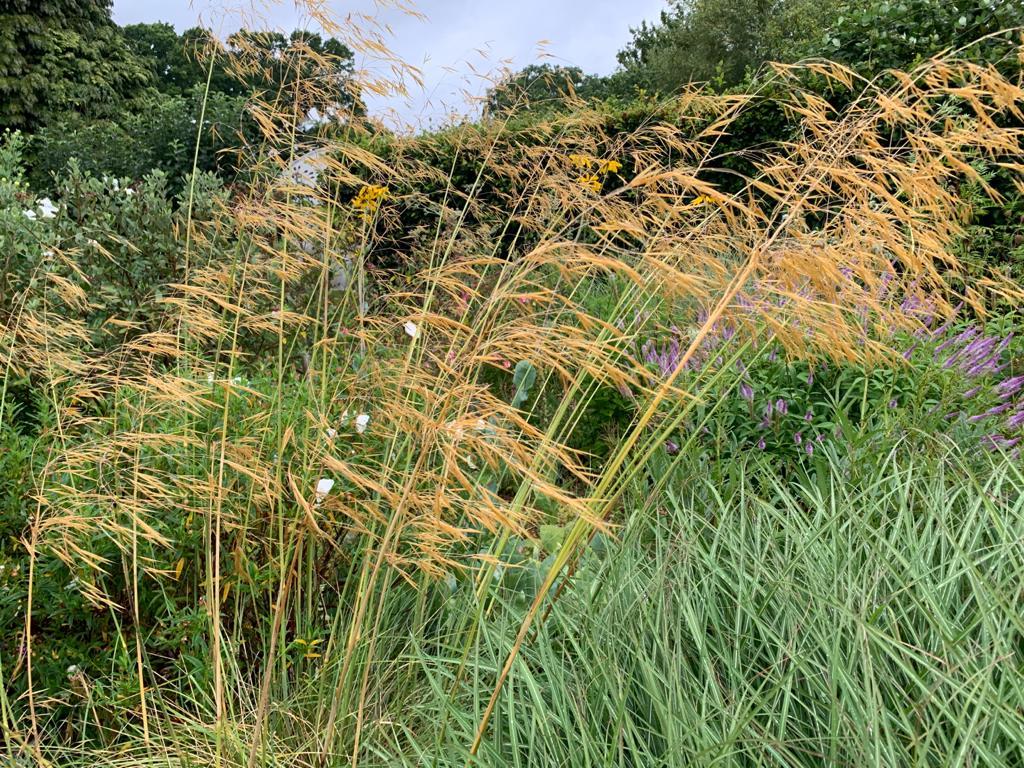 On the veg patch, remember that plants like runner beans are hungry, and they will grow much more vigorously and produce flowers and beans for longer with a bit of forward preparation – this also works really well for sweet peas, by the way. Dig a deep trench, fill it with soaked newspaper and then heap garden compost and some fertiliser pellets on top as you backfill the trench.
Here is the short video on how to tidy up ornamental grasses ready for Spring
and here is the link to the podcast of this article.
NB If you're not already a subscriber and you'd like a bit more gardening chitchat from the3growbags, please type your email address here and we'll send you a new post every Saturday morning.