As the world teeters on the brink of a wild hope that an effective vaccine is on the horizon, it reminds me that Hope is one thing we gardeners are pretty good at. Actually Hope and Patience are the two things we need in abundance, to enjoy our wonderful hobby.
To illustrate these admirable qualities, let's get going with some cutting back, tidying up round the roses and planting a pot of hyacinths among other things………………………
Fleecing the fleabane
I love a good fleabane, and the Mexican variety (Erigeron karvinskianus) is one of the best. Being a soppy old romantic at heart, I love the way this pretty little spreader softens all the edges of a harsh run of paving or insinuates itself in the corners of stone steps and walls. Its bright little daisies look very much like the daisies you find in a lawn and I do like the way they open white and then turn pink – a pretty two-toned effect that looks just right in a cottage-y garden amongst the roses.
These plants are said to like ground that doesn't dry out, but they seem super-happy along my very sunny south-facing path, thriving in the same conditions as the Californian poppies – in other words, no 'artificial' watering at all, ever!
They flower for weeks and weeks at about 1′ (30 cm) high from early May onwards, and the bees and insects love them. I like to give them a fairly hearty snip-over at the end of June – they will then keep flowering and flowering right through till, well…..now. Mine are finally faltering though, so it's time to cut the whole top growth right off back to the ground.
There are lots of things in the garden that I don't cut back until the spring to leave cover and seedheads for wildlife, but I do with these daisies. They are 'herbaceous' so this would all die off anyway, and if left on, the matted wiry brown stems always become a haven for the hundreds of overwintering snails that lurk in this garden.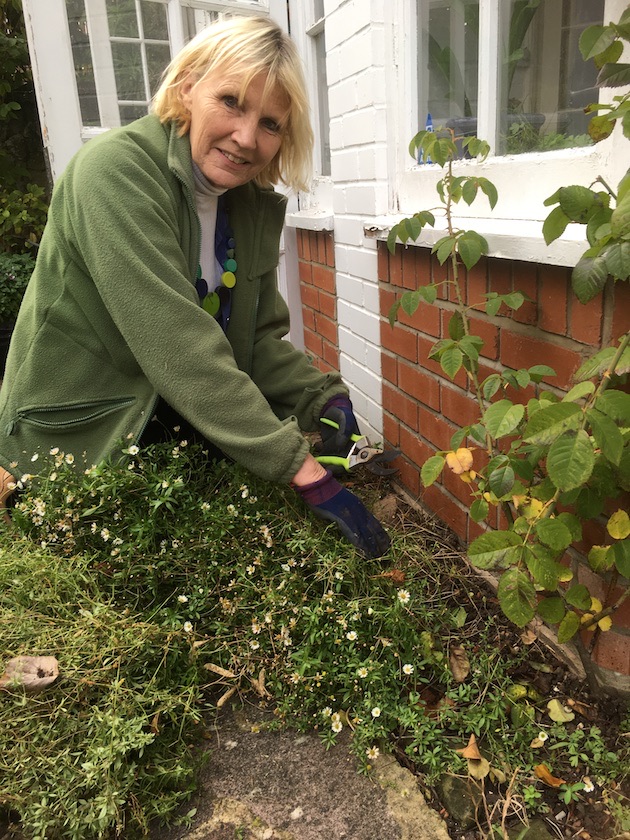 For the etymologists among you, it has the folk-name of fleabane because people thought that fleas were repelled or poisoned by it. And even better, the name Erigeron comes from the Ancient Greek for 'old man early in the day' – possibly because of its white-haired early-appearing seed-cases or the downy leaves of some species. Don't know about you, but early in the day, my old man is not ALWAYS a thing of beauty, but there you are……..
Hyacinths to cheer the winter
Laura wowed us last year with her stupendous pot-grown purple hyacinths (check out the feature pic!), and if you hanker after something similar to cheer up the dark winter days, get yourself some prepared hyacinth bulbs now. The preparation they have received is that they have already been given special heat-treatment that will make them flower earlier than untreated ones. You may be a bit late to have them in flower for Christmas, I'm afraid, but I reckon that January and February are the months when you might be in most need of their colour and scent, anyway.
Fill your chosen pot to within about 3″(5-6 cm) from the top with bulb fibre. or compost and set your bulbs in, close together but not touching.
2. Pack more compost around them so that just their noses are poking above it.
3. Firm the soil and water the pot.
4. Put it somewhere dark and cool – shed, garage, cellar….. You could put a black bin bag over it to exclude the light. Water the pot again if it starts to dry out.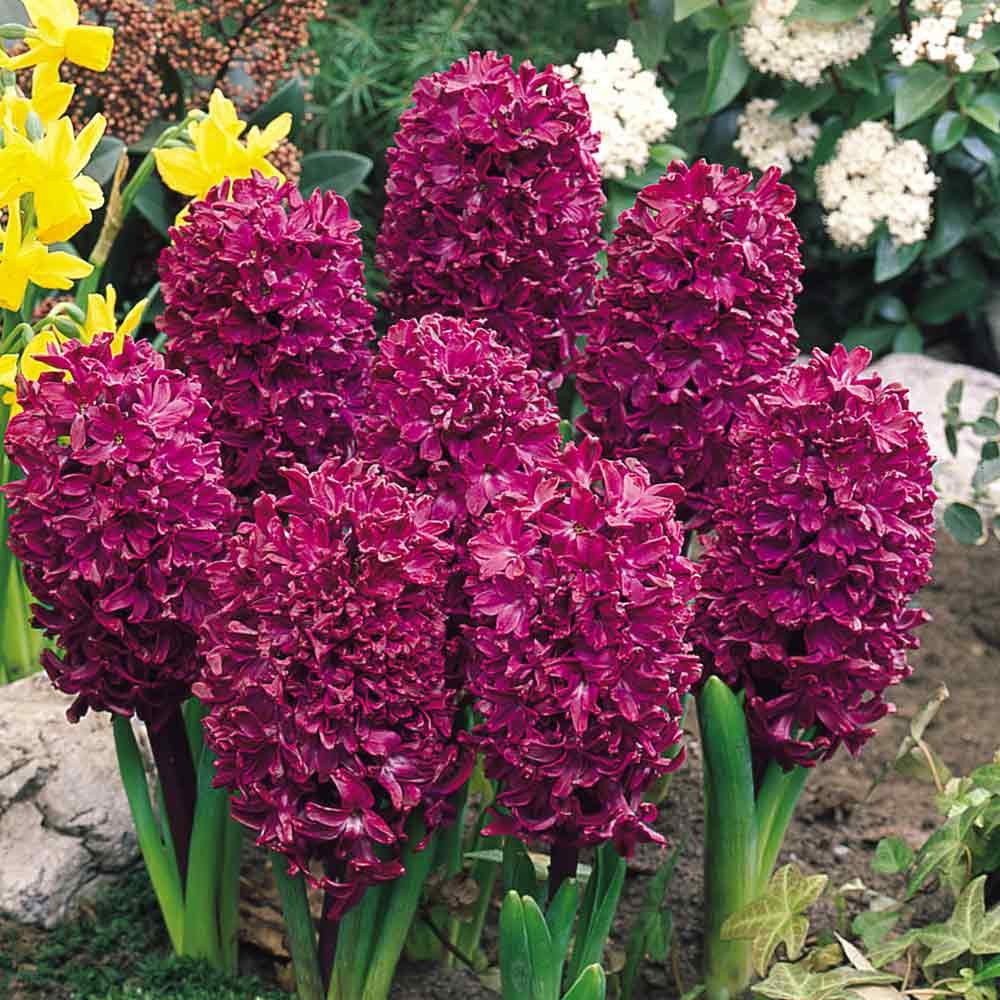 5. Once the shoots are a couple of inches long (it will take 6-10 weeks), bring the pot indoors and put it in a bright, cool place – nowhere hot, though, like near a radiator, or they will just flop about all over the shop. They should start flowering in about 3 weeks. One good tip for longer-lasting flowers is to keep them in your bright COOL place – porch, conservatory, cold greenhouse, cold frame etc., and only bring them into your warm house for brief special moments. Once they have finished flowering, you can plant them out into the garden to flower at the normal time – mid-spring – the following year.
Delectable rhubarb
Rhubarb, rhubarb – one of the great joys of the spring garden – such a delicious combination of tartness and sweetness!
If you want to start your own rhubarb patch – and who wouldn't? – you should find pot-grown sections of dormant crowns in the garden centres now. Rhubarb likes good living so plant it in a nice open sunny site, having first dug it over well and mixed in some garden compost. Mulch it with manure and keep it watered.
I know its going to be tempting, but it's much better NOT to harvest any stems the first spring after planting. Let your new plant really get established for a year first.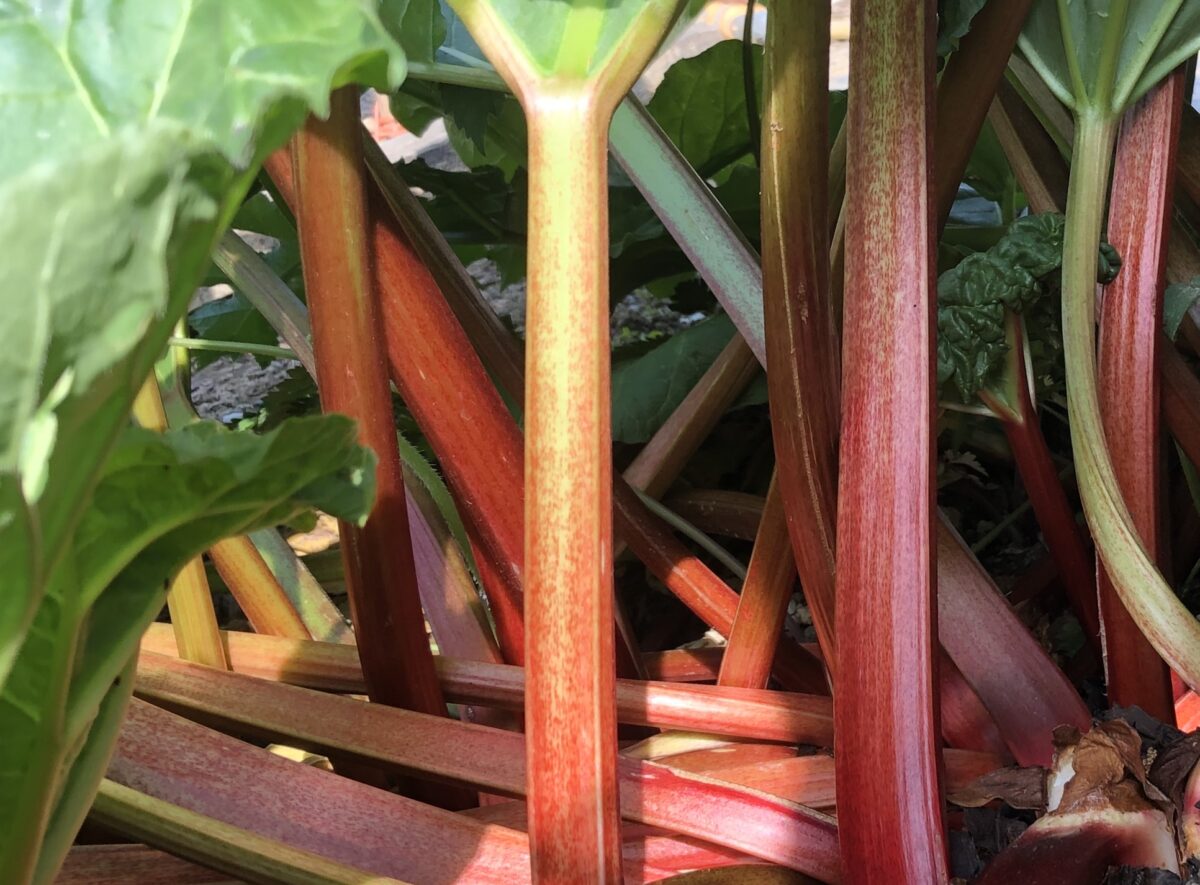 If you already have rhubarb, but your clump has been there for a few years and is losing vigour, dig it up now. Improve the soil with good compost and then only replant the outermost younger sections of the clump, not the old middle bit which you can discard.
Gardening Shorts
November is prime tulip-planting time – such a glorious array of colours and shapes! – check out a piece I wrote on how to do this in an earlier blog. Link is at the bottom.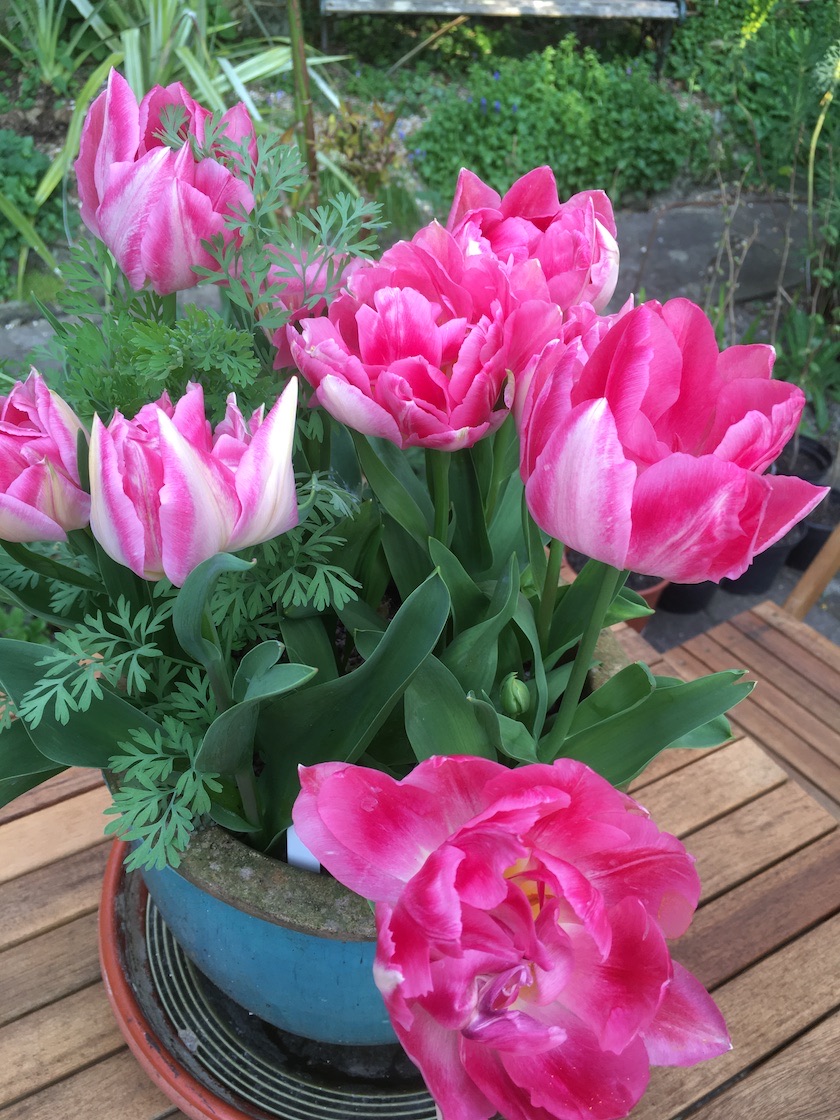 Keep checking your stored fruit, potatoes, onions etc. It's alarming how quickly one bad apple can………….you know the rest.
Be really vigilant about collecting up all the fallen leaves around roses that suffered from blackspot this summer. This disfiguring fungus can unfortunately overwinter and re-infect your roses next year.
My piece about planting tulips is here.
NB:If you'd like a bit more gardening chit-chat from the3growbags, just enter your email address here and we'll send you a new post every Saturday morning