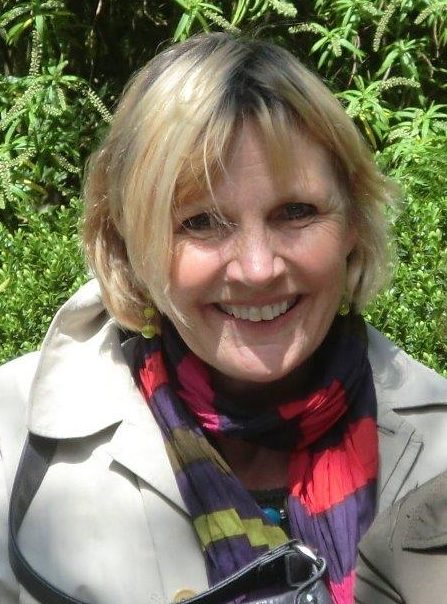 Whoa! We have all had some VERY rough weather this autumn, haven't we! I hope your outdoor spaces have survived the onslaught of wind and rain.
There are tasks we can do to make our gardens more resilient against wild weather so let's get on with cutting back roses and other shrubs, as well as sorting out our labels and moving fruit trees amongst other jobs…
Protect roses and shrubs
I hope I'm not too late with this advice! I know the usual time for rose-pruning is late winter/early spring but with these bad storms around, it is a great idea to reduce this year's long stems now in autumn, by a third to a half. Even once the leaves have fallen, strong winds can rock the whole plant. This is particularly dodgy for the roots which get loosened in the soil and will therefore be less efficient at taking in nutrients to feed your rose bush.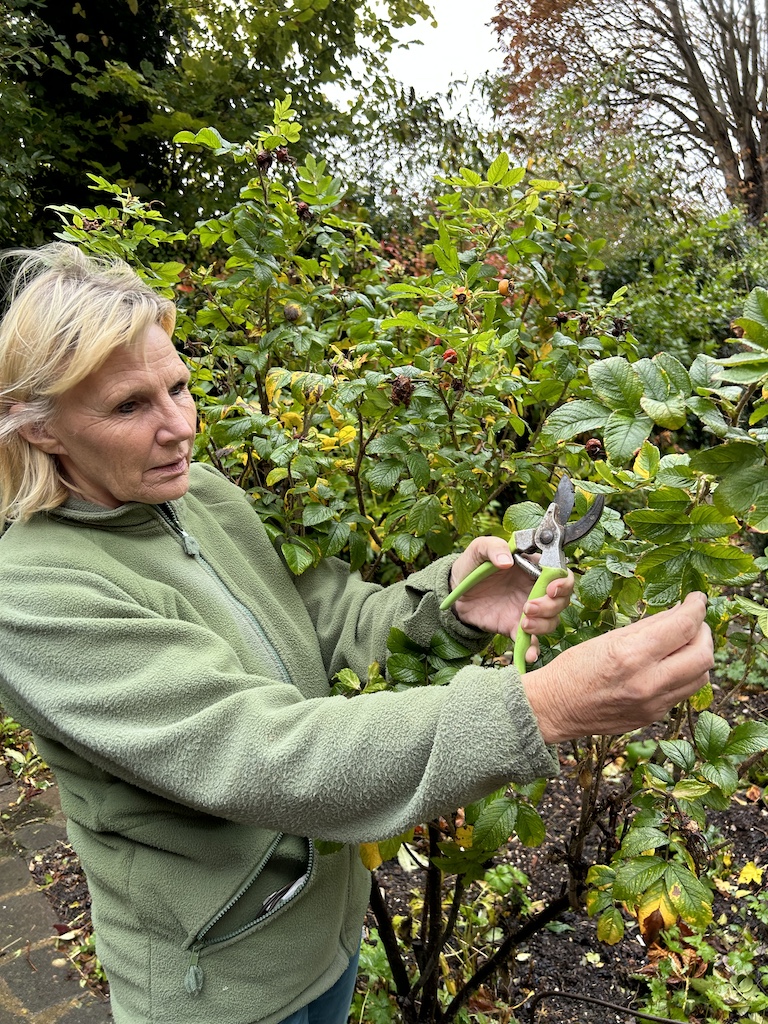 Cut back the long shoots on shrub and bush roses now, to give you a better chance of a great show again next summer. Take the opportunity to clear away any crossing, weedy or dead stems too, and cut out stems that are coming straight up through the centre and clogging up the air passage through the plant.
With climbing roses, cut all the sideshoots back to within about two buds of the main framework. Don't be tempted to do this with any rambler roses though, because their new shoots made this year will carry next summer's blooms – chop them off now and they will be flowerless! After rambling roses have bloomed in the summer, cut out the old flowering stems and tie in the new ones that will carry the following year's display. If these new stems have made a lot of growth over late summer and autumn (and ours certainly had!) you may need to tie them again now.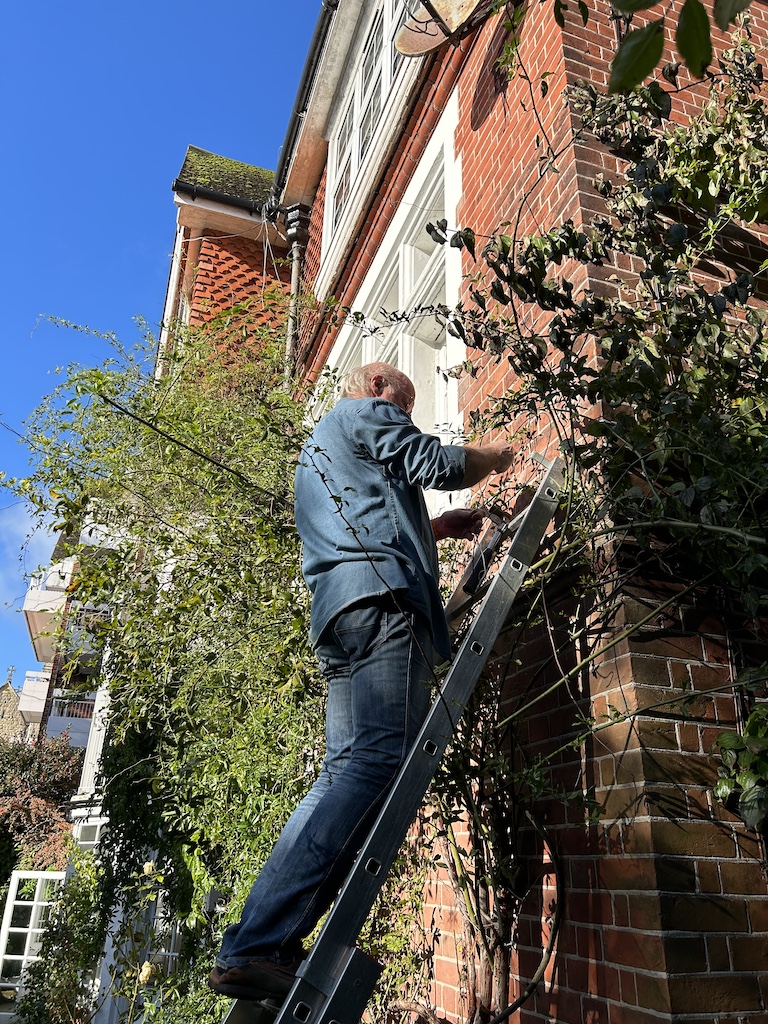 I've made a short video on this subject – the link is at the bottom.
Other shrubs could benefit from this treatment too – buddleias, lavateras and abutilons can all suffer in autumn gales, and shortening all their long top-shoots makes them much less susceptible.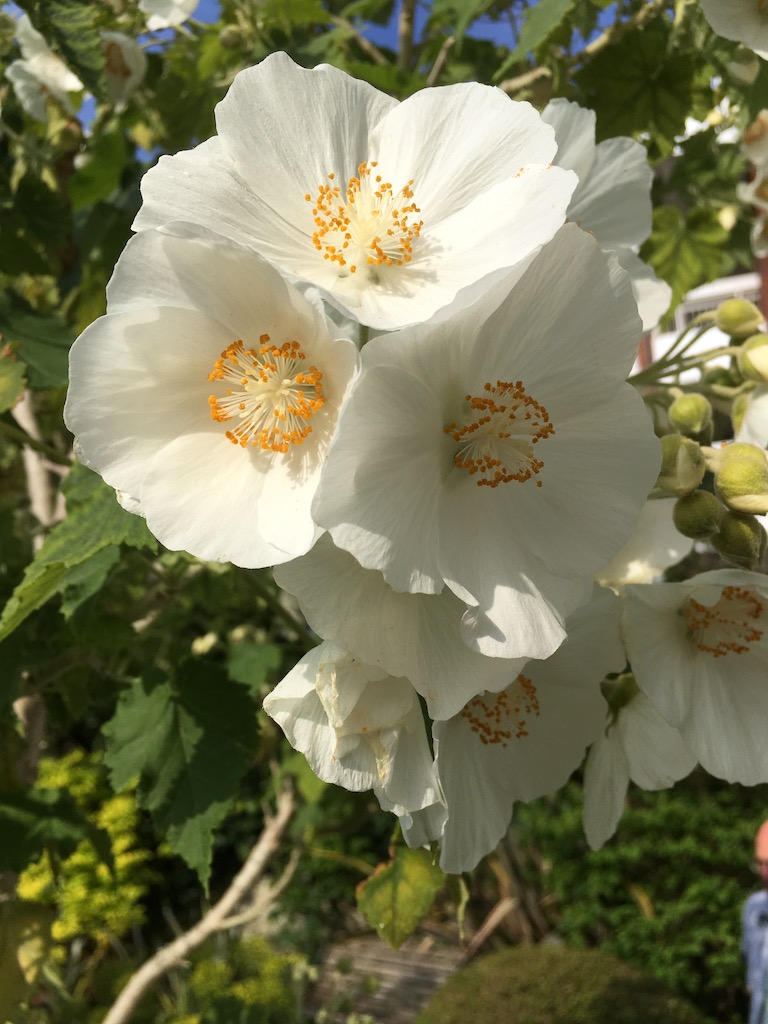 Along the same lines, check ties that you have got on trees, particularly young ones, and loosen them a little if necessary. If you're planting young trees, position the stake so that the tree will be blown away from it and keep the stake low so that the branches can move while the stem and roots are held still. I think rubber tree-ties are the best to use (if you have them) though I've found that old tights make a very good substitute! The point is to use a tie that doesn't cut into the bark as the tree grows – NEVER use wire around a tree-trunk.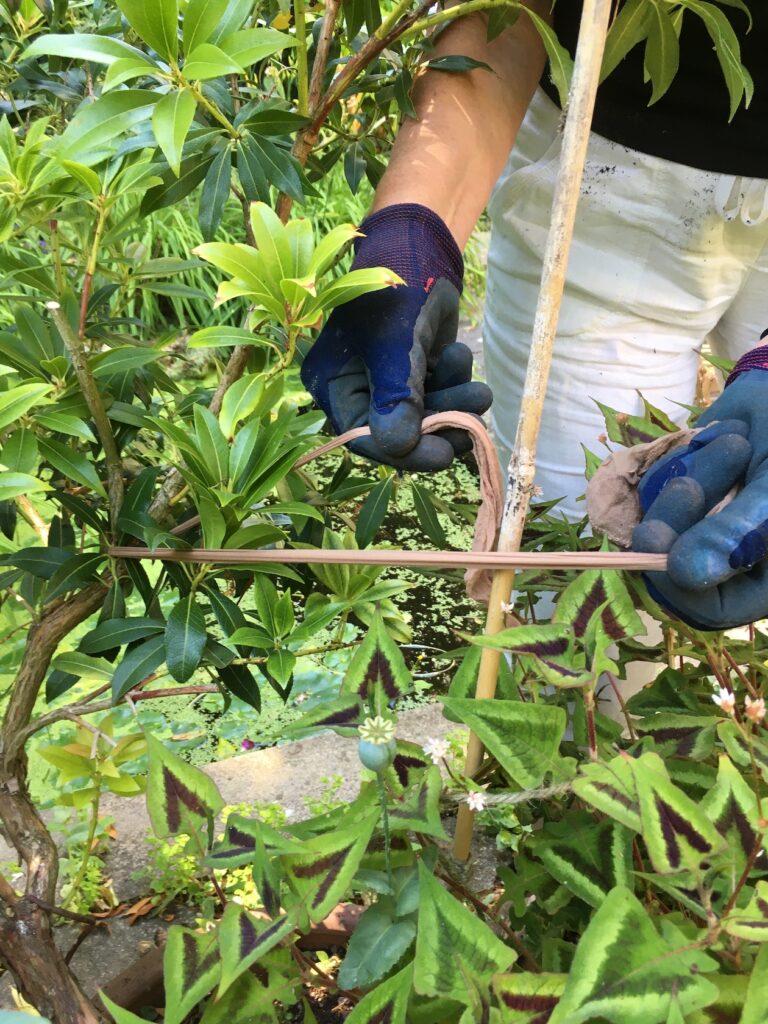 Use a spacer on the tie between the post and the trunk to stop them from rubbing together in a gale and wearing away the precious bark. If you're using tights as your tie, twirl the two ends round each other a few times before attaching it to the trunk, for the same purpose.
Labels to last
We have rightly become SO aware of how much plastic we use in our lives. The gardening world is as prone as any to an accusation of plastics overuse, and most of us are trying hard to cut back or re-cycle.
Ever since I started gardening decades ago, I've used white plastic labels for my plants. I have experimented with lots of other kinds of label, and I know they all have their champions – black metal ones with white writing, dymo-tape, wooden lollipop sticks (I found these DEEPLY useless – the writing was unreadable after a month)….. But I always came back to the simple white ones.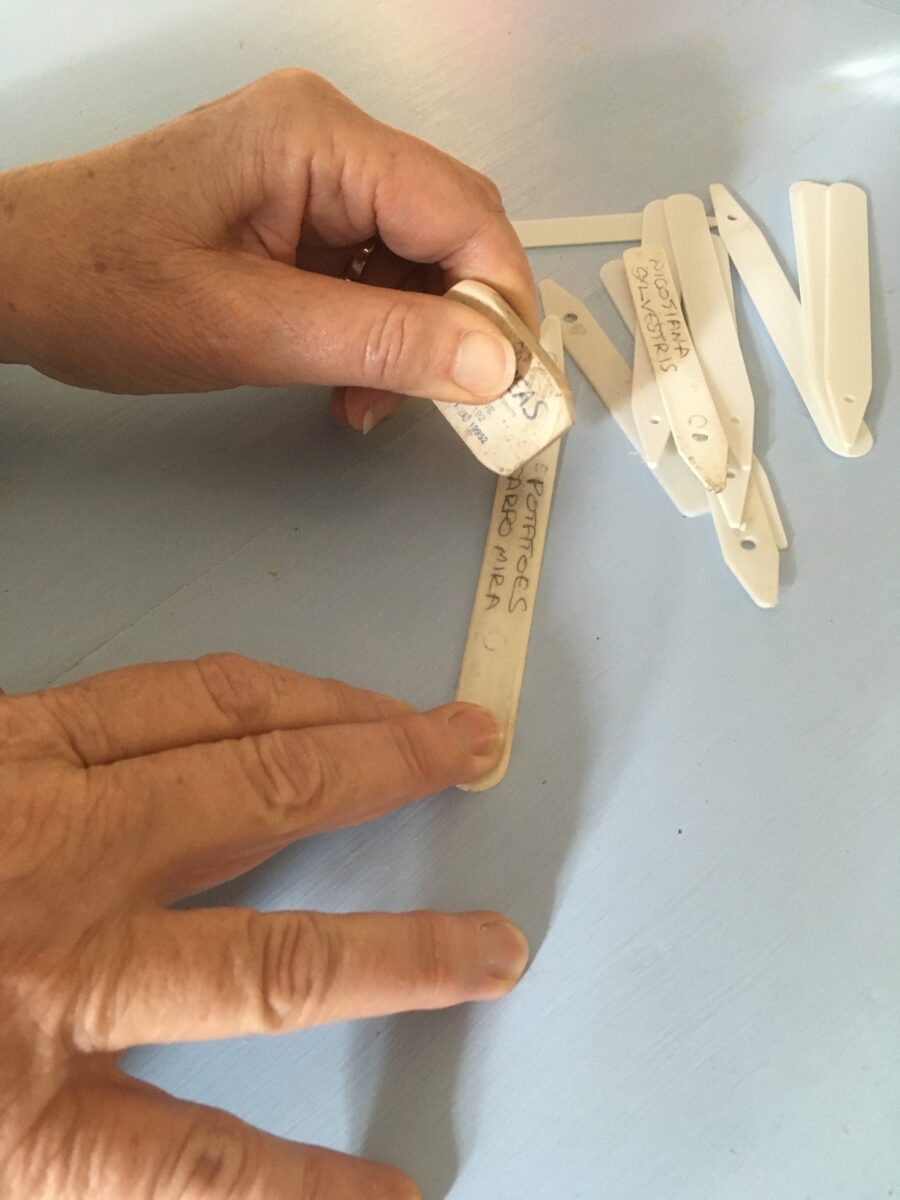 BUT they are very much part of my re-cycling routine. The thing is, I always use a pencil (an HB is best) on them rather than a pen. And once that veg crop is over, or that particular plant has got established in the garden – or died! – I retrieve the label. I don't like a flowerbed to be sprinkled with little plant-labels, anyway. So each November, I sit down with all the plant-labels I have used during the year.
I love reflecting on the story each one tells; I'll maybe make a note of where that plant is in the garden, or what a total failure those potatoes were, etc. etc. And then I just wash and dry them, rub out the writing with an ordinary eraser, and stack them ready for use next year! They do eventually become brittle and too discoloured to re-use but I've used many of the same labels for donkey's years. Not high-tech, but it works for me, and it may for you as well.
Gardening shorts
I adore my Mexican fleabane (Erigeron karvinskianus)! Great clumps of small pink and white daisies in early summer, a cut back in early July and then whoosh! Off they go again – and they've still got a few flowers on in November. But it is time to cut the whole lot back to the ground, because each clump (certainly in this garden) becomes a very popular spot for overwintering snails and slugs.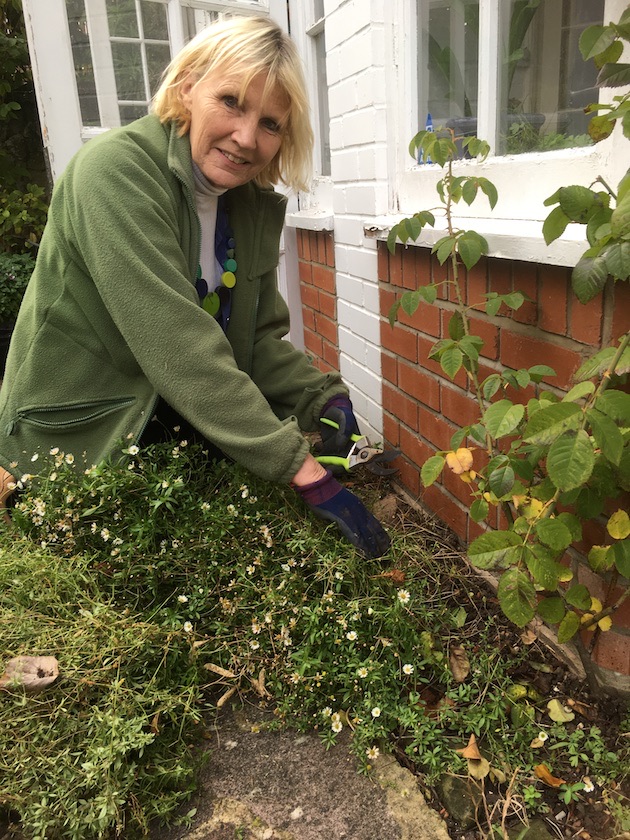 Autumn is a very good time for moving fruit bushes and trees, or planting new ones – as long as the ground is not totally waterlogged (good luck with that!)
Still on the subject of fruit, if you have been putting away your apple crop for storage through the winter months, do remember to check them regularly, and take out any that are showing signs of rot before it spreads to others – remember the old adage about 'One bad apple…..'!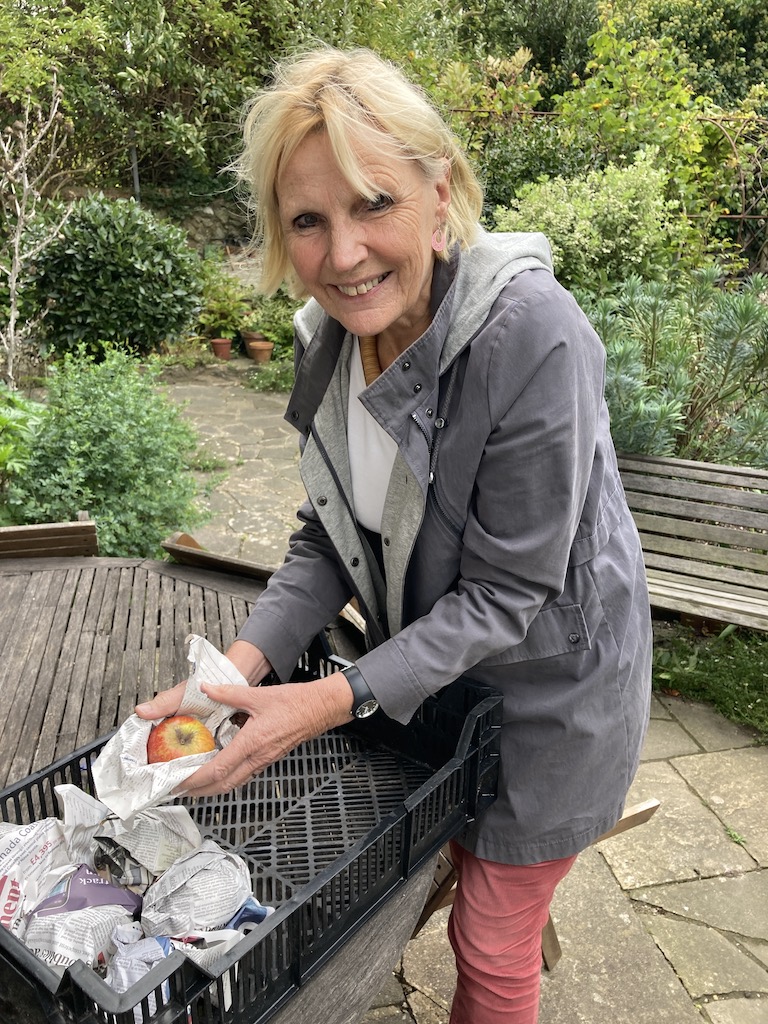 Here is the link to my video on pruning roses in autumn.
We'd LOVE to get more subscribers. If you have friends who might enjoy our blog, do encourage them to enter our competition – they'll be entered in our free draw for a set of six fabulous house-plant pots. If you're already a subscriber you can still enter by simply visiting our social media accounts. Good luck!
If the recent rough weather has driven you indoors for a bit, Louise has the perfect fruit for making a seasonal jelly, as well as being an all round great tree for a small garden. Click on the box below to find out what it is.