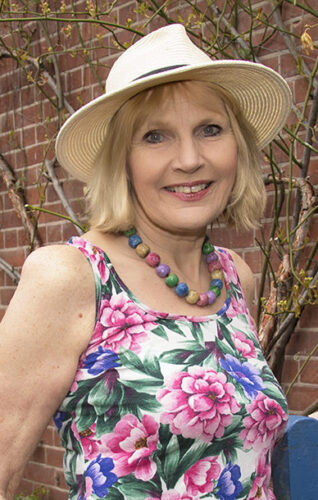 Flamin' June – and isn't it exciting! Fresh beautiful flowers opening every day, and longer evenings to enjoy them in.
But there are jobs to get on with, when you are not floating around in loveliness – shrubs to prune, basil to nurture, tulip bulbs to dry…..so let's stir our stumps…..
Early summer shrubs
Call me sneaky, but Philadelphus (mock orange) is loaded with fabulously fragrant flowers at EXACTLY the right time for when my garden has its charity openings, and I position them very carefully for maximum effect! Right next to the gate that everyone enters by, for a start – as you can see from the feature pic! These early-blooming shrubs (also Weigela, Deutzia, Kolkwitzia etc.) are such a delight in late May and June, but it's important to remember that they flower on wood that they made LAST year, not this year.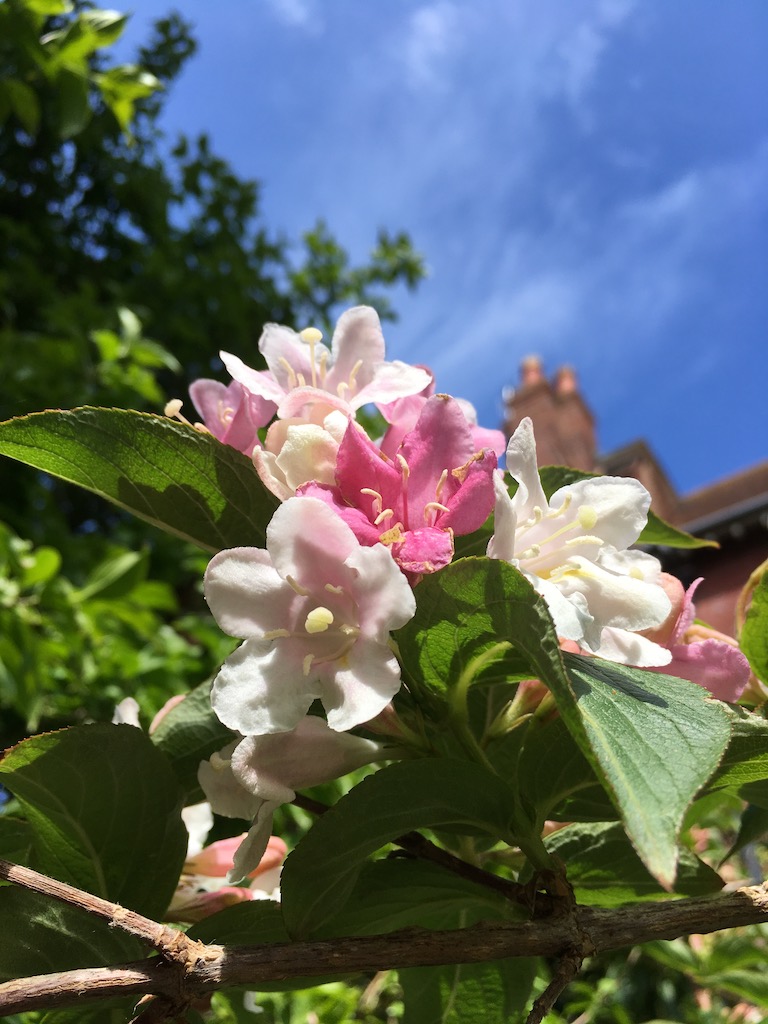 For that reason, they should all be pruned back straight after they have finished flowering. This will give them time to make the wood that will carry the flowers for you next year. If you leave this cutting back until the autumn, you'll get many fewer blooms – not the end of the world, but an unnecessary pity, I reckon.
This is how I deal with my Philadelphus:
If there are any branches crossing right through the middle of the bush and rubbing on other branches, then those get taken out entirely, at ground level.
2. Next, I will cut the main branches back to a newer stem lower down.
3. Finally, I will take out entirely one or maybe two of the oldest branches right down to the ground, to encourage the shrub to create some new ones and steadily rejuvenate the whole shrub.
Some of my bushes have been happily (and fragrantly) in situ for nigh on 30 years, so I must be doing something right!
Keep sharp!
If you are indeed planning to do some of this shrub-pruning, do make sure that your cutting tools are properly sharp. It makes a ridiculous amount of difference to the ease of cutting, and is actually safer – rather counter-intuitively.
The reason is that the extra force needed to cut through stems and branches with a blunt blade, makes it more likely that it will slip and cause injury. Apart from that, using sharp cutting tools are much kinder to aching and tiring fingers, hands and arms; and you'll get the job done much quicker!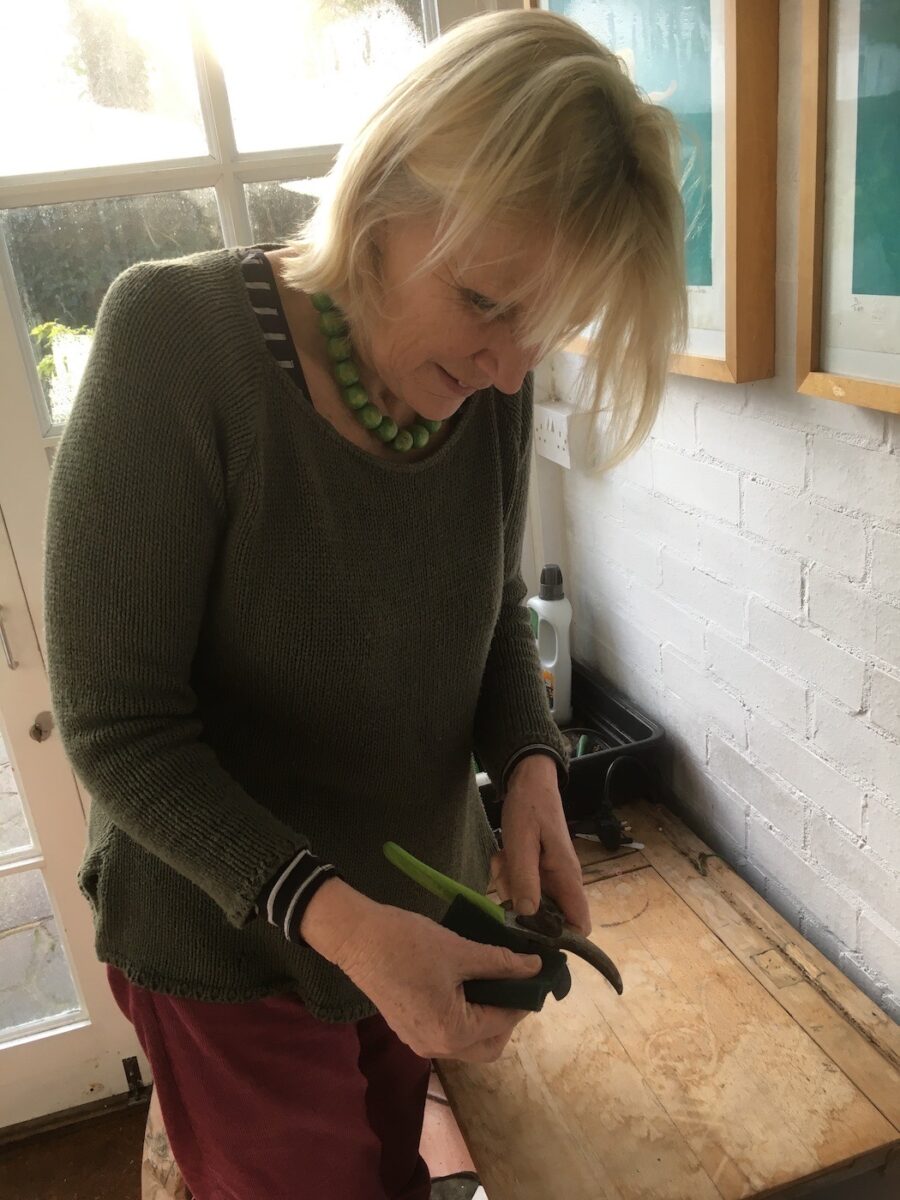 Blunt blades can also bruise and snag plant tissues, allowing the possibility of diseases to enter, rather than making a clean cut.
We stock a handy pocket-sized sharpening steel in our online shop, which has a natty magnetic trick whereby the filings stay on the steel and can just be wiped off with a cloth.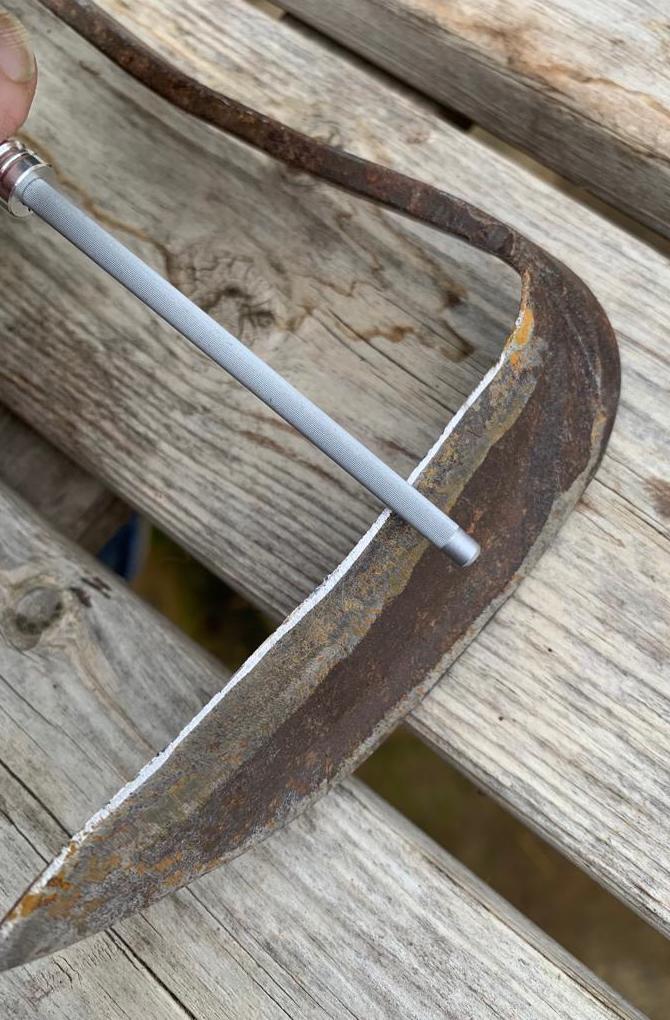 Tricks with basil
Tomatoes HAVE to have basil with them, don't they! But what a price cut basil leaves are in the supermarket these days. So you buy a pot of growing basil instead, thinking that they will last you for the summer, and after two or three weeks, they peter out and die and you have to go and buy more. Very disappointing.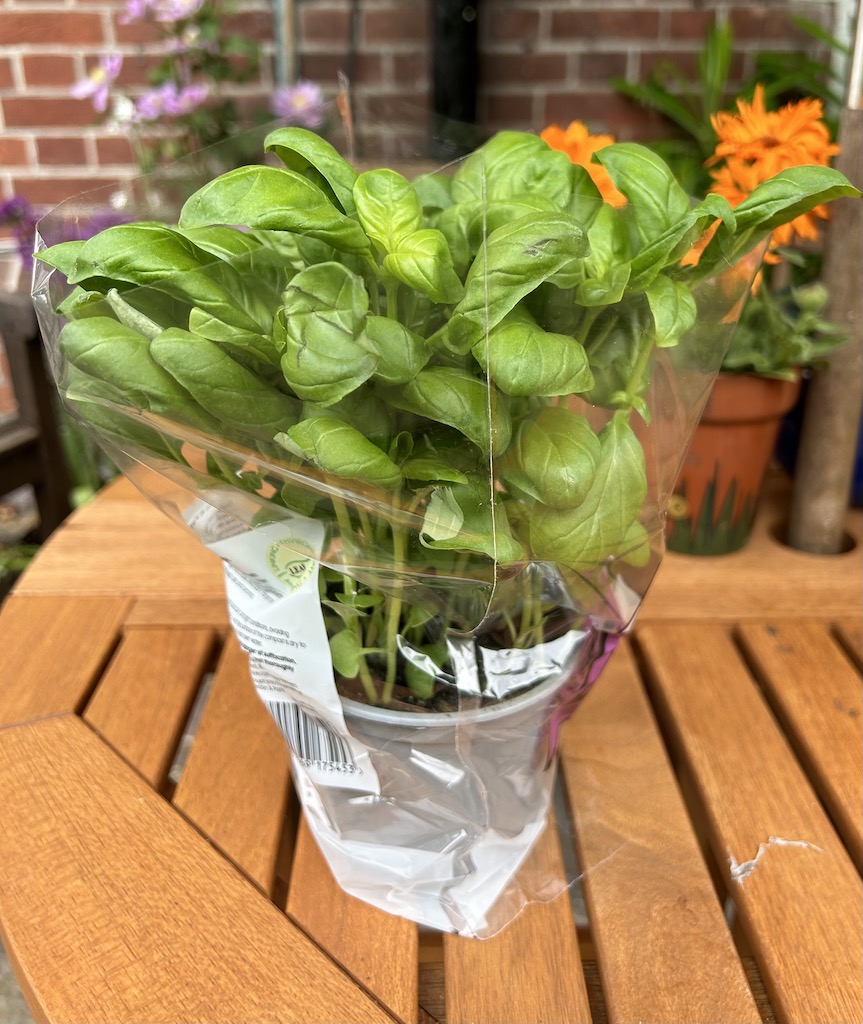 The reason is that it's not one plant but lots of tiny ones and they are all squished in and grown really fast. To thrive, they each need much more light, space and food.
So try this:
Cut back any long leggy stems off the basil 'clump' in the pot you've brought home from the supermarket.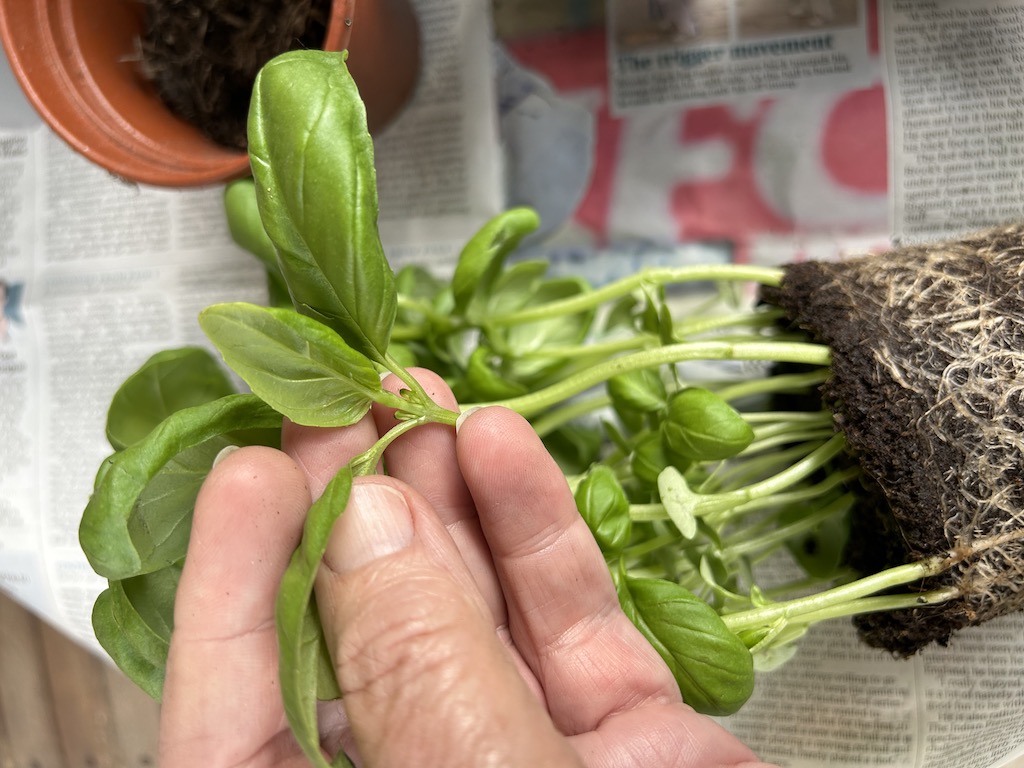 Then tip the whole lot out, and gently pull the root ball apart, trying not to touch the stems or leaves.
Divide the rootball into four or five pieces, with a few stems in each, and tuck each piece into a small pot of fresh compost until it's the same level that it was in the original pot.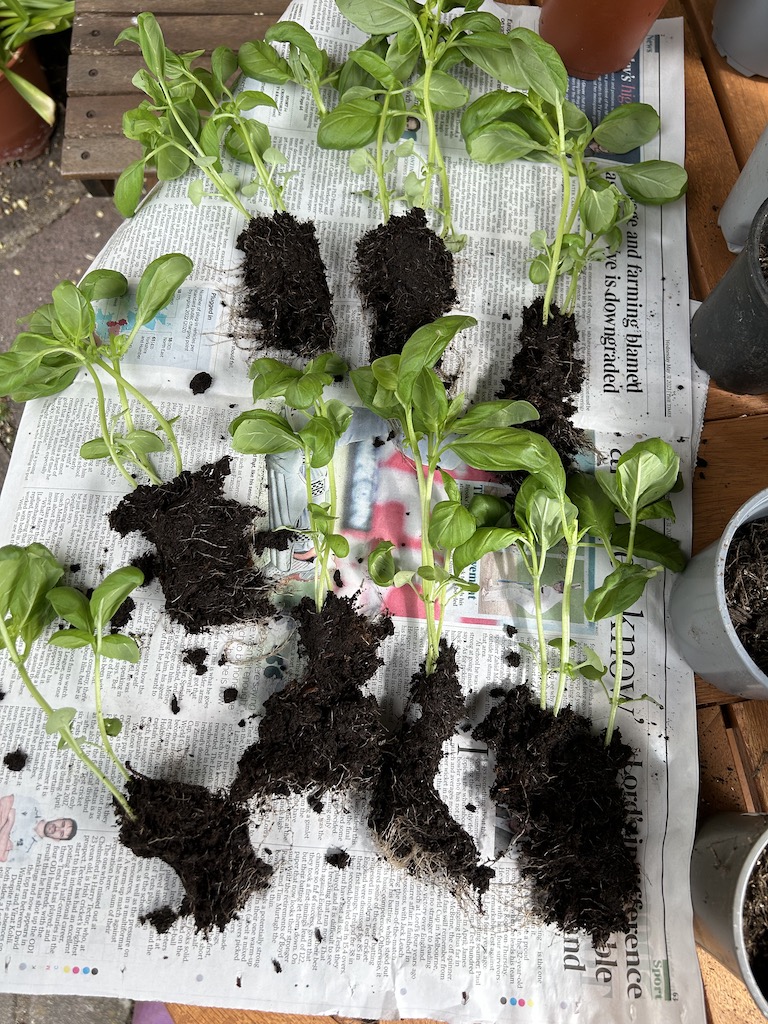 Water the pots from below, standing them in a tray of water for half an hour, and pot them into slightly larger pots when you can see roots coming out of the bottom.
Keep them on a sunny windowsill. Hey presto, lots of healthy plants for the price of one, and hopefully that's you all sorted for delicious tomato recipes and pesto, all summer long!
Gardening shorts
It was a great year for tulips, but almost all are finished now. After all the foliage has died away, the best way to encourage them to flower again next year is to let the bulbs dry off over the summer either by digging them up from the borders, and storing in paper bags or sacks, or by tucking the pots in a dry, out-of-way place, ready to be started into growth again in October or November. Remember to give them some protection from thieving squirrels and mice, though!
Some plants thrive in humid conditions but lots of fungal diseases do as well – aaarrrgh! Humidity is at its highest during the day, so make sure vents and windows in the greenhouse are fully open then to let the air flow through. Sprinkle water over the floor on hot days to cool things down. If you have plants in a propagator, take the lid off for an hour a day for the same reason.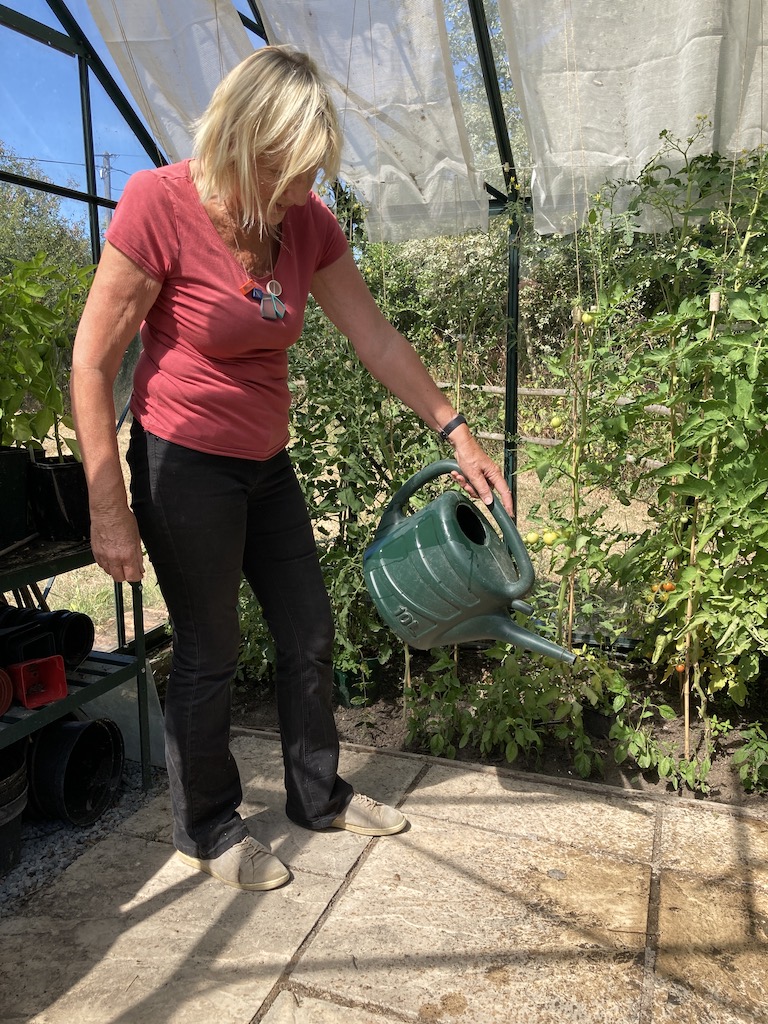 Our outdoor pots and borders are filling up with lovely colourful tender bedding plants – hurray!  A liquid feed formulated for tomatoes once a week/fortnight will keep them loaded with blooms till autumn.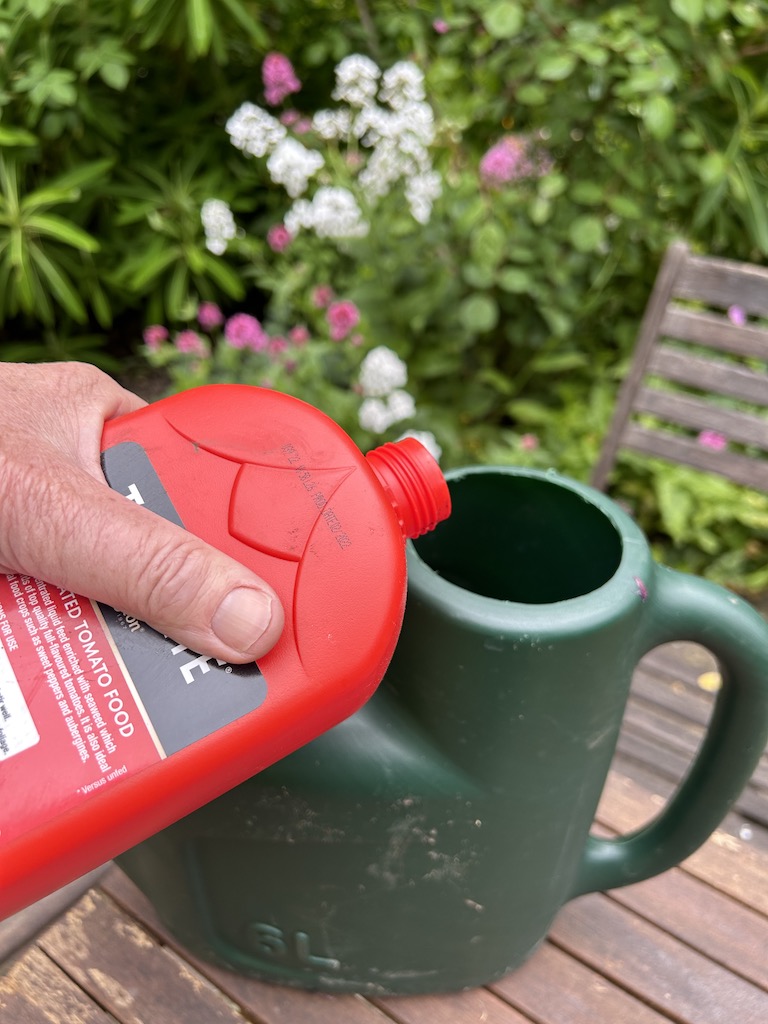 This is the link to a short video-walk round my garden in preparation for its opening for the NGS Eastbourne Garden Trail this Sunday.
The details for that are on this link.
Laura was delighted to attend a Garden Press Day at Chiswick House recently – read her report here.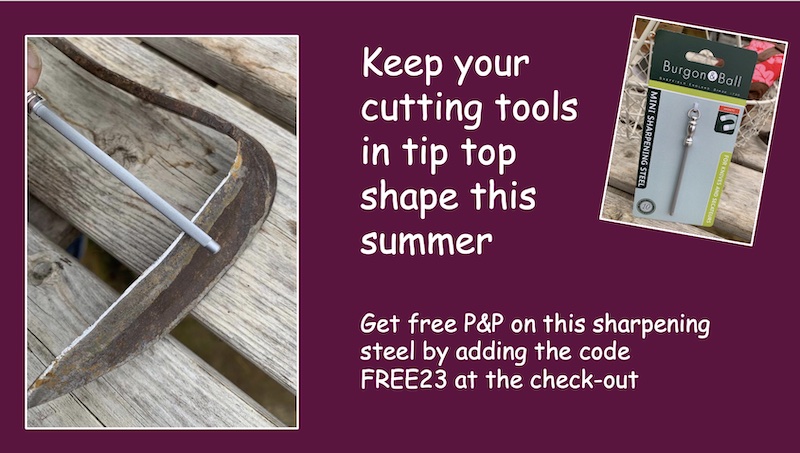 We've taken off the P&P on this handy sharpening steel this weekend. Just add the code FREE23 at the check-out. You'll find it in our shop here