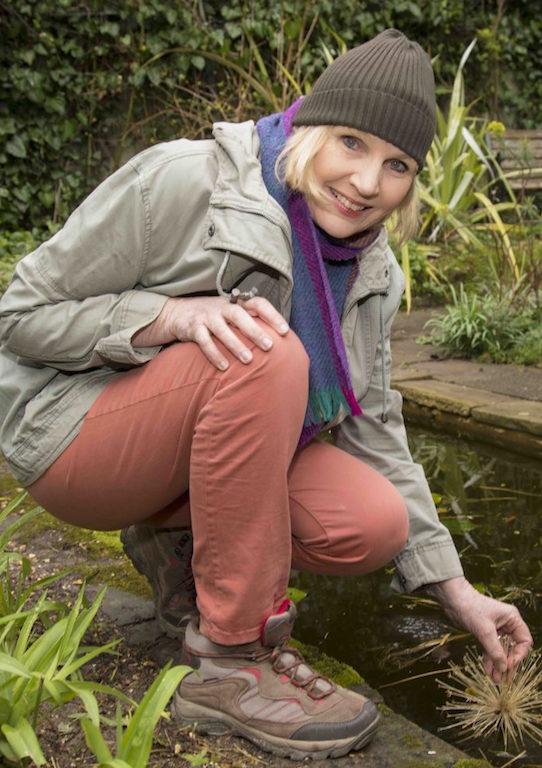 The first properly cold snap here in the south means that we can no longer deny that winter is on its way – Laura's hauling her tender plants in, Caroline's surveying snow on the Highland mountains around her, and the shops have fully-stocked Christmas aisles.
Resist the urge to hibernate, plant a cheering winter pot or two, rake up leaves and create compost for free, and perhaps go foraging for some hedgerow goodies…
Use the leaves
Picture the scene – you're out there with your rake – the paths and lawn are covered in untidy brown fallen leaves and as fast you manage to scrape a pile of them together, the flippin' wind scatters them off again – grrrrr! But would it ease the irritation if the job is helping you to make a wonderful free mulch or compost for your garden?  It's called Leaf Mould, and even if you have just a very small garden, it's worth doing. After all, it's exactly what Nature does every year in a wood or copse, providing the perfect environment for the trees to grow – Real Recycling!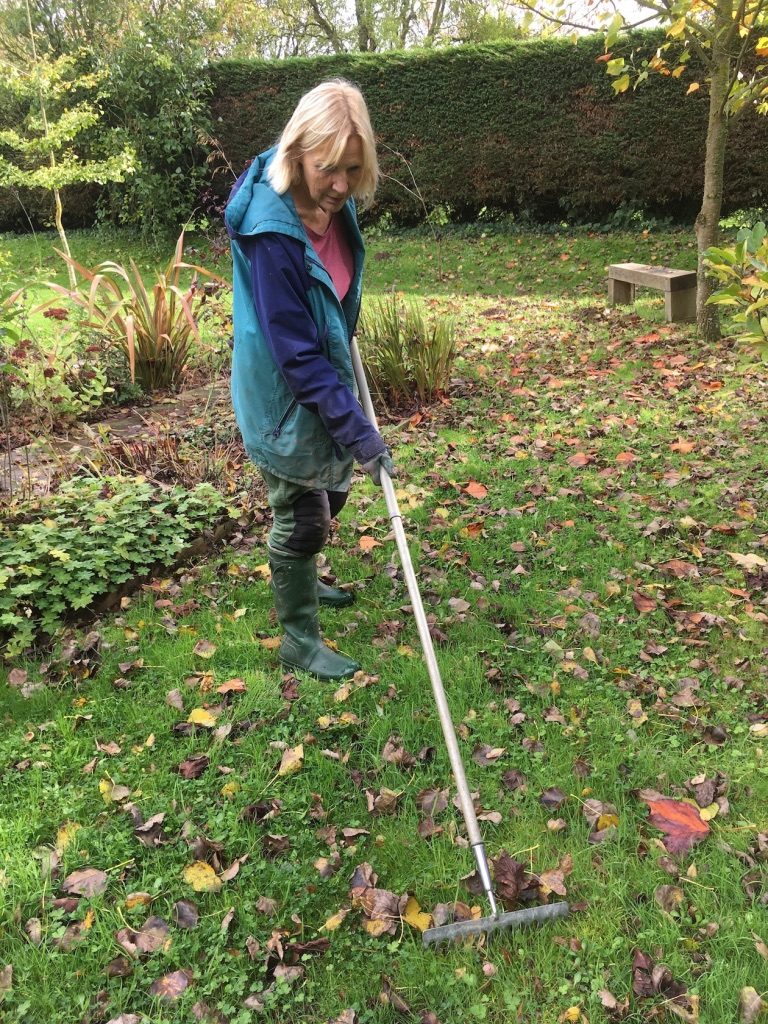 In a nutshell, the process is Gather, Water, Leave Alone. Using a rake is my normal method but using a mower on a high-blade setting will pick up leaves on a lawn very well, and this has the added advantage of chopping them up which aids the process. It won't matter at all if you end up with a bit of grass in there too.
Gather the leaves into ………something! I suppose the very best option would be an airy wire enclosure, but it doesn't really matter. Moisture and air are the two main requirements, and I've had great results from a couple of black plastic bin-liners with a few holes punched in the bottom with a fork. Black is the best colour for the bags as this colour absorbs more heat from the sun, which aids the fungal process.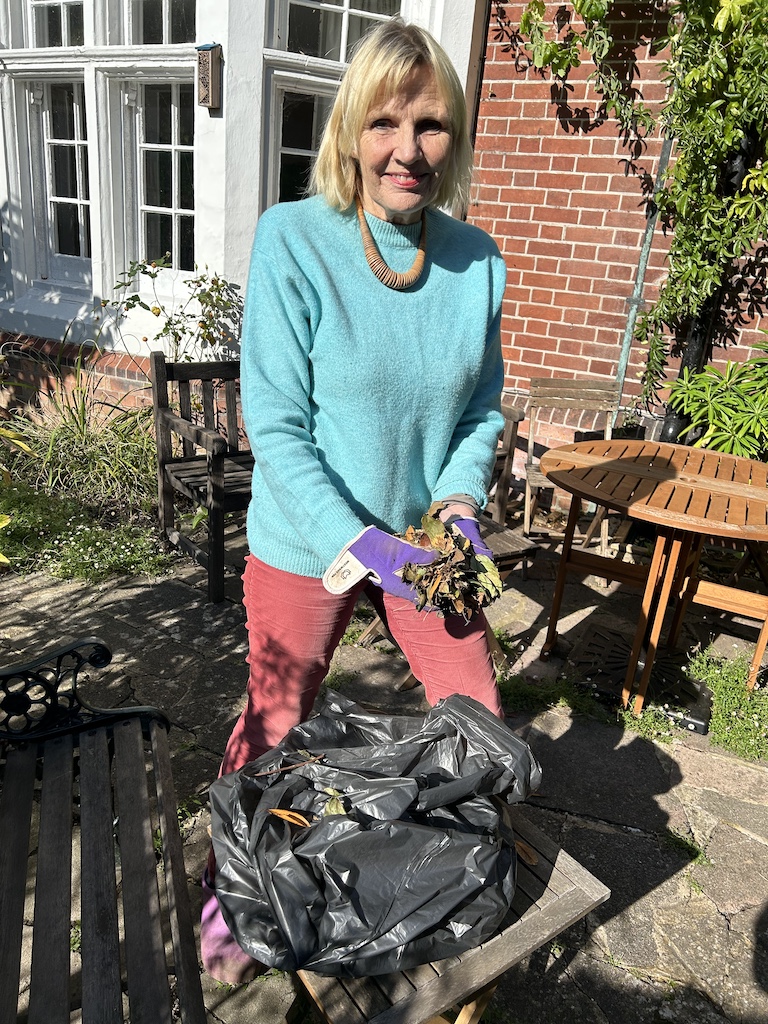 Water the leaves really well and keep them moist all winter. Covering an open heap of them with weighted-down landscape fabric or something similar will keep the heat in better. Dry leaves will take much longer to make leaf mould. They will not need turning or the addition of accelerators like ordinary compost because it's actually fungi that perform the magic trick rather than decomposition (I suppose the clue is in the name 'Leaf Mould'!).
Once it's rotted down, your leaf-mould will have shrunk to about a quarter of its original mass. In 6 months you will have a really good mulch to use all round the garden, and in 12 months, you will have a delicious, sweet-smelling dark brown potting compost or soil conditioner.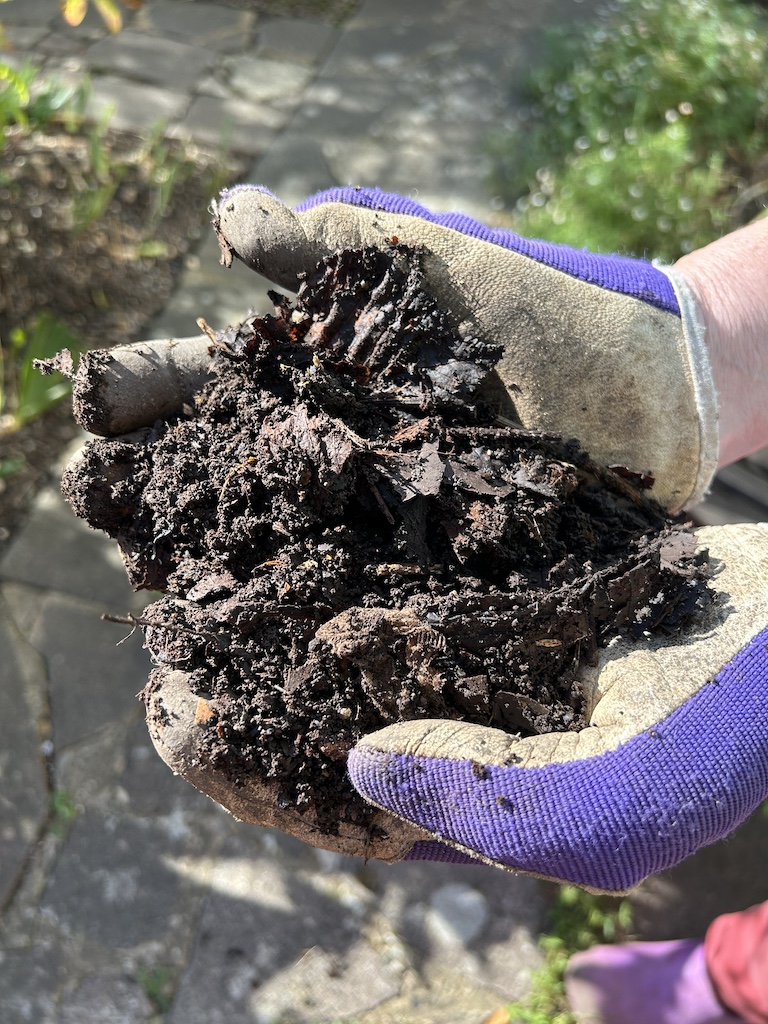 Regarding different leaves, it's reckoned that oak, beech and hornbeam make the best and quickest leaf mould; sycamore, walnut and horse-chestnut can take longer and evergreens such as holly, bay and cherry laurel can be much slower, unless shredded. If pine needles are put into their own separate leaf-mould pile, they will create a wonderful mulch to use beneath ericaceous plants like rhododendrons, camellias or blueberries.
But don't worry about that too much – just have a go at creating some fabulous soil-material – for free!
Foraging for treasure
On the subject of freebies, I was pleased to see that this year's Bake Off contestants included a couple of keen foragers. While you must be careful not to eat anything you're not sure of, there are some obvious candidates for picking or preserving, while you are out there enjoying an autumn walk in countryside. We mustn't strip our native flora of everything edible – birds, squirrels and other forms of wildlife need this bounty too – but we can certainly harvest some delights if we look hard enough.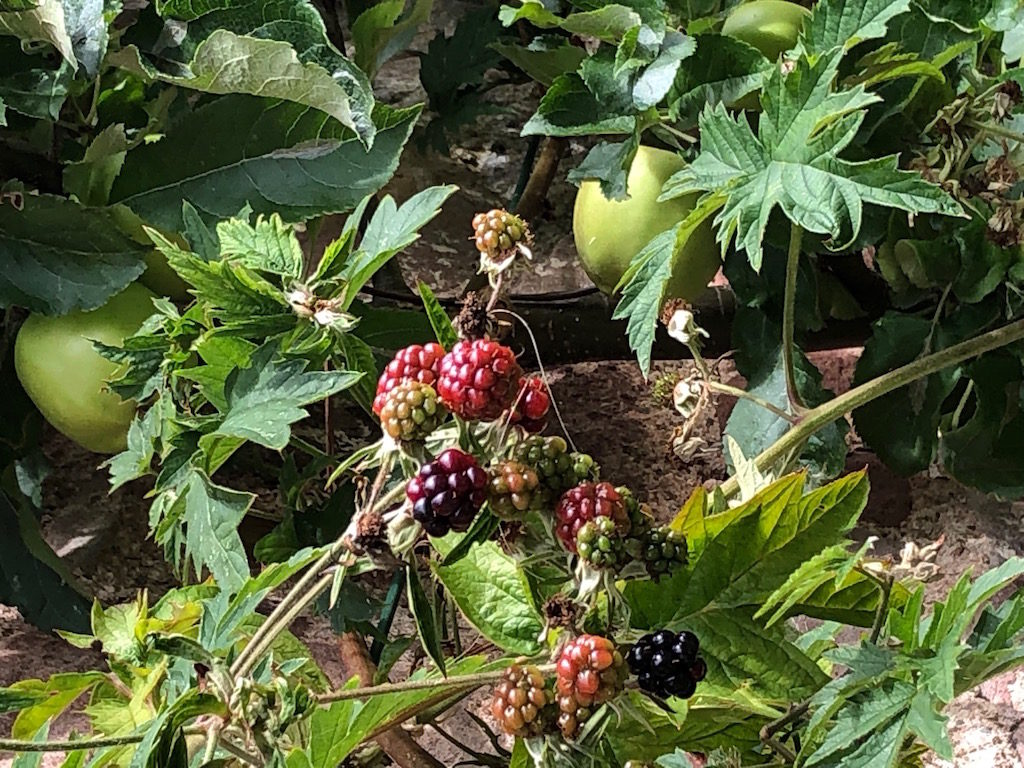 Blackberries of course – soooo delicious with apples in a crumble! – but there are other little treasures out there too. You may find some tiny wild strawberries on hillsides or along a woodland edge, or sweet chestnuts in their very spiny husks (don't eat the conkers from a horse-chestnut, though!) Hips from dog-roses can be made into a syrup loaded with Vitamin C as long as you remove the irritant hairs from inside them.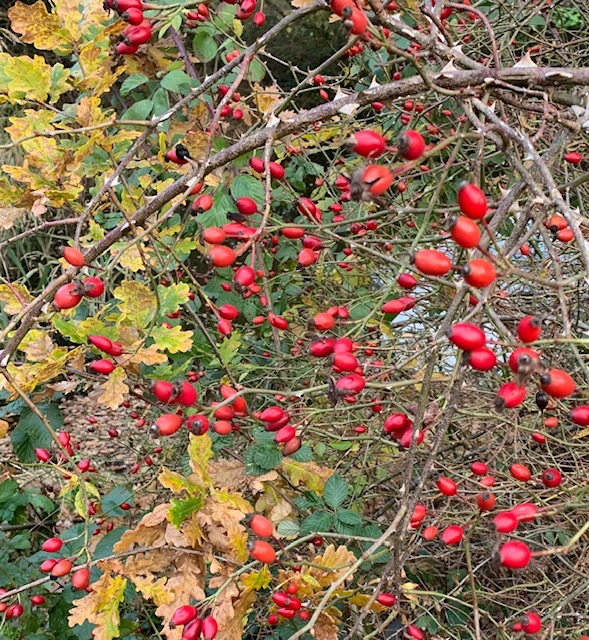 You might be lucky enough to find an old damson or pear tree with fruit to pick, or even a walnut tree. The green pods on a walnut will contain the nuts and the flesh inside is damper than you're expecting – creamy and crunchy and PACKED with Omega 3 and healthy fats. Crab apples (as in our feature pic this week) can be made into delicious jams and jellies.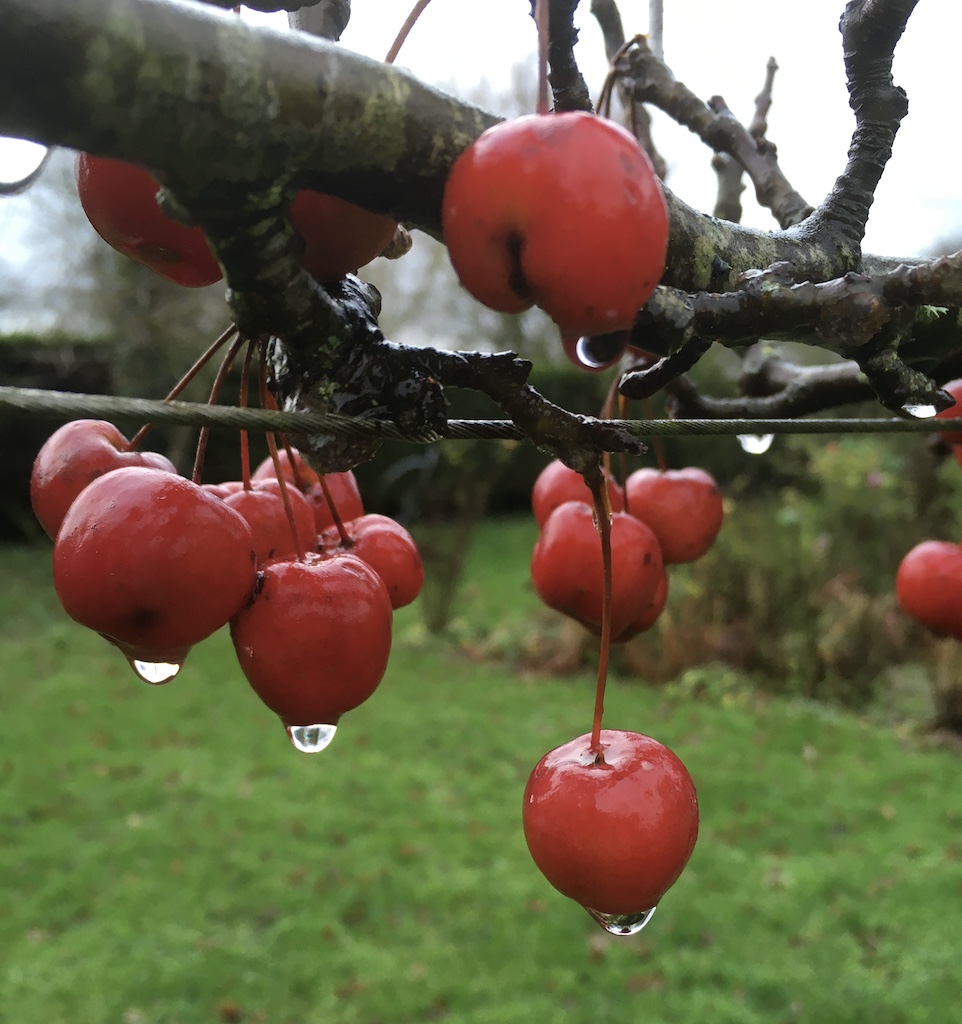 You can make syrups or liqueurs from elderberries, and let's not forget that autumn is the perfect time to harvest sloes from blackthorn trees. Avoiding the terrible thorns, pick them and leave them in the freezer overnight to simulate a frost. They should split open and their juice will then seep into the gin that you steep them in for a couple of months. One of our friends makes gallons of the stuff every year – cheers!
Plant a winter pot
Do try and find time to plant up a winter pot to cheer you through the darker months. Berrying shrubs are always good candidates, especially the ones that keep their berries for months and months – Cotoneaster, Pyracantha, Pernettya or Gaultheria are worthy candidates (remember the Gaultheria will need ericaceous compost). A dwarf conifer such as Juniperus squamata 'Blue Star' can add lovely colour contrast.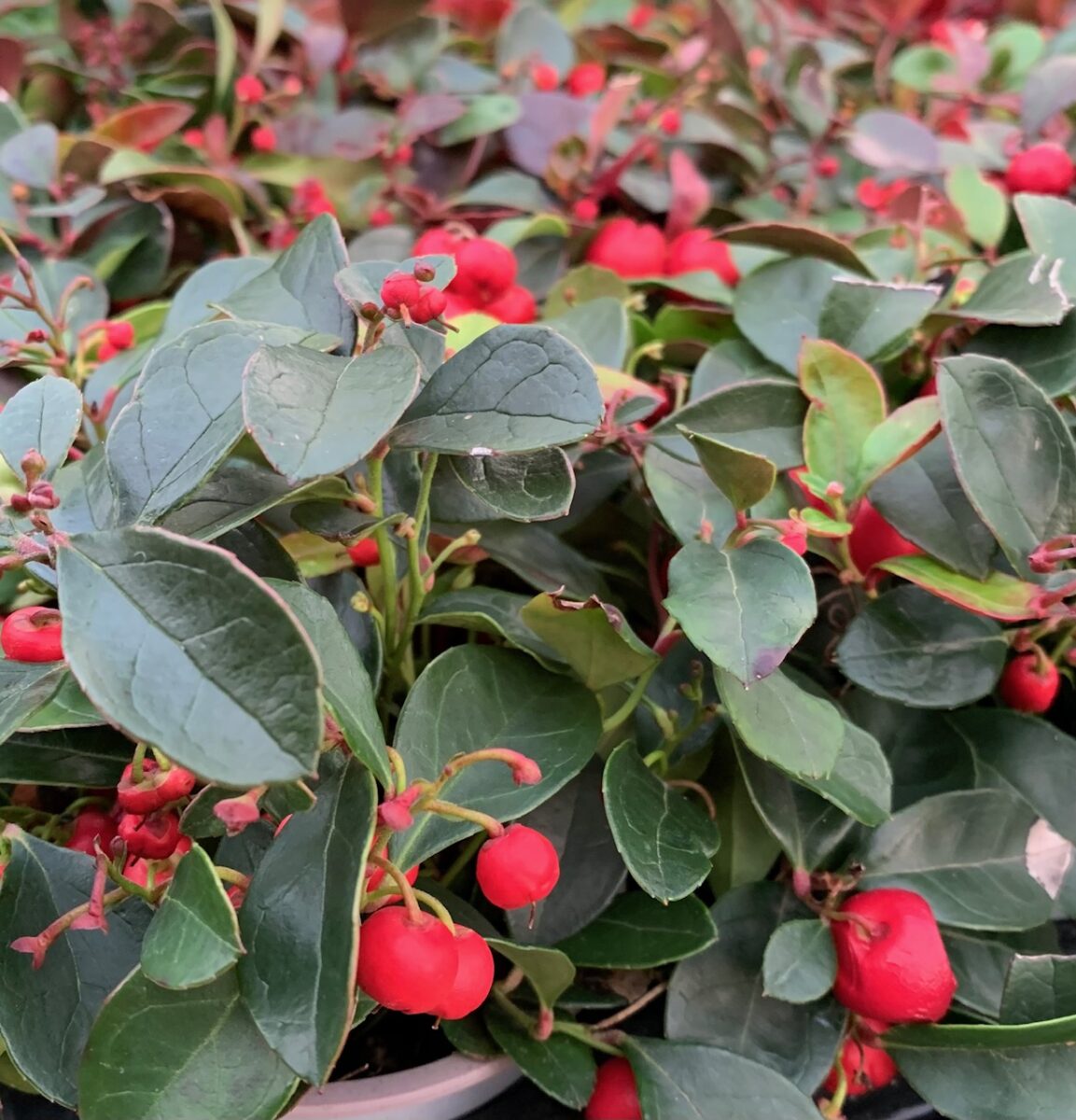 Or what about a beautiful Euphorbia 'Silver Swan'? Caroline says it sort of desiccates when the temperature drops to -10, but bounces back in days (just the sort of plant she needs in the Highlands, frankly 🤣).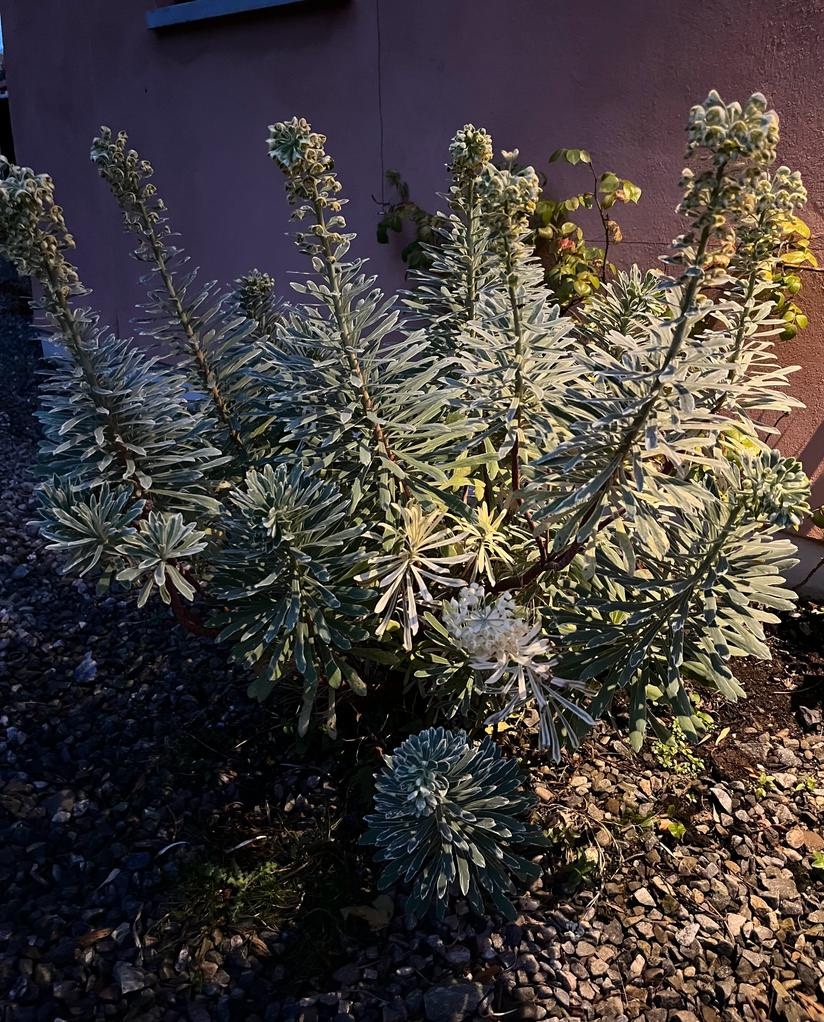 Pack everything round with winter-flowering pansies and violas, and add some trailers like variegated ivy, ajuga or vinca to soften the edges of your container. Tucking some cyclamen or early miniature narcissi bulbs in as well, will keep the gorgeousness going till early spring.
If you'd like lots and lots more ideas for fabulous winter plants, have a look at the list we compiled of all our (and Louise's) favourites – link is at the bottom.
Gardening shorts
Plant spring greens, kale and sprouting broccoli now for a crop next spring. Remember to space them out and plant them in firm soil right up to their first set of leaves – that will give them a good strong stem for when they start to grow away early next year.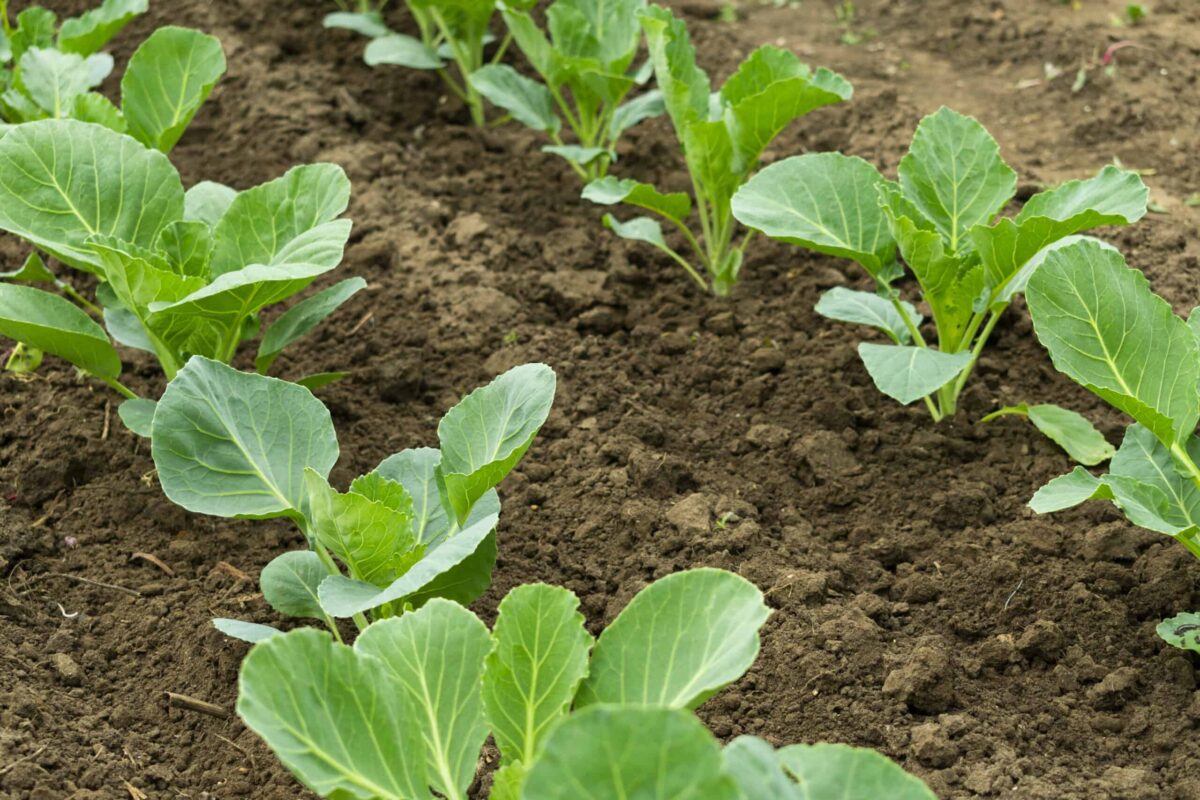 Finish sowing grass seed for bare patches or new lawns by the end of this month.
Pot up Amaryllis bulbs now to flower in about eight week's time. Fill a pot slightly larger than the bulb with gritty compost. Put in the bulb and fill compost around it, leaving about 2/3 of the bulb exposed. Soak the bulb and compost and leave it on a warm, light windowsill, turning the pot as the flower stalk develops so that it doesn't lean towards the light too much.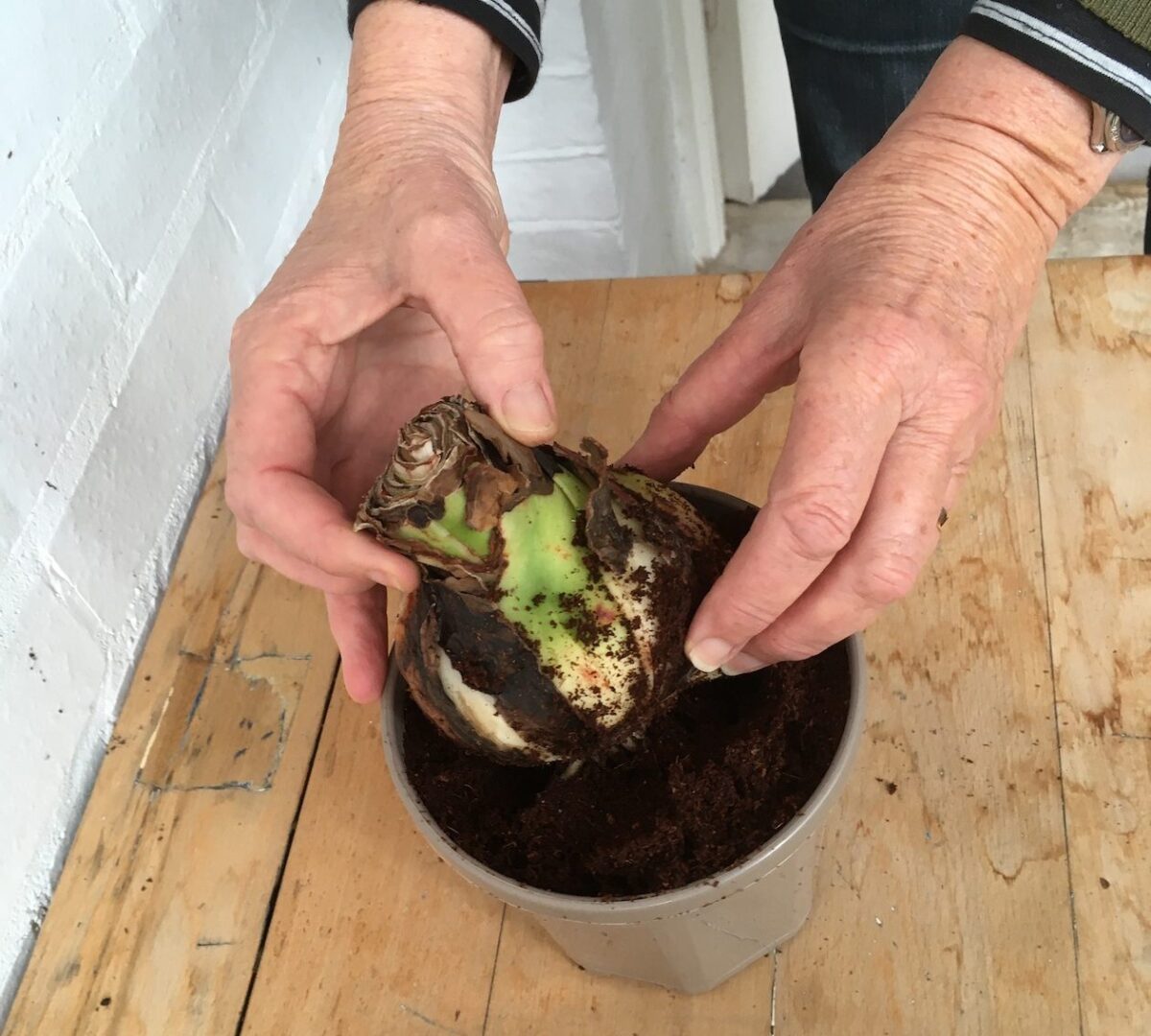 NB. Laura and I joined in with a great media day at lovely Exbury Gardens last week – see her short video about our visit here.
More NB. This is where you'll find the list of our favourite plants for winter.
Yet more NB. We were really pleased to be included by Thompson & Morgan in an online masterclass on growing broad beans – they say nice things about our website too! See what they have got to say.
Even more NB If you're not already a subscriber and you'd like a bit more gardening chitchat from the3growbags, please type your email address here and we'll send you a new post every Saturday morning.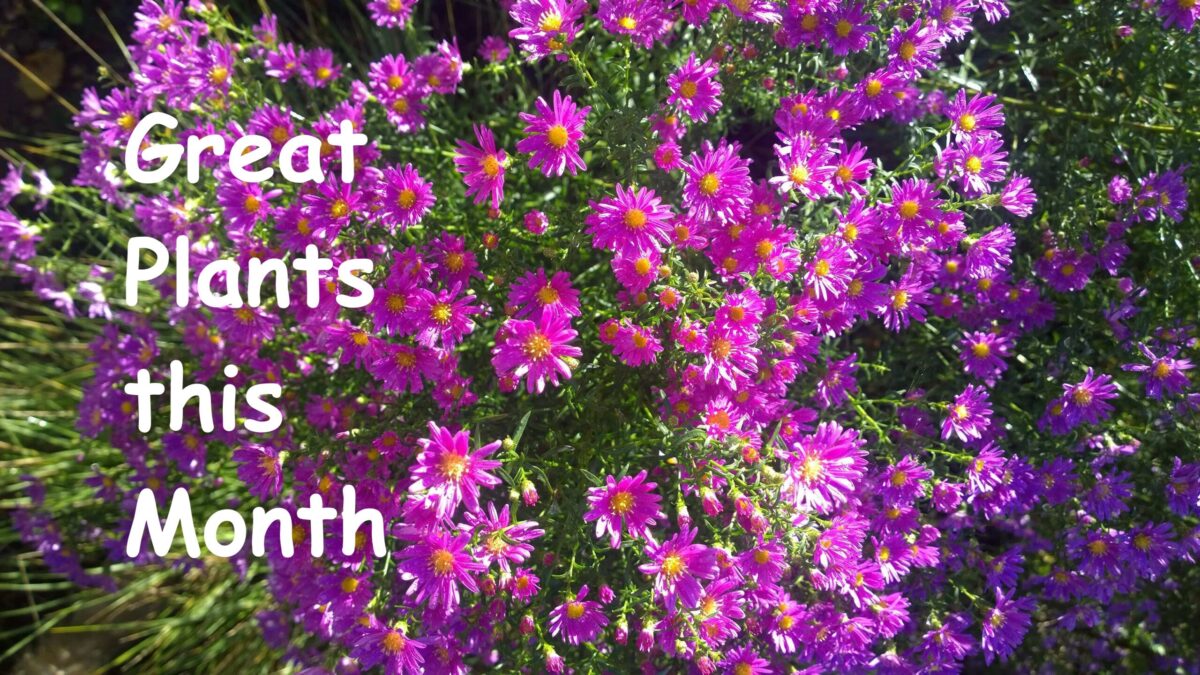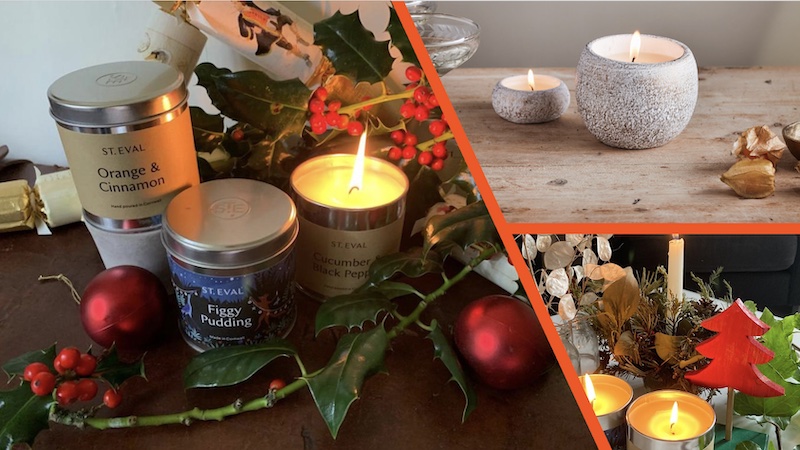 Contemplating winter? On the plus side we can look forward to crackling fires; being cosy; rich stews and the warming aroma of candles. This week we've got 15% OFF all our candles. They're the absolute best for fragrance, style and burn time..