There's SO much to do now it's early spring! Let's all make a plan not to feel so overwhelmed that we give up before we've begun, and just try to make a start SOMEWHERE! How about pruning the honeysuckle, thinning out your seedlings, and trying some layering of a shrub or two. Here's how:
HELPING THE HONEYSUCKLE 
The pretty honeysuckles we grow to achieve a soft cottage-garden look, have some rampant and very invasive cousins on the loose! and even the ones we can buy at a garden centre have some pretty rampageous qualities – I once planted one in my small garden called 'Hall's Prolific'………and it certainly was! It was way too much for my little space.
All the garden varieties of honeysuckle are just as prone as clematis  to be flowering at the top of hundreds of ugly bare stems, and I am afraid I have now given up with twiddling about, trimming sideshoots etc.  Now I just get in there and chop it all down to between waist- and head-height in early spring, before the sap is really starting to rise! They do seem to end up flowering for months so Treat 'Em Mean To Keep 'Em Keen, I reckon.  A couple of years ago I recorded a rather wobbly little video (unexpectedly very popular!) on the subject so do check it out here.
THINNING SEEDLINGS
I have always found the task of thinning seedlings to be a particularly painful one! Those little plants have gone to all the trouble of struggling into life only to be tossed aside by a careless human being who sowed them too thickly!  I don't even much like planting 2 seeds in a module and discarding the weaker one.  I know that to be a good gardener, you have to be quite hard-hearted, but oh, it's difficult sometimes.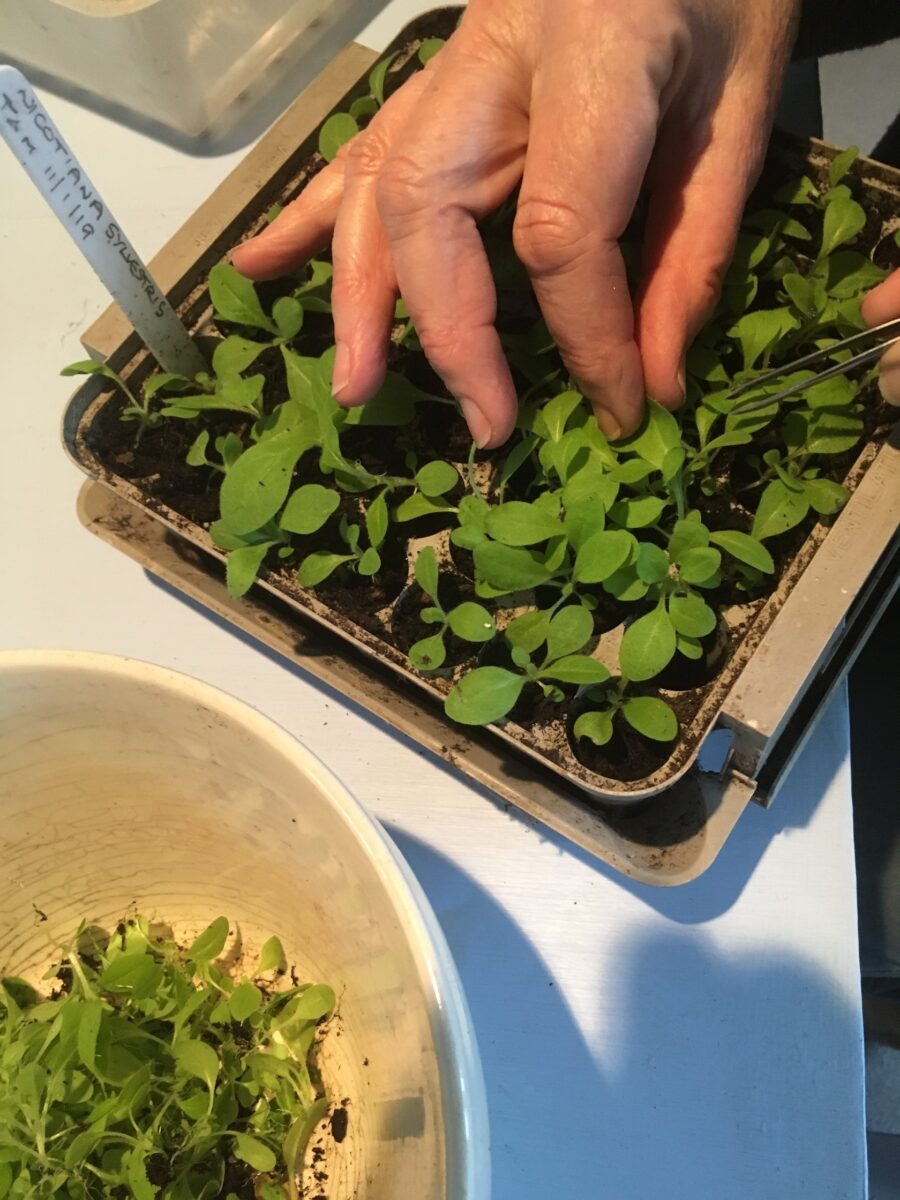 Generally, I sow much more thinly these days, to cut down this wastage, but I messed up recently with some old Nicotiana sylvestris seed which I expected to be well past its sell-by date and sowed thickly on the off-chance it was still okay……. they all came up like cress, and needed hours of thinning! (By the way, do try growing these tall, white-flowered, gloriously-evening-scented annuals – I think they're fabulous). Thinning trays of seedlings greatly reduces the risk of them 'damping off' (suddenly collapsing due to a fungal problem) or becoming thin and weak as they compete with their neighbours for light, moisture and nutrient.  So find a pair of tweezers which are very handy for this job, grit your teeth and get on with it!
LAYERING IT ON THICK
There are a few shrubs that most of us find a bit tricky to propagate from cuttings. Plants like Magnolia, Jasminum, Azalea, Camellia, Daphne, Cotinus, Viburnum etc. can be reluctant to root using the usual method of taking pieces of stem.  But there is another way to do it called Layering, which rather cleverly means that the 'new' bit develops roots while still attached to the parent plant, and isn't having to make it all alone right from the start.  Think of a teenager who's left home but still goes back every weekend to get his washing done and a good meal inside him.
You can layer plants in the autumn as well, but it's better done in the spring if the plant is an evergreen. So:
1. Find a flexible young shoot that can be bent down to the ground.
2. With a knife or a secateur-blade, scrape some of the outer surface of the stem behind the buds near the tip.
3. Mix some compost into the soil where it will lie and water the area.
4. Pin down the scraped section on to that area of soil with a pin made from strong garden wire (or a metal coat-hanger) so that the stem is in close contact with the earth.  Shoving a brick on it will keep it from being blown around.
5. If there is more than a few inches of stem at the end after you've done the pinning, you can train this up a bamboo cane.
6. After a few months, your 'teenager' should have developed roots of its own, and you can cut the apron-strings – separating it from its mother-plant, digging it up to grow on elsewhere in your garden or give away.  Truly not difficult, and hugely satisfying.
GARDENING SHORTS
* If you grow fruit such as apricots, peaches or nectarines against a wall, under fleece or in a greenhouse, try using an artist's paintbrush to brush pollen from one flower to another.  These plants often flower too early for many pollinators to do their work, and you can really help improve the fruit-set in this way.
* March is a good time to give many plants a feed of fertiliser that's high in potassium. This is the element that helps with strong flower and fruit development, and Sulphate of Potash can really strengthen a plant's resistance to pests and diseases. Sprinkle this feed around the root area and water it in.
* Finish pruning your roses, buddleia and summer clematis so the stage is all set for a fabulous season.
[jetpack_subscription_form title="The3Growbags" subscribe_text="If you'd like to keep up to date with the3growbags gardening chit-chat just pop your email address in here" subscribe_button="and click!"]