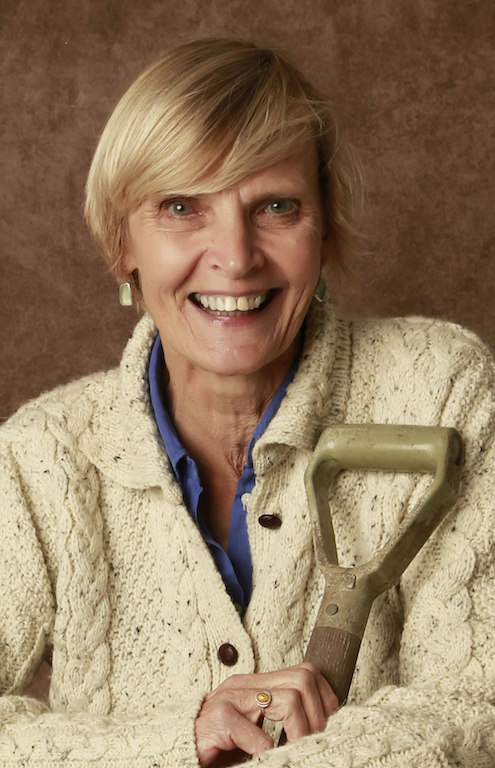 Which veg are worth growing because they are so much tastier than anything you can ever buy? I asked myself this as I am about to set up a garden veg club at work and need some star performers to wow my colleagues. My two sisters will be horrified that I have been put in charge of this project; true, I have never actually grown a vegetable in my life (that's what Tim is for) but if Elaine and Caroline can make a decent fist of it – how hard can it be?'
Radish. We need some early success to keep everyone focused on the weeding and watering rota I intend to set up (shame my work commitments mean I will only be watching from an upstairs office window…) A freshly picked radish is a revelation to anyone who has only ever had shop-bought specimens and makes an ideal addition to a packed lunch, and if sown now under fleece, the staff room could be awash with happy crunching by Easter.
Tomatoes – The spicy smell of a sun-warmed tomato picked straight from the vine and pressed against your nostrils is something else that you will never experience unless you grow your own. So we'll definitely be investing in a couple of 'Gardeners Delight' which are such heavy croppers that everyone will be able to tuck in as they pass by on their way to meetings.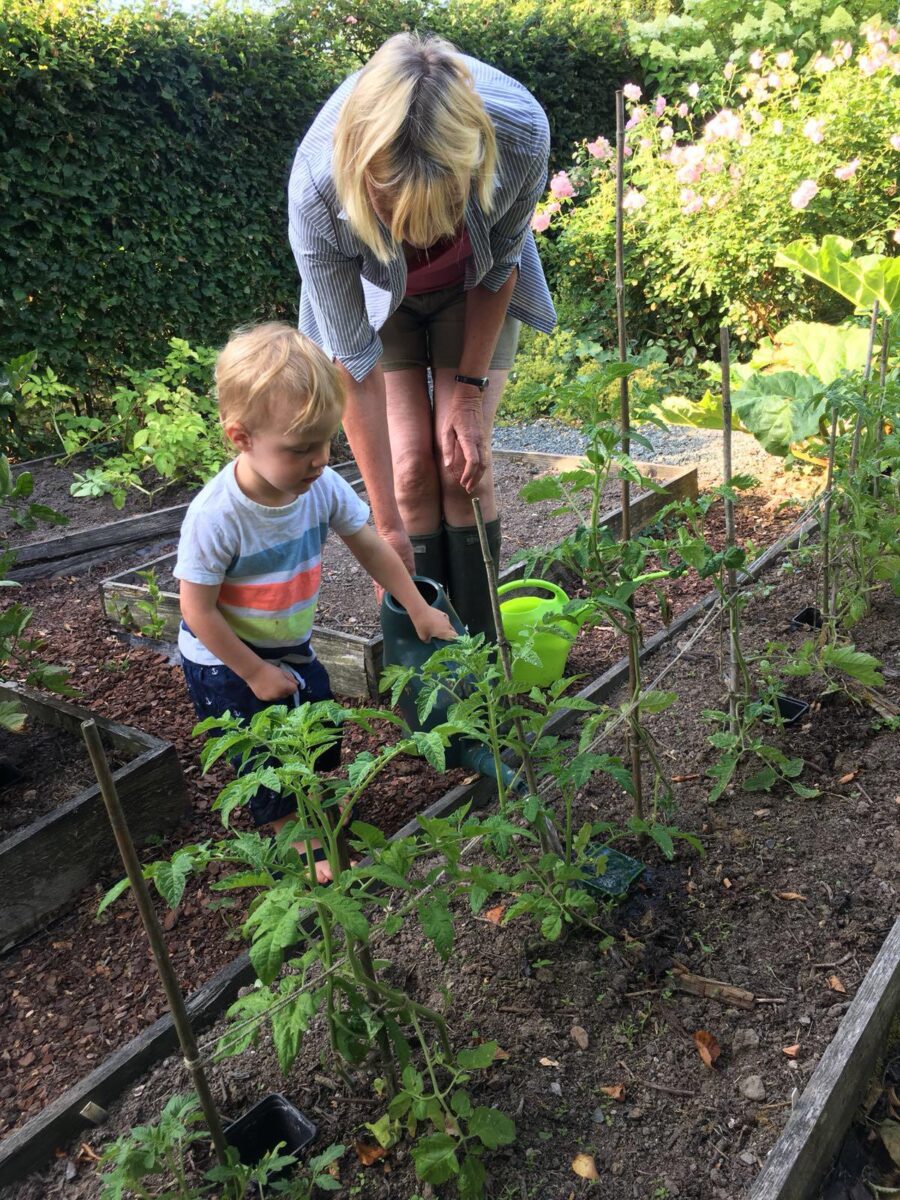 Strawberries – Even in the English strawberry season, supermarket ones still lack that special hedonistic sweetness that comes from plucking your own, so we can set up a strawberry production unit like this one I snapped at Wisley on Sunday. Just need to make sure we have a supply of cream in the staff kitchen fridge.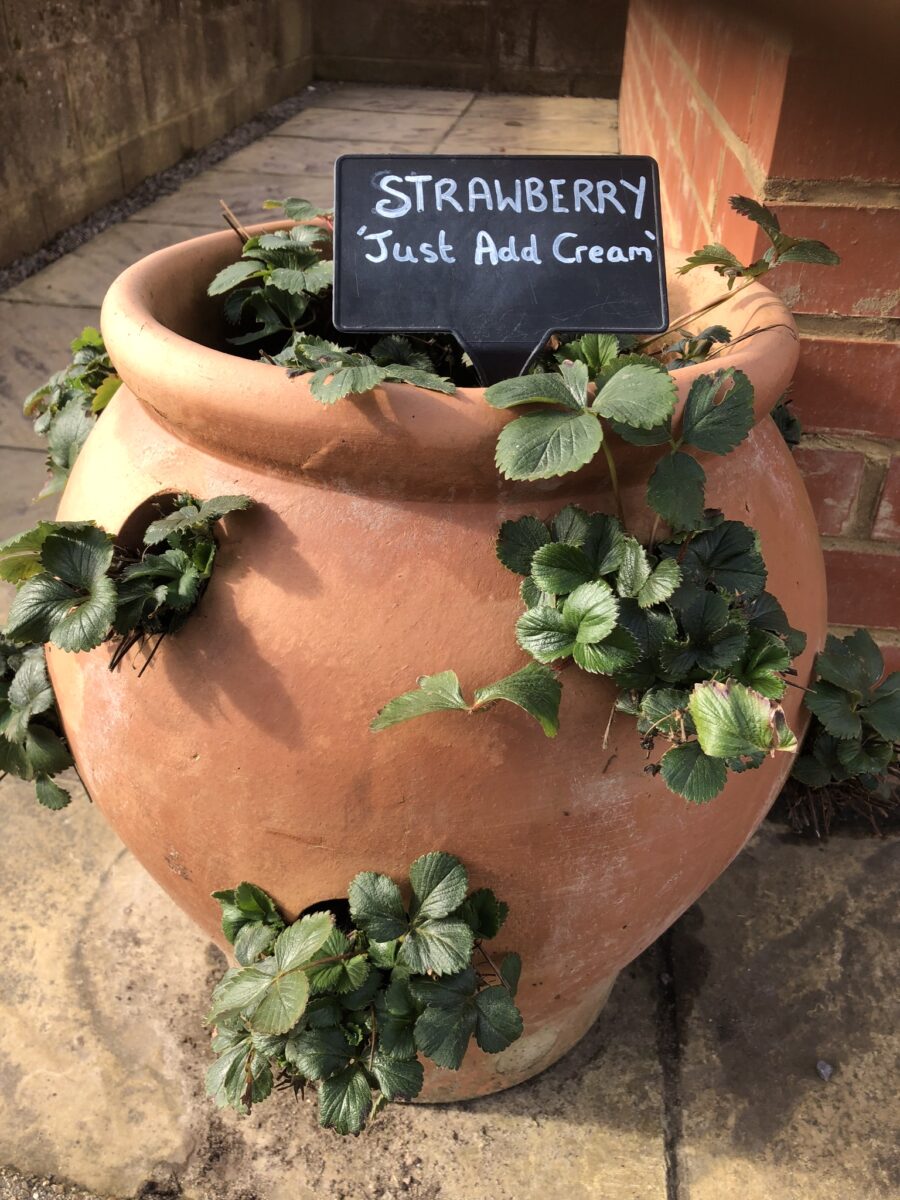 Peaches – So far, so predictable, but I think we can also splash out on something a bit more exotic. The young millennials at work will be asking for an avocado tree, but a more realistic indulgence in our climate would be a fan trained peach. You can never buy English peaches in shops as they bruise too easily to be stored or transported but their fragrant taste and juicy succulence is something very special. Do not be swayed by the promise of new heavy-cropping varieties, with peaches, quality is all, the heirloom, quintessentially English 'Peregrine' is the one to go for.
---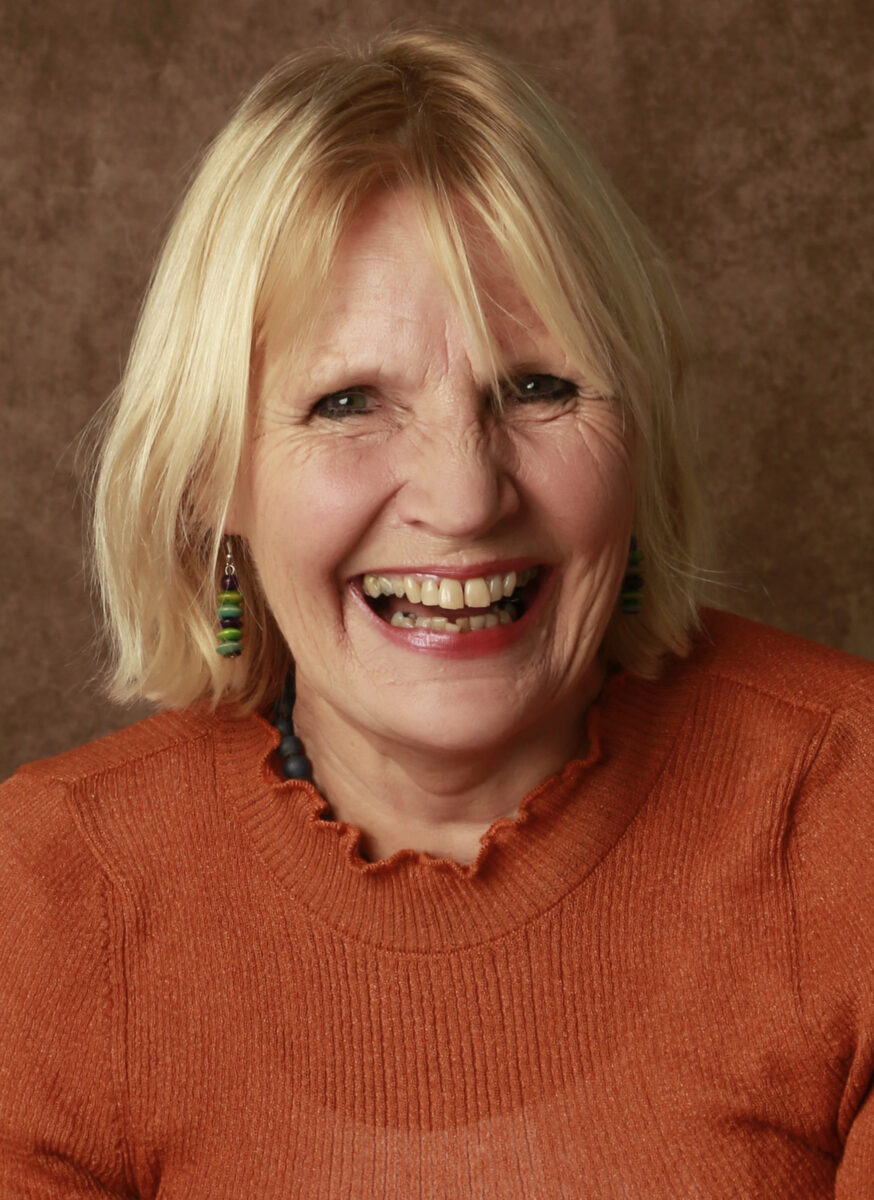 Oh Laura, Laura, fancy calling yourself a gardener without ever having grown a vegetable! Whilst I thoroughly approve of you starting a veg club at work, I hope the participants know they are putting themselves in the hands of someone who wouldn't know an Ailsa Craig if it bit her on the bum.
One thing we will not be growing is Swiss chard. It was looking amazing at Wisley, (see our feature photo above, a cultivar called 'Bright Lights') but I ask you is there anyone apart from Monty Don who actually knows how to cook it?
I know it sounds obvious, but it's horribly easy to become seduced by all those tempting seed packets, put in 16-hour days with all the germination, pricking-out, potting-on, planting-out, protection, feeding and harvesting required, only to end up with stringy runner beans that no one likes, rows of moth-eaten cabbages or wooden (and revolting) black radishes.
So here are three vegetables to add to Laura's list that I reckon ARE worth growing – one for usefulness, one for taste, and one for the sheer fun of growing it!
Shallots – Although cheap to buy in the shops, they are so easy and so generous. I grow the ubiquitous 'Golden Gourmet' and it has never let me down. Start them off as 'sets' in a tray though – the birds love to haul them out of the ground if their flimsy juvenile roots allow.
Broad Beans – Again, so easy. Sow inside or outside. Pinch out the tips if blackfly are a problem, and pick the pods before they get old and gnarly. And please can I implore you to shuck off the thick bitter outer coating of the beans after you've cooked them – it's the green bits inside that are so delectable (check me out, giving cookery tips! This is very unusual and only thanks to my own husband NOT being a grower of veg, but a wonderful cooker of them).
Chillies – These are a bit more of a faff , needing warmth for germination, a long growing season, sun, feeding, blah, blah, blah. But stick with it, because they are so vibrant and lovely both in appearance and taste, in their huge range of sizes, colour and heat. Really good fun as well as being attractive – remind you of anyone (cue, cheesy smile)?
By the way, Laura, Ailsa Craig is a variety of onion…..
---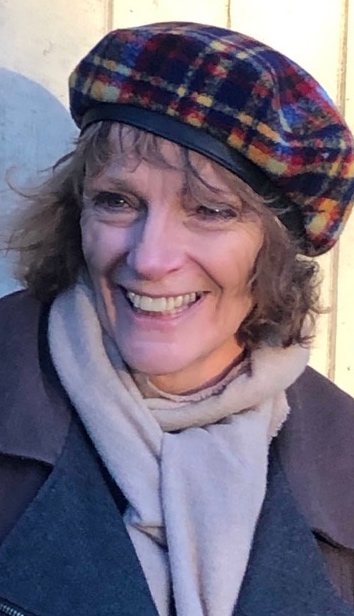 Peaches? No these won't do as an edible veg option here in Scotland (+ they're not veg right?) Robert the Bruce's army did not send Edward II home to think again on a belly-full of fan-trained peaches! It would have been more like:
Potatoes – OK so not freely available in the 14thcentury but sterling carbs suited to our climate up North nonetheless and so much fun to grow. I'll put mine in shortly (when I can actually open the back door). Waxy 'Pink Fir Apple' and floury 'Arran Victory' provide as much tattie excitement as our weekly menus require. Is there anyone who doesn't experience that 'I've found treasure' feeling when they dig up their own potatoes?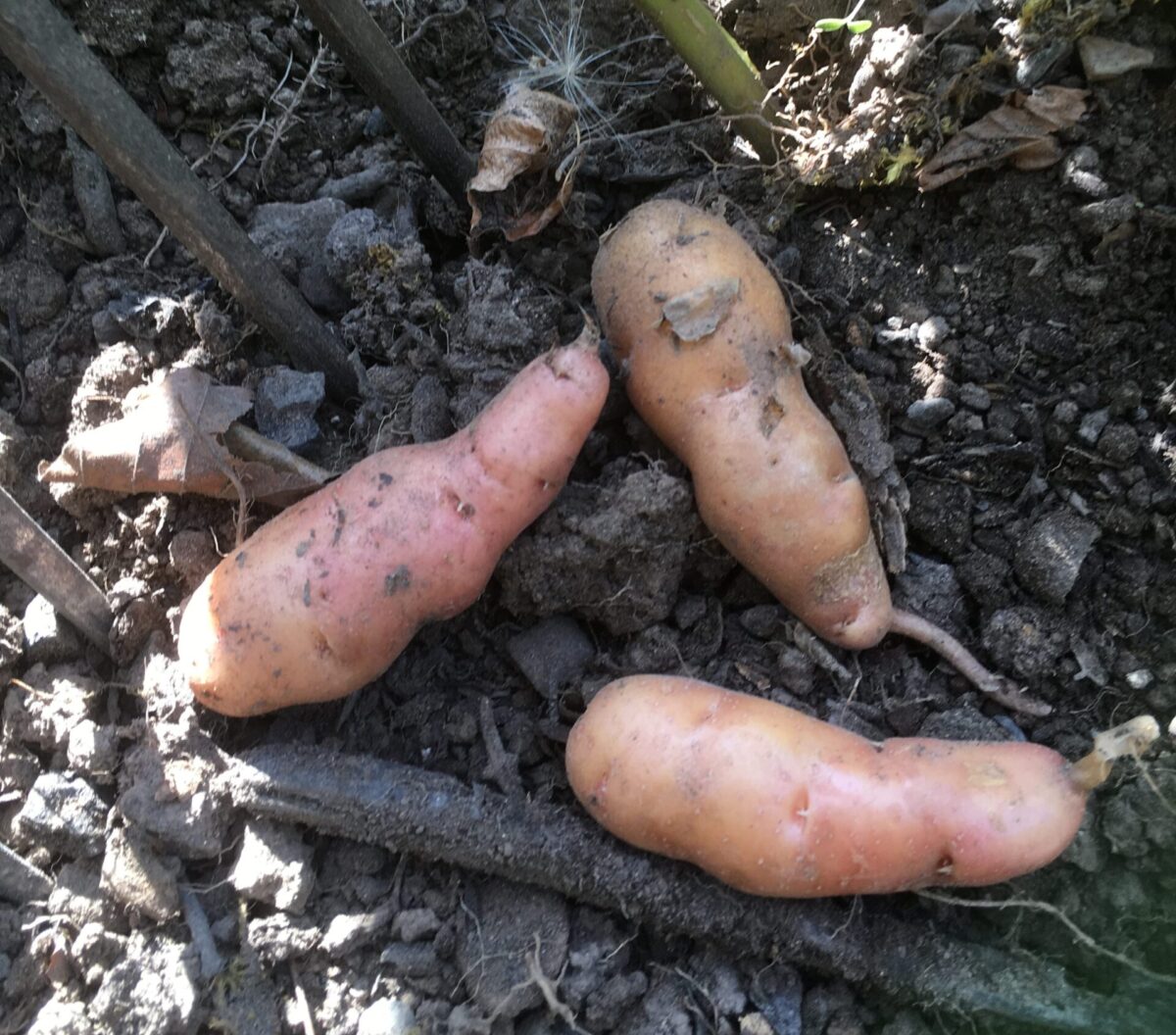 Rocket – definitely one that we eat and the hotter the better. Have you tried 'Wildfire', a real wowser or 'Dragons Tongue' which isn't as hot but has stunning red veins – go on, impress your dinner guests. Monty's already sown a tray and left them to germinate in a cold frame. They don't need warmth, tough little sods!
Sweet Peppers – Needing a sunny lobby or glasshouse in Scotland in my opinion (if you don't have a sheltered outdoor spot) but then all that's required is a simple gro-bag, no TLC, and suddenly they produce beautiful, gleaming fruits almost overnight when you least expect it. Perfect for hopeless veg growers!
NB Louise's Great Plant this Month is as stunner and tolerant of partial or full shade – not many of these to the pound!
More NB If you're not already a subscriber and you'd like a bit more gardening chitchat from the3growbags, please type your email address here and we'll send you a new post every Saturday morning.