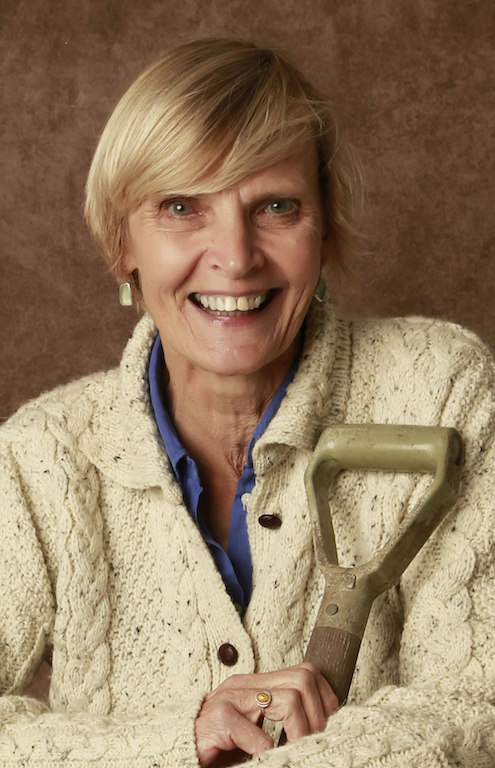 Caroline's increasing competence as a gardener meant I was reasonably relaxed when she accompanied me to an innovative event at the hallowed horticultural Mecca, Great Dixter, last week, without too much fear of embarrassment.
During the presentation an important fact emerged; an ecological audit had revealed the garden areas had a higher biodiversity count than much of the surrounding countryside, particularly insect life.
But climate change means some of our insects are now on the wing later in Autumn and earlier in Spring, so our plants need to be there for them – later and earlier – than they have been.
This week we are listing 10 brilliant plants to cover the Autumn shift:
1.Clematis rehderiana. Although some plants will have started flowering in midsummer and are still going now, I think it's nice to bring something new to the table in Autumn and this mighty species clematis is just the ticket. Not for the faint-hearted, it drapes itself with the same abandon that a C. montana will in spring.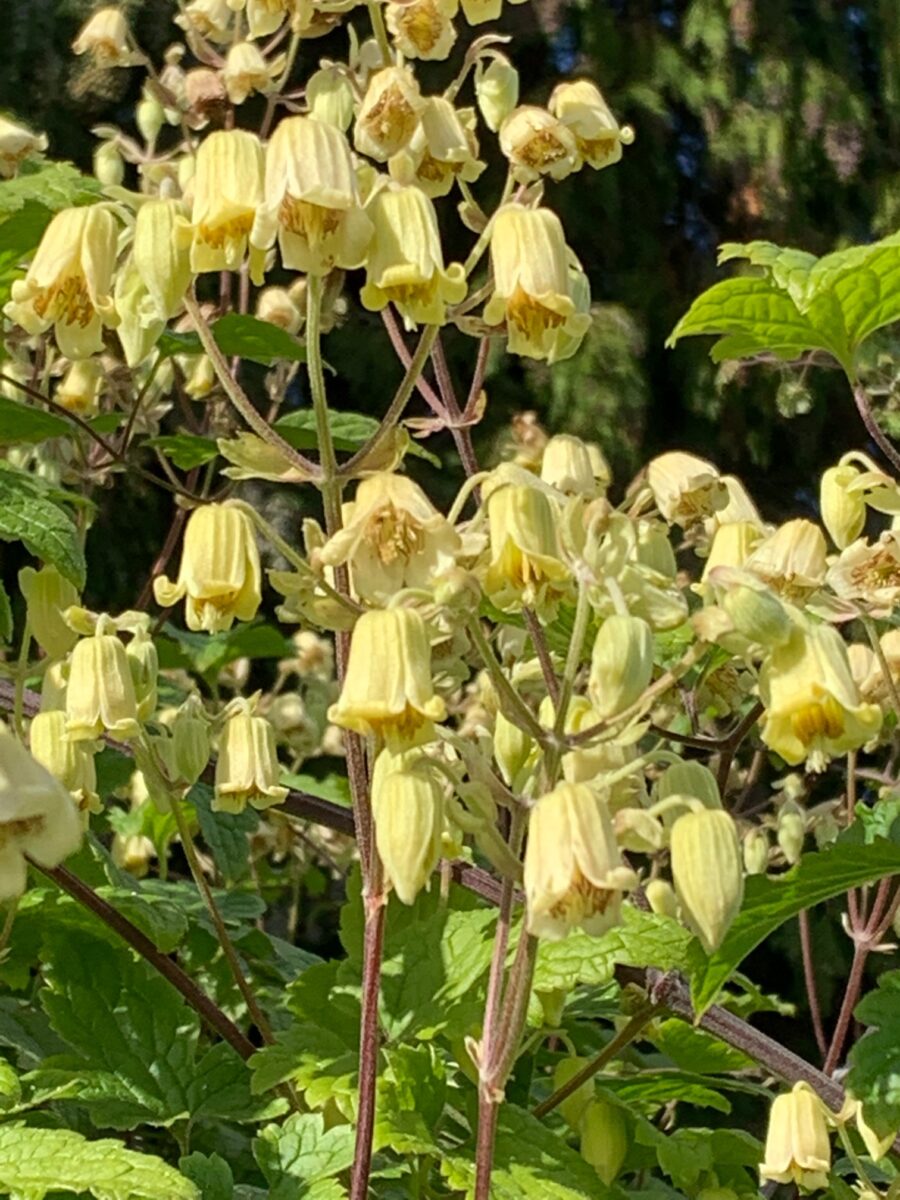 2 Aconitum carmichaelii A really classy latecomer beautifully designed to accommodate smaller bees. It's very easy to grow and before Caroline moans that it wouldn't stand a Scottish equinox gale, here it is standing in the teeth of a southwesterly on the Hebridean Isle of Islay.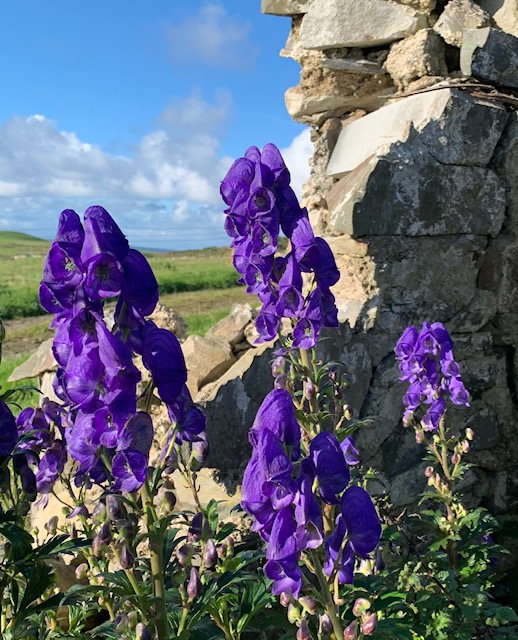 3 Clerodendrum bungei. The magnificent pink domes of this exciting sub-shrub are just the ticket for a queen bee to have her final banquet before hunkering down for the winter. It has a suckering habit so needs a firm hand on the tiller at times – but well worth the effort.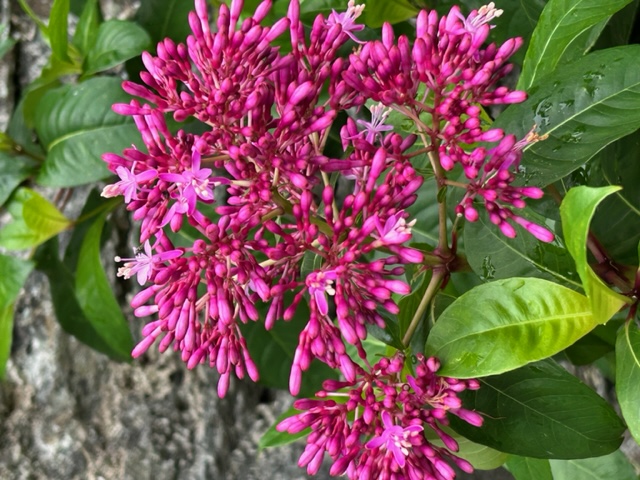 ---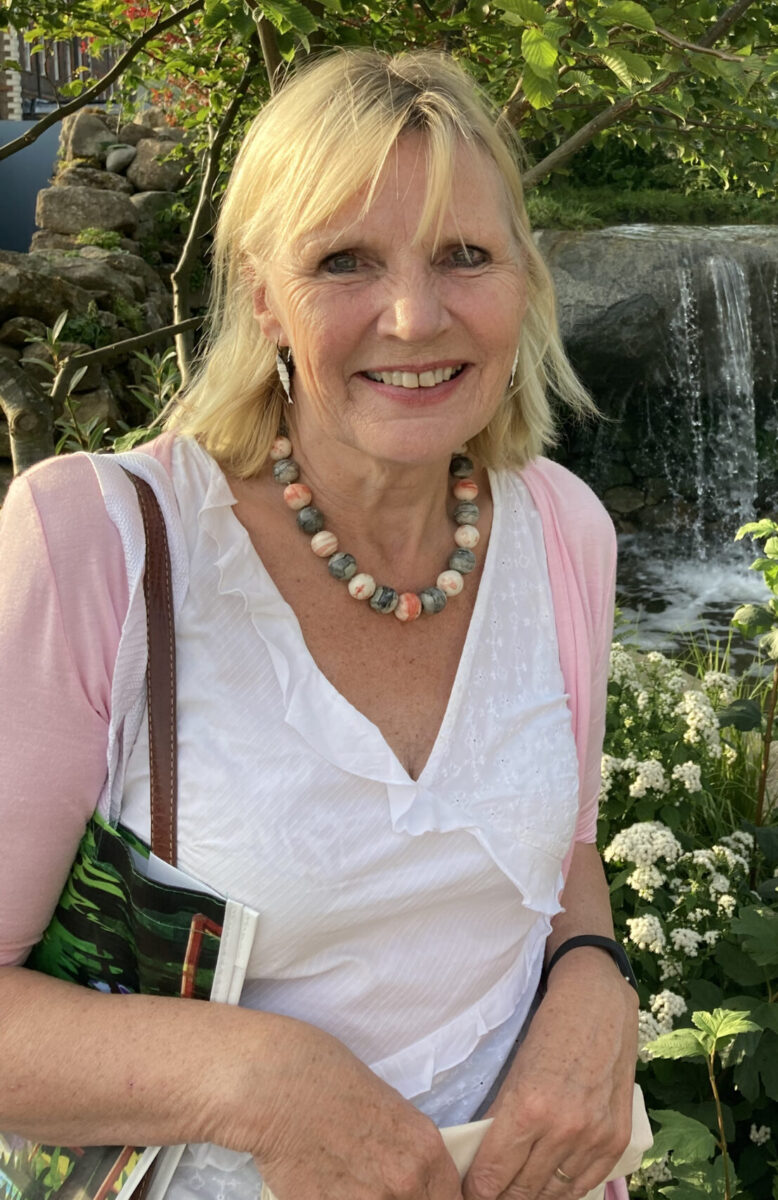 Yes, and to know that the Great Butterfly Count reported an increase in butterflies this year felt like a solid Blue Peter badge for all of us who've pored over the 'Good for Pollinators' pages of plant catalogue. We might be making the difference, and we can do more!
4. Abelia grandiflora. My first candidate for providing an extravagant buffet for the late foragers would be Abelia. Amongst a host of other partakers, these carpenter bees were getting quite delirious among their pretty flowers.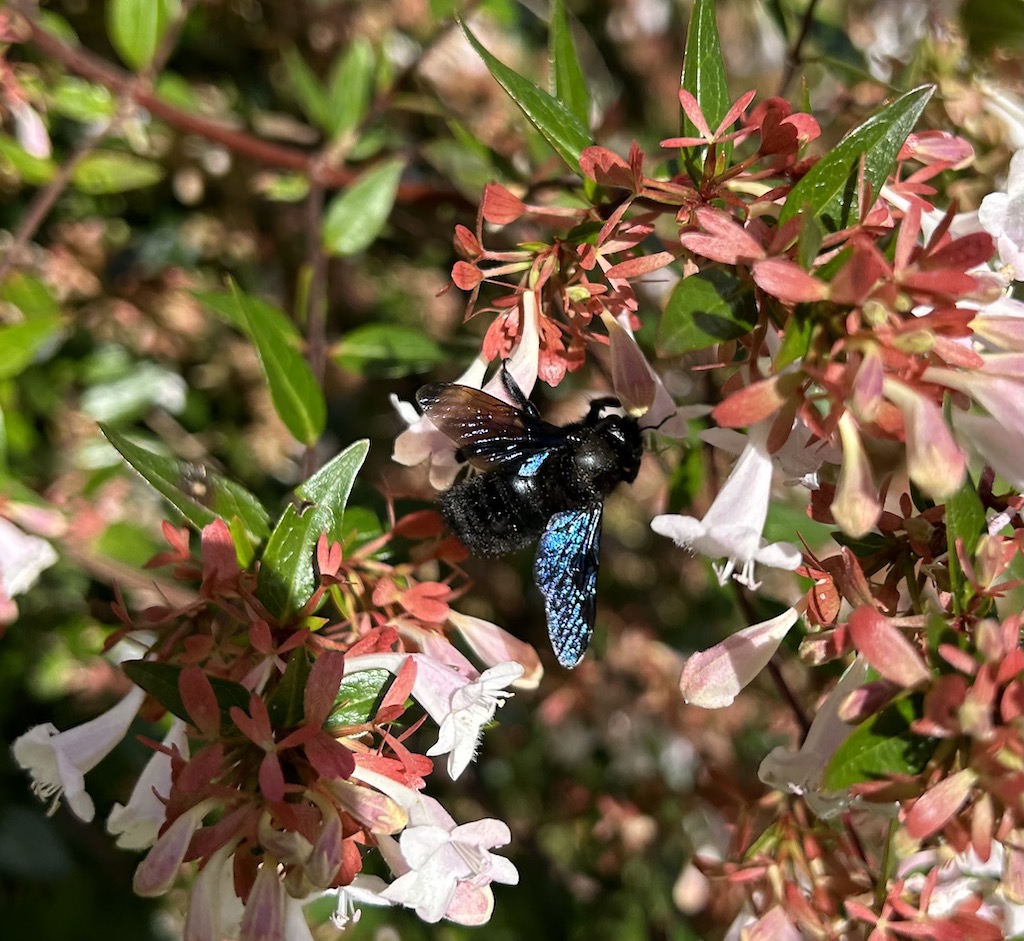 These are quite big and menacing-looking beasties, but are actually very docile most of the time – and the males don't have a stinger at all. They get their name because they nest in hard wood, so keep going with the log piles if you can.
Close by was a Buddleia, and as I mentioned last week, you can make this flower later if you cut it back in June or July.  It was alive this week with hummingbird hawk moths, laying down vital fat stores for their over-wintering. They were flitting between the Abelia and the Buddleia with all the hysterical excitement of new contestants on Strictly.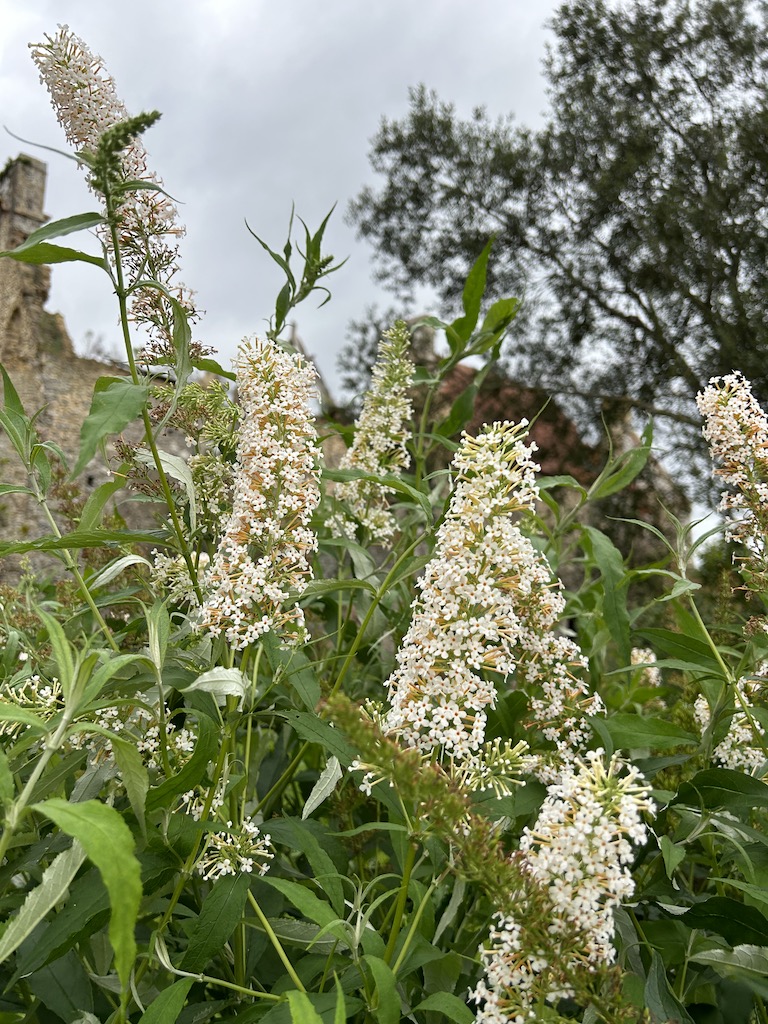 5. Arbutus unedo. Queen bumblebees also hibernate in winter like hedgehogs, and their favourite habitat in my garden this week were the pretty bell-like flowers of the tree Arbutus unedo.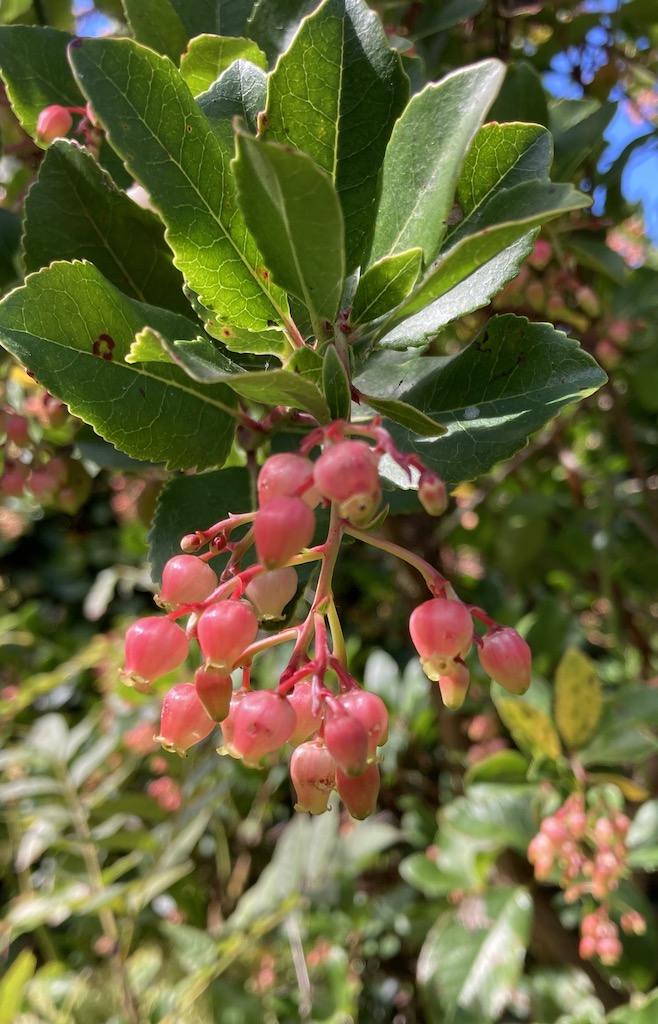 6. Single or semi-double flowers. These are always an appealing smorgasbord to many insects and the wet summer has meant that roses, clematis etc. have kept going for longer than usual – at least they have in my neck of the woods.  Rose 'Rhapsody in Blue' or 'Simple Peach' (see Louise's piece about this beauty), Clematis 'Princess Diana' and the zinnias are still attracting a lot of buzzing, fluttering, hopping attention.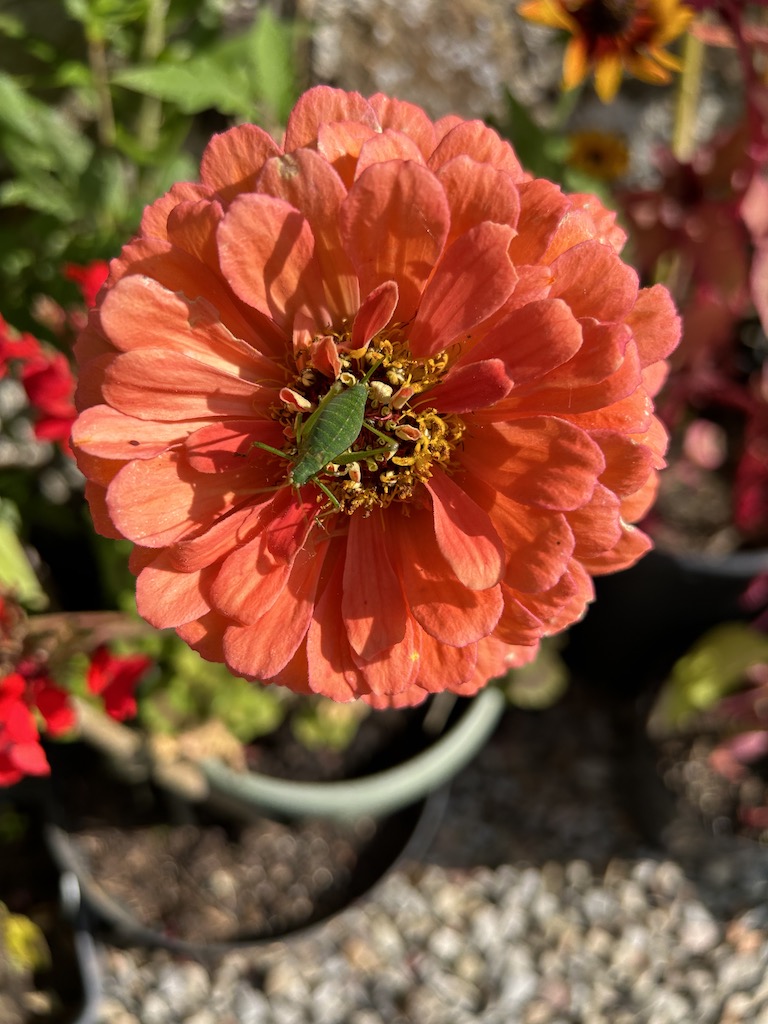 7. Stag's horn sumach. In butterfly-land, the clouds of Red Admirals we saw earlier in the summer have been replaced by Peacocks on the Hyelotelephium (sedum), and Speckled Wood butterflies on the stag's horn sumach tree (Rhus typhina) which is laden with dark pink flowers before its psychedelic Autumn swansong.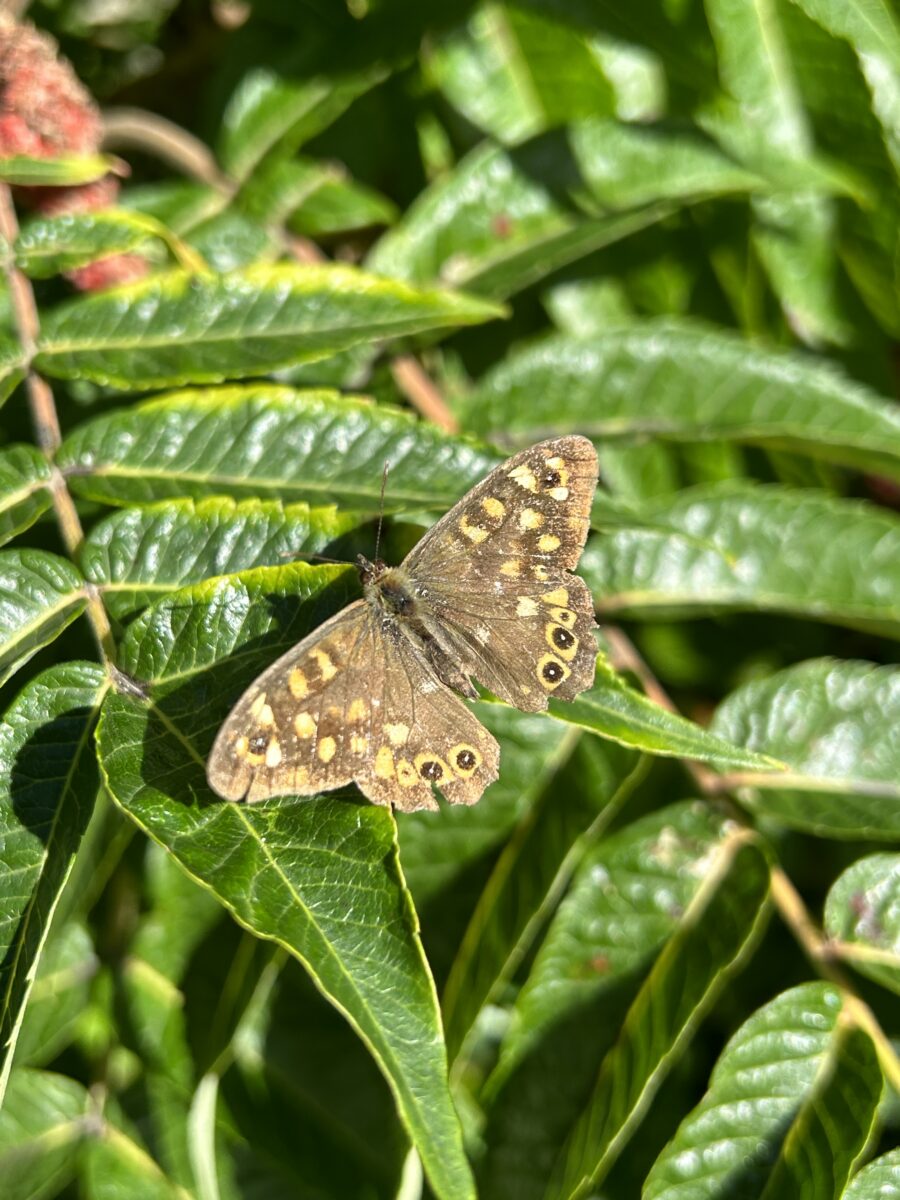 ---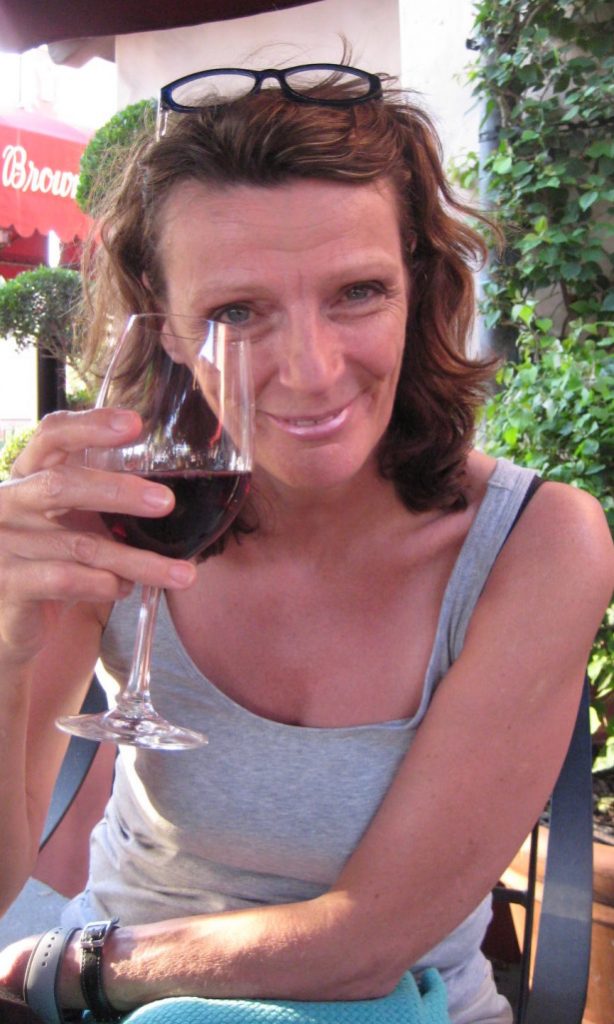 Honestly, 'Caroline's increasing competence'… so annoying when you think Laura asked me for cuttings to replace plants that died under her watch last winter.
And I was the one actually taking notes at Great Dixter where we learned how much our gardens (which have the combined size of Suffolk) can contribute to the overall UK wildlife ecosystem. Makes you want to try even harder doesn't it…
8. Cosmos –If my sisters had been as thorough as you and me with their dead-heading (unlikely) this would have been their first choice too. Still going gangbusters for you? Me too. And have you spotted any that haven't had a proboscis stuck in them from July until…well, now and counting. Their lovely open flower heads offer not only nosh but a perfect day-bed for insects which, presumably getting a bit weary by now, appear in need of that heavenly post-prandial nap.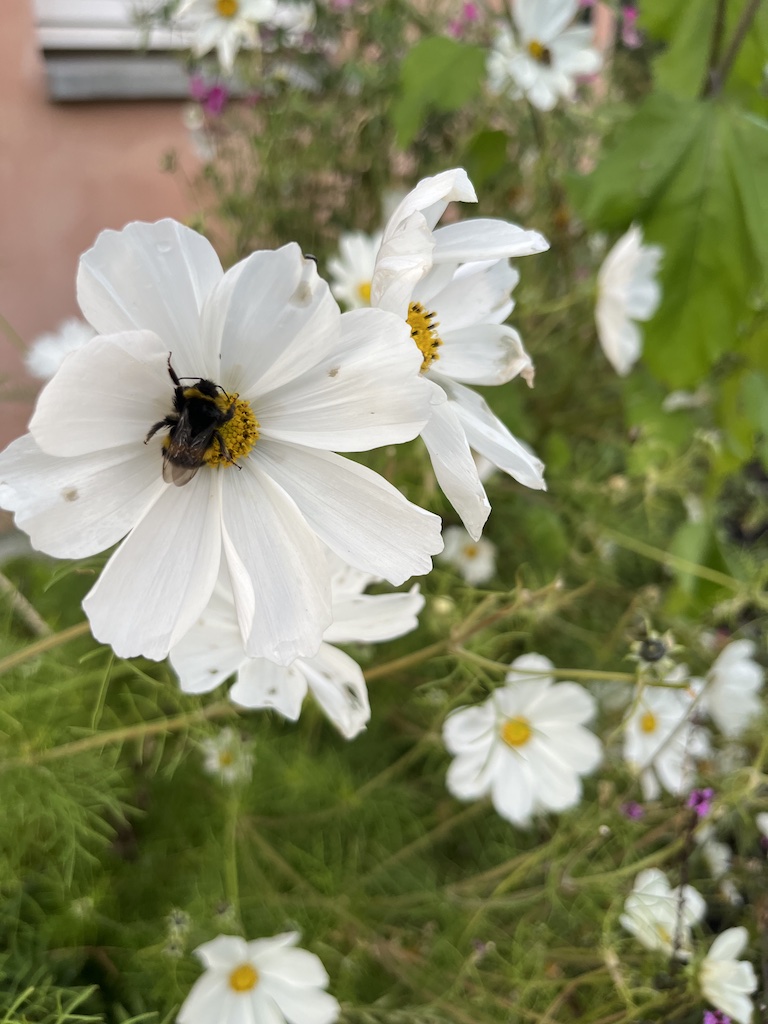 9. Rudbeckia – Laura thinks insects enjoy something fresh to savour at this time of year. A new menu if you will. Well this is the business. These Autumn flowers are a great colour to attract bees (they like yellow apparently); a solid flower head and are very plucky in the teeth of the worst Autumn gales.
It's a 10 from me (yey, it's back on!)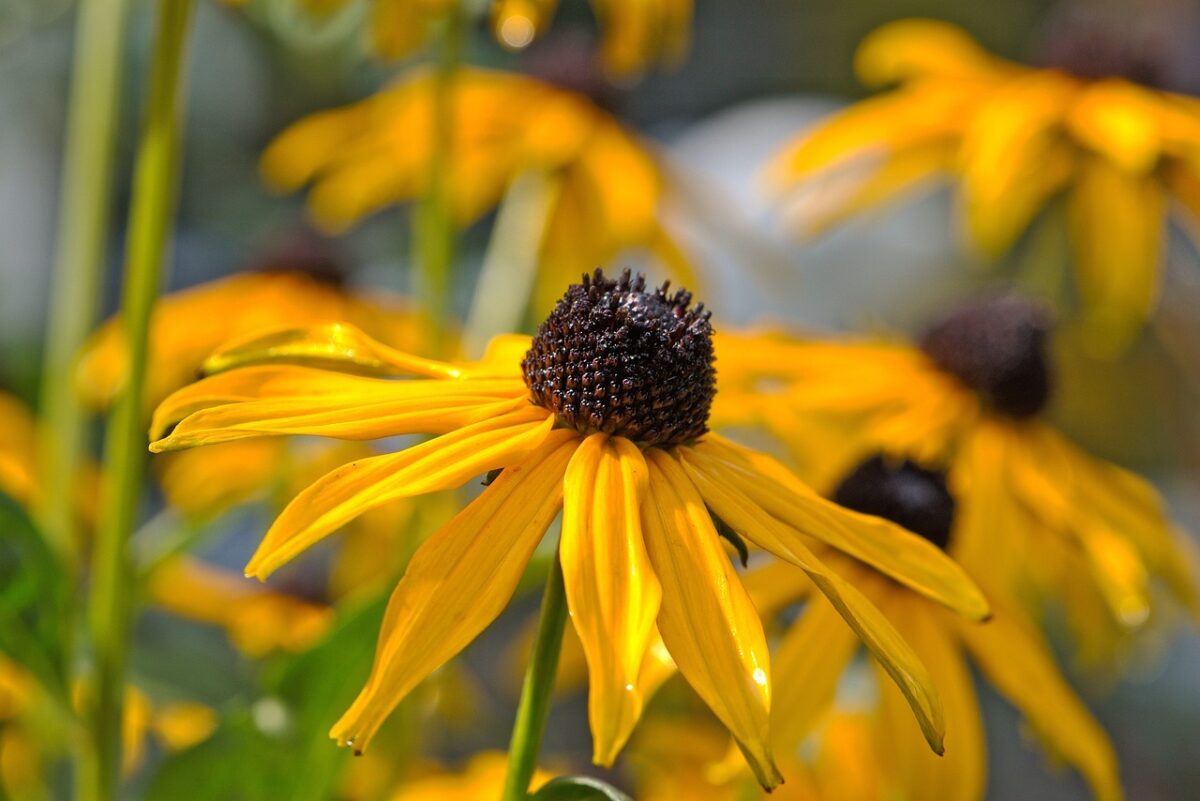 10. Mahonia 'Cabaret' – I know the popular Mahonia 'Winter Sun' is one of very few pollen and nectar sources on offer in February so I combed the J Parker catalogue for one for my new garden. Uh-oh, on the way I fell in love with the orange buds of Mahonia 'Cabaret'. Massive dilemma – M. 'Cabaret' flowers in late Autumn, not early Spring.
You'd be proud of me. Putting the needs of wildlife first, I ordered both and resolved to make good the family budget by foregoing a bottle or two of Merlot at the weekend. Only kidding, I cancelled my gym class instead.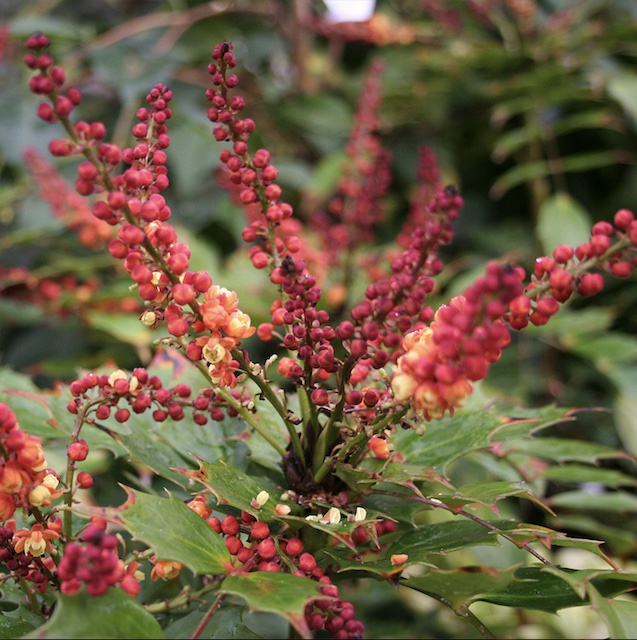 What's keeping the insects happy in your garden this Autumn – and any good tips for late winter/early Spring?
Now to find out how much I took in at that wonderful Great Dixter 'Soundscapes' event you can hear all about it in my review, where towards the end I think you'll see that actually it was Laura who was the more embarrassing Growbag … 'Sounds like, Great Dixter'
Whether fuchsias are your thing or not, this one is an absolutely cut above and its Louise's Great Plant this Month. Just click on the image to find out more…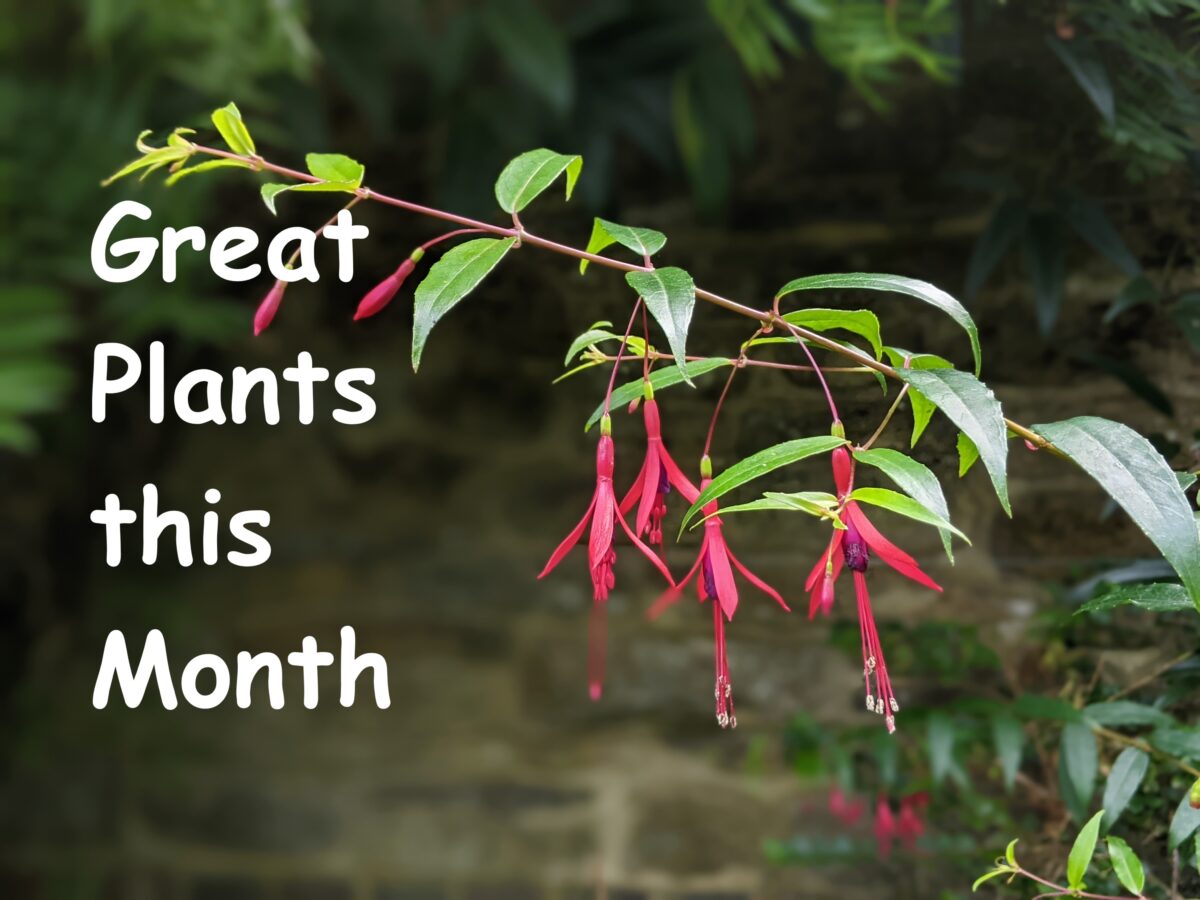 We have 10% off EVERYTHING in the gift section of our shop this week! some lovely presents for gardeners…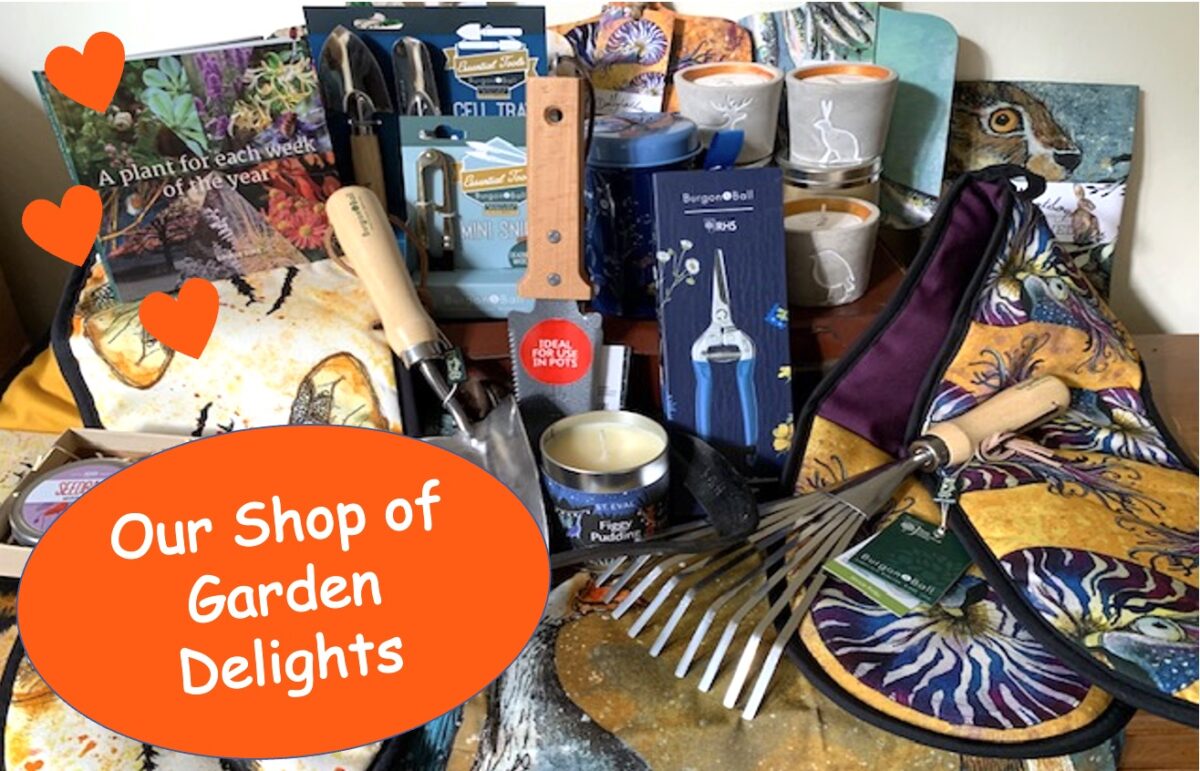 NB If you're not already a subscriber and you'd like a bit more gardening chitchat from the3growbags, please type your email address here and we'll send you a new post every Saturday morning.