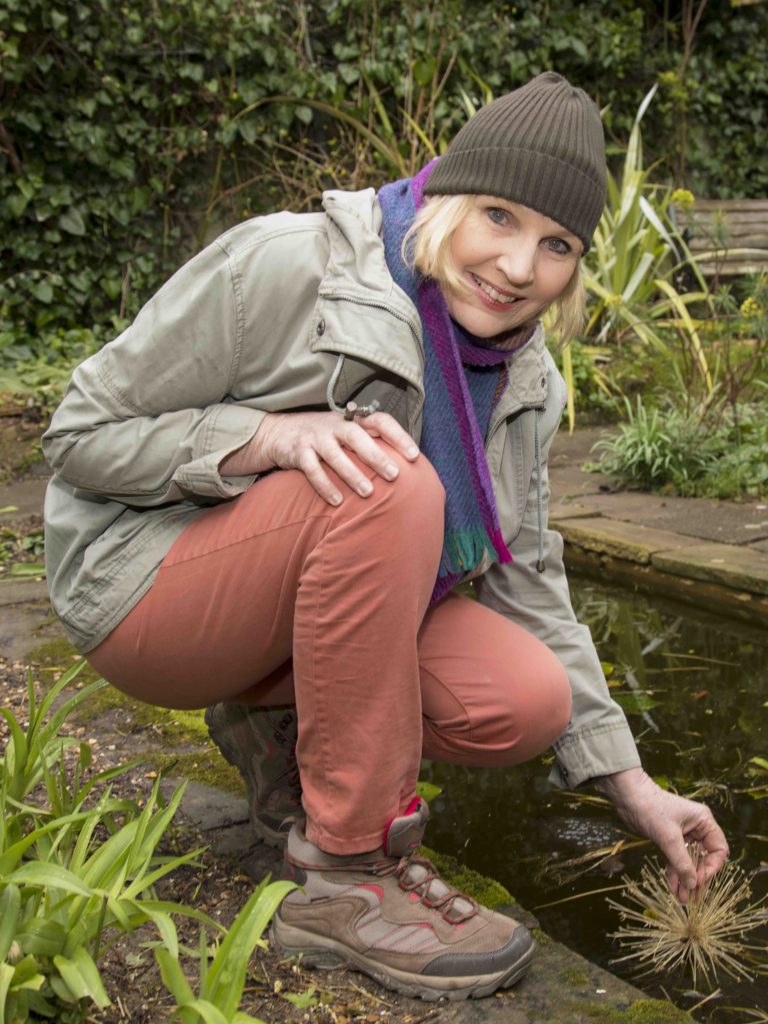 Mid-January in the UK and I don't know about you, but I find it a little less tempting to venture into the garden. But there are lots of tasks like early seed-sowing, scrubbing down patios and paths, and planning for winter scent etc. that will take our minds off the chill and put a gloss on our halos……
Sowing the Earlies
I know that you might be itching to start the new gardening year off, but please don't be in too much of a hurry to sow bedding or veg plants, or buy tiny plugs of these things. They will take an awful lot of looking after, you don't gain much in terms of early flowers/harvest, and they are more likely to be ready to plant outside long before the weather will allow you to do so.
There are however some plants that really do benefit from being sown very early in the year because they take a long time to mature. I am referring to things like pelargoniums, Lobelia, petunias, Coleus, Begonia, snapdragons (Antirrhinum), Iceland poppies, sweetpeas, dahlias, Cobaea, as well as leeks, chillies, basil, parsley, peppers, alpine strawberries and aubergines.
Low light and short days can be a real problem in winter especially in the north, so do make sure that the greenhouse or window-glass is lovely and clean and clear. The general sowing advice demands thin sowing of the seeds in pots or trays of seed compost and covered with vermiculite or fine grit; they should then be placed in a warm light position. But it's essential to follow the instructions on individual seed-packets because some have quite quirky extra needs.
For instance, delphinium seeds will germinate better if the tray is kept in the fridge for 3 weeks, before being brought out to a temperature of 15-21 degrees. And Cobaea (the lovely cup and saucer vine) likes to have its seed soaked in tepid water for a couple of hours before being sown. Most, but not all, of these early seeds will get going much more readily given some heat, in the shape of a propagator or warming cable.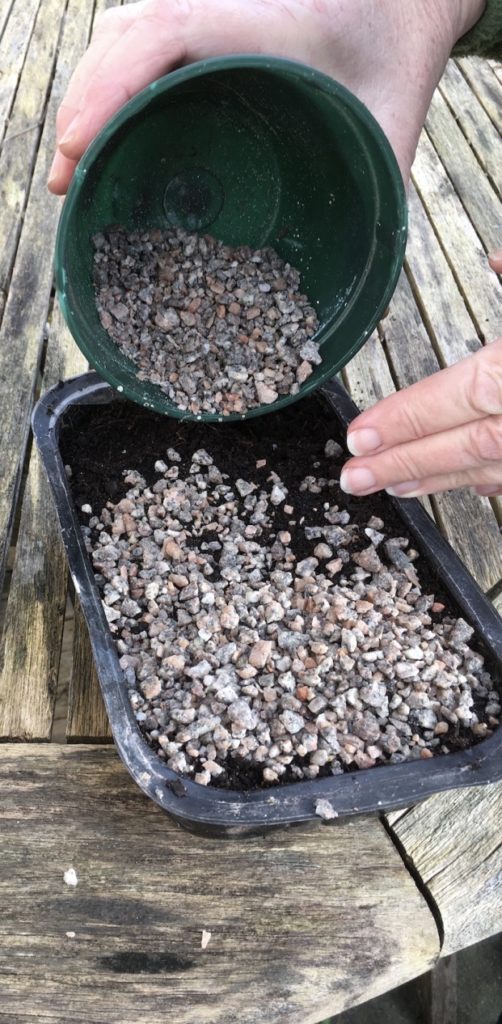 This can also be the best time to sow some seed of more exotic plants like ginger lilies, Strelitzia reginae (bird of paradise flower), Agapanthus and Canna. You need patience for some of these – they often think about things for a long time before deciding to grow. But by starting the seeds off early, you stand the best chance of having some plants large and strong enough to survive next winter.
Scents of Winter
Picture the scene – you're wandering round the dark, cold, wet winter garden contemplating a return to the sofa with a cuppa and what remains of the Quality Street tin, when all of a sudden, you are assaulted by a wonderful scent wafting through the chilly air…What an unexpected pleasure, what a thrill among the drabness!! And the scent is often gloriously powerful, trying to lure the few insects around at the moment. Even if you haven't got a garden, what about a pot of winter fragrance right by your front door? Irresistible, surely?
If you haven't yet acquired some scented winter shrubs, go along to a good garden centre now in the depths of winter and …..sniff. Stick your nose into any flowering shrubs – look particularly at Chimonanthus praecox (to quote Isabel Bannerman from her luscious book 'Scent Magic' that I was given for Christmas: "..understated yet devastating in looks and scent"), Sarcococca, Daphne varieties, Hamamelis (witch hazel, as in the lovely feature pic this week), Lonicera fragrantissima and purpusii….. If they are not in flower yet, make a note in your diary to repeat the visit in mid-February and mid-March. Their scents may be spicy, or fruity, or sweet, so just see what you like. Don't forget to check that your chosen site would suit the plant – some, like Sarcococca, are perfectly happy in part-shade, for instance.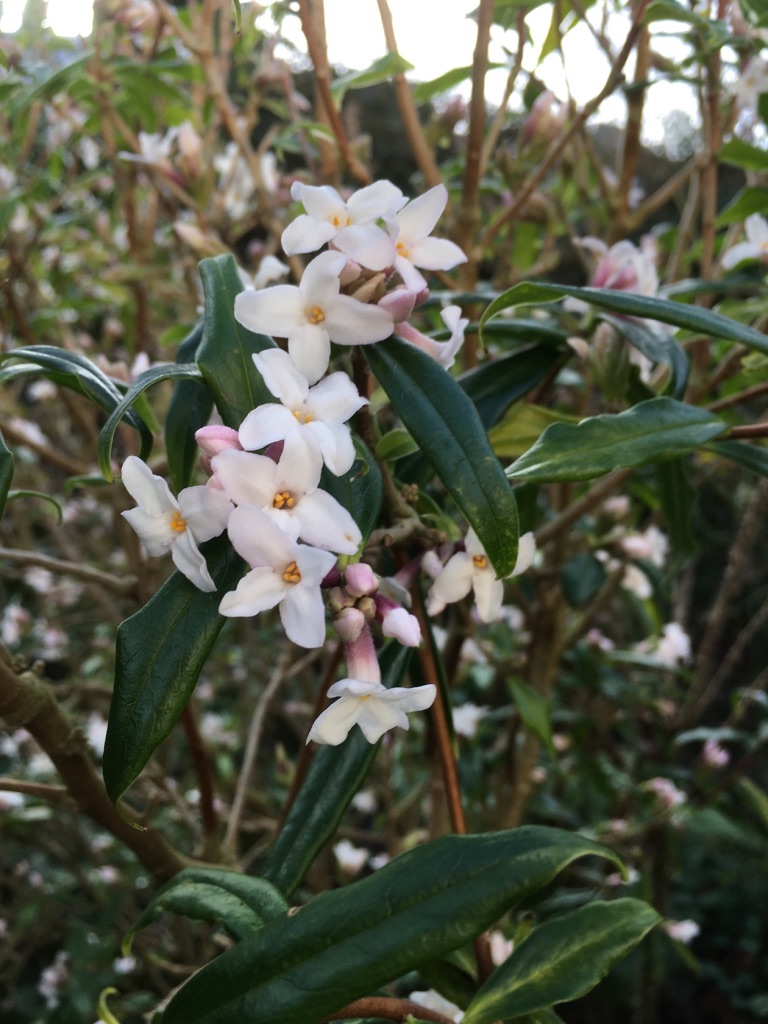 See if your local large gardens, RHS or otherwise, offer Winter Walks – lots do, and they are a marvellous way to get ideas for winter scent. For instance, Wakehurst Place in West Sussex opened a wonderful new Winter Garden in January 2019. We Growbags have also explored the subject in more detail (and not a little sisterly banter!) in January 2018. Make sure that by next winter, you'll have good reason to look forward to your winter garden.
Scrubbing Up
In the murky midwinter weather, moss and algae can creep across paving, decking and steps more readily, especially in shady areas. It usually looks messy and fairly horrible and even worse, it can be dangerously slippy – especially for older lady gardeners who sometimes scurry round the garden getting things done, but not always looking properly at what's underfoot…………………..
So tackle these green patches now, using a sharp old kitchen knife or weeding tool along the paving cracks, and a wire brush or stiff broom on the surface. A power-washer is handy for washing away the debris, if you have such a thing. If you want to go down the chemical route, proprietary patio-cleaners are available, but do check that they won't damage plants growing nearby or discolour the stone.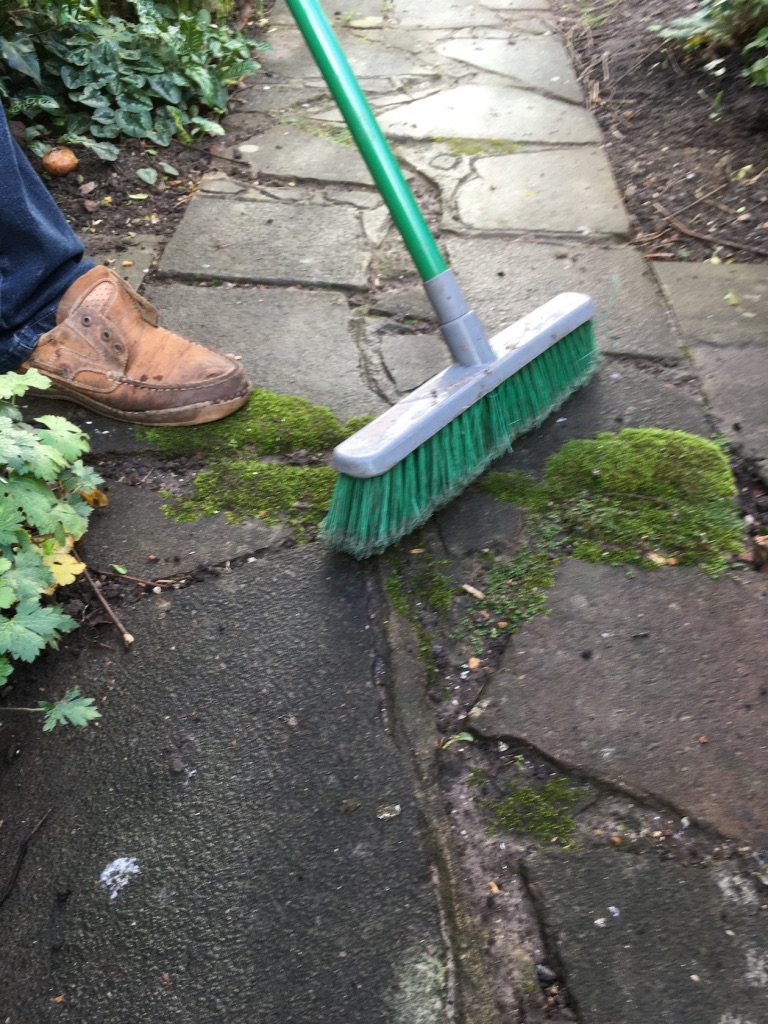 If there are areas that are persistently prone to this algal problem, can you prevent or at least slow up the re-growth? Maybe you could dig shallow channels alongside the paths, drives etc. and fill them with coarse gravel? This would usefully absorb the run-off. Chopping back overhanging branches would let more light and air dry up standing moisture. Think also about sprinkling coarse sand in steps or attaching chicken wire over decking which hugely improves grip.
Let's keep safely on our feet as we go about our gardening business……..
Gardening Shorts
Little sessions on the borders to keep them weed free will pay off when you come to spread a mulch over the soil in early spring.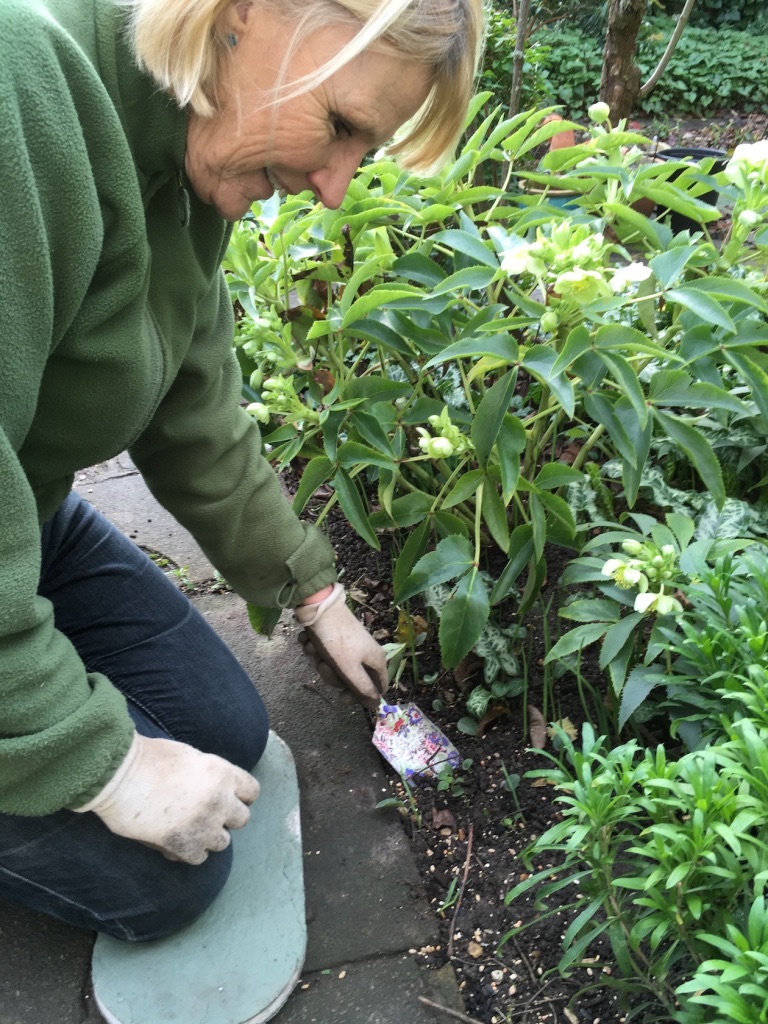 Buy your seed potatoes and sit them in egg-boxes in a cool bright place to develop little stubby green shoots – this process is called 'chitting'.
Scoop out any rotting leaves in garden ponds to prevent them from souring the water. Leave them on the pond side for a short while for any pond critters to creep back into the water.
If you'd like a bit more of our weekly gardening chit-chat just enter your email address here