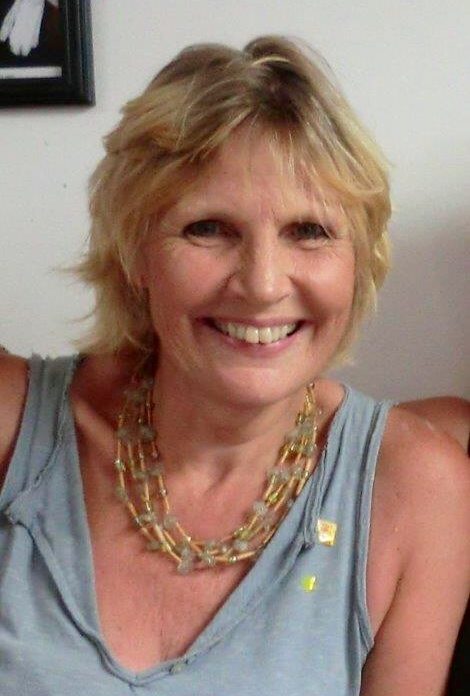 We're past the longest day and the nights are drawing in…, but not before we have a glorious summer to follow the lovely weather of spring, we hope! Jobs and tips to get on with this week include drying off the tulip bulbs, utilising some household things in the garden and sowing some poppies, so let's get started…….
Household items in the garden
No-one, I don't suppose, wants a garden full of household paraphernalia cluttering up their flowery piece of heaven, but there are a few little dodges than can look okay, work well and can save you some lolly as well.
If you have ever planted out some new seedlings or plug-plants into the ground or containers, and overnight suffered the enfuriating disappointment of a patch devastated by slugs, snails, cats or pigeons, or just strong winds, it is easy to make mini-cloches out of 2- or 5-litre plastic drink bottles. Just cut the bottom out of the bottle, and put it over the plant/plants, tucking the soil round the edges a little bit.
Keep the cap off, for ventilation, and don't leave it on all the time, or the plants will heat up too much. Not a long-term solution of course, but it should keep the annoying critters off until the plants are big enough to withstand such attacks better. You can use them for years too.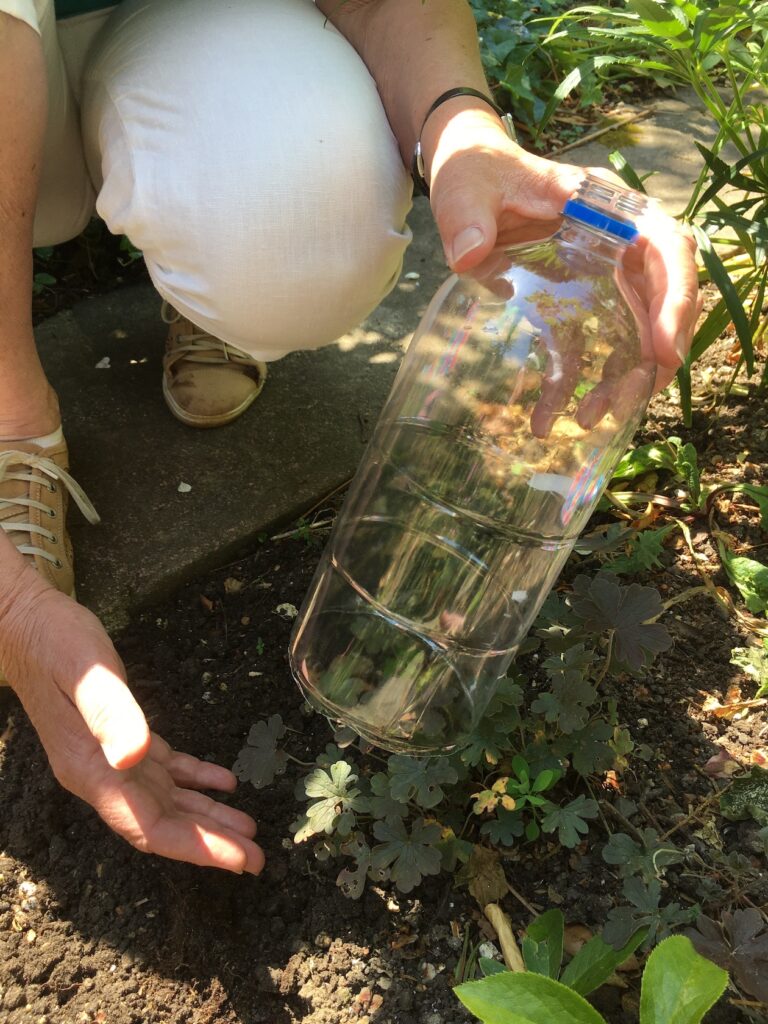 Those little shower caps they give away free at hotels popped over a pot on a windowsill and held up with lolly sticks, will make a nice little propagator.
This is a trick I've used for donkey's years – old tights make great tree- and shrub-ties: they have the softness and flexibility not to harm the trunk of a young tree, but are nevertheless strong enough not to snap in high winds.
Old tights can be useful in anther way too – use them as a filter, by attaching them to the end of the drainpipe running into a water-butt – just remember to clean your homemade 'filter' regularly. And Laura probably uses them to support her melons………(will you please stop tittering at the back…….)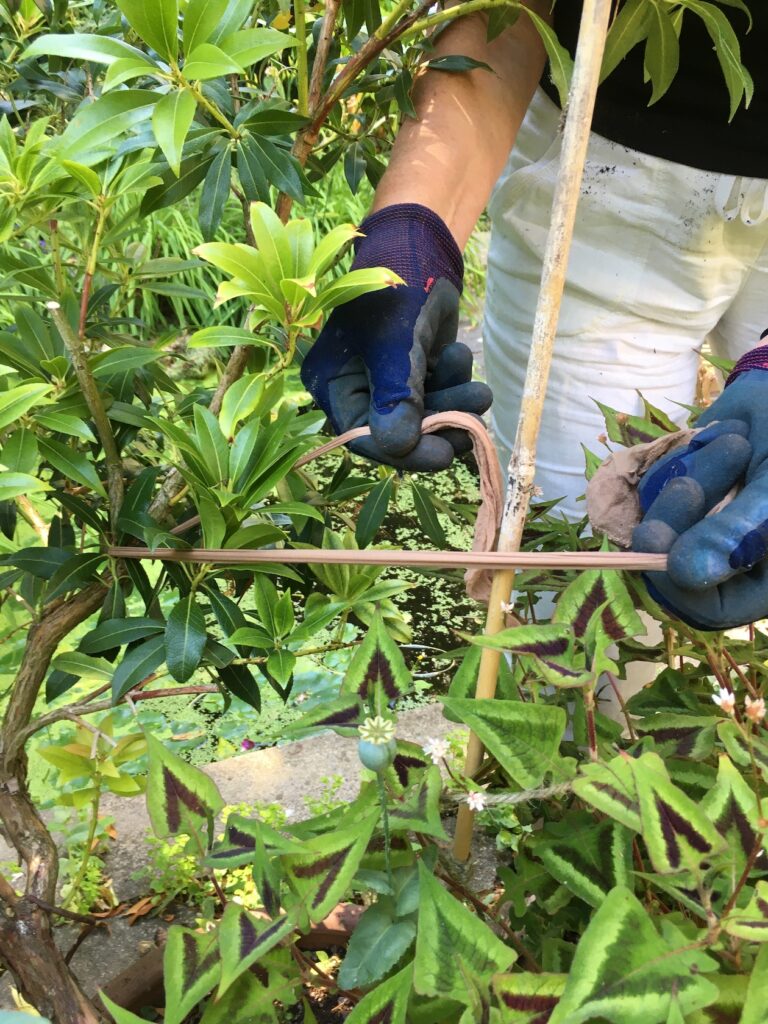 I expect there are a few of you out there who, like me, make your own fertiliser out of comfrey or nettles (fill a bucket with leaves, fill with water, weigh it down with a brick, leave for a week, use it 1:20 with water as a feed); or crush up a bulb of garlic to use in a litre of water as a pest spray.
But one I haven't tried yet is something suggested for powdery mildew and other fungal problems: you mix a teaspoon (5ml.) of baking soda to 1 gallon (4 l.) of water; add half a teaspoon (2.5 ml.) of washing-up liquid to help the solution stick to the leaves, and spray on the affected plant once a week through the summer. Might give that a bash.
Wine-corks as cane-toppers, live yoghurt smeared onto new stone ornaments to 'age' them a bit, cocktail sticks or holly twigs in the seedpatch to deter cats…………………..lots of clever ideas to save money without making your garden look TOO much like a hippy household tip!
Sorting out the spring display
I do hope you didn't cut down or mow the leaves of the daffs as soon as they'd finished flowering. That foliage will have still been photosynthesising and helping to build up the underground bulb. In fact, just-after-flowering is a very good time to give spring bulbs a foliar feed boosting the plants for next year's display. Now all these leaves will have died right back, and can be cleared away completely, or mown if they are in grass.
Tulips, too, will be topped by brown foliage, so dig up the bulbs and store them in a cool, dry, dark place (not a plastic bag, where they may rot) until late autumn when they will be well-rested and ready to plant again into their flowering positions.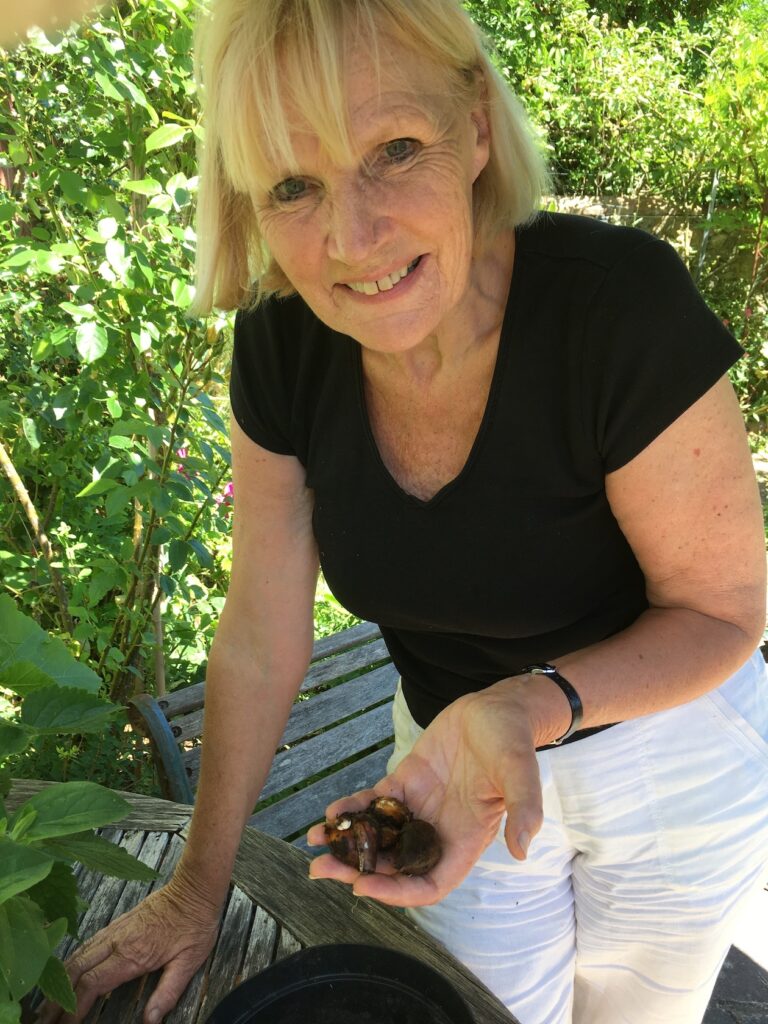 Pots and pots of veg!
During the pandemic 3Growbags published a DigYourOwnaForCorona guide on veg-growing for novices and I started growing veg and salad things in large pots which I'd never done before – and I am a total convert!
You have SO much more control over what happens – thinning, watering, feeding, supporting, protecting………………it all seems much easier and thus enjoyable when you are tending an urnful of plants rather than rows in a veg patch. Obviously, watering must be attended to more urgently with container-grown plants, but even that task seems simpler because I am finding that you can gauge it better.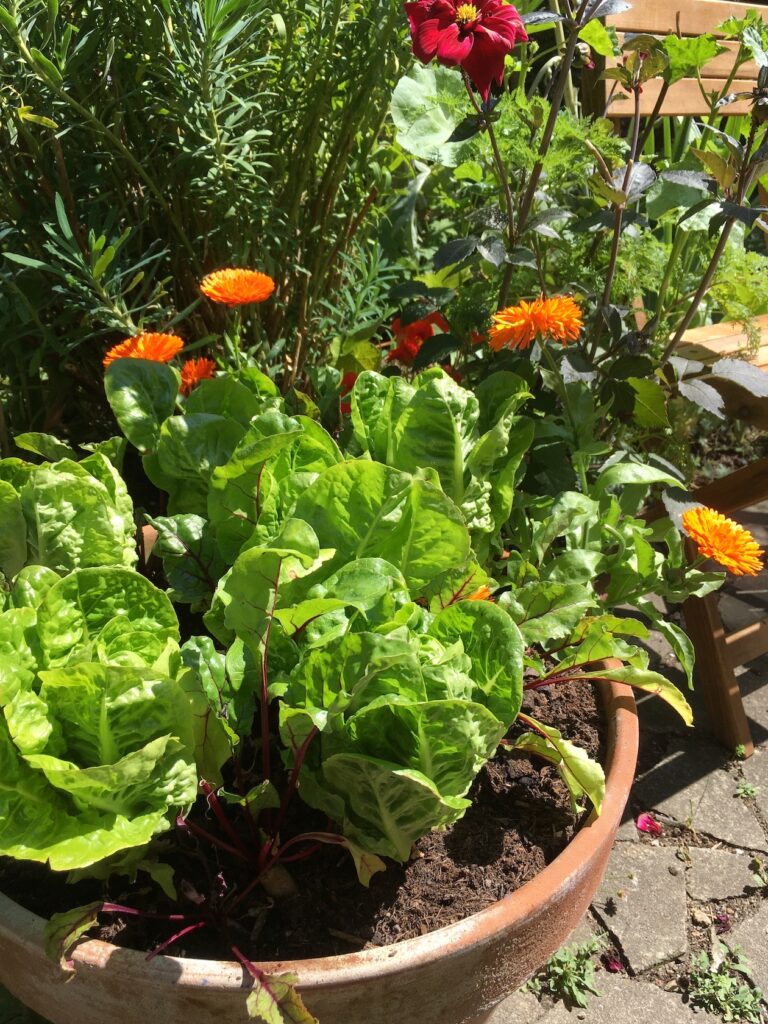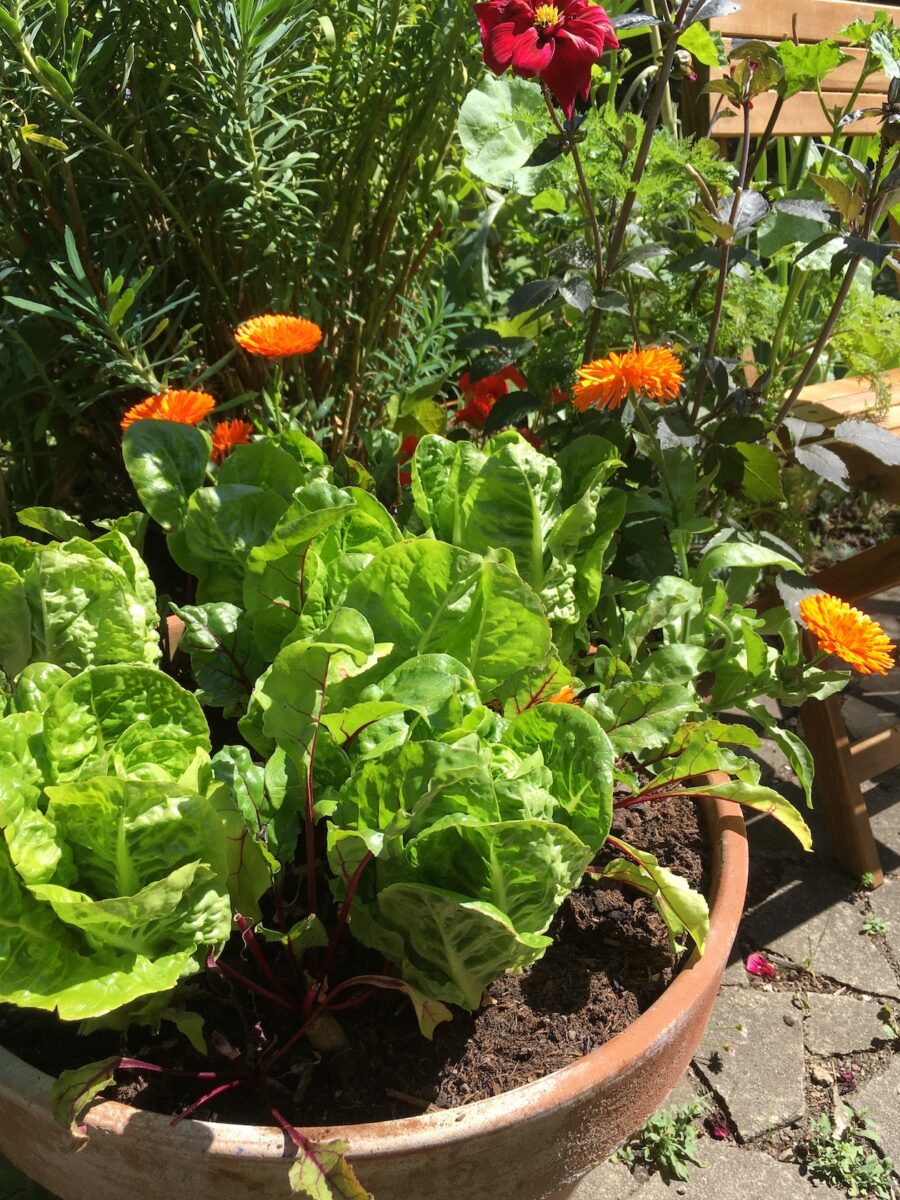 What I have noticed the most is that the plants seem to be so much safer from pests that would invade, nibble or destroy them. We've been eating pot-grown lettuce leaves for a few weeks now and I've yet to find a slug or snail on any of them. That just NEVER happens with ground-grown lettuces – at least not with me!
The veg plants look so much more attractive too. I sprinkled some edible marigolds and beetroot in among the lettuces and nasturtiums with the peas – and that pretties up the pots even more. Things like ruby chard are extremely glamorous anyway. I don't know that I am ready for a Grecian urn full of Brussel sprouts yet, but you never know….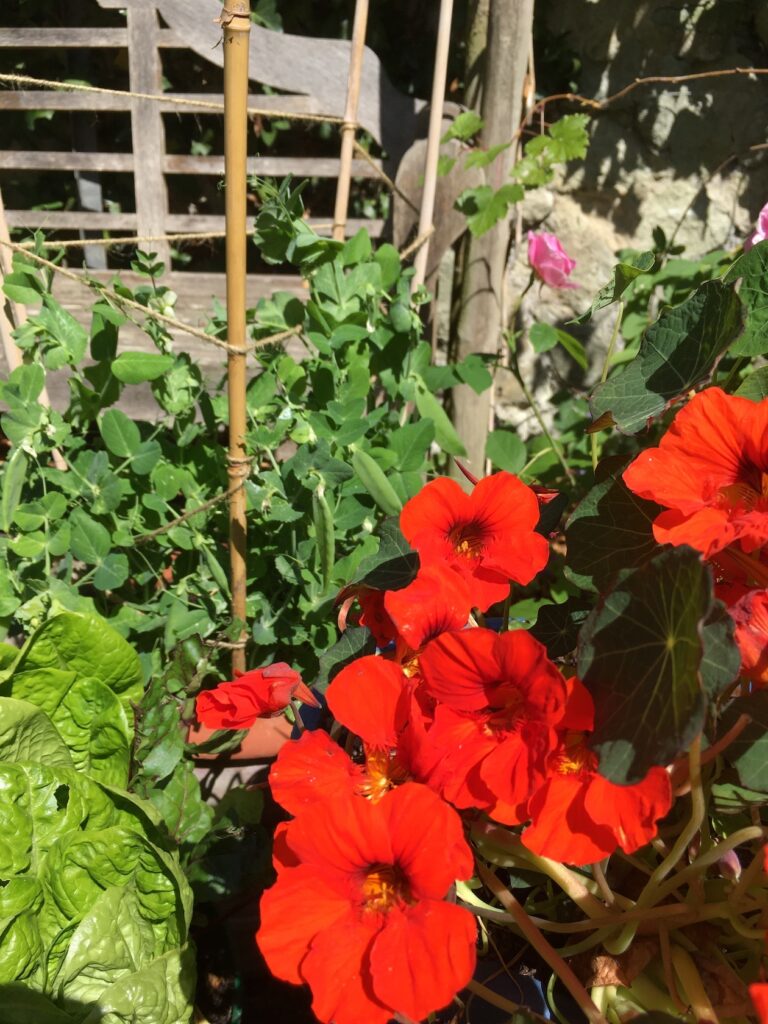 You're still in good time for sowings of every sort of salad, carrots, peas or French beans, so sprinkle some seed into pots, window-boxes, even hanging baskets, and have a bit more of the fun of growing-your-own and a bit less of the pain of it.
On the subject of carrots, I was chatting with my friend Dave (a much better veg gardener than me!) last night, and he said that he hates wasting seedlings that have gone to the trouble to grow (so do I!), so he delays the carrot-thinning job until the ones he's pulling out are at least large enough for a small meal, even if the ones that are left in the ground don't grow so large, as a result. Sounds like a good idea to me.
Gardening Shorts
Do you need more mint?! Well, maybe not. But if a friend has some, and you'd like some too, just cut some stems right now and put them in a glass of water for a week. They will easily grow roots and can then be potted up. I did this last year and had little pots of mint in my greenhouse which, along with French marigolds, seemed to do a great job of warding off whitefly.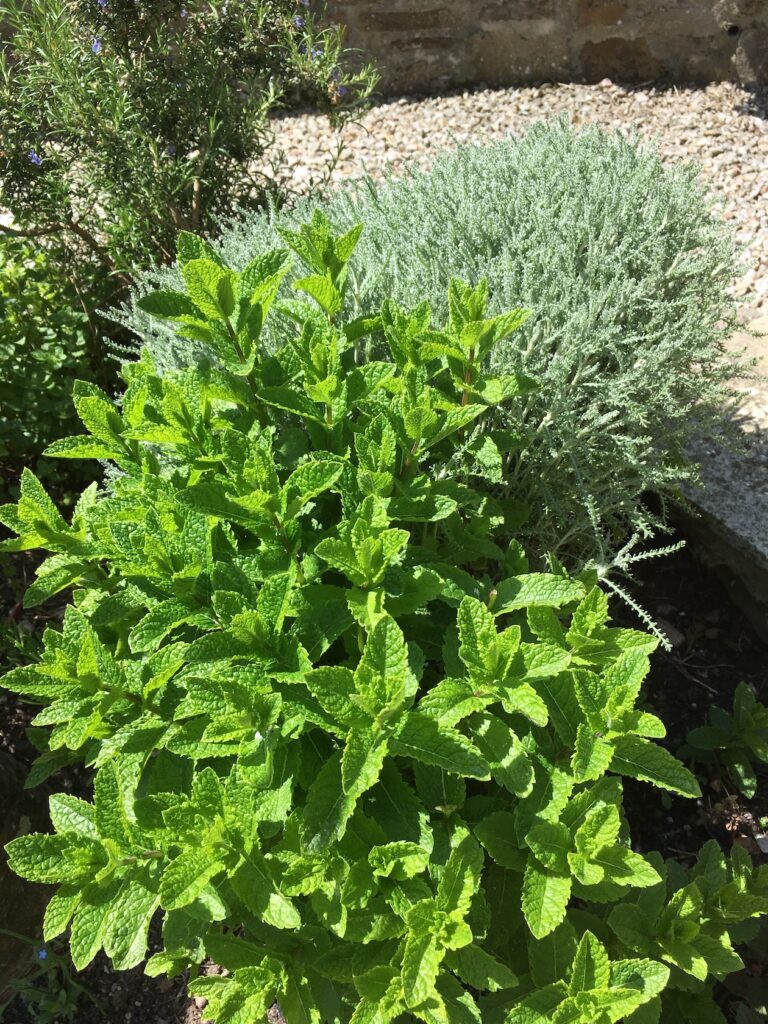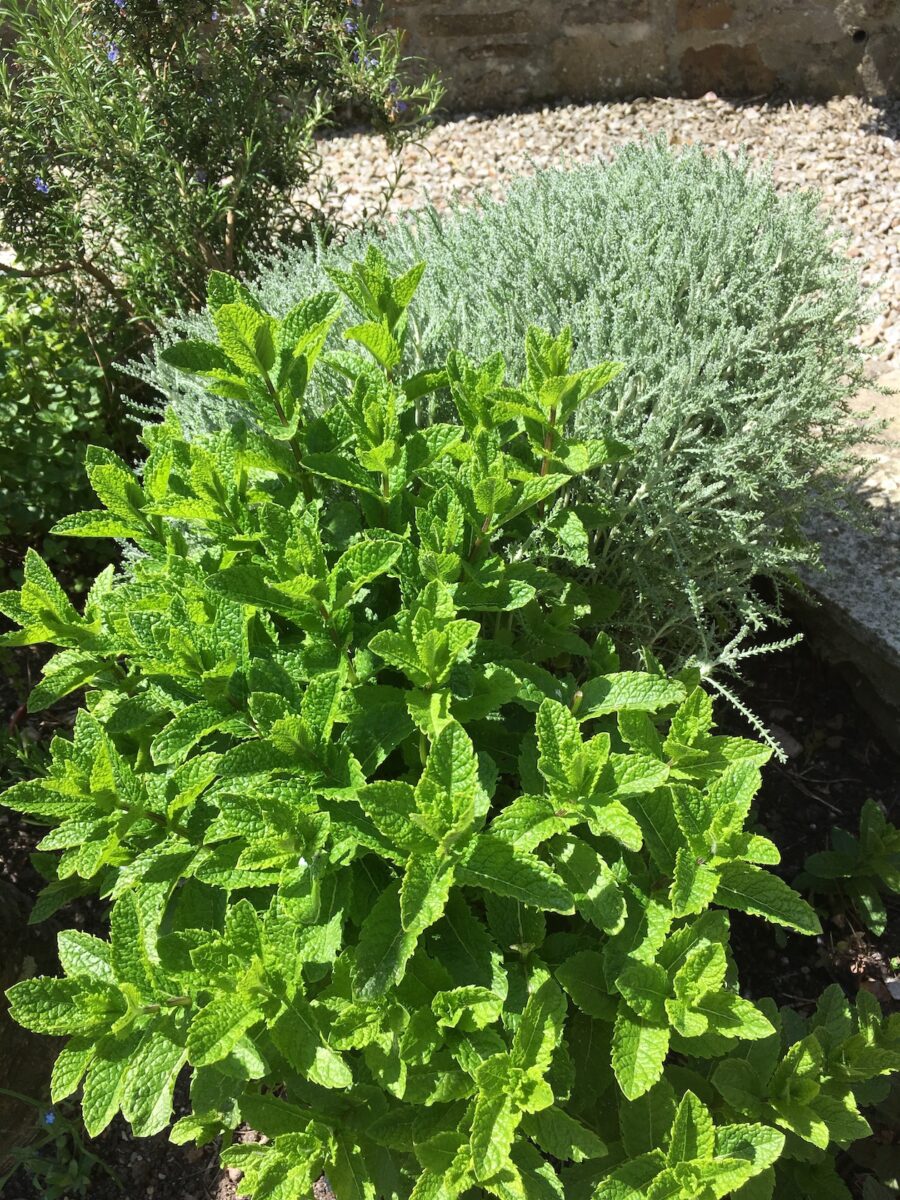 There's still time to sow quick-maturing annuals like poppies directly where they are to flower (they loathe root-disturbance). Many of them will be in flower 8 weeks from germination, and then on into autumn.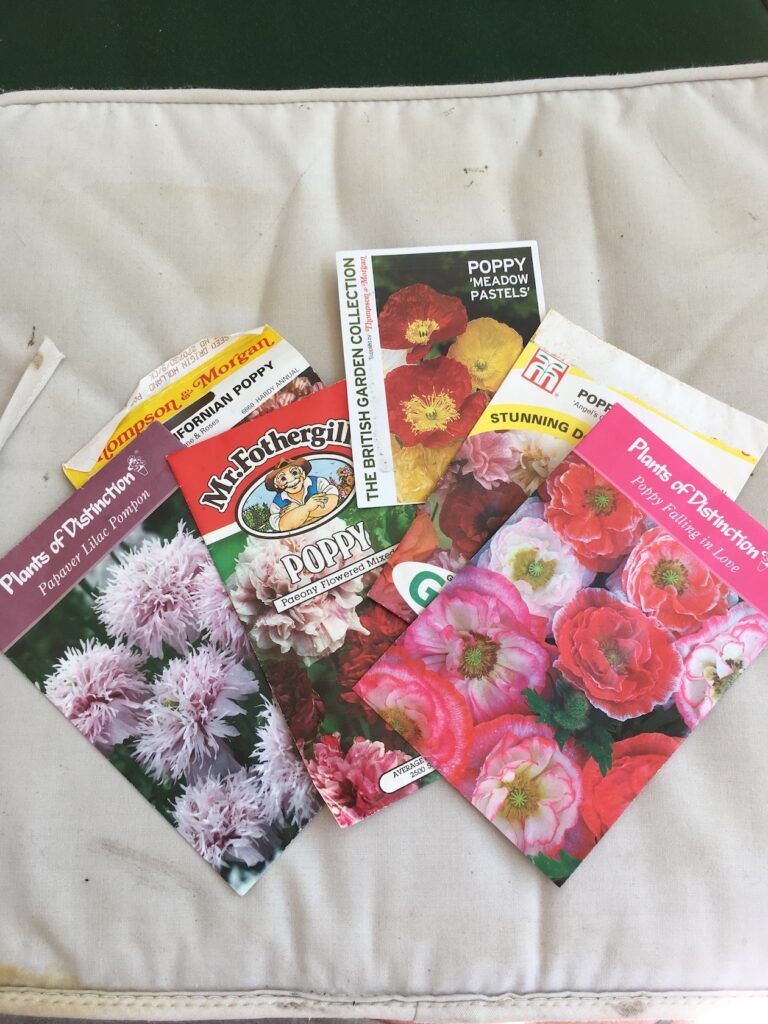 It's ridiculous what a difference a neat lawn edge makes to a border or a path! If you have suddenly got somebody visiting, and your garden is looking ……..woolly, zip along the lawn rims with long-handled lawn shears or clippers and sweep the paths. Your visitor will hardly notice your weed-infested borders!
NB: If you'd like a bit more gardening chit-chat please do enter your email address in here and we'll send you a new post every Saturday morning: