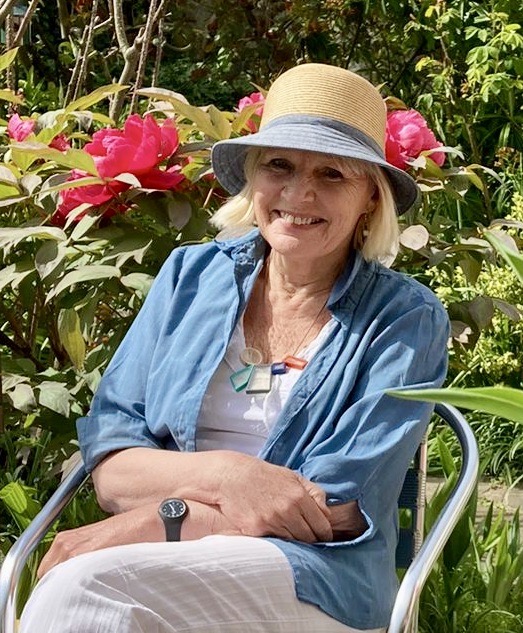 July and the garden can let rip! Flowers and foliage and vegetables are busting out all over the place, and if we've been diligent about considering wildlife in our plant-choices and care, our gardens are full of all sorts of pollinating insects to help birds, frogs, hedgehogs etc. too.
But there are still jobs to be done, like sorting out the irises, planting our salads, and feeding Agapanthus, so let's get on with it…
Renovating irises
The irises have been delighting us through May and June, and once they have finished their display, they really benefit from a bit of love and care every 2-4 years.
Dig up the rhizomes (the fancy name for horizontal underground stems), snap off the oldest, gnarliest bits and throw them away, leaving the youngest bit of rhizome with some leaves and roots on it.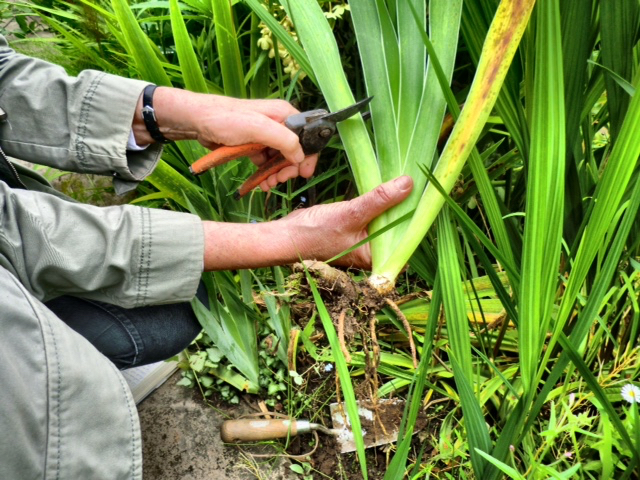 Then trim down those rather scraggy leaves to about half, making a neat fan. This will reduce water loss while the plants recover from your interference! Trim any long roots and plant the rhizome very shallowly back into the soil, with the rhizome on the sunny south side of the leaf fan, so that it can be properly baked through the summer. All that's needed then is a good drink of water, and they can be left to grow on happily.
Collect and sow seeds of biennials
Do sow some biennials for the pollinators next summer – foxgloves, sweet rocket, hollyhocks, teasels …….they can all be sown now. You can buy packets of seed of course, but it's even better if you can gather your own, as this year's plants go over!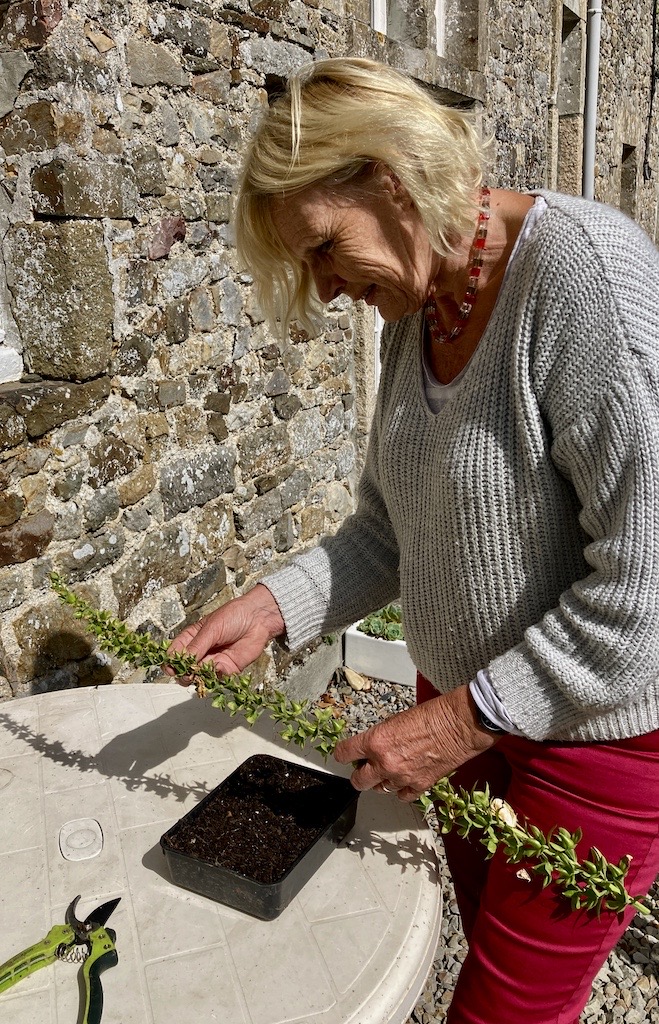 Here's how to do it:
1. Carefully cut off an old flower stem and turn it upside down over a piece of newspaper, and the ripe seed should fall out.
2. Fill a seed tray with peat-free compost, tamp it down to squeeze out any air pockets, then sprinkle the seeds over the surface.
3. Cover the seeds with a thin layer of horticultural grit or vermiculite, and then sit the tray in shallow water to soak the compost.
4. Put the tray in a warm and sheltered place – it won't take long for your seeds to germinate.
5. Once the seedlings are large enough to handle, prick them out into individual pots or modules to grow on. They'll be ready to plant out into the garden early next spring, for a gorgeous show of flowers, loaded with nectar during the summer.
Aiding the agapanthus
Agapanthus feel like the essence of summer, don't you think? These South African beauties need a hot sunny spot to flourish, but that doesn't mean they don't need water and food during the growing season if they are to flower in as flamboyant a fashion as they could do.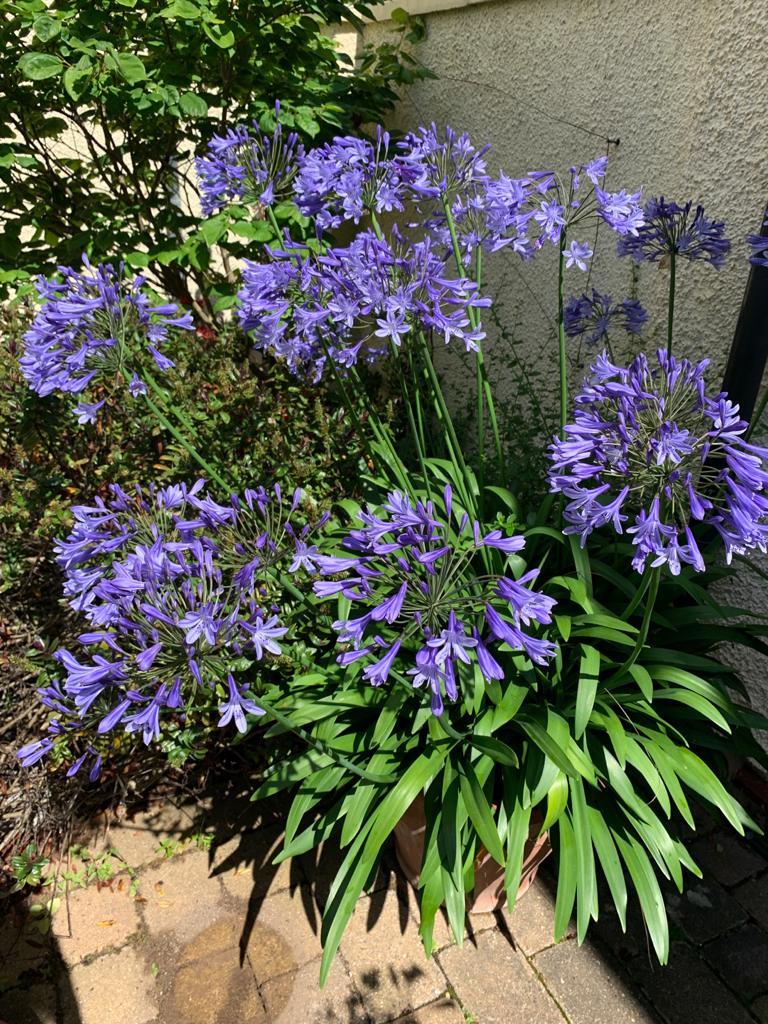 Give the plants a good soaking every week if the weather is dry. And every fortnight or so it's really worth adding some tomato fertiliser to the water (which has plenty of potash in it – perfect for flowering plants of all kinds).  This will strengthen the bulbs and is particularly important if you are growing Agapanthus in containers of course. The feature pic this week shows the buds of the rather thrillingly vibrant 'Poppin' Purple' Agapanthus that I acquired a couple of years ago, and it seems to thrive on this treatment. Can't wait for them to flower!
Gardening shorts
When it comes to courgettes, try to be consistent with the watering. It will help the plants to flower and crop all summer long.
Keep in mind that any plants or crops that you are growing in containers will have used most of the nutrients that were in the original compost after about six weeks. By popping slow-release fertiliser pellets into each container, you can ensure that your plants will be fed for much longer. I poke them into the soil with a little bamboo cane.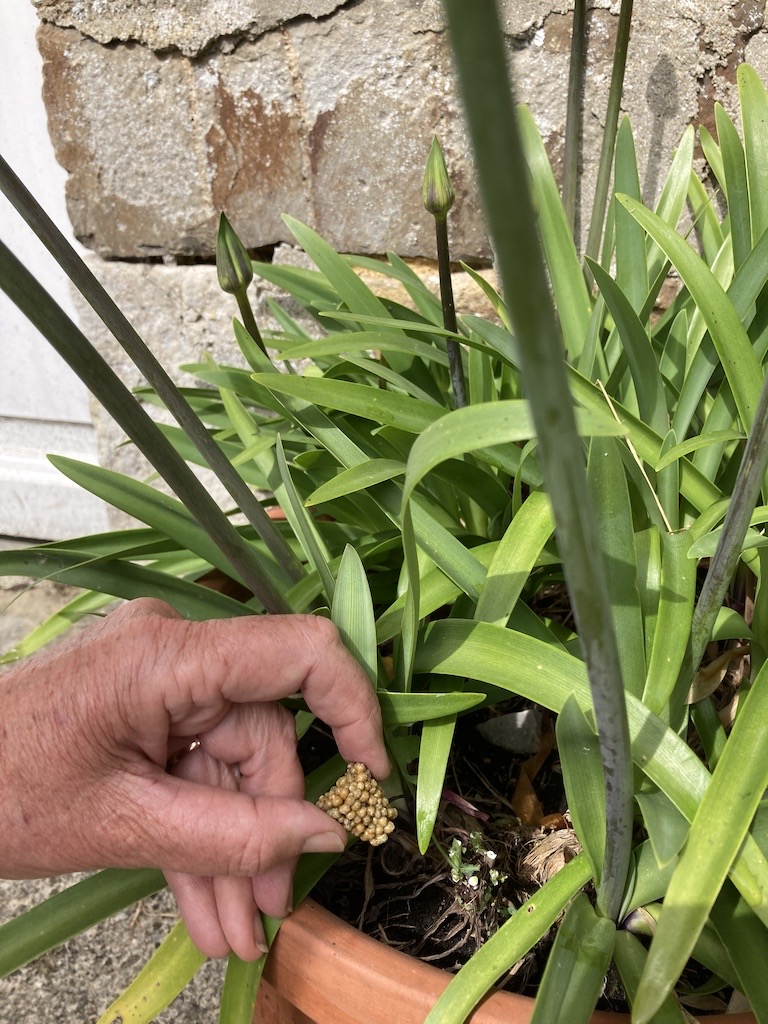 As the hardy geraniums start to go over, be brave and shear them back to the ground, even if they've still got a few flowers. Some gardeners advise fiddling about with cutting them down to the first leaf joint etc. but I can't be bothered with that frankly.  I just cut the whole lot right to the ground, water and feed the plant well, and it will be furnished with fresh leaves within three weeks, and often more flowers in August. Job's a good 'un. By the way, if you're looking for gorgeous new hardy geraniums to try, our columnist Louise Sims talks about a couple of beauties in her super little book available in our online shop.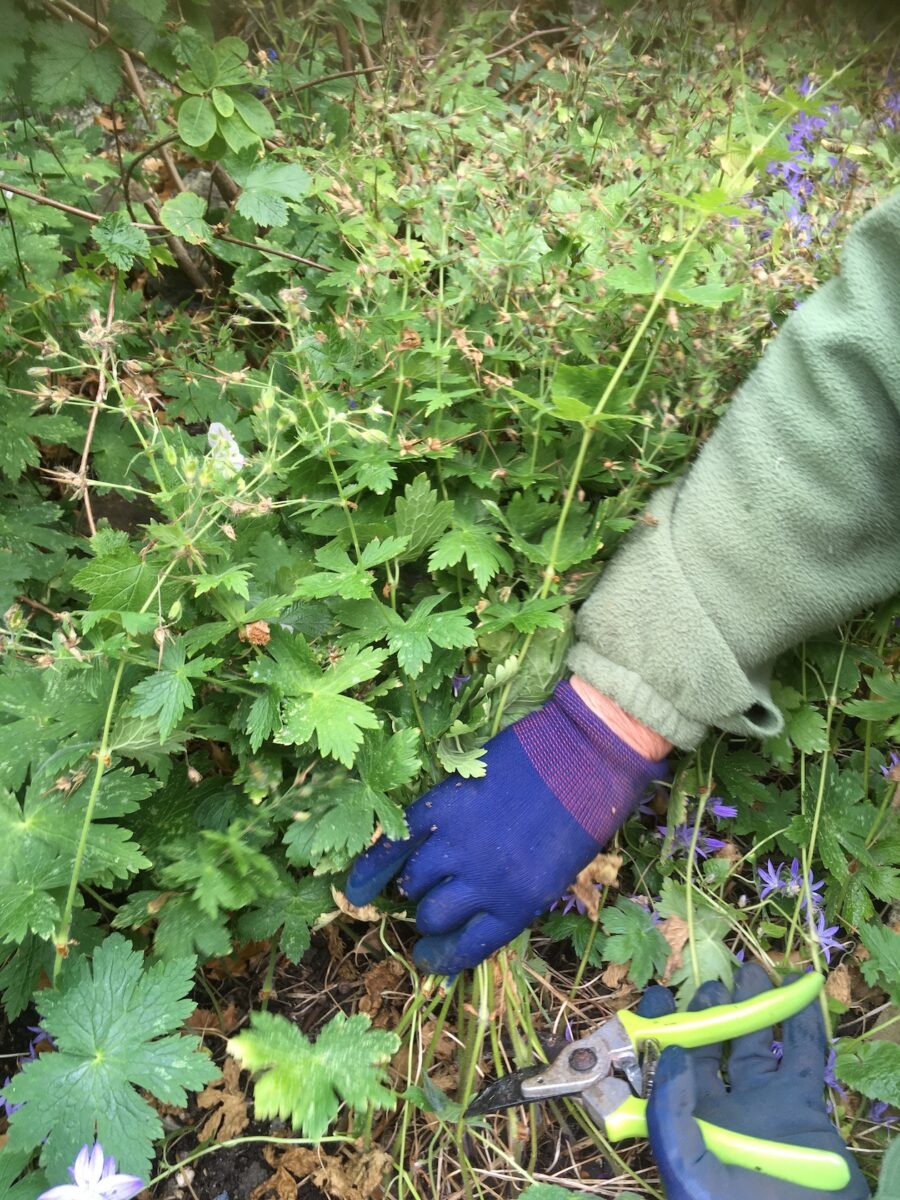 I hope you are still sowing salads in pots all over the place – no point in having a million lettuces in July and none in September!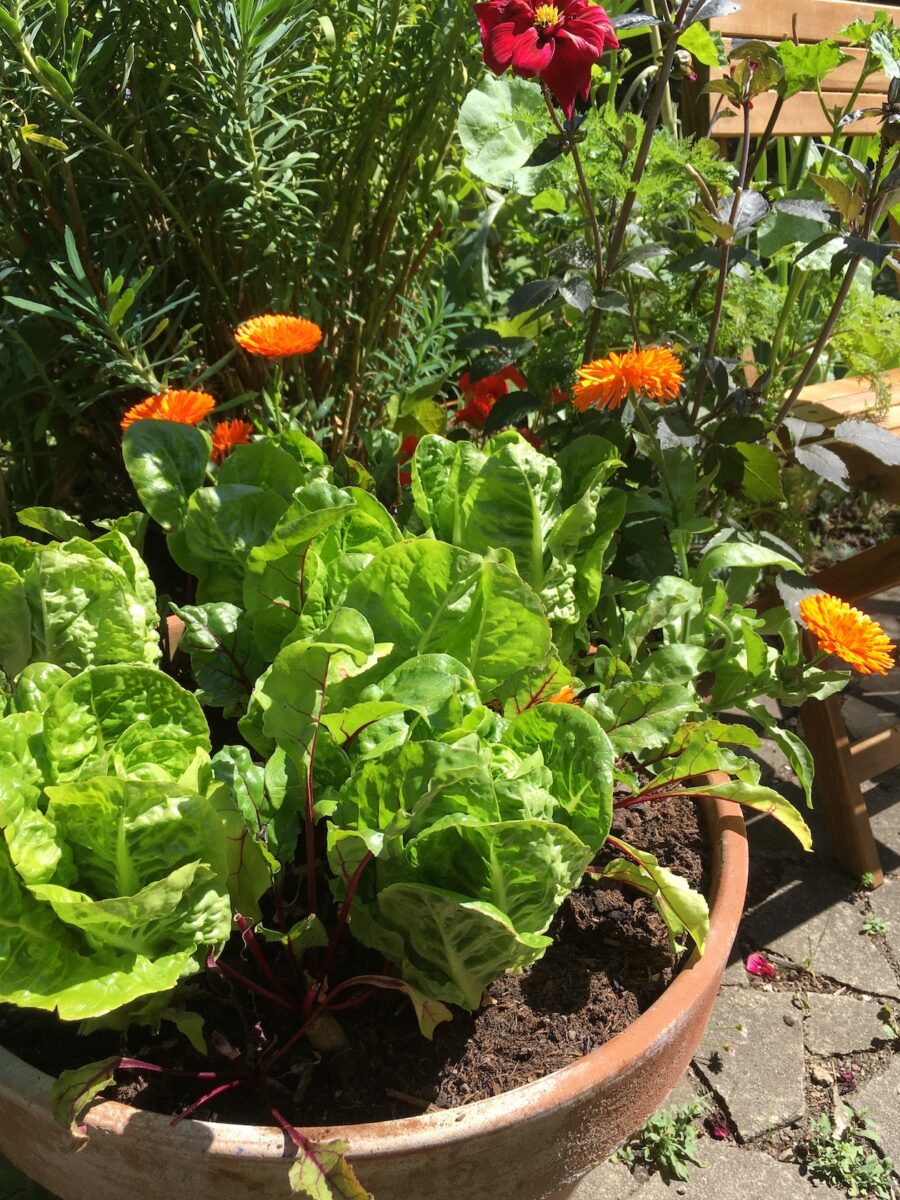 Hope you saw Laura's latest little video about the Rose of the Year 2023 – it looks a real winner! I recently wrote an article for the Gardening with Disabilities Trust about rose-cultivation which has just been published and can be found here.
NB If you're not already a subscriber and you'd like a bit more gardening chitchat from the3growbags, please type your email address here and we'll send you a new post every Saturday morning.