April garden tasks are almost endless. Sowing seeds, dividing plants, deadheading daffodils and that's just the start of it!  So let's get going with sowing tender veg, thinning perennials and tidying up ferns:
SENSIBLE SOWING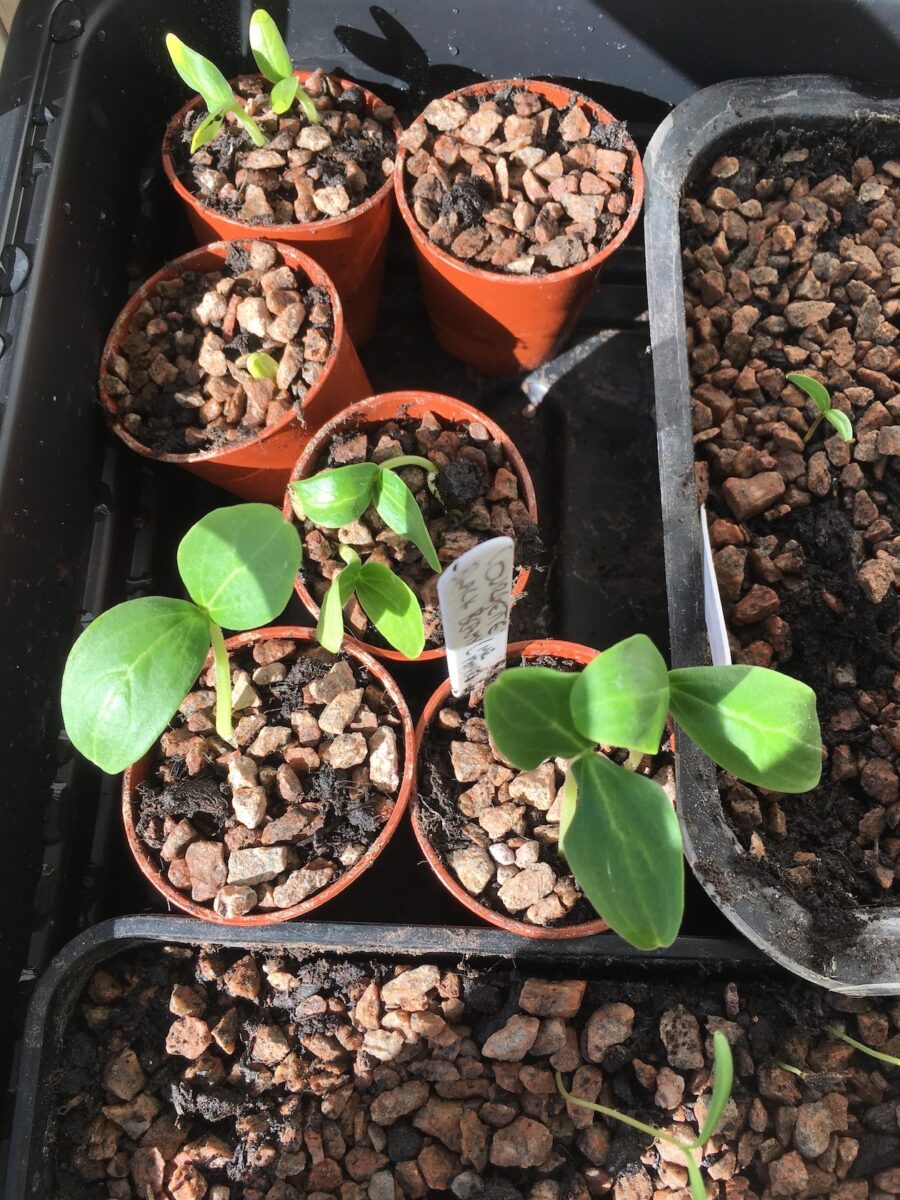 It's terribly easy to feel you must sow all your annual veg seeds as soon as February morphs into March, and I totally understand the sensation that you have to GET STARTED on everything.  But there is a very good reason for holding back on some of them. A few, like runner and French beans, sweetcorn, courgettes, winter squashes and marrows, go charging off after germination, and grow speedily big enough to be planted out into the garden, before it's warm enough out there for them.
If they're sown too early, these types of veg may well languish if left a long time in their pots; their roots get cramped long before all danger of frost is past – and that could be late May or even early June in some parts of the country. The soil needed to be properly warmed up (10 degrees is what you're after, if you have a soil thermometer – I've never bothered, myself; I just shove my hand in the soil and guess).
So early April is the best time to get these going – indoors, in individual pots or modules of free-draining compost.  Keep the seedlings on a sunny window-sill and water them from the bottom if possible (i.e. stand the pots in a tray of water) for a few hours and the moisture will permeate upwards.  Before the final planting-out, harden them off for a few days by putting the pots outside during the day and bringing them in at night (don't forget, and leave them out there!  Can you sense a guilty conscience talking here?!); alternatively, cover them with cloches or fleece.
SHOOTING ALL OVER THE PLACE!
If, like me, you have lots of well-established clumps of garden perennials like Hyleotelephium (Sedum), Agyranthemum, Anthems etc, you may see an absolute forest of shoots coming up through the middle of the clump.  These shoots can become very congested, forcing the shoots on the outside to splay out.  The inner stems, having competed for light and nutrient with all their neighbours, can become too weak to support flowers properly or at all, and you run the danger of a plant that's sort of 'empty' in the middle, with all its stems flopped outwards.  I find this happens particularly with sedums, in fact.  So tackle them now, using secateurs to cut out up to half of the inner stems completely.  It may seem brutal, but the ones you leave will be far stronger as a result and yield bigger and sturdier flower-heads on a well-balanced plant.
FRESHENING UP THE FERNS
 Most of us have a shady corner or border, and ferns make a most useful and attractive addition to it.  They need refreshingly little care, I would say, in order to provide a lovely tracery and variety of foliage – pleasing both in their own right, and as a foil for other plants. They are very tolerant of different conditions too; most of them like a bit of moisture, but some are even happy in the dust-dry soil under trees.  I grow a few kinds including the Japanese wood fern Dryopteris erythrosora, the soft shield fern (aren't the common names pretty!) Polystichum "Herrenhausen', the common male fern Dryopteris filix-mas and the hart's tongue fern Asplenium scolopendrium. 
Ferns in fact divide into deciduous and evergreen ones and you may well have already cut back the leaves of the deciduous kinds when you did your big tidy-up in late autumn or early spring, but left the evergreen ones like Aspleniumto hold their shape and colour through the winter. Trim any ragged leaves of these off now, particularly round the outer edge of the clump, to enjoy the gorgeous unfurling of the new croziers from their tight little knuckles at the base of the plant.
GARDENING SHORTS
Take the deadheads off daffodils but leave the stems and leaves to die down

As the daffs fade, take off the dead flowers, but leave the stems and flowers on for at least 6 weeks to die down to let all that photosynthesised goodness go back into the bulb. Please don't tie them up, as it damages the internal structure and the nutrient transference doesn't work as well.  This is a good time to give them a foliar feed too.

Lift and divide primulas as soon as they've finished flowering – it's a fabulous way to increase your carpet of them for next year.
If you're transferring seedlings into their own individual pots or modules, (known as 'Pricking Out' ……behave yourselves in the back-row……), NEVER touch their stems which are very fragile and liable to damage. Loosen the roots with a dibber or a pencil, then hold the seedling by one of its leaves, and gently transfer it to its new position.Handle those little seedlings carefully![jetpack_subscription_form title="The3Growbags" subscribe_text="If you'd like to keep up to date with the3growbags gardening chit-chat just pop your email address in here" subscribe_button="and click!"]