The end of August and all of a sudden, you notice the grasses which have been slowly developing among the flamboyant late summer flowers. They were made incredibly trendy a few years ago by the groovy horticultural guru Piet Oudolf and steadily even small back gardens were filling up with wafting groups of Miscanthus and Calamagrostis. Now, I am happy to shock people on occasions (only yesterday, I appalled our judgemental children by binging on three consecutive episodes of Poldark and a whole box of Milk Tray), and, candidly, I get tremendously bored with ranks of swaying grass, which looked completely alien in most English conditions.
It's so much more interesting, I think, to use grasses as part of your whole mixed scheme, where they add subtle colour and texture to the summer border, and then continue on well among the autumn seed heads. I planted patches of Giant Oats – Stipa gigantea – amongst other border perennials and shrubs; its golden colour and movement are welcome and, in spite of its height, there is a satisfying 'see-through' quality to its stems.
A while ago, I went to an excellent talk on grasses by Neil Lucas of Knoll Gardens, and he had some other fine suggestions for see-through grasses, such as Molinia caerulea arundinacea and the Deschamspia family. He was refreshingly robust about looking after these ornamental grasses – using a hedge-trimmer to chop down clumps in April, for instance (Marina Christopher apparently prefers an Eastern Sickle, whatever that is).
Neil Lucas also had a forthright way of dealing with a grass (or anything with a fibrous root) that has got too big for its pot – don't divide it, chop its bottom off! While it might rob Kim Kardashian of her most prominent attribute, sawing off up to half of the rootball crosswise and replanting the grass into fresh compost is apparently a brilliant method of rejuvenating it without spoiling the shape.
April is certainly the best time to attend to your grasses. A willing friend (aka 'under-gardener') looked very alarmed last spring when I directed her to 'hedgehog the festucas' and realised that she had led a much-too-sheltered life thus far. **
I can't believe Elaine is chain watching Poldark when we all know that Game of Thrones is where it's at nowadays, and Cadburys Milk Tray when it should be Green and Blacks salted caramel? No wonder the kids were appalled.
But she is on the money with her appraisal of grasses, you really do need to get out more if you think a border consisting only of different grasses is a thing of beauty; their purpose in a garden should always be as a foil to flowering plants.
There is, as ever, an ecological reason for this. Grasses are wind pollinated. Their 'flowers' or 'spikes' have no need to attract insects so dispense with all the niceties of petals or scent. They just dangle their naked reproductive organs aloft to catch the breeze (apologies if this conjures up any distasteful images …. ) So we grow grasses for their rustling leaves, the hazy veil they cast around the borders and the tints of colour in their leaves and spikes that can be picked up by neighbouring late summer flowers.
Louise Sims has chosen a perfect partner for Miscanthus 'Morning Light' in today's Great Plants this Month piece and Head Gardener at Parham House Gardens, Tom Jones, demonstrates this skill masterfully by pairing the sultry purple heads of Eupatorium with the emerging grass spikes of a dusky Panicum pictured in our feature image at the top of the blog. For more about the stunning gardens at Parham read our latest garden review.
Other great late summer grass/flower combinations are the upright buff coloured Calamagrostis 'Karl Foerster' with the dashing red Persicaria amplexicaulis 'Fire Dancer' (which I first saw in the borders at Wisley and copied), and Stipa gigantea with tall late flowering yellow daisies such as Helianthus 'Lemon Queen' or Rudbeckia maxima.
Not sure where Caroline stands on grasses, I think she may still think that they are the reason one has lawn mowers….
It's worse than that. Some of my friends are only interested in grass for its smokeability. But frankly I don't really see ornamental grasses serving much other purpose either. Although Laura advocates their role as a foil for other plants I remember when, full of breathless excitement over Piet Oudolf, she and Elaine wanted to give my garden a makeover and rip out my cheerfully brash lupins, inula and red hot pokers, and instead planted my entire front border in the Highlands with grasses. What a thought. Scottish summers are very like Scottish winters. We need colour, vibrancy and BOUNCE – there is no room for wafting beige.
(It was, incidentally, during the same visit that Elaine insisted on planting Epimedium × perralchicum outside my kitchen window. Could there actually be a more boring view? It's a rhetorical question but the answer is in fact, yes, as proved by the kindly meant gift of a Veratrum nigrum. It creaks up through the leafmold every year and broods flowerlessly all summer like a Free Church Minister at Ascot.)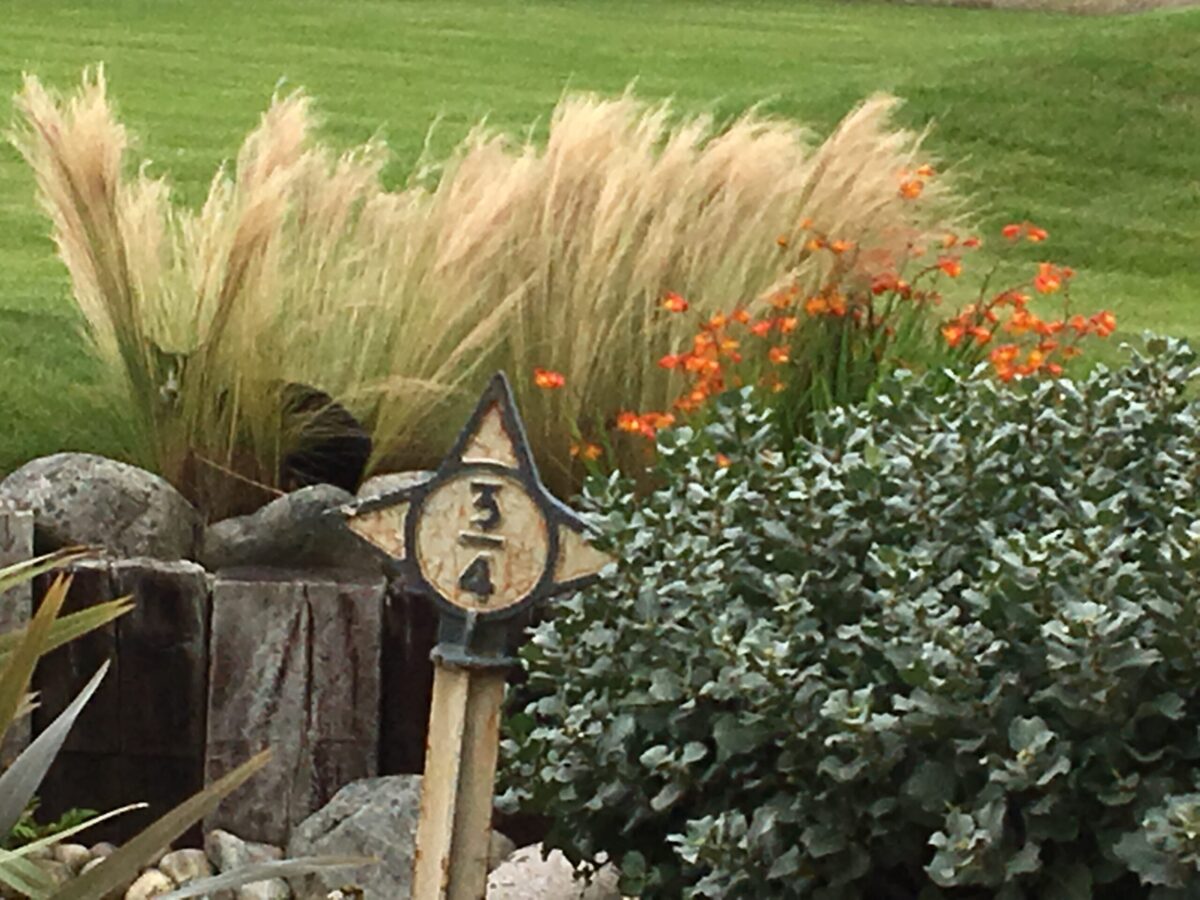 Back to grasses though, and to recap – their subtlety and nuances are just not me although in East Lothian they are popularly deployed together with phormiums as a counter-attack to the persistent Force 9, and I inherited all three in that garden. There is no 'looking through' the grasses though as they need to be squat with a low centre of gravity. Talking of which, Floyd the cat, likes the Stipa tenuissima. He's apparently invisible to potential victims when sitting in it.
** If like me, you didn't have a clue what Elaine was on about here (and Laura feared it might be another term for dogging!) – here was her explanation: 'Hedgehogging the festucas' means chopping all the leaves back to a very tight 'rolled-up hedgehog'-like ball of what looks like dead little stems, from which all the new leaves will spring up later. It's a much better way of keeping your festucas for years and years, because if you comb out all the dead stuff, damp will get into the middle and rot the plant quicker than you can say Jack Frost. There you go.
NB If you'd like a bit more gardening chitchat from the3growbags, please type your email address here and we'll send you a new post every Saturday morning.