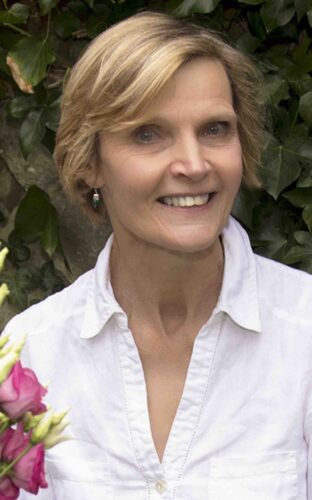 Now is a good time to be sharpening up your hedge-lines but to be honest I've always considered hedgetrimming to be the garden equivalent of hoovering – just much more dangerous. It usually involves yards of heavy cable and a dodgy gadget known as a circuit breaker which is apparently there to save you getting electrocuted, So when E and C nominated me to take up Ryobi's offer to trial their hedge trimmer in a topiary challenge I just assumed that they'd got together and decided that I was the most dispensable sister and, as usual, had set me up.
However this was a super-safe battery powered device and actually a joy to use so not only did their little plan backfire but I had great fun becoming an Instagram star as people followed my progress in creating a topiary dinosaur (a triceratops actually, for the palaeontologists amongst you).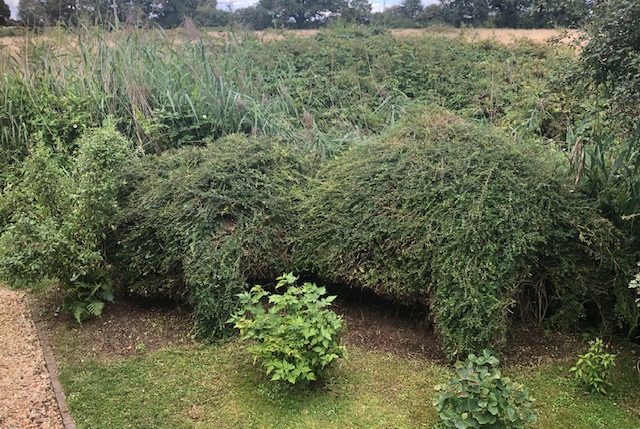 With no cable to get in the way and a nifty button to change the angle of the blade I could get right down in the ditch and carve out the back of my dinosaur. And it was coping with some pretty tough stuff, thick brambles and reed stems. I felt like a pioneer carving a path through the interior.
So thank you. Ryobi, for opening my eyes to the fact that hedge-trimming doesn't have to be a boring chore any more. My only problem now is which hedge to pick for my stegosaurus…..
---
So definitely the right sister got the hedge-trimmer for the topiary challenge – I would have gone for a tasteful cone whereas Caroline is probably reluctant to carve body-parts or anything else into her vital shelter-belt of rugged shrubs holding off gales from the North Sea.
Because here's the thing: hedges are generally the workhorses of a garden: they can delineate a boundary, protect other brittler plants from wind damage, provide food and shelter for birds, define a view, enclose 'garden-rooms', frustrate the nosy neighbours…..
They are often the unlovely craggy items that no one notices or thinks about until they're not there, like shopping trolleys or Antiques Road Trip or U-bends. So that could be why Laura's chosen to abuse her thoroughly useful though dull hedge of Lonicera nitida by turning it into an amusing dinosaur, while the rest of us ought to be thanking our hedges, both deciduous and evergreen, by trimming them now to keep them dense, and thus more able to do their jobs (sifting the wind, etc.) as well as looking neat through the winter.
---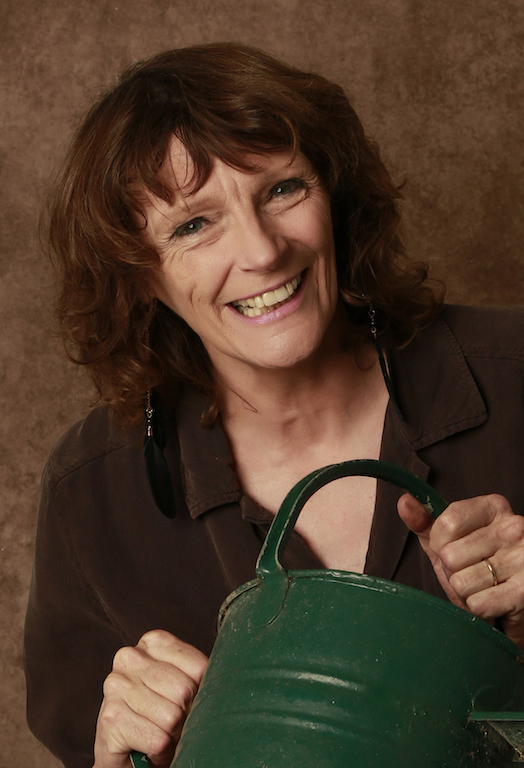 Ah at last – hedge trimming, a garden task that quite appeals to non-gardeners, my chance to shine. Never mind the dividing, propagating and other fiddly garden activities that have a high attrition rate in my hands, a pair of sheers and I'm back in the game.
Elaine's right, hedges are a Godsend here. Griselinia and Escallonia are absolute weapons against the Polar blasts of the Far North. Clipping keeps both usefully dense, but unfortunately Griselinia has something in common with Laura's dinosaur – it can easily grow to 20 feet and start roaming the Earth.
On the plus side it gives you a chance to get the loppers out. I love them. Just as satisfying as the sheers, one tweak on that cord and down come the branches faster than Prince Andrew's reputation, but you do have to know when to stop.
This was also the message from the marvellous Charlotte Molesworthy whose topiary workshop Laura and I attended a couple of years ago. If only Laura had been a better pupil – we might have got something like Charlotte's lovely peacock instead of Laura's version of 'When the Flintstones turn bad.'
No such problems with Louise's 'plant of the moment ' which is elegance personified and only needs the occasional trim to keep it looking good.
NB If you'd like a bit more gardening chitchat from the3growbags, please type your email address here and we'll send you a new post every Saturday morning.