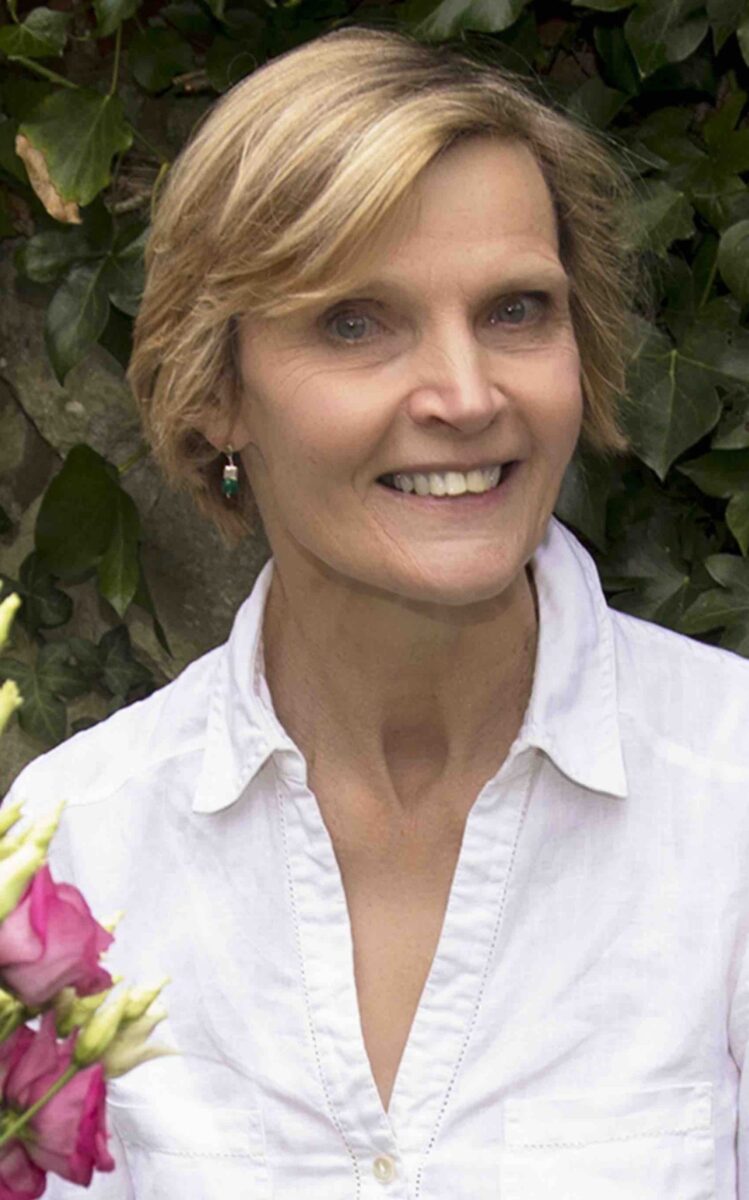 So in a week where we might have been heading to the embankment in London for the Chelsea Flower Show, Elaine and I instead found ourselves heading north to Caroline's new abode in the Highlands. We thought we'd been invited up to sip cocktails in her glasshouse and marvel at the progress she had made in creating her new garden, but the reality was she'd actually just enlisted us as unpaid labour for a long weekend of planting, weeding and watering.
As a new-build on a virgin plot her garden still required some bare bones in the shape of hedges and steps to go in, but Caroline also needed some quick wins to brighten up her terraces and evening drinkies spots (there seemed to be a lot of these ..).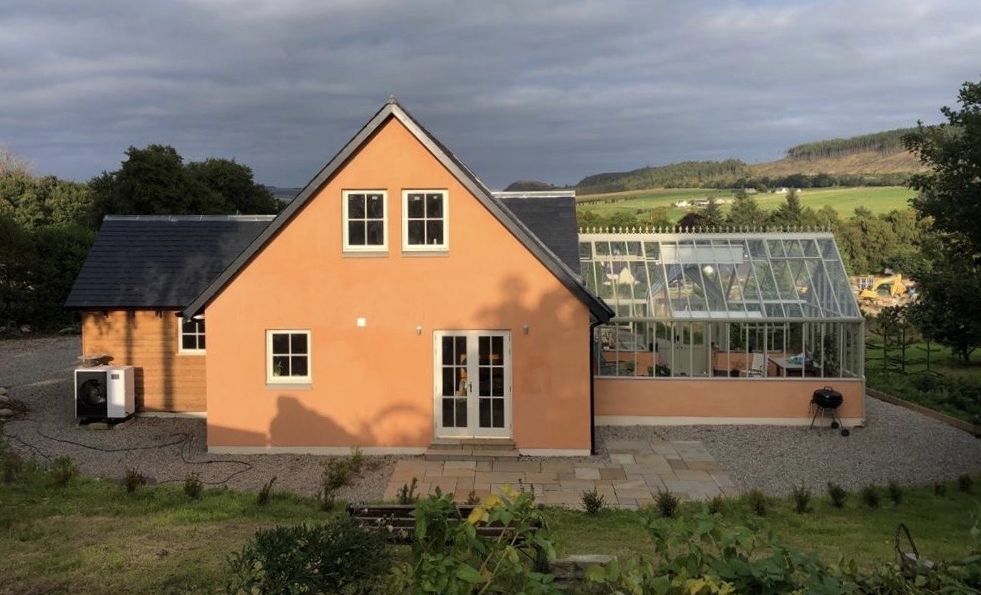 I was put on pots. Luckily Caroline had already got the tasteful collection of pineapple lilies, watsonias and white agapanthus that I had put together for our summer bulb offer earlier this year, and she'd miraculously made quite a good fist of this. To add some height to her collection I planted up a good deep pot with some sweet peas (Thompson and Morgan's Top to Bottom), and to provide some bulk I potted on a couple of white argyranthemums (cuttings from cuttings of a plant endlessly in circulation, originally given to me by Louise and referred to simply as 'The Sissinghurst Daisy' ).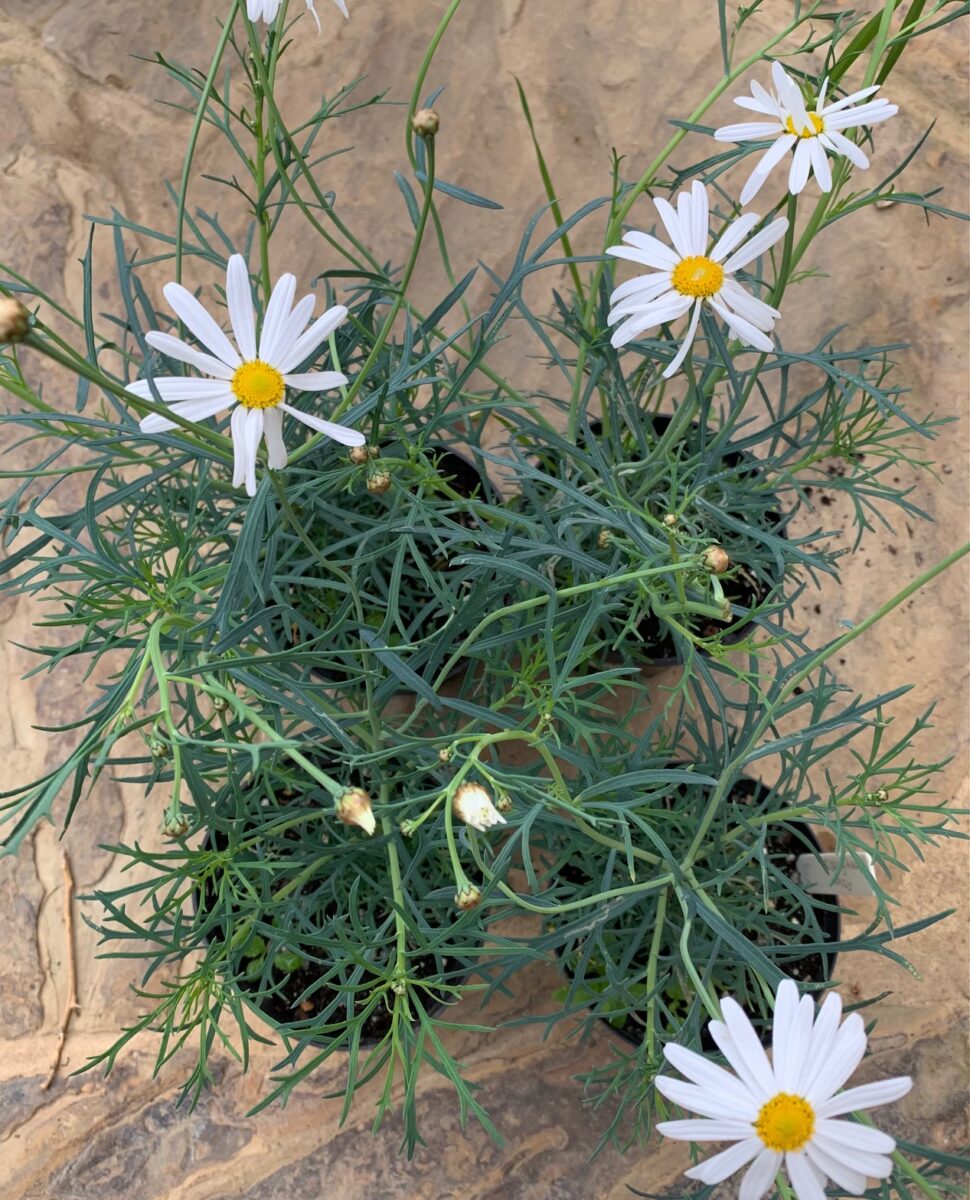 As Caroline had clearly rejected my advice not to site her glasshouse on the sunny south of her house, she obviously needed a solution on how to block out the blazing sun during the summer months, and luckily for her I had one. My little postal box of forwarded plants contained two young Cobea scandens 'Alba' plants, which should scramble up to the roof in no time and provide a wonderfully exotic natural barrier to the worst of scorching sunshine (why does she never listen?)
My final pots were three young Nicotiana alata plants which are said to have the strongest scent of all these tall stately late summer tobacco plants and can be moved around to wherever the action is of a warm Highland evening.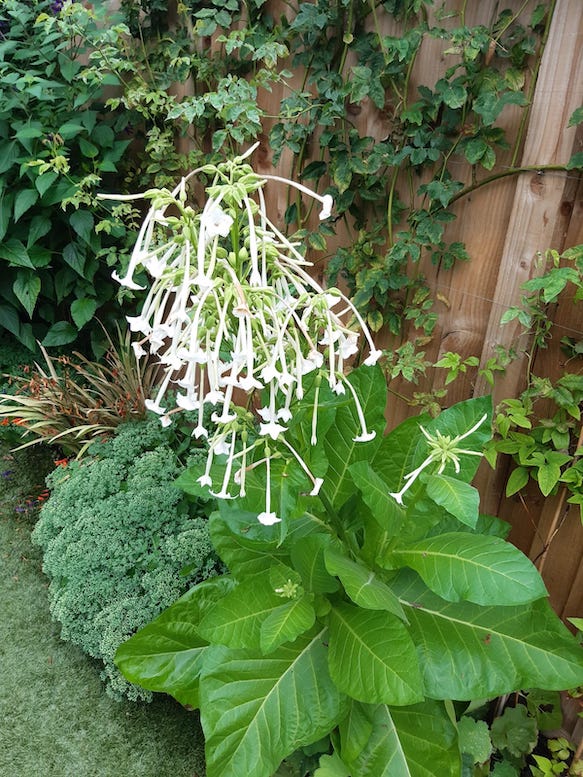 ---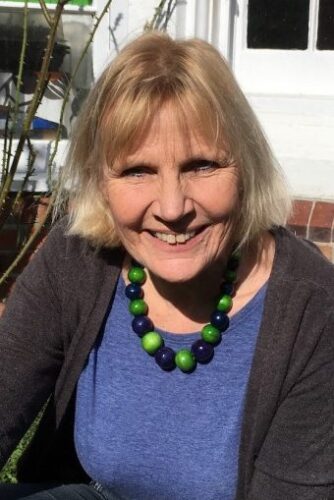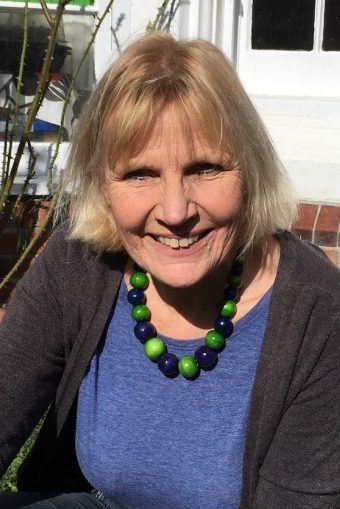 Laura is quite right – having sent a trunk of evening gowns and a couple of hatboxes on ahead, we quickly realised on arrival at Caroline's garden that we should have brought stout boots and rugged trousers instead. Nevertheless, once we'd understood our 'horticultural slave' status we thoroughly enjoyed getting stuck into the work.
Given the bitter cold of this last winter, especially in the Highlands, I was surprised and pleased (not to say impressed, but sshhh…..don't tell Caroline) at how well most of her baby plants had come through. Laura and I have been supplying her with all sorts of seedlings, cuttings and divisions for the past nine months or so, and they had been bunged into a new flower bed in a deeply random fashion.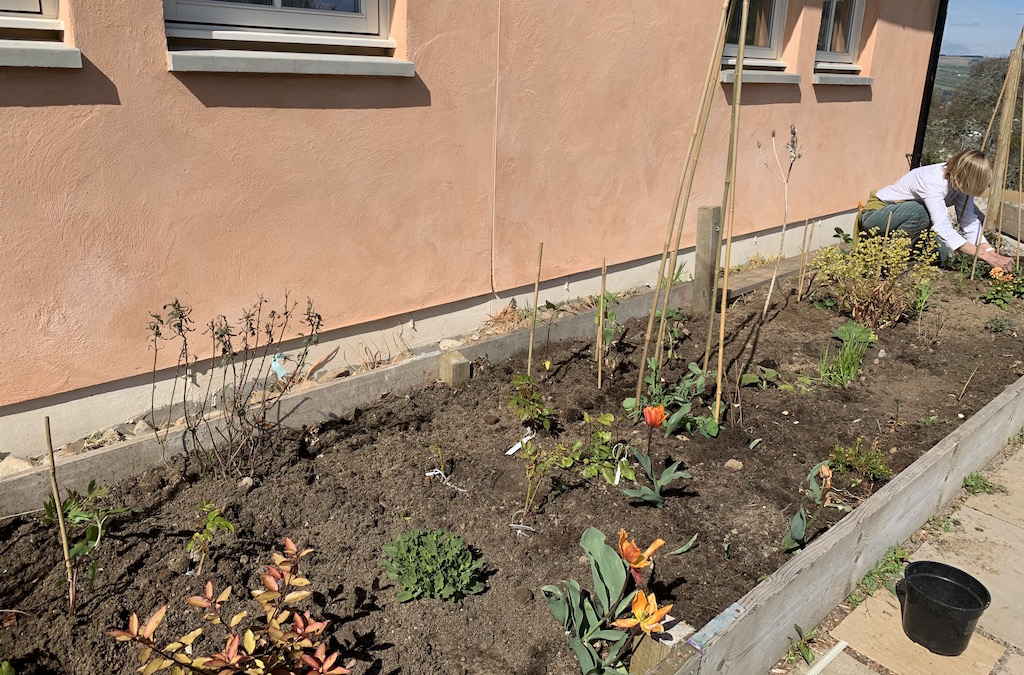 My task was to work through this border, sorting them out before they get too comfortable in inappropriate positions. For instance, Paeonia delavayi lutea with its 8′ (2.5 m) stems of pretty cut leaves, and delightful lemony-yellow flowers, is probably better-sited towards the back of a flower-bed. And rooted shrub rose cuttings have a dangerous habit of suddenly putting down deep roots as soon as they get the taste for growing – they needed to be moved away from their 6″ spacings fairly promptly………………
There'll need to be plenty more adjustments once all the bits and pieces are bigger and Caroline has made some more areas available for planting, but it was a good start in perfect weather for the job – not wet, not windy, not blazing, not cold: it's not often I say that about a day in the Highlands. We filled the gaps with lots of cosmos – Caroline had grown these beautifully too, leaving me just the task of pinching out the tops to make them bushier – by George, we'll make a gardener of her yet!
---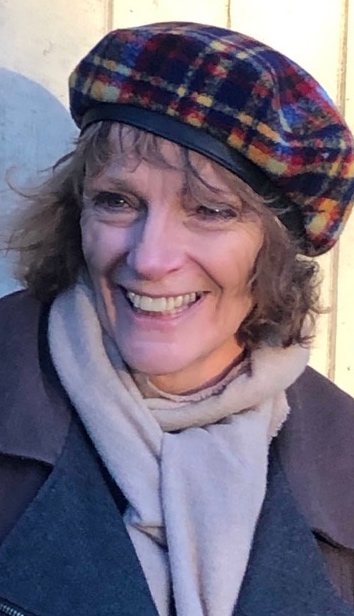 I know she doesn't really believe that. But E and L have gaps in their own education. Scorching sun and warm evenings? Laura has not grasped the Highland climate, but the old girls certainly did work up a glow during their weekend here.
After the usual humiliations about my approach to horticulture (this time regarding my ratio of online plant shopping : actual gardening) they spotted some spades and a wheelbarrow and off they shot!
I quickly diverted them to the rather dull task of planting my yew hedge. My garden needs basic infrastructure that's both bone-hardy and preferably evergreen given the long dark winters. Yew has pre-Christian provenance that I hope will add gravitas to my reputation as a lightweight gardener.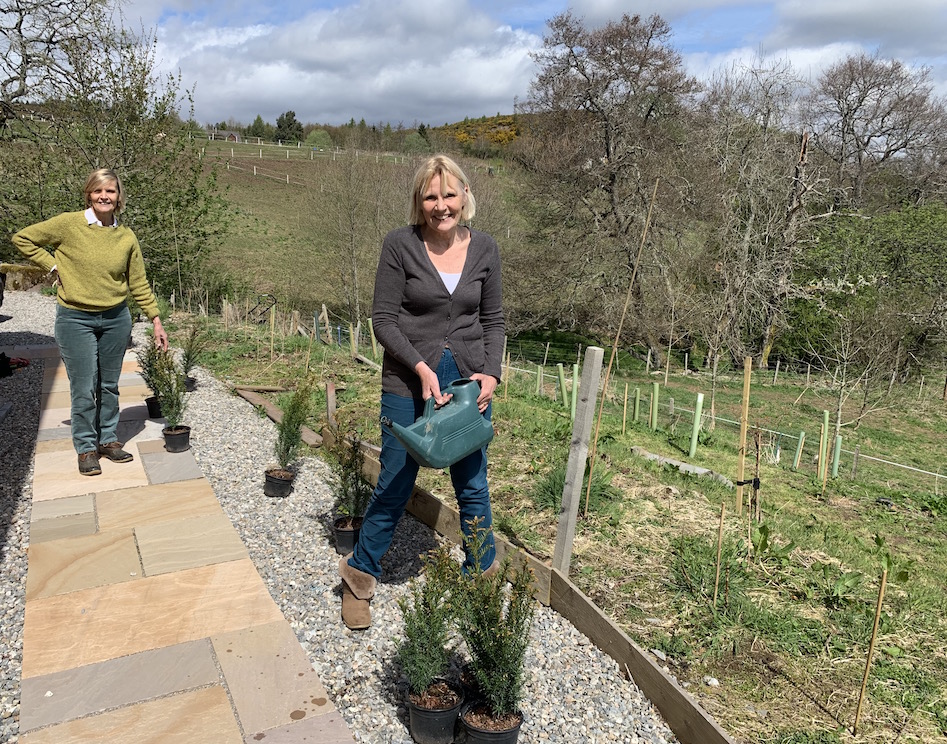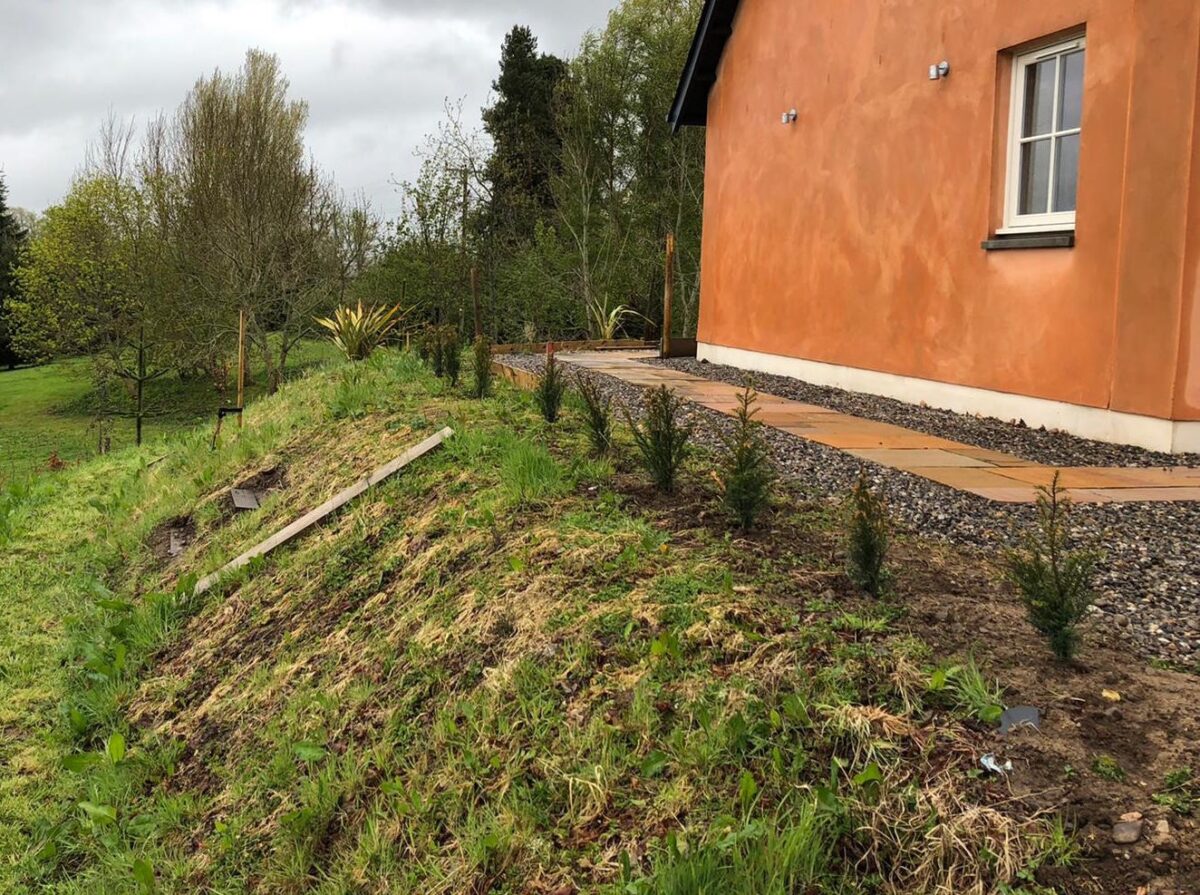 What a masterclass! Instead of my own tool inventory (yew trees + trowel), they required bamboo sticks, garden twine, spades, watering cans and mycorrhizal fungi. Even my lowly contribution as their 'gopher' fell short for under-watering "Come back! Give them half a watering-can each Caroline, this is the most important drink of a plant's life."
By this time a drink was a fairly high priority for my own survival. Having my sisters to visit is is marvellous of course, but not for the faint-hearted.
NB I am hoping one day to find just the right spot in my new garden, (sheltered but airy, sunny but stony), for the stunning shrub that is Louise's plant of the moment. You'll never dismiss hebes again! Click on the box below to find out which one it is.
More NB If you'd like a bit more gardening chitchat from the3growbags, please type your email address here and we'll send you a new post every Saturday morning.