Here we are, deep into another glorious British summer, and our gardens hold the real promise of bright days and long evenings among the flowers, produce and greenery. This season is not as frantic as spring when it comes to gardening jobs, but there are still bits and pieces to be getting on with: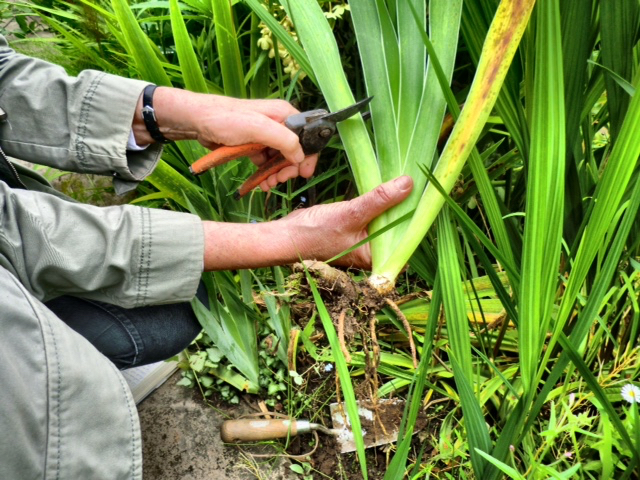 PLEASING THE IRISES
The irises have been delighting us through May and June, and once they have finished their display, they really benefit from a bit of love and care every 2-4 years. Dig up the rhizomes (the fancy name for horizontal underground stems), snap off the oldest, gnarliest bits and throw them away, leaving the youngest bit of rhizome with some some leaves and roots on it. Then trim down those rather scraggy leaves to about half, making a neat fan. Trim any long roots and plant the rhizome very shallowly back into the soil, with the rhizome on the sunny south side of the leaf fan, so that it can be properly baked through the summer. All that's needed then is a good drink of water, and they can be left to grow on happily.
KEEP ON SOWING!
Don't think you have finished your seed-sowing for the year!
You can still sow all sorts of edibles which will keep you in tasty veg right through to the end of autumn.
Things like beetroot, carrots, lettuce, radishes, French beans… they can all be sown this late, and as long as you keep up with the watering and weeding, you won't have to miss out on the joy of popping out into the garden (or even to a window-box or pot) to find something fresh and delicious to have with supper in a few weeks' time.
EARLY FLOWERERS
All those pretty May and June flowerers will be over now and looking lanky and messy. These are plants like hardy geraniums, monkshoods (Aconitum), Oriental poppies, Pulmonaria etc. which can honestly be dealt with pretty drastically now. Cut everything down to the ground, water it really well (include some tomato feed in the water) and you will be rewarded with fresh new leaves in a few weeks and may even get the bonus, especially with geraniums, of more flowers in late summer.
GARDENING SHORTS
* My hollyhocks (like lots of other people's hollyhocks, I suspect!) get rust (unpleasant little rusty-red pustules underneath the leaves) but if I am vigilant about picking off the affected foliage, the appearance of the plant seems to stay pretty unspoilt, the spread of the rust is slowed down, and the flowers seem to be just as lovely.
* Prune out the branches which carried fruit, on established blackcurrant bushes,
allowing the new stems to take their place. Give them a good liquid feed – they are greedy things.
* Start harvesting garlic now – how exciting is that! As soon as the stems become yellow, dig up the bulbs dry them in the sun, and store them in nets.[jetpack_subscription_form title="The3Growbags" subscribe_text="If you'd like to keep up to date with the3growbags gardening chit-chat just pop your email address in here" subscribe_button="and click!"]