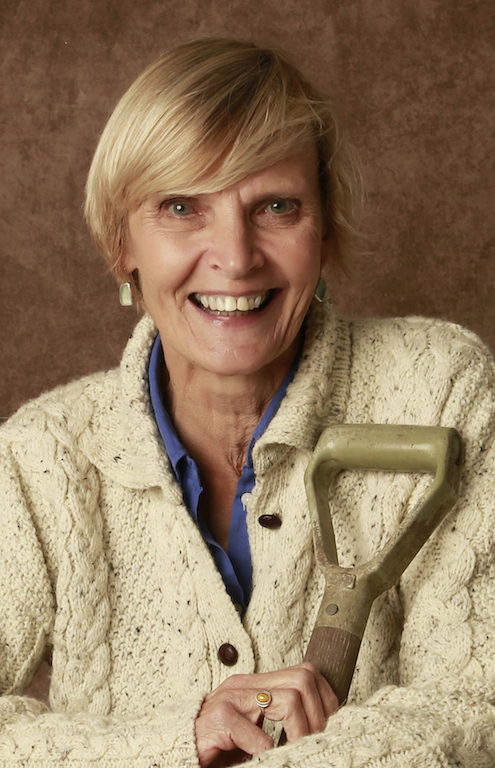 'A boutique exhibition exclusively for the garden media' How could we resist an invitation to attend a new garden products fair last week. So nice of garden industry suppliers; they even let Caroline in.
We have each chosen new products from the fair for you to look out for this year. Obviously my main interest was in scientific advances for the environmentally aware gardener, but at times it was difficult to concentrate when the other two were larking around (see our feature picture above).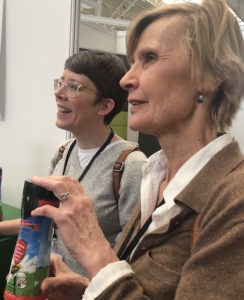 Take slug control. None of us want to use pellets that might have effects on other wildlife. Biological control through nematodes has been around for a while but it's always been a faff involving dissolving short lived nematode preparations and watering them in. Nemaknights have come up with a process that keeps the microscopic nematodes in suspended animation in granules that you simply sprinkle around vulnerable plants when needed – the moisture coaxes the little army of killer worms back into life. They're tough little blighters, apparently they recently brought two back to life after they had been buried in the Siberian permafrost for 42,000 years. This canister has a shelf life of six months and doesn't even need to be kept in the fridge.
Useful as this is for spot control, we wouldn't want to kill all our little pests because garden ecosystems actually need a healthy population of slugs and aphids in the wildlife foodchain. Some plants are naturally unpalatable to grazing pests due to bitter tasting or poisonous alkaloids in their leaves and Grazers have produced a range of calcium based plant tonics that boost a plants natural alkaloids making the plant more unattractive as a fodder plant for pests, without actually harming any of the little critters.
They come in four different formulations depending on your pest problem and Elaine suddenly came to life when she heard there was one specifically for deterring lily beetles.

Another thing we want to achieve is a satisfactory alternative to black plastic flower pots, and so I was intrigued by an Australian product 'Root Pouch' Made from a mixture of recycled plastic water bottles and plant based fibres (linen, cotton, bamboo) this lightweight alternative also allows more oxygen to diffuse into the compost, encouraging a more even root growth, rather than the circling that happens in conventional pots, and keeps the root ball warmer in winter and cooler in summer. Even Caroline paid attention, particularly when she discovered it was apparently excellent for growing marijuana plants. Here she is demonstrating what she is doing with her free sample….(don't worry it's only a rose bush).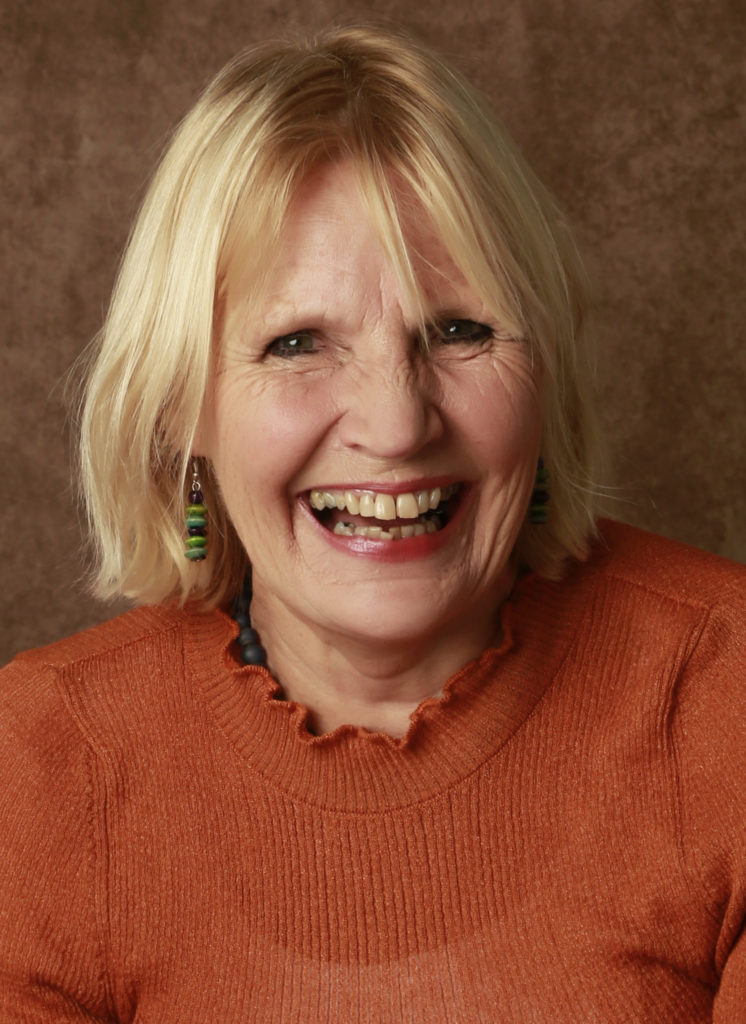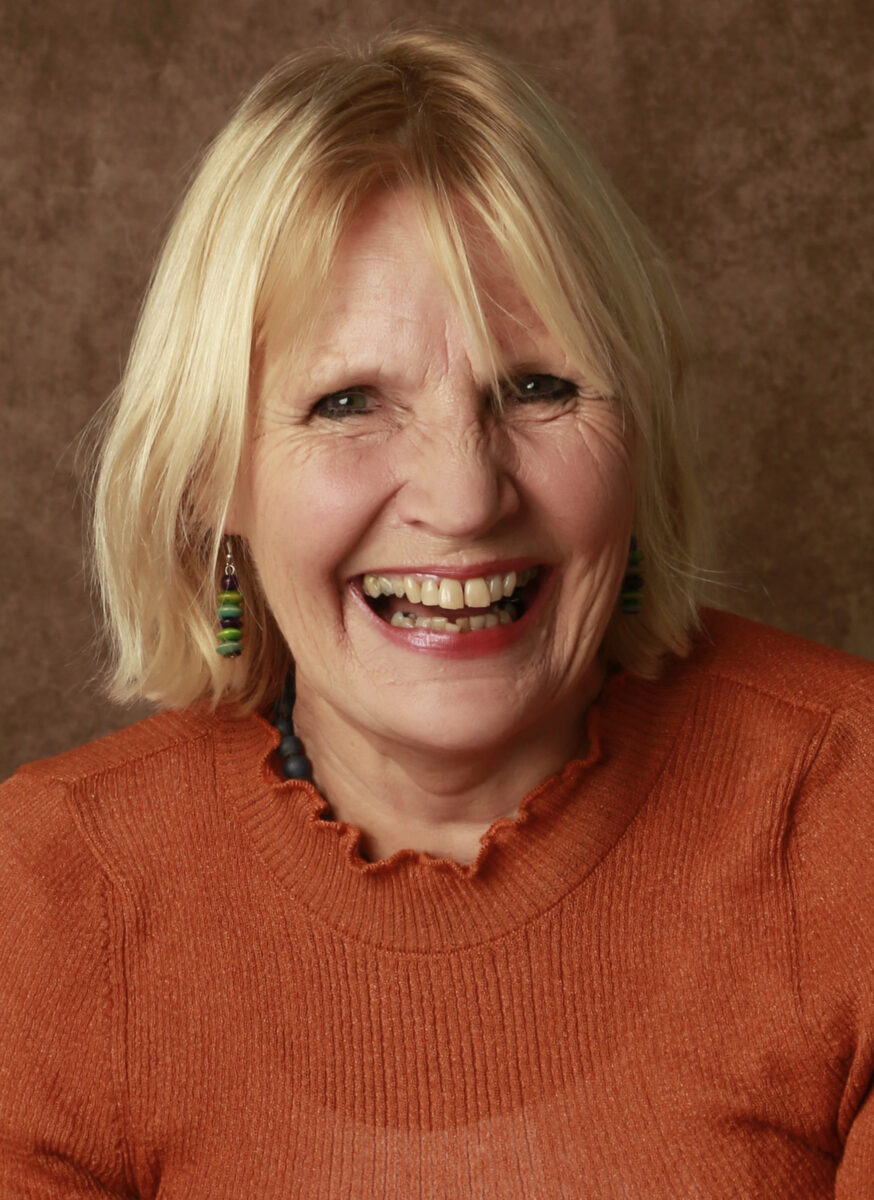 While Laura was in full swotty-nerd mode with her nematodes and alkaloids, and Caroline was off doing something with hosepipes and latex gloves, my eye obviously started wandering towards the stands of new plant introductions .
The siren call of Wyevale nurseries had to be obeyed first. |This is one of the largest wholesale nurseries in the country, celebrating their 90th Anniversary this year – not to be confused with the widespread Wyevale Garden Centre chain. They were displaying a fizzyingly-coloured purple agapanthus called 'Poppin' Purple'. It grows to about 2′ in sun, in beds or containers and it REPEAT FLOWERS – oh yeah! Give it water and a monthly feed till September, then tuck it up with deep dry mulch for the winter. Thompson & Morgan sell it, as well as Crocus and Van Meuwen, and I feel it would fit in marvellously with one of my planting schemes for 2020…….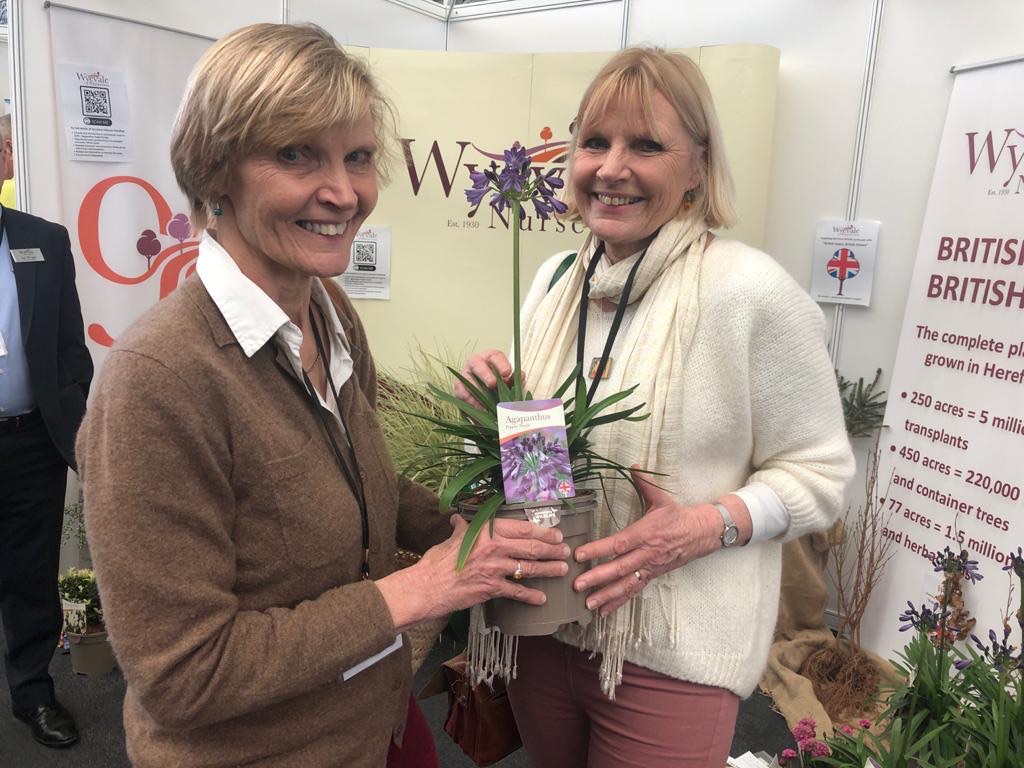 Round the corner we stumbled upon the David Austin stand. Lawks! I can't resist roses. With L and C rolling their eyes at the hyper-ventilating elder sister, I was ogling the 2 new corkers that DA have got for us this year: 'Silas Marner' – ruffled pink cupped blooms on red stems and an Old Rose fragrance – and 'The Country Parson' – a smallish spiny shrub with flat rosettes of pure yellow. The description of its scent is swooningly delicious – 'sweet apricot, green apple and honey'. Pointless to pretend that they won't both be in my garden by the end of the year, and hang the grandchildren's inheritance.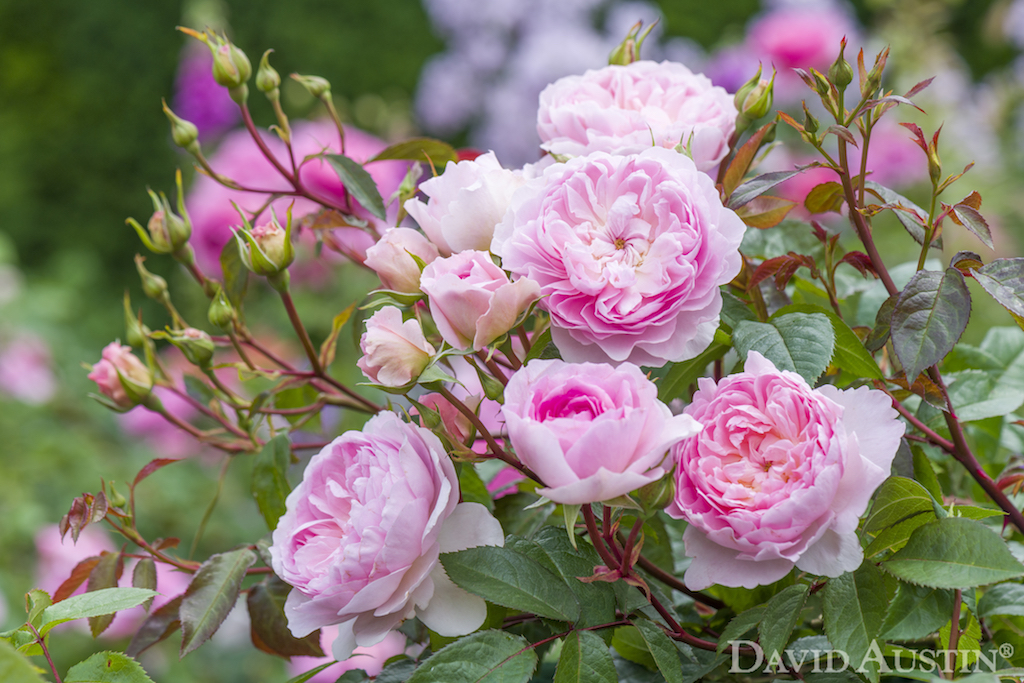 Hardy's has teamed up with Candide (a virtual one-stop horticultural app); this will be Hardy's Plants' final year of displaying their truly wonderful perennials at Chelsea Flower Show – the real end of a era. Candide have supported them in the development of this year's exhibit – I'm sure it will be as perfect as it has been in past years. And they will still be exhibiting at other RHS shows – hurray!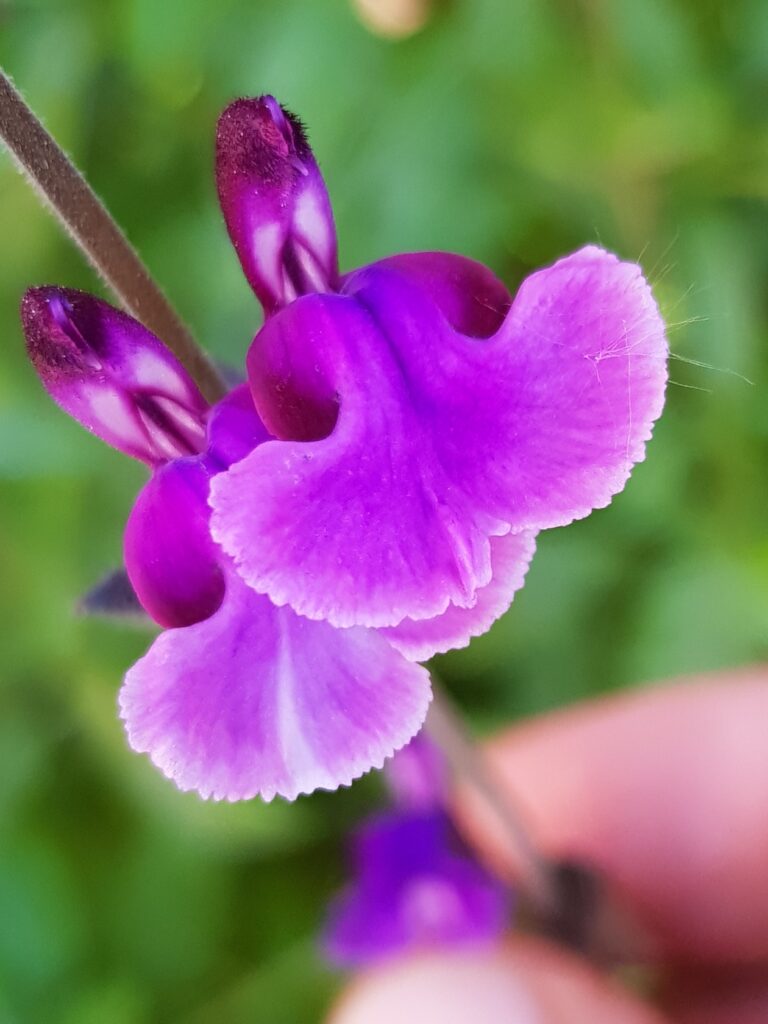 They have two lovely plant introductions this year: Salvia 'Oriental Dove' (prolific rich lilac flowers with a white edge on a neat and compact plant) and Thalictrum 'Chantilly Lace' (big pink/lilac flowers in late spring, and then hibernates during the summer to leave you room for other later beauties).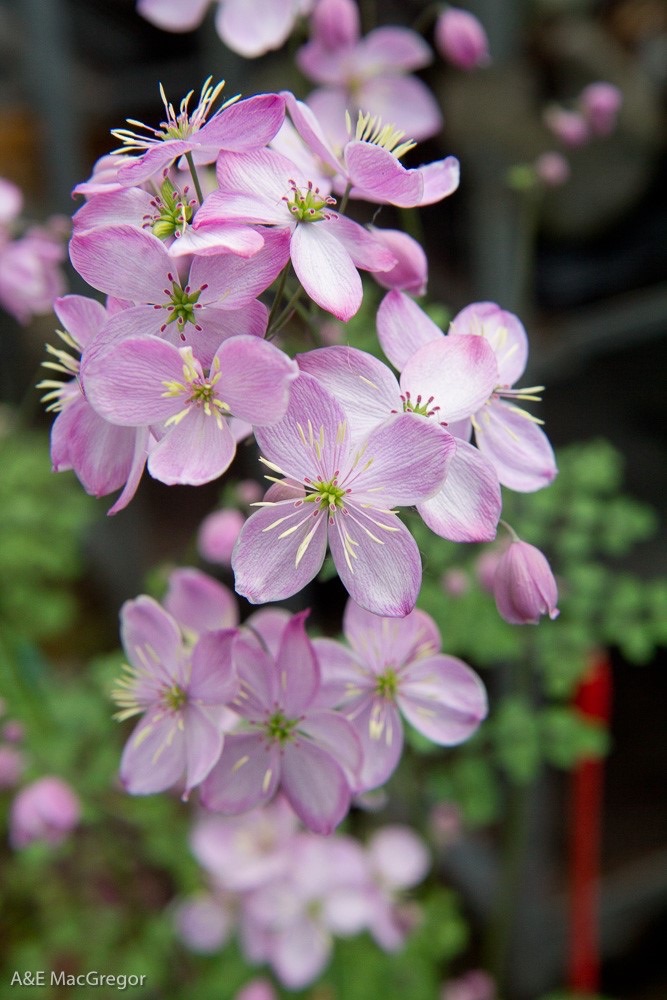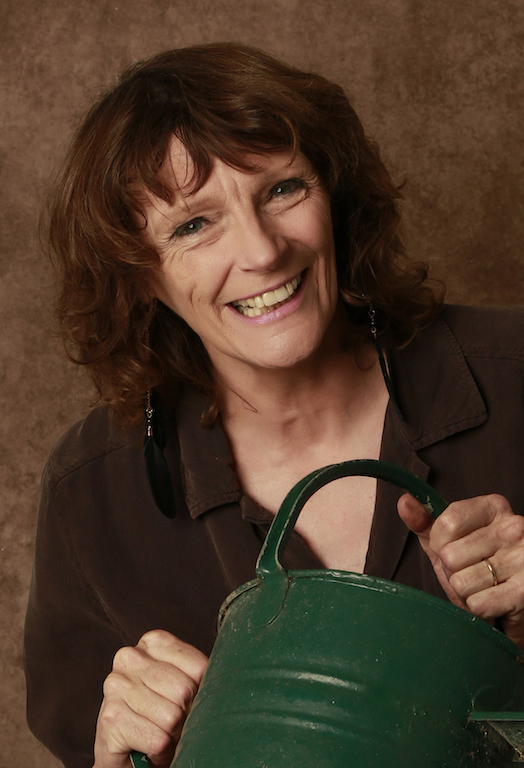 Yes while L and E were busy saving the planet I was having a go with an inflatable hose that can expand to three times its original length, who wouldn't? Tackling the whole faff-fest of summer hose management (the space it takes up, not reaching the back of the borders, kinking etc), Hozelock have put this expanding natural rubber hose in a sort of knitted jacket that coils up into a tiny box. Apparently when water courses through Superhoze, it goes 'boing' and supersizes itself. Well there's certainly a place for something like this in my life. What a brilliant development for gardens large and small.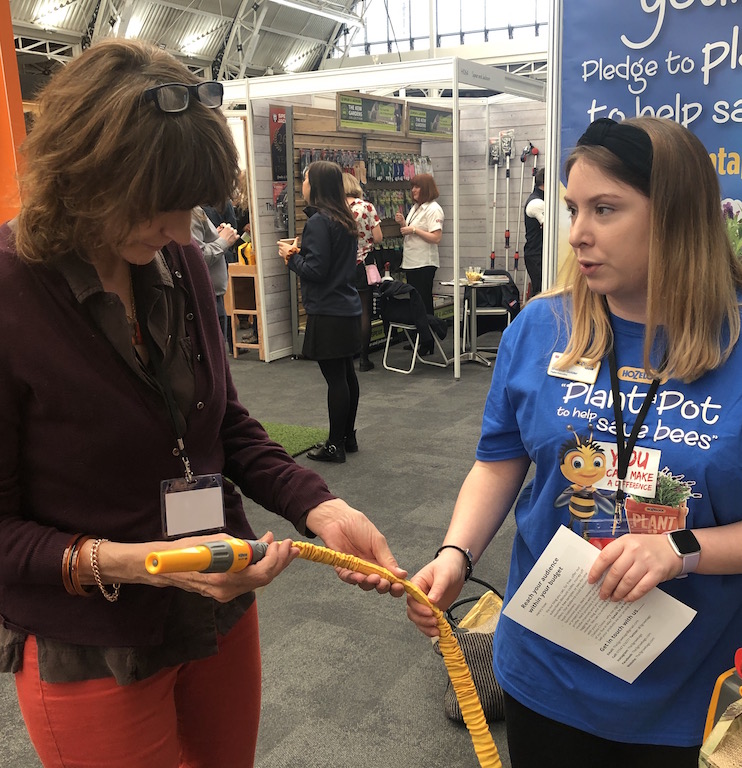 Buoyed up by this rubber experience I was ready for some latex and, like a mirage, the Spear and Jackson stand appeared with a massive range of gloves. Spears and Jackson began trading in 1760 – we still owned America for goodness' sake! They know how to stay on-trend.
While leather gloves are classy thorn-barriers, they go like cast iron after a while. Spear and Jackson's new Kew range are so pliable and neat-fitting you'd know the very second things were happening with your inflatable hose with these on. These ones here will be retailing this summer at, wait for it, £1.99! No brainer?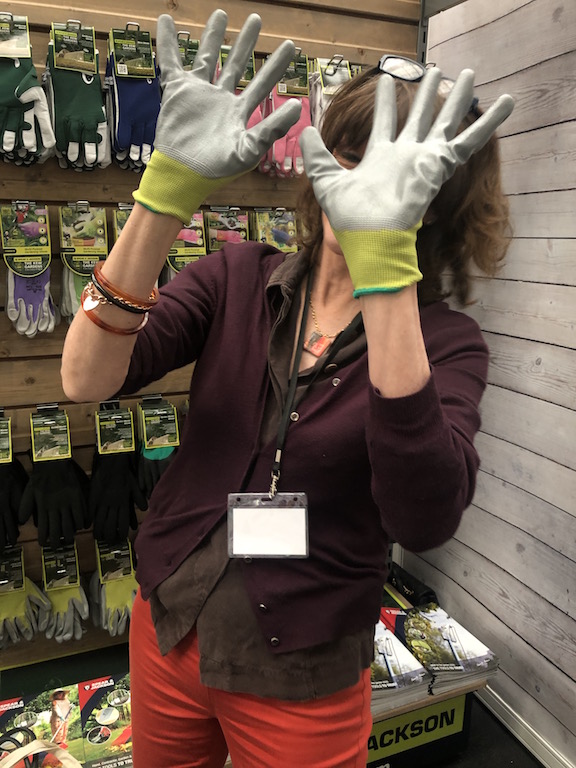 By the way, the feature pic was taken on the Royal Botanic Garden Edinburgh stand. They're launching a new perfume this year. It's 'high-end' so look out for a review from me shortly, E and L are still using 'Lily of the Valley' I think.
NB: Honestly – Louise's Great Plant this Month will take your breath away. Let's leave it at that. Just have a look, let us know what you think.
NB If you'd like a bit more gardening chit-chat from the3growbags, enter your email address here