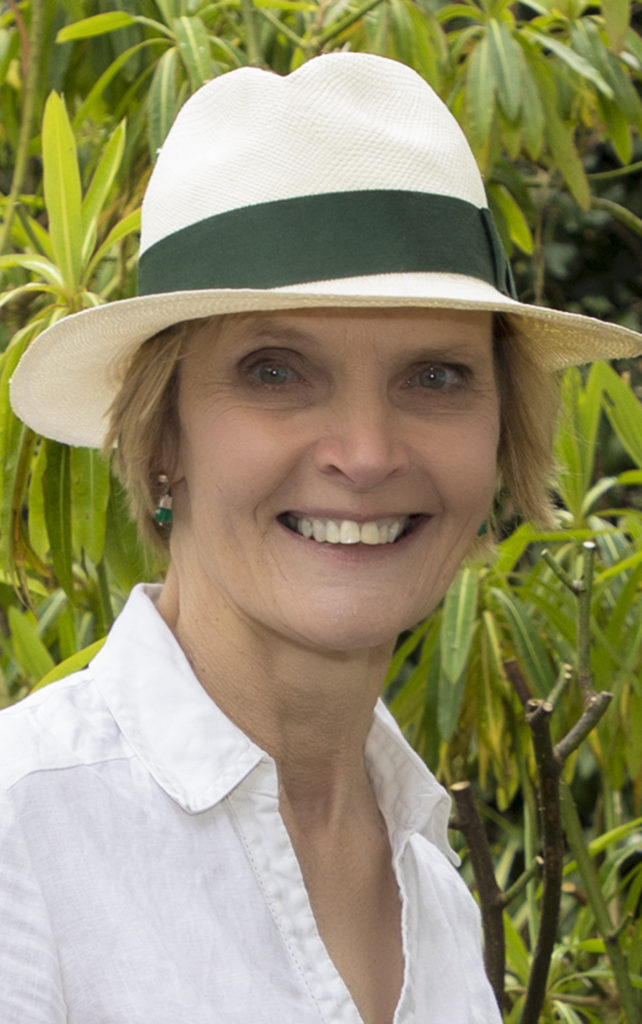 It really pains me when I have to admit my older sister Elaine is right (thank heavens my younger sister Caroline is always wrong). Elaine insists that cottage gardens are the ultimate feel-good gardening style whilst I've always loved experimenting: gravel, tropical, prairie….
But this spring I have a sudden yearning to be surrounded by the gentle familiarity of simple cottage garden plants. Elaine of course already has the pretty cottage garden essentials of roses, clematis and honeysuckle in place so is going to be really smug this week. How am I going to catch her up? Cheat, that's how, and you can too if you invest in a few seeds and plants now.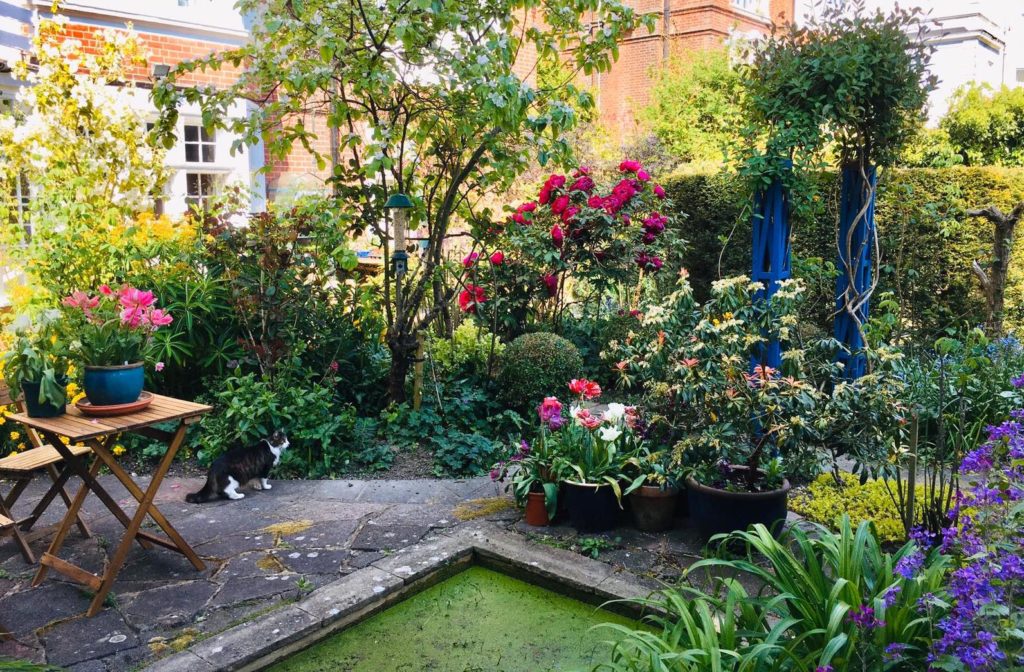 Don't worry if you have given your back garden over to veg growing this year (#DigYourOwnaForCorona I hope!) traditionally a cottage garden is a happy jumble of ornamental and edible plants. No need for any fancy hard landscaping or decking either as this gardening style depends on relaxed grace and charm rather than formal structure.
A lot of cottage garden border plants, foxgloves, stocks, sweet william, are biennials – so need to be started from seed the year before (darn! I bet E did this) so what I need are plants that will make an impact this year….
First I'm going to plant iris. I fell in love with heritage Benton cultivars when they were first exhibited at Chelsea Flower Show (steady…) a few years ago. Tall, slender and more elegant than overblown modern cultivars their washed out colours show the painterly hand of their breeder Cedric Morris, and they have comforting timeless names such as 'Benton Susan' and 'Benton Arundel' .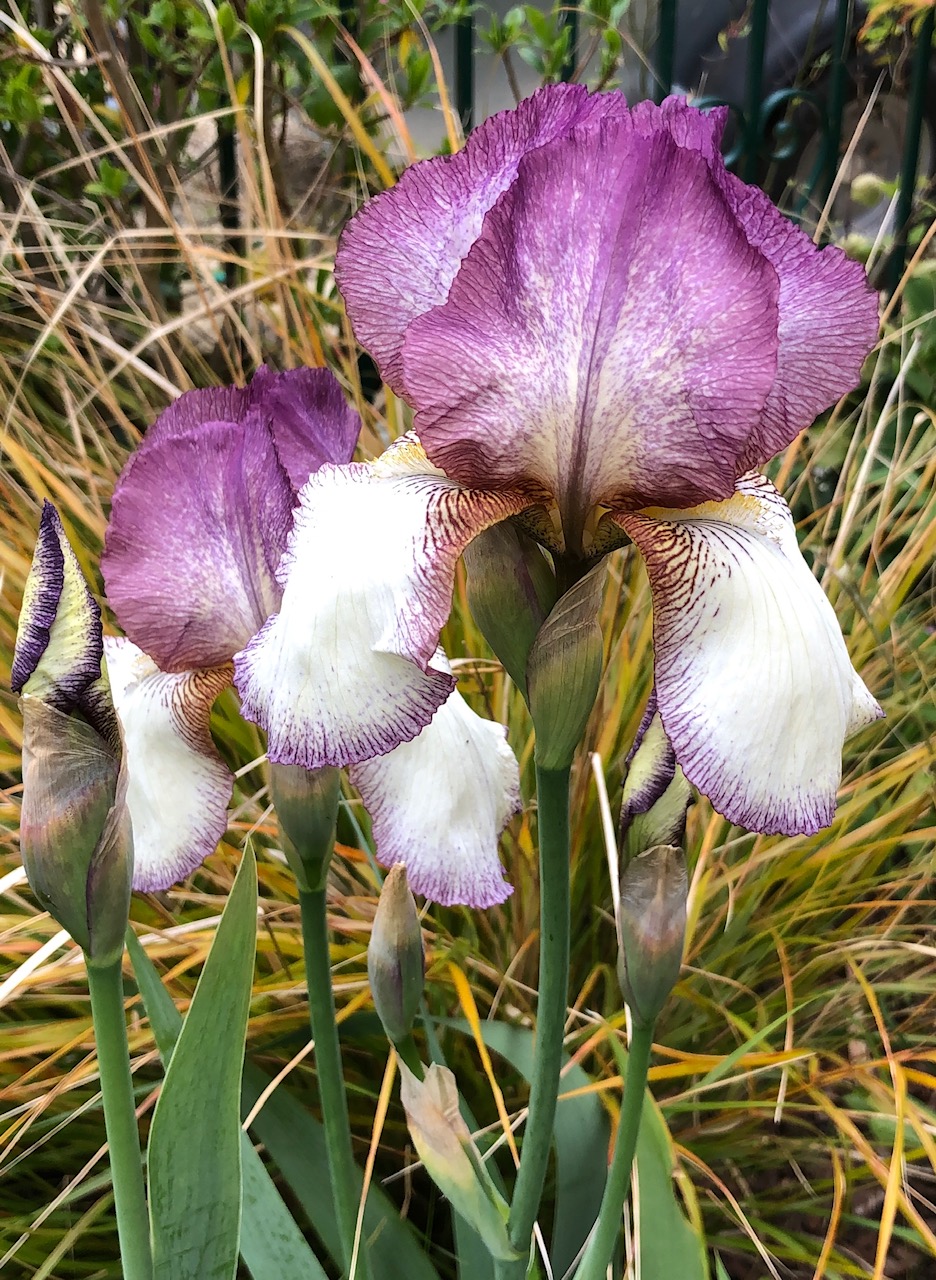 Luckily Todd's Botanics had a good supply of Benton and other iris they had been prepping for Chelsea and both their plants and service were frankly phenomenal under the present circumstances. I reckon a few of these placed in strategically prominent positions will start to create that quintessentially English feel I'm after.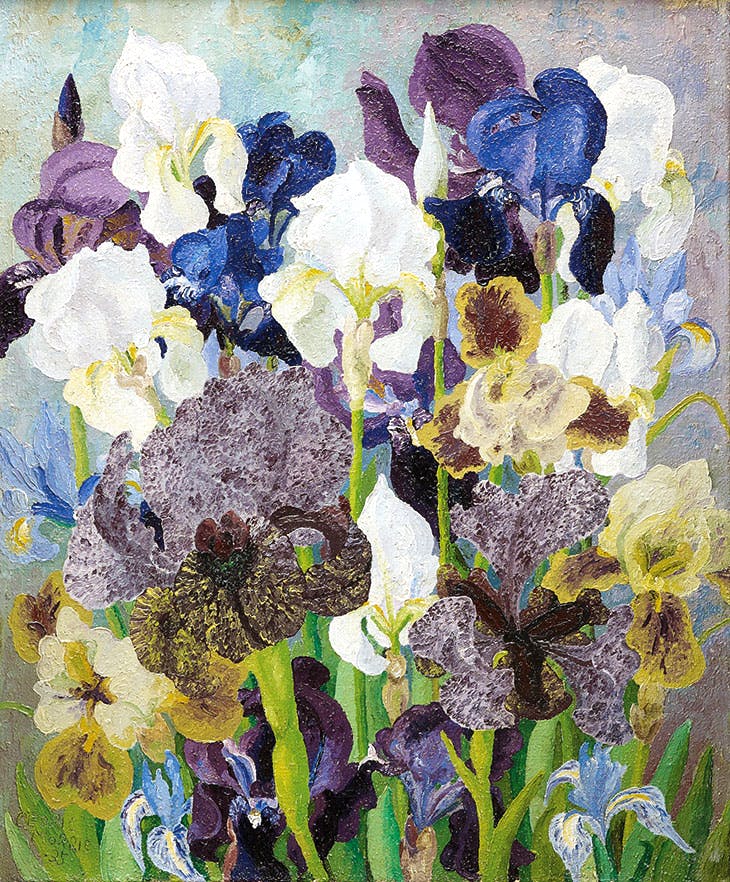 Next its gonna be sweet peas. Luckily I had already got some of these going a month ago, but there will be plenty of on-line nurseries who will have pots of seedling coming on sale through May if you haven't grown your own.
I'm going to fill the biggest pots I can find full of rich garden compost, put in tripods of bean sticks and then place the pots all round the garden. Again I've gone for old- fashioned heritage types because they still have the best scent and you simply won't be able to escape the olfactory nostalgia wafting round every corner.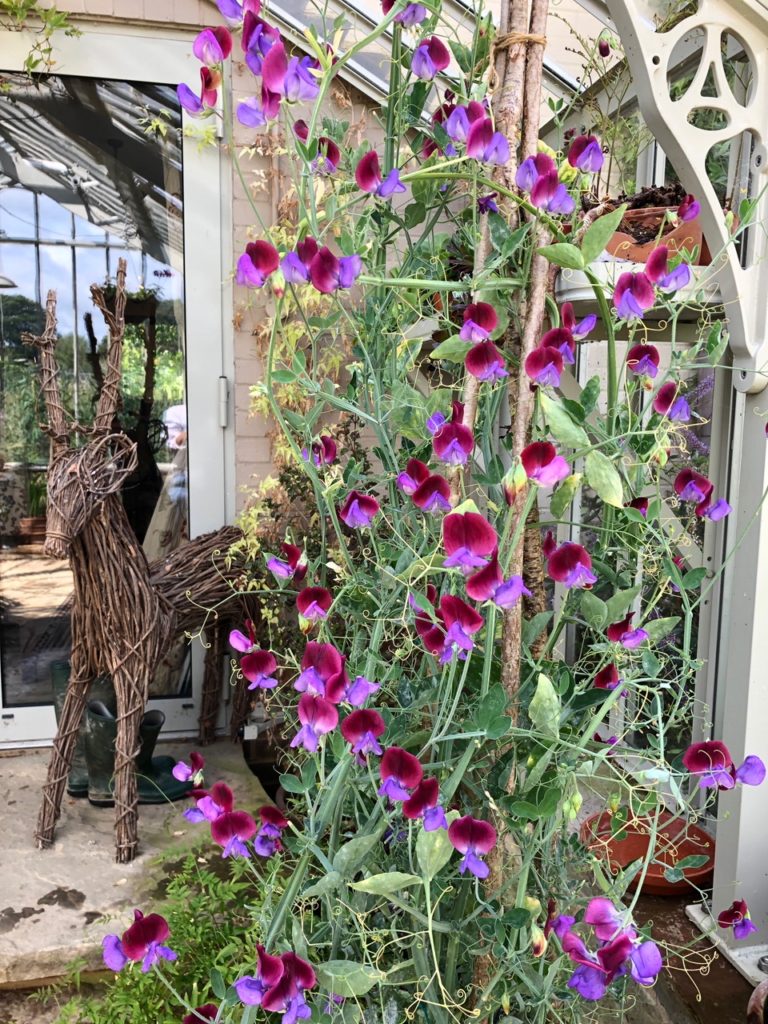 Finally, sunflowers! In my minds eye a cottage garden always has tall sunflower or hollyhocks popping up near doorways (see our feature picture above). Don't think I'll get hollyhocks going from scratch in time but if I can get sunflowers germinated in pots indoors soon they should be doing their stuff outside by August this year. As well as the tall singles I'm going to try one of the shorter multiheaded types which apparently will repeat flower if you cut some for the house.
So there you are bish, bash, bosh, a cottage garden feel in three easy steps. Throw in a few chickens, an outdoor privy and a pig at the bottom of the garden and you have the perfect rural idyll. Don't know why Elaine is so precious about it.
---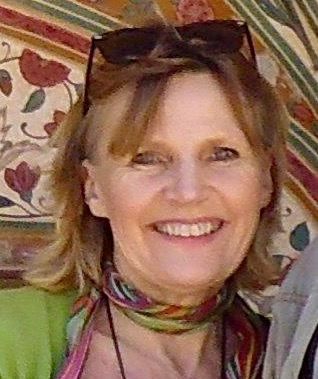 Finally! Laura has conceded that the overall look and feel of a garden-space is more important than a collection of weird plants – and the look I love the most is 'Cottage Garden'. This style of gardening with its comfortable muddle of greenery, its apparent lack of rules and its blithe generosity of flower, veg and fruit are just the qualities we are craving right now in these challenging times.
Cottage gardening is actually a gigantic subject, (not just three easy steps Laura…) – my opportunity to bore you for days, given half a chance – but for now, my sisters have restricted me to telling you about 4 plants that I would not want to be without in my own cottage space: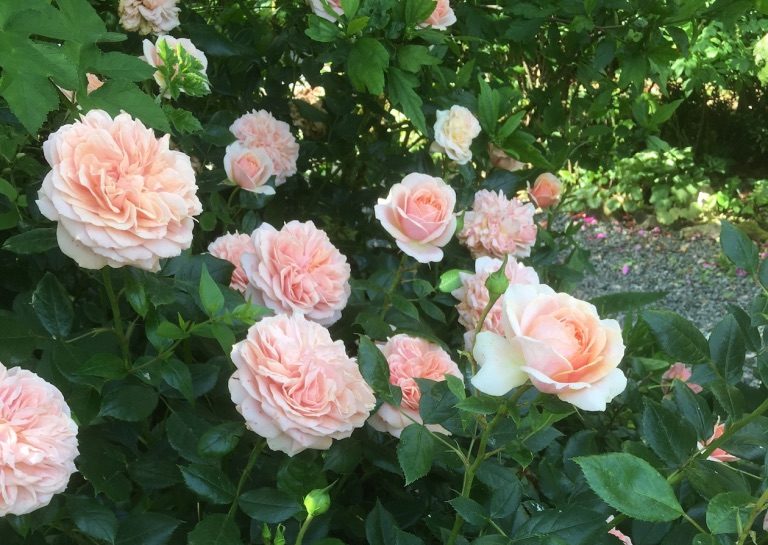 Roses – well, obviously. And the smellier, the better. Climbers, ramblers, shrub roses, Bourbons and Chinas, Portlands and Damasks – the names are as swooningly romantic as the blooms. It's almost impossible to choose one, but, if forced, how about R. 'Joie de Vivre'…… what a wonderful Growbaggy name! It's a seriously-repeat-flowering bush rose covered in healthy foliage and sweetly-scented blush apricot flowers that have that lovely old-fashioned 'over-petalled' look about them. It even boasts an Award of Garden Merit from the RHS, and the title of Rose of the Year 2011). That would get your cottage garden off to a great start.
Sweet Rocket. Don't listen to Laura, you don't need to be endlessly bringing on biennials. This short-lived perennial plant, Hesperis matronalis in Latin, has been around for centuries, (and has a fabulous list of local names including 'dames violets' and 'rogues gillyflower') and happily seeds itself and giving the artless prettiness and lovely perfume you need. I love the tall white form which grows happily in semi-shade,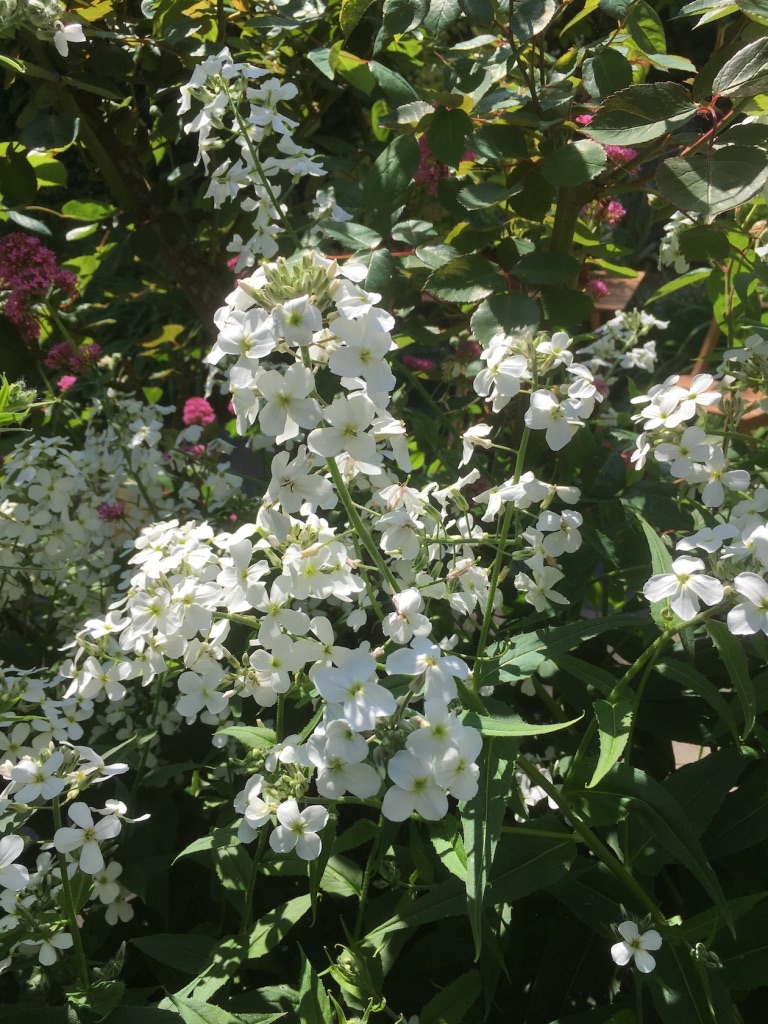 Honeysuckle. If ever there was a plant that says 'cottage garden' more than any other, it's honeysuckle. Yup, cliche I know, but it has all the elements we are looking for – a bit scruffy at times, loaded with fragrant flowers, a boon for wildlife…….. Lonicera 'Graham Thomas' goes on producing its muddly cream flowers for simply months, but the honey-scented L.periclymenum 'Serotina' has beautiful crimson buds too. Actually, they are all wonderful.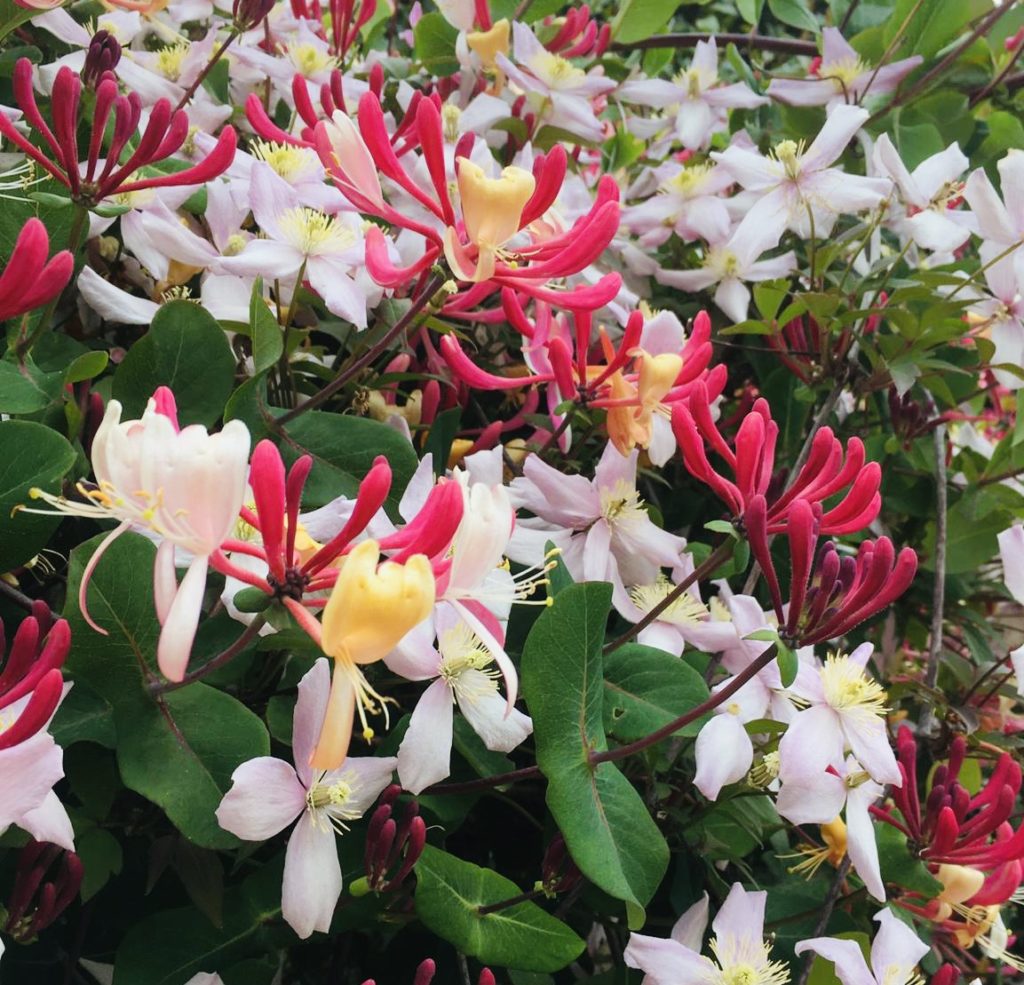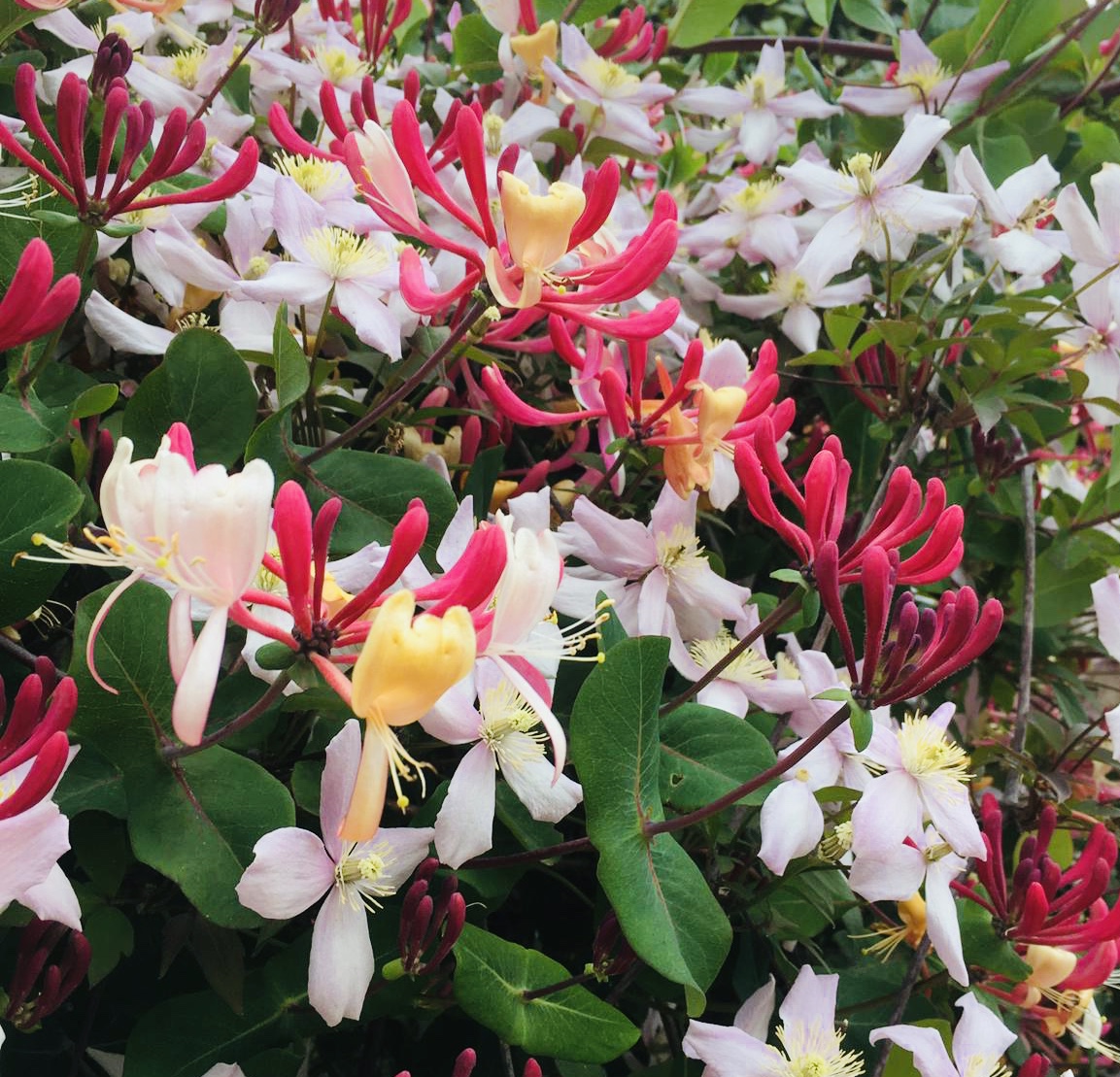 Small fruit trees. A cottage garden has to have at least one small fruit tree – for the blossom, for the birds to perch in, for the fruit if the birds leave you any. Cherry, plum, apple, crab-apple – they're all perfect for this role, you just have to make sure that they are not going to get too big for the space assigned to them. We have a little quince tree -'Vranga' and we adore its delicate pink and white blossom, fleeting as it is. The scent of the perfumed fruit will fill the garden in early autumn.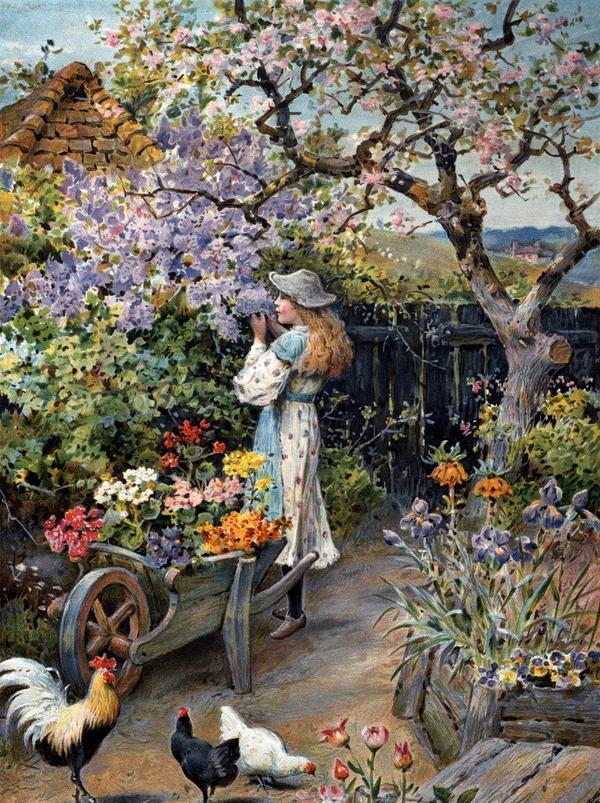 ---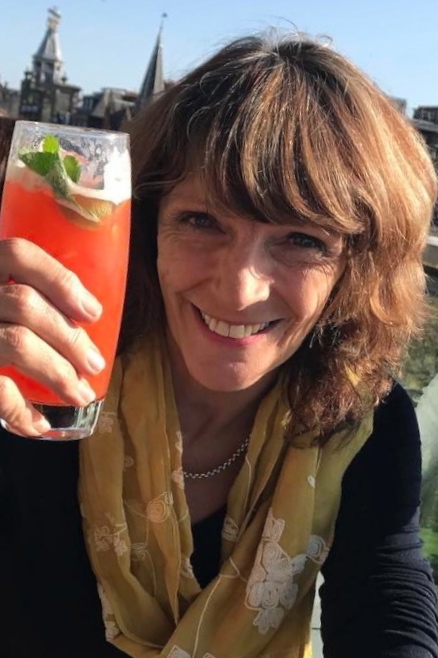 It's interesting that neither L nor E have mentioned one of our quintessential cottage garden flowers – the poppy. Of course, poor things, in their otherwise horticulturally blessed southern gardens they're unable to grow the exquisite blue meconopsis poppy and I think it rankles. This is where the Scottish Highlands score. Cold, wet winters (you're planning on moving here already aren't you?) and crumbly acidic soil make ideal conditions for these poppies to light up a cottage garden border. But poppies generally do produce a lot of floppy foliage for a very short-lived floral pleasure.
You'll notice E & L don't actually 'big-up' lupins either (VERY messy post-flowering), haven't mentioned cornflowers (slightly prone to mildew, would you agree?) and don't even name-check that cottage garden stalwart the hollyhock – maybe because it gets some horrible rust thing pretty easily.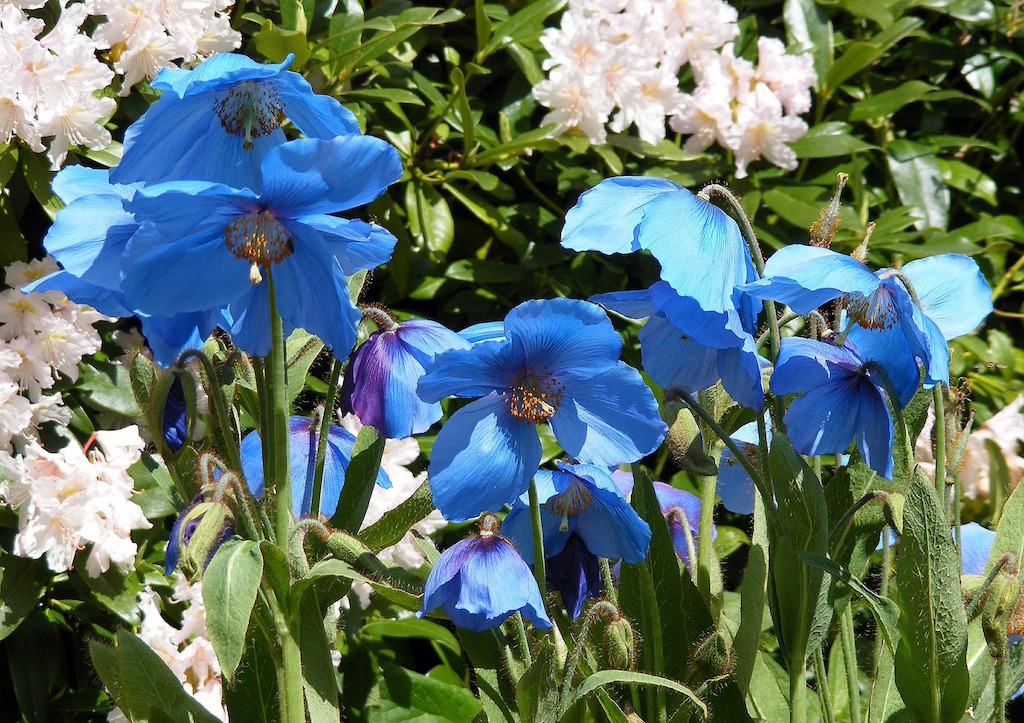 No, cottage garden flowers aren't all quite as wonderfully easy as E & L make out. The best way to create your cottage garden in my view, is to identify where you're going to have your summer evening drinks. Then work around that with some hard landscaping, shrubs and low-maintenance tumbly things like aubretia that you can manage from your seat, with your other hand.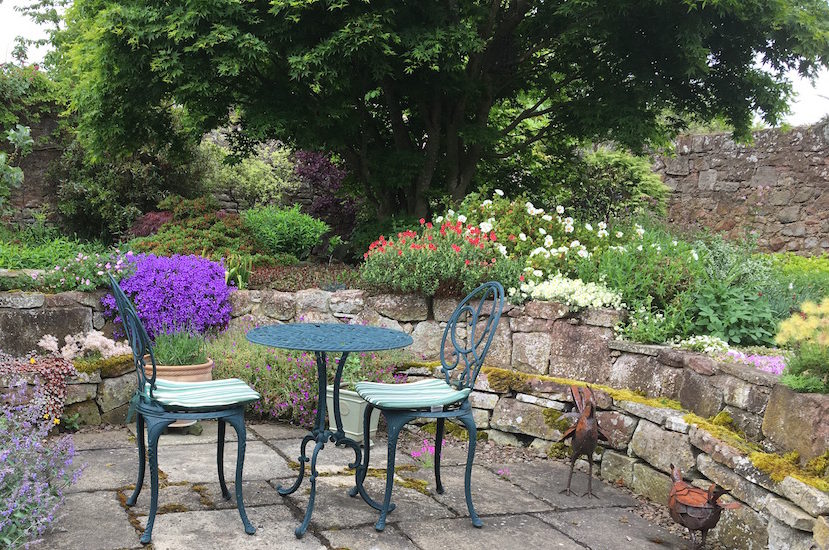 Maybe I just haven't 'got it' – I'll give Elaine another chance by tuning into her live instagram 'walk around' her garden tomorrow (Sunday) at 10.30am. You'll find her at @the3growbags – ask her some tricky questions and see how she copes – she's never done this before!
NB: If you're looking for 'something completely different' (for those of you who remember Monty Python) Louise's Great Plant this Month certainly fits that bill!
NNB: If you missed our new Wednesday DigYourOwnaForCorona blog we were talking veg, blue tits and seaweed.
More NB: And if you'd like a bit more gardening chit-chat from the3growbags occasionally, we'd be delighted if you entered your email address here: