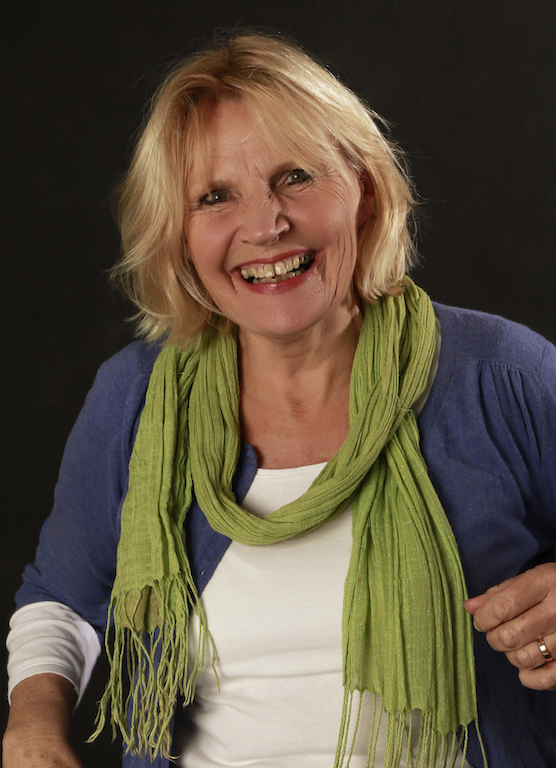 Do you like Clematis? Of course you do! EVERYONE likes Clematis! Oh, and I do hope you are pronouncing it CLEM-atis (Ancient Greek, imaginatively, for 'a climbing plant'), and not Clem-MATE-is, but however you say it, now is the time to get new clematis started.
So many colours, shapes, sizes and flowering seasons, that even the smallest area can accommodate one in that trendy 'vertical space' so much in vogue these days.
I grow a lovely blue alpina variety called 'Frances Rivis' whose whiskery whirligig seedheads are almost as pretty as its pendant violet blue and cream flowers in spring. It looks great in a pot too, and by the way, Caroline, may even be able to grow this in her chillier, windier climes. Not many clematis like a challenge, but this one has a firmer jaw than most.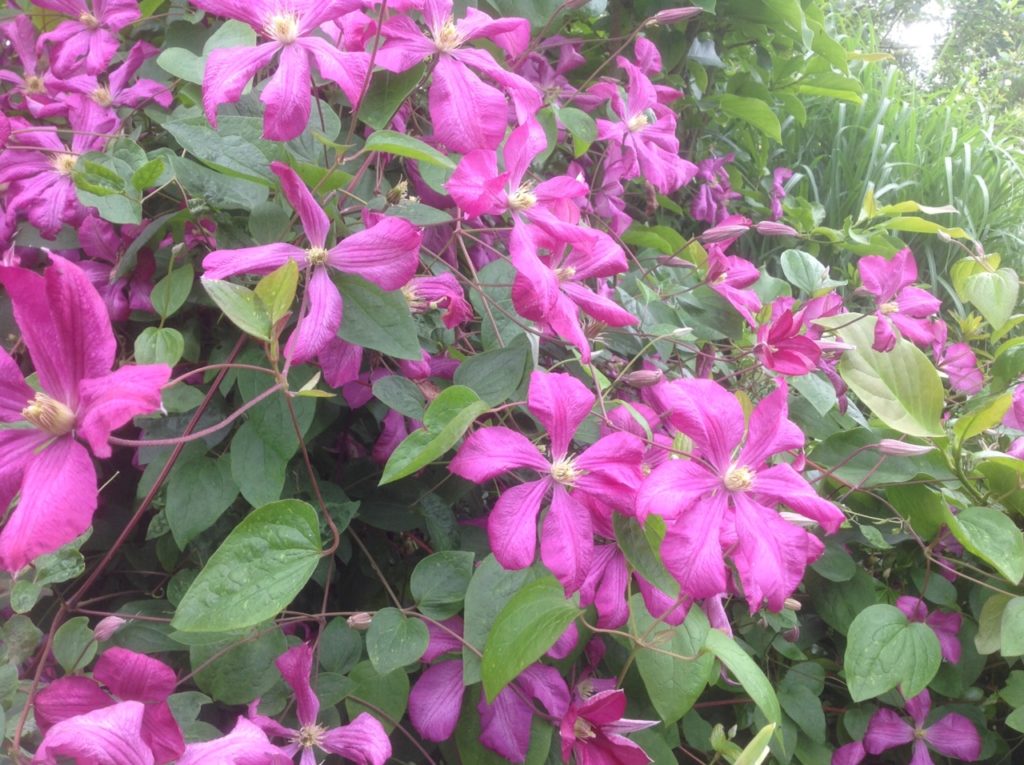 I expect lots of people know 'Perle D'Azur'. It was a favourite of Vita Sackville-West's and is one of the fab Group 3 Clematis – chop everything back to 8-12″ off the ground in March – job done. Do that with 'Étoile Violette' too – hundreds of small velvety deep-purple flowers in July/August.
A couple of tips: plant a clematis 4-6″ lower than it was in the pot – it seems to make it stronger and less susceptible to the rather weird phenomenon of clematis wilt (Laura, the botanical buff, could give you the science, no doubt). And do protect the new shoots from slugs and snails, who can munch through a bunch of succulent new stems quicker than our granny could down a pint of Guinness (fast).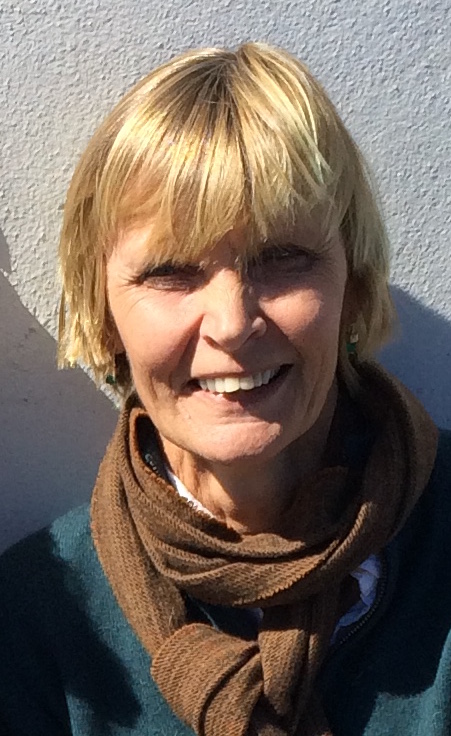 Yes well this is typical of Elaine, who is a glass half-full type of person. Hello birds, hello flowers, hello sky, isn't it a lovely day and clematis are popping out of every crevice…. but clematis are fickle, they either thrive or fail miserably with not much in between. To weight the odds you need animal cunning. Newly planted clematis don't like to hang around dormant in cold soil so plant a new one now when its juices are already flowing with young growth. They do a lot of growing in a single season so dig in plenty of squelchy organic matter to nourish them and partner them with a deep rooted structural plant such as rose to provide a climbing frame without competing for the same nutrients.

But which one to plant? If you are a new gardener, or Caroline, you would probably go for a Clematis montana variety, smothering huge areas in a couple of seasons with its TOWIE style abundance of vulgar pinkness in May. Then, bored with the heavy-duty pruning, you might go for big-flowered 'Nelly Moser', or 'Lasurstern'. But you then realise that tending these divas is fraught with anxiety as year on year they refuse to produce more than a couple of flowers before pegging out completely from the dreaded clematis wilt Elaine describes. It nobbles these large flowered varieties particularly hard as this fungus is unknown in their native countries of Japan and China so they have not evolved any defence against it.
So it will be quite a relief when you discover the existence of viticella and texensis clematis. Flowering later in the year when all the razzmatazz of early summer is waning, their more demure flowers are reliably produced in good numbers and now come in some exquisite colours and shapes. Their pruning regime is simple; cut them to just above ground level each spring, (Elaine's Group 3 treatment) and, originating from Southern Europe they have inbuilt resistance to clematis wilt. My current favourites are both varieties of texensis and are royal consorts past and present: 'Princess Diana' and 'Princess Kate'. If you have been reading our blog regularly you will know how I acquired 'Princess Kate', but if not have a read of Caroline's account of her mission at the Chelsea Flower Show sell-off a few years ago…..
Well, glass half full or empty – it'll look a lot better when topped up of course. The prospect of  tackling any plant that comes in numbered 'groups'  generally has me reaching for the Merlot – or a packet of nasturtiums.
For any similarly inept Growbag readers I have summarised expert opinion on clematis pruning, as follows:
Prune EVERY clematis in the first two years to make them more vigorous above and below the ground (yes it sounds a bit scary doesn't it?). Then:
Group 1 – these bloom on previous year's growth and include the montanas – prune right after flowering – unless, like Elaine, you're happy for it to grow 30 feet tall.
Group 2 (they come in As and Bs – can you believe that?) –  basically though, these are the large-flowered hybrids and have potential to bloom more than once so don't prune these babies at all except clearing off deadwood when you can see, and avoid, developing buds.
Group 3 – summer and autumn flowerers such as Laura's viticellas, jackmanii types, texensis, and orientalis types.
They bloom on new growth so prune, prune, prune in late winter when they are completely dormant, to about 12 inches – leaving only two buds on each stem of the plant. It feels all wrong but if you don't, apparently they will develop 'long legs that get woody and will be devoid of foliage and blooms.' Me, after a works night out basically.
Personally I avoided all of this by opting for the dumpy little Clematis 'Ovation' which is evergreen and sits like a pudding in your flower bed – no climbing, no pruning, but loads of flowers in April. I'm braced for patronising eye-rolling from E & L.
NB: If you'd like a bit more gardening chit-chat from the3growbags, just enter your email address here.