Our mate Louise Sims gardens with style. Her view on what are the sassiest p
lants in season each month, is probably the best  feature of our blog…..
APRIL
Viola labradorica
Syn Viola riviniana – Purpurea Group
Writing these twice monthly pieces, I am always learning something new, and this time I had to look up the exact whereabouts of Labrador. So now I know, and furthermore I understand why this little plant is so resilient, as it also native to Greenland.
For me it stands out from other violas on account of its unusual heart shaped, purple flushed foliage which complement the flowers so perfectly.
It is an undemanding plant and will seed itself about gently; a little too gently for me, as I could do with a few more, if only to dig up and give to friends … it is often admired.
Easy to please, it seems to love growing in the cracks between paving, and also seeds itself (along with everything else) in our gravel paths.
Equally happy in sun or shade, it would also make a very pretty specimen in a small terracotta pot …. a centrepiece for your outside table, where you could more easily admire the flowers and even deadhead them! This for me is a step too far, but I know I should. I am too busy feeding my robin!
Coronilla valentina subsp.glauca 'Citrina
Sorry about the rather long title, but names mean everything in the plant world and in this instance 'Citrina' is the vital word because without it, you will get a plant which (in my opinion) bears rather unappealing chrome yellow flowers.
Coronilla valentina is a member of the pea family, a small evergreen (approx. 80cms), but it can reach well over a metre particularly if planted against a sunny wall. It is a gem (10 out of 10 says Bob Brown of Cotswold Garden Flowers!) and is definitely one of my 'desert island disc' plants. The palest yellow flowers are set off by grey-green foliage and have a subtle melliferous fragrance.
The month I most associate with this Coronilla is November, but this year mine waited until late winter and now, in early April, it is in full flower and reminding me of the unpredictability and excitement of gardening. So you are unlikely to get flowers in the summer months, but this is a good time to take cuttings, for it is not a long lived plant (three to five years is what I would expect).
Do not hard prune Coronilla, and especially never during cold weather. It can appear rather straggly at times but be gentle with your secateurs or you will live to regret it.
Also makes a great specimen in a pot!
MARCH
Ribes sanguineum 'White Icicle' AGM
In this most magical of months when there is so much happening in the garden, I want to put in a word for a member of the currant family.
Again, all too often the only one available, and therefore most often seen, is the very drab pink R sanguineum. You could look out for Ribes 'Pulborough Scarlet' which, as its name suggests, does have very striking deep pink blooms, but my favourite is the one with snow white flowers.
Interestingly, almost everywhere you read about 'White Icicle', it says 'full sun'. Well this is nonsense and quite frankly I probably wouldn't have time for it if that were the case, for when not in bud (which emerge in a most enticing way towards the end of February) or in flower, its overall appearance is dull and you wouldn't want to waste your best sunny spot. I have one in deepest shade on the north wall of our house and it only sees the sun for half an hour in the very late afternoon. It is all the more striking for being in the shade where the white pendent flowers positively glow. I also have another in dappled shade near an oak tree, and its upright habit is the perfect umbrella for any number of woodland treasures.
It is such an easy shrub, all it needs is a hard prune after flowering, and this also keeps it to a more manageable size.
MARCH
Bergenia emeiensis
The name Bergenia might provoke a little shudder in some people, so I hope my photograph has instantly caught your attention, because this one is about as far as one can get from the murky pinky purple offerings most commonly seen in spring.
B emeiensis is a compact, hardy, evergreen plant; a species with pure white, elegant flowers on pinkish stems, above shiny mid green leaves that are more oval than wide. It does not need any special attention; indeed mine is on the edge of a raised bed and could be deemed to be in too dry a spot for a plant that comes from damp woodland.
While I am on the subject of Bergenias, I must mention B ciliata, another favourite of mine that has very low growing palest pink flowers above gnarled bare stems at this time of year. However, as the season progresses, its fantastic, vast, hairy leaves take centre stage and make a real architectural statement, especially on the corner of a bed where its growth need not be restricted.
Back to Bergenia emeiensis … this is not a plant that is commonly available and that's because it was only relatively recently introduced, in the 1980s. However, don't let that put you off, you could always grow it from seed! Available from Jelitto Perennial Seed whose germination rates are outstanding.
Pulmonaria rubra
Pulmonarias are among the earliest herbaceous perennials to flower in springtime, and Pulmonaria rubra is the first; its hairy stems and fresh green leaves emerging in January are soon followed by the flowers. These are a delightful shade of coral pink or red (with not a hint of blue!) and they associate well not only with some early bulbs, (snowdrops being the perfect partner), but also with hellebores, evergreen ferns and the delicate, bronze-tinted, fading leaves of many Epimediums.
Pulmonarias are happiest in partial to full shade, but they need light in the spring and so do well beneath deciduous shrubs and trees. Avoid, if you can, planting it under the winter jasmine, whose bright yellow flowers in combination with the coral pink of P rubra is just too much. In our garden it looks really special under the white Chaenomeles speciosa 'Nivalis'.
At this time of the year the back of the border can be a dreary place, whether planted with shrubs or tall summer-flowering herbaceous perennials; so this is another good spot for P rubra. Its cheerful flowers will brighten things up in the spring, and its large weed-suppressing leaves will do their job in the summer.
NB I have just come in from wandering in the garden and realise that I have missed a trick. Right now, many leaves of euphorbia stygiana have turned a beautiful red but its stems look bare and leggy and there is too much empty earth… I don't have to look far to sort that problem!
FEBRUARY
Iris unguicularis – The Algerian Iris
This beautiful, winter flowering iris used to be called Iris stylosa; sweet sounding and easy to remember. Easy to grow too, just plant it at the base of a dry sunny wall with no added compost, and it will thrive. It seems to love poor stony soil which is no surprise when you look at its natural habitat.
For most of the year you wouldn't give it a second glance … a scruffy collection of strap shaped, dull green leaves which often as not are brown at the tips; and horror of horrors, it is a five star hotel for snails and slugs. So sometime during the summer I go through my clump, teasing out and removing all unsightly dead leaves, dead snail shells, and generally clearing away the debris. I also shorten the leaves by half as this improves its general appearance and allows the sun to bake the rhizomes.
Then, at any time between November and March, and usually between periods of frost, the delicate lavender blue flowers emerge as if by magic. If you pick them in bud, they will unfurl indoors and delight you for that day.
It could be that you don't have a sunny, south facing wall, in which case try Iris lazica which is very similar but flowers happily in semi shade in early spring.
FEBRUARY
Salix fargesii
During periods of hard frost it is not difficult to find stunning subjects to admire as you wander around the garden; every stem, seedhead and leaf is enhanced by the sparkling white dust of  air hoar.
The challenging days are when it's grey and dismal and the light levels are at their lowest. But even then I know that there will always be something to brighten things up, and at this time of the year I look to Salix fargesii, which we have planted at the edge of our pond.
There are about 400 species of deciduous willow, their main season of interest being late winter and early spring, and most have either distinctive colourful stems, showy catkins or interesting foliage. Some have all three!
However, the conspicuous, bright red buds of S fargesii, set against its glossy dark stems are hard to beat; and for the average garden it makes an excellent choice, seldom reaching more than two metres in height. It is also fairly slow growing, and with careful pruning (it doesn't need much), will form an attractive, open shrub.
It seems almost too obvious to mention, but you couldn't do better than to grow a carpet of snowdrops underneath.
JANUARY
Anisodontea 'El Royo'
The first anisodontea that I grew was A. capensis, which is less hardy, less showy, smaller in all respects, but very charming nonetheless. Then I came across A.'El Royo', another member of the mallow family, which has much larger, clearer pink flowers, also with dark centres, and it flowers best, most unexpectedly, in autumn and winter.
It is a hardy evergreen subshrub reaching about 1.5 m, and mine has so far withstood a string of quite hard frosts, and it just keeps on going. It has an airy habit and will perform best in a sunny well drained spot, with minimum fuss. A hard prune in mid spring will set it up for the rest of the year.
I should point out, that if you go online to see what others say about this plant, you will discover a fairly even split between naming it 'El Royo' and 'El Rayo'. I am firmly in the former camp as I first read about it in Bob Brown's hugely informative (and funny) catalogue 'Cotswold Garden Flowers', and as far as I am concerned, what he says … goes! He also gives most plants a score out of ten and this little gem quite rightly scores nine.
It also grows happily in a pot, and can therefore be placed wherever you will get maximum enjoyment!
JANUARY
CLEMATIS CIRRHOSA
From about the middle of December, the garden takes second place in the order of things; but as soon as the festivities are over I rush outside, keen to see what's in flower, and to catch up with all our treasures.
Planted not far from our back door and therefore always on view to be enjoyed, is the evergreen winter flowering Clematis cirrhosa. It is amazing to see the delicate speckled flowers thriving under such tough conditions and all the more valuable at this time of year. I did have to refer to my gardening diary to make sure that this was not the variety 'Freckles' because it is very similar; indeed you'd be pushed to tell the difference. Apparently, in the Mediterranean where they grow freely, the flowers vary considerably, and this is why there are so many different forms offered.
No garden is too small to fit in another clematis, but should you have a bit more space and be looking for jewels, or sublime scent, then look no further than the persian ironwood tree (Parrotia persica) for the former, or wintersweet (Chimonthus praecox) for the latter.
Don't allow Clematis cirrhosa to get too wet, especially in the winter. And your new year's resolution is … make a note of each and every new plant in your gardening diary, and where you put it!
DECEMBER
ERYSIMUM 'PARRISH'S'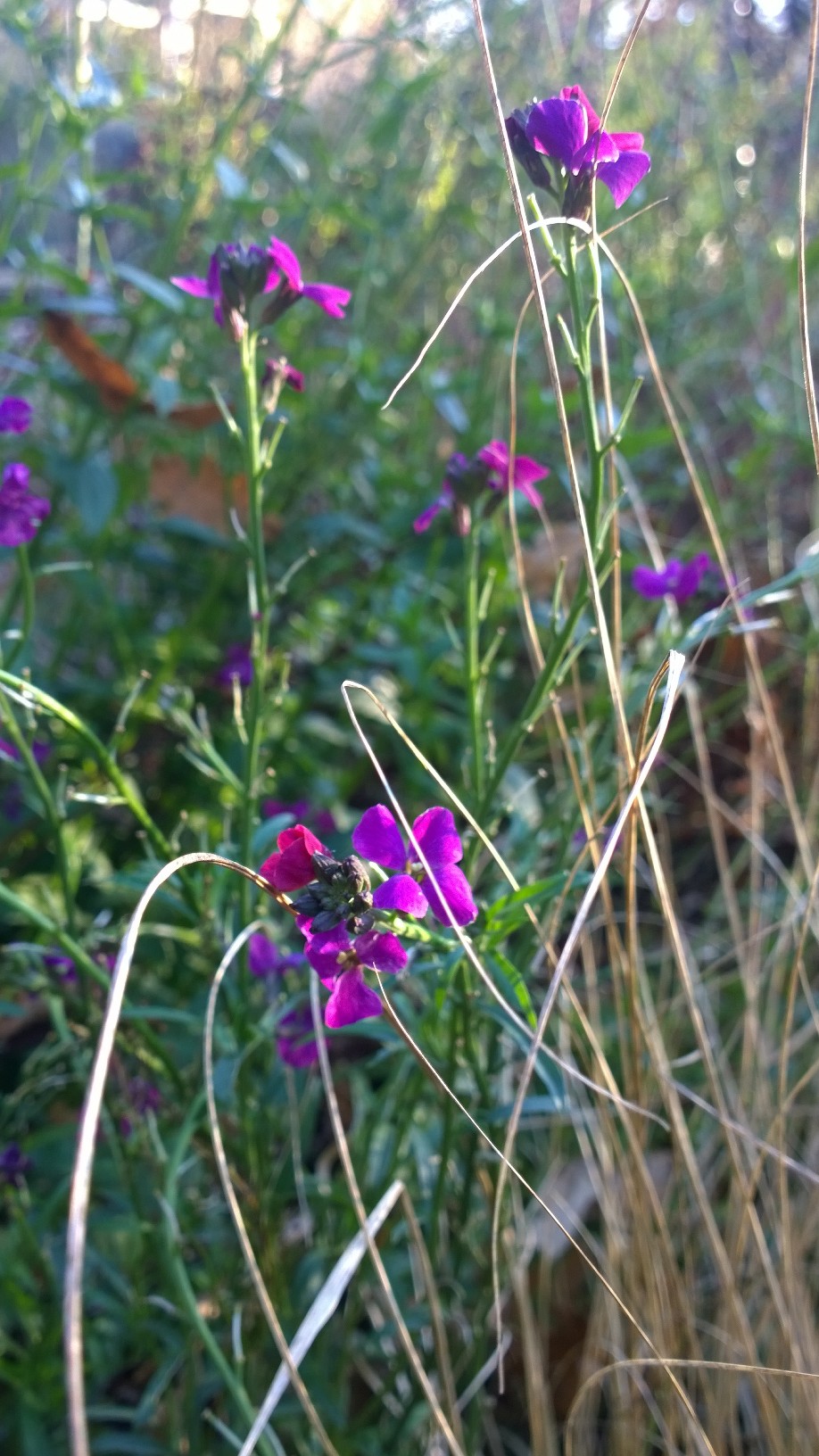 December can be short on flowers. Early bulbs, sweet scented winter flowering shrubs, and most hellebores come into their own from January onwards; but for this time of the year, my subject today is in a class of its own. I can honestly say that there is hardly a month when it is not in flower, and don't imagine it is nestled against a south facing sheltered wall, nor is it in a pot tucked well up against the house. Our garden is cold and it flourishes in an open bed, admittedly very well drained.
Erysimum 'Parrish's' is a hardy, low growing, evergreen wallflower with bright magenta/purple pink flowers. I was going to use the word 'sprawling' to characterise its habit, but remember seeing it once described as 'curtseying' and I can't better that!
'Parrish's' associates well with smaller grasses, and low growing, grey leaved sub-shrubs; next autumn I shall plant some spring bulbs around its base as these would thrive happily amidst its open growth.
Being relatively short lived, it responds well to light pruning when it gets too leggy.
We're not far off the shortest day, and for me there is no plant quite so plucky as Helleborus niger, pictured at the top of this column, and there is no better place for it than in a pot beside the front door. You will be enthralled long after the Christmas decorations have come down!
NOVEMBER
BERRIES, HIPS AND LEAVES
Autumn is restful and harmonious; and if the sun shines in November, the crystal clear light is unbeatable.
It is restful because unlike in springtime, there is no panic about getting on with jobs in the garden … we have all winter. One of my sisters once said to me "I hate that expression about putting the garden to bed" and having given it a bit of thought, I agree entirely. It sounds as if you're not going to see it again; but actually, at this time of year, there is every reason to slow down and enjoy every last remaining flower, every mellow leaf and bright berry.
It is harmonious, because the autumn palette is such that it just happens, it doesn't need human intervention.
I have picked out three particularly good doers for us this autumn; firstly, Crataegus prunifolia which looks amazing against a carpet of sycamore leaves, and lights up an otherwise rather murky, sunless corner. Then there is Callicarpa bodinieri with its bright purple berries against the frost, and whose cut stems last really well in a vase. And finally, euonymus ….. hmmm, now which one is it? Cue to go and find my gardening notebook without which I would be lost. I have finally found it … Euonymus planipes, and it needs no description from me – stunning!
What I would really like for Christmas is a five year diary so that I can record from day to day, and compare from year to year, all the goings-on in the garden … any of my sisters reading this?
NOVEMBER
Salvia leucantha
We are spoilt for choice this autumn, the garden is still full of colour, everyone is agreed on that. Surely we have had what is known as an Indian summer? Not for us, gales, driving rain and falling temperatures, and this is why it all still looks so good.
Salvia  leucantha known as Mexican bush sage, is a sub-shrub reaching to about a metre in height. I grow mine in my autumn border but it's also a really good choice for a container because long before the flowers appear, indeed showing no hint of what will come in October, the foliage alone, with its felty willow shaped leaves, will play its part.
The flowers are actually white and having Googled the meaning … Greek, leuc, white. Greek, anthos, a flower … (thanks Elaine!) I realise that it is the rich velvety purple calyces that we see as the flower.
So I have already taken cuttings of my chosen plant, Salvia leucantha, because every October I am amazed at its ability to look so fresh and to flower so late, and I want to ensure that I have it again next year! Apologies for not alerting you all earlier if you were hoping for some direction on this front. Cuttings take easily and are very fast growing, and if by chance my specimen in the border doesn't make it, (it has a hardiness rating of H4) I will have my replacement ready and waiting for the spring.
OCTOBER
Dahlia merckii
Now I am not a big fan of dahlias, for me the flowers are too brash and the growth rather ungainly: but here I'll make an exception. This plant is a species, (and I hope you were paying attention to Laura's piece and video on plant nomenclature!) so comes true from seed and is a cut above the others.
We are now entering the season of seed catalogues and sowing, and it was exactly a year ago that I bought my seed from Derry Watkins at Special Plants Nursery. Incidentally, this is a fantastic source, of interesting and unusual seeds. She will send you her catalogue, each entry is accompanied by a little photograph and it makes for hours of reading and research in front of the fire! Take it from me, it is very easy to over order from the comfort of your autumnal arm chair!
So Dahlia merckii is fast growing (to approx 100cms), and it started flowering here in July. However it has really come into its own recently, and its dainty, lavender pink flowers above finely divided foliage are a joy.
With regard to hardiness … who knows what this winter will bring? As far as I can ascertain, if your soil has good drainage, Dahlia merckii has a good chance of getting through; better, I am told, than have most other dahlias.
So that just leaves the slugs to contend with!
OCTOBER
Pennisetum alopecuroides  'Herbstzauber'
Now I bet you don't know what a forb is, and nor did I until I sat down to write this piece, and it could be a good one if you play scrabble. It is a herbaceous flowering plant other than a grass.
My chosen plant is a pennisetum, and I was reading a small booklet on grasses published by the Hardy Plant Society*. In the introduction the author rightly points out that many grasses appear to be in flower for far longer than any forbs because of course the beauty of the seed heads extends their season, and sometimes … right through winter.
So this pennisetum just gets better and better as the autumn progresses; its fluffy, pink tinged flowers are shaped like bottlebrushes and are silky soft to the touch. It loves full sun and looks at its best catching the first rays in the morning, or bathing in the late afternoon light. Planting companions are many and varied; choose from sedums (and not just 'Autumn Joy'!), asters, tall late salvias, other grasses, and of course the indispensable Diascia personata. Calamintha nepeta makes a wonderful frothy 'skirt' around its base. Good drainage is vital.
*This booklet has a really useful illustrated page showing the habits of growth of grasses, which may make your choices easier. I would encourage any gardener to join the HPS, just take a look at their new website.
SEPTEMBER
Althaea cannabina
I'm all for transparency, and not just in the late summer or early autumn border!
Over the last few weeks I have been looking long and hard at such plantings and have come to the conclusion that relentless clumps of Rudbeckia, Helenium, Eupatorium, Persicaria, Ligularia etc, do not always fit with the average garden plot. Okay in a prairie setting maybe, or setting off a public building, many of these plants are simply too dense and too hoggish and before you know it, there is no room for anything else. The trick is to choose your material very carefully indeed ….. grasses are indispensible at this time of the year, as are certain asters, but again … be selective.
My special plant this month is Althaea cannabina, same family as the well-loved hollyhock, and it illustrates my point perfectly. Tall (but even at 6-7' should not need staking) and willowy, it flowers from summer through to October, delicate pale pink flowers with a darker centre.
It is a real see-through plant and grows happily with late Sanguisorbas, Molinia caerulea 'Transparent', Succisa pratensis, Verbenas, Veronicastrums, Diascia personata and countless others. I hate to mention the 'c' word in September, but top of your reading wish-list should be Marina Christopher's 'Late Summer Flowers'. She also sells at many plant fairs as Phoenix Perennial Plants.
Prune althaea to the ground in late autumn.
Many apologies to Kevin Hughes Plants who was at Sussex Prairies Plant Fair earlier this month. Following my piece about Vitex, I was amazed to see his beautiful specimens obviously thriving in pots … also the white one. So now you know where to buy one!
SEPTEMBER
Vitex agnus–castus var. latifolia
I must start by mentioning the garden where I first saw this month's plant. A few years ago I took my mother on a little garden-visiting jaunt to South Wales and we came across this gem of a garden nestling in a beautiful and secluded valley with breathtaking views.
Tucked into the hillside, it was filled with treasures including many salvias and other Mediterranean plants. I saw their vitex in full flower and fell for it.
Vitex is a magnet for bees, butterflies and other insects and bears upright sprays of fragrant, lavender blue flowers from July, August or September depending upon your location. Buddleias are in flower at the same time, but for me the grey green foliage of vitex is more attractive, and its flowers die more gracefully too. It is hardy, to -10 as long as it has shelter (south facing wall or fence is ideal) and good drainage.
If you search for it online you are more likely to find results for herbal remedies and tinctures; it is not a plant that is widely offered and this could be because it looks rather sad in a pot. Seek it out … it's worth it!
A note on pruning … it can be left untouched, in which case will attain 4 metres plus. However a hard prune in early spring will keep it to a size more acceptable for the average garden.
AUGUST
Koelreuteria paniculata – Golden Rain Tree
That I love propagating all plants goes without saying, but above all I have a particular fondness for trees that I have raised from seed. So much is invested: the collection, the sowing, the waiting, the watching, the watering. Then by magic, or so it seems, a tiny green shoot appears, and others soon follow.
So a few years ago I was walking through the Cambridgeshire village of Hemingford Grey with my sister, when we stopped in our tracks to admire a beautiful 'Golden Rain Tree' in the churchyard. Instantly I made a mental note to ask Fran to return in a few weeks time to collect some seed.
Why is it also known as Pride of India, when it comes from China? No matter! The showy panicles of flowers (loved by bees) produce an airy haze of clear yellow in midsummer, followed by interesting seed pods. In the autumn, the ferny foliage turns a wonderful butter yellow.
Sun is a must, and it likes good drainage. I know that to my cost. I wish I had not made a bet with Fran that mine would grow taller and stronger … I forgot the grit at planting time!
NB Koelreuteria Paniculata is deciduous and grows to about 7 m (23 ft) tall.
JULY
Sphaeralcea incana 'Sourup'
I just love mallows, and can't understand why they are not more popular; they have so much going for them.
As a genus, sphaeralceas are sun loving, mostly hardy and very free flowering from mid-summer through to late autumn. They are undemanding but need well drained soil. We are on clay, so I often add a couple of spadefuls of grit at planting time … organic matter is good but grit is better!
Many sphaeralceas make superb specimens in a pot ( 'Newleaze Coral' is beautiful), but I have found that Sourup prefers to be in a border where its strong, upright (90 cms) growth holds its own against over enthusiastic neighbours, and where its clear orange flower colour is unmatched. I bought my original plant from Graham Gough at Marchants Hardy Plants, and noticed its transition there, from pot to border.
It associates well with so many other late border perennials including sanguisorbas, actea simplex (especially those with deep purple leaves), tall perennial verbenas, some salvias, asters and almost all grasses.
A quick word about pruning; if the frost hasn't done it for you over the winter, a hard prune in early spring is necessary.
JULY
Rosa bonica
Modern shrub rose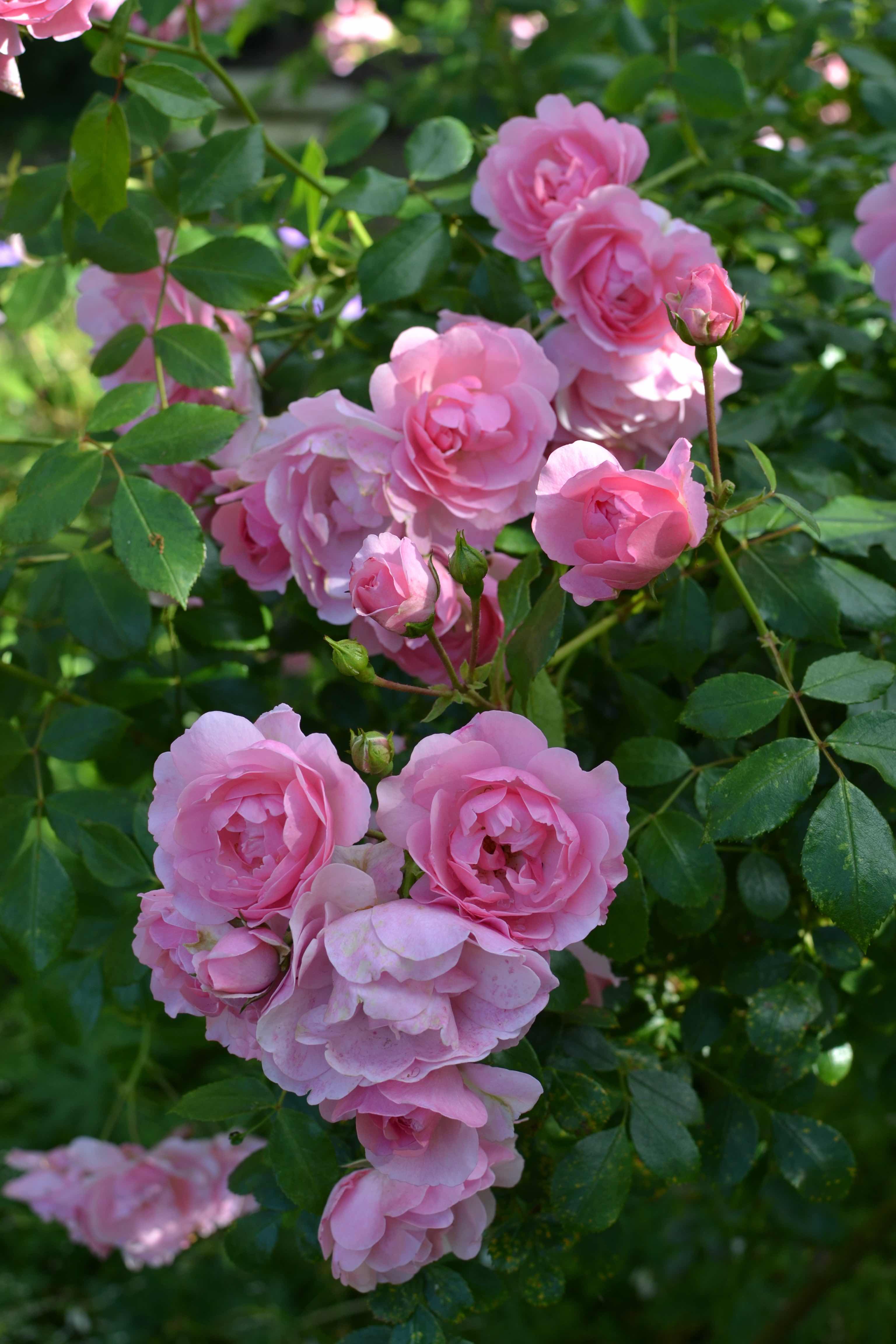 I've known bonica for a long time as I first took notice of it in my mother's garden many years ago. She grew masses of roses and therefore had that understanding of their ways that can only come from growing them. I remember wondering, when she and my father downsized, how on earth she would choose which roses to grow in their new and much smaller garden.
It turned out to be easier than I thought, and bonica was on that list. I not only took note, I took cuttings; one of which is the very plant we grow today.
It's one of the last roses to come into flower, but is well worth the wait! It's generous and uncomplicated and gives of its best at all times. Its dainty sprays of clear pink, lightly scented blooms will continue on and off all summer until the first frosts.
There is very little not to like about bonica … robust, good foliage, almost disease free and with good hips in the autumn (stop deadheading at the end of summer if you want these). It's certainly tolerant of some shade.
What more could you ask for ?