Are any of your seeds germinating yet? If you joined the3growbags on our fortnight-long veg sprint, they might be. If you didn't catch it but would like to start growing veg, there's absolutely time to get going here.
In any case until a more normal stride returns, we'd love to keep in touch. For the next six weeks, we'd like to share a post each Wednesday giving a veggie garden update, a recipe for home-grown veg (from a Growbag husband of course, we're pretty hopeless) and a short 'nature-note' reminding us of the sights and sounds that come for free while out for our 'daily walk'.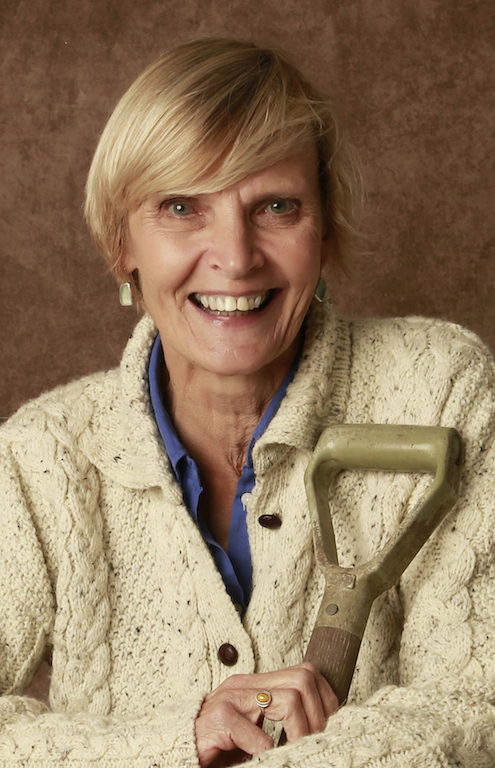 Veg first, and no matter how long you've been gardening it's still a thrill to see seeds that you've grown emerge through the soil. We've sown all our cucurbits (courgette, squash, melons) in pots and fuss over them like expectant parents waiting for the first one to pop up,
We got a head start with our tomatoes, sowing them in late February and they're all pricked out and potted on. The leftovers were also potted up and donated to our village shop to be given away to anyone who fancied a go. No problem if yours are a bit behind ours, they'll catch up quickly now the weather has warmed up a bit.

The onion sets were planted in their modular tray 10 days ago and are already looking like they mean business. You can plant your onion sets directly into their final position in the garden or pot – just need to watch the birds don't pull them out before they've put down roots,
And anyone who didn't believe Elaine when she said how easy it was to grow pea shoots on your window sill (quite frankly I had my doubts) now has to eat their words as she has this to show us: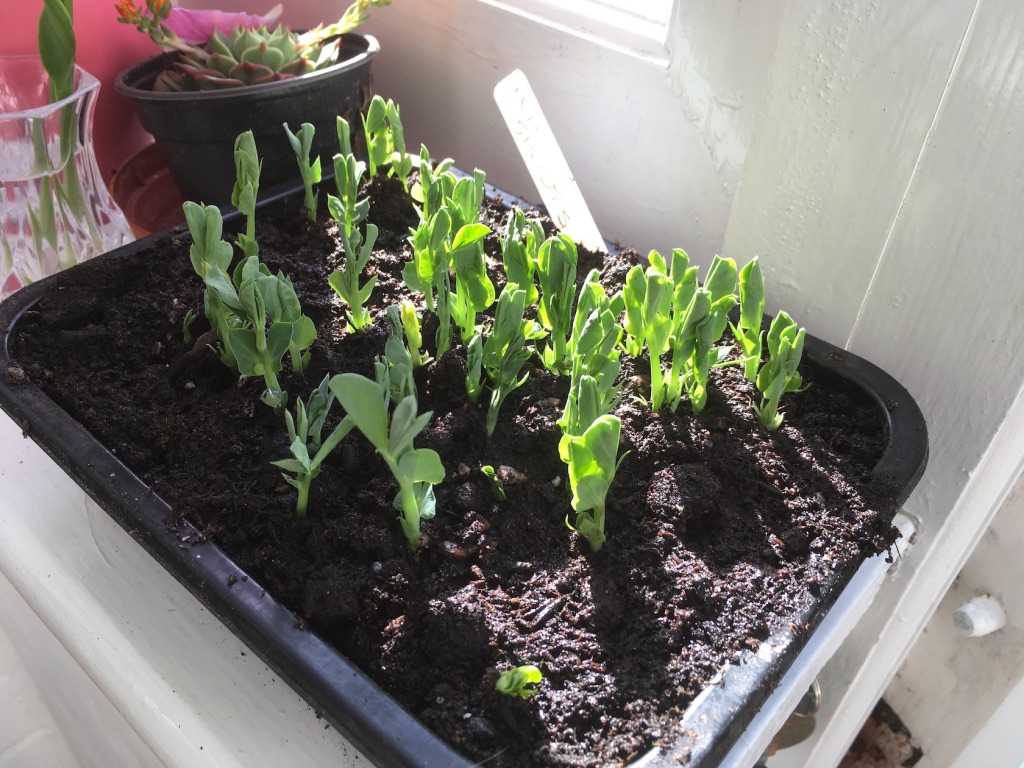 Recipes for Grow-Your-Own-ers
I really enjoy cooking, and especially creating a visual as well as a tasty feast, so I am going to make a suggestion to give your Easter Sunday lamb a little extra wow factor. Unfortunately, even if you have followed the DYOFC instructions to the letter, you still won't be harvesting much just yet, so you will have to resort to buying the ingredients – but practice now, and in the coming months you'll be able to impress with your own produce.
Now, Hassleback Potatoes are dead simple to cook and look rather special served with a roast. You're going to need an appropriate number of medium sized spuds (new potatoes are sweeter), unpeeled and well washed and sliced – but not all the way through! A good trick here is to run a skewer though the potato lengthways about 1cm from the base and slice as thinly as possible (1-2mm) down to the skewer. You can also do this by placing the potato in the 'cup' of a wooden spoon and slicing down to that.
Next, you need to melt about 50g (2oz) of butter (unsalted is preferable if you have it) in a baking tray with the oven at around 180C, add a couple of slugs of olive oil and place your spuds in the tin. They need to be covered in the oil but rather than shake them around I think they look better as baby armadillos with the oil spooned over them.
Lastly they need a sprinkling of herbs, perhaps fresh chopped oregano, or if you haven't yet developed your herb garden (DYOFC 12) a little pinch of dried mixed herbs.
Pop them in the oven for 50-60mins, occasionally basting them with the oil and you will have some rather tasty but different looking spuds to accompany your joint. All you need to add are some colourful vegetables, a splash of red wine gravy and some mint sauce to convince everyone that you've just returned from Master Chef.
While on your walk
I don't think I will be alone in saying that this spring I have never before gained so much pleasure from a daily walk. Thankfully no 'beast from the East' this year and spring flowers have never looked better.
Take milkmaids or cuckooflower, or ladies smock – it has many colloquial names depending on whereabouts in the country you live but only one scientific one, Cardamine pratensis, no matter which part of the country you live in, or which country in the world you live in for that matter. Scientific names are like Esperanto, and it is from them that you can work out which plants are related to each other.
I love to link our native flowers to those we grow as garden plants and our brilliant columnist Louise Sims wrote about this plant's relative Cardamine quinquefolia on our main blog a couple of springs ago.
Less welcome is a much more diminutive relative Cardamine hirsutus or hairy bittercress which is one of the most pesky weeds I have in my garden and we wrote about this and other weeds in one of most popular blogs last year: 'eight weeds to worry about and what to do about them'. (Links to both these articles at the end)
Some of our native plants deserve a place in our gardens in their own right, and none more so than our native spurge, Euphorbia amygdaloides, which lights up a shady spot in an electrifying lime green, better than any garden cultivar or hybrid.
Finally, as our birds start to stake out their breeding areas we've learned to anticipate hearing or seeing them in their favoured habitats, always the skylarks soaring above the fields of oilseed rape, in whose open ground they must be building their nests, and always the pair of yellow hammers darting around the tussocky grass at the base of farm hedges, where they too must be planning to build a nest and raise their young.
If you'd like to join our DigYourOwnaForCorona gang and get our weekly emails, do please subscribe here:
#DIGYOUROWNAFORCORONA
Cardamine quinquefolia – Louise's take on the milkmaids' garden relation
and then there's….