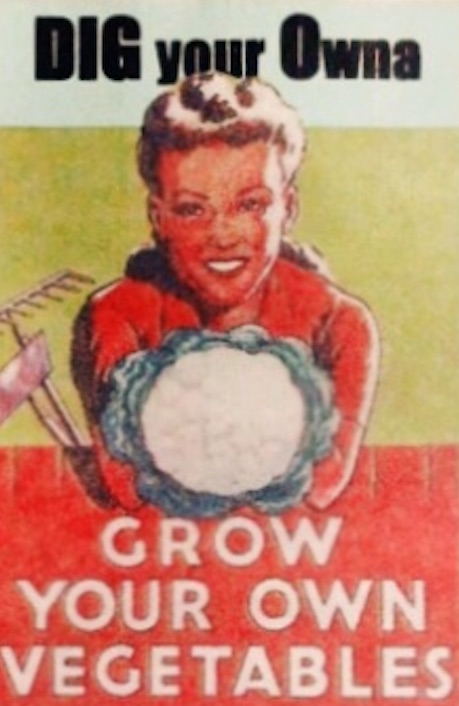 Most of us have been forced to slow up so let's make the most of it what 'lockdown' can offer. If you're growing veg (maybe you've been following our #DigYourOwnaForCorona campaign), let's have a look at how that's going. And what about cooking home produce? Nigel shares a fantastic parsnip and spinach recipe here, and on our daily walk we're spotting spring butterflies and clues that hedgerows and woods have ancient origins.
Veg first then. Cucurbit is the general name for courgettes, squashes, melons and cucumbers. Coming from the same family they share characters like preferring warm weather and a rather sprawling habit (I've got a few family relations like that). They also look very similar as seedlings, so if you are growing more than one type of cucurbit it's really important to label each and every pot.
Caroline once spent an entire summer searching for courgettes on a plant she bought at a village open garden event (OK I'll come clean, it was my Garden Open Day) only to discover in September that it had actually produced one enormous butternut squash. An old gardening custom is to write the first letter (or two in the case of courgettes versus cucumber) in indelible pen on the outside of each pot.

If you've been growing your onions or shallots in trays to get them started it may be time to move them onto their final planting position if they have a good root system. We plant ours about six inches apart, with the top of the bulb above ground, and Tim uses a stick of the right length to measure out the distance between each one.

Peas germinate really quickly and as Elaine keeps telling us, are delicious if eaten raw at the shoot stage. The problem is that if you are planting them outside, intending to let them grow on, mice and birds also find them delicious if eaten raw at the shoot stage.
A piece of chicken wire or some string on sticks criss-crossing the area will deter the pigeons and sparrows, and the mice can be moved on to other parts of the garden using humane mouse traps.
If you're not having any luck getting hold of tomato seeds, you could try just taking them out of a shop bought tomato, it's quite straightforward. Simply cut the tomato open, scrape out the seeds, dry on kitchen towel, then sow as usual.
Parsnip and Spinach Timbales
This week I'm going to use one of my favourite vegetables – Parsnips to make Timbales. You won't be pulling them from your veg garden for a while but when you do, take one medium parsnip for two people, quarter it lengthways and take out the woody centre as you would core an apple.
Next, cook in salted boiling water for 10 minutes or so until very soft, drain well and put in a food processor together with a tablespoon of double cream and an egg and season well (even add a little paprika). Blitz!
Take two ramekins and place a disc of greaseproof paper in the bottom of each and divide the parsnip puree between them.
Now you have to do much the same with a large handful of spinach, or broccoli, or kale or any spring greens. Show them some boiling water then plunge them into cold water to keep their colour.
Whizz as before with cream and an egg and then spoon over as a second layer in the ramekin.
To cook, place the ramekins in a deepish, ovenproof dish and pour in boiling water to half way up their sides. Place in a medium oven with anything else you're cooking and leave them for around 40 minutes when they should have risen a little like mini souffles and have a spongey top.
Now for the fancy bit. Run a knife round the edge and turn them out carefully, ditching the paper disc.
Head for the kitchen windowsill/ conservatory/ greenhouse and you should find that the dried peas that were sown three weeks ago are now 3 or more inches (7 cm) tall, pinch off just a few of the tips and decorate the top of the timbales. I have also added a couple of Campanula flowers from the garden for effect – they are edible but don't taste of anything. You could of course substitute parsley for decoration and other edible flowers such as marigold petals, violas, nasturtiums, borage etc. if you have them handy.
So you've ended up with an easy but eye-catching, tasty serving of veg to brighten up any plateful of food.
(You can find out how to grow the veg I have been talking about today in these DigYourOwnaForCorona blogs: parsnips and broccoli; spinach and kale; peas).
On our daily walk
How old are our hedges?
It's easy to spot that you're in a piece of ancient woodland at this time of the year. Carpets of anemone followed by a sea of bluebells and the pungent smell of wild garlic.

But you can also often spot these 'ancient woodland indicator species' in the bottoms of hedgerows in even quite urban locations, as vestiges of the woodland that once covered most of the British Isles. If you look closely you can sometimes pick out some of the lesser known species such as dog violet or the diminutive 'town hall clock'. The latter is so called because its tiny flower has four square faces (with a fifth face on top) and I was delighted to discover that an alternative name for it is the Good Friday plant, as this is exactly the day I spotted it on our daily exercise walk last week.
More more ubiquitous and more easily seen at this time of the year in our hedgerows is the hedge garlic.

I know that as soon as I see the leaves and flowers of this spring stalwart I will very soon see one of our earliest butterflies, the orange tip, which needs to mate and lay its eggs on the fresh hedge garlic leaves before this biennial plant sets seed and dies back.
Although butterflies are happy to take the nectar of garden flowers such as buddleia, their caterpillars need native plants to eat and complete this part of their life cycle, so try to make sure that your garden has at least a little bit of both. If you don't have any hedge garlic in the vicinity, the wonderfully mauve-flowered honesty is a good garden substitute as it is closely related to the native hedge garlic and can also host orange-tip caterpillars.
It's a theme we explored a bit further in one of our blogs last spring:
Going native to help our butterflies
NB: If you're new to The3Growbags, we are three sisters (Laura, Caroline and me, Elaine) who write about gardening once a week and enjoy a good laugh.
You can see all 14 steps to creating a veg patch here. Our regular gardening blog now includes a veg-growing section. We'd love you to join us by entering your email address here. We'll email you every Saturday.