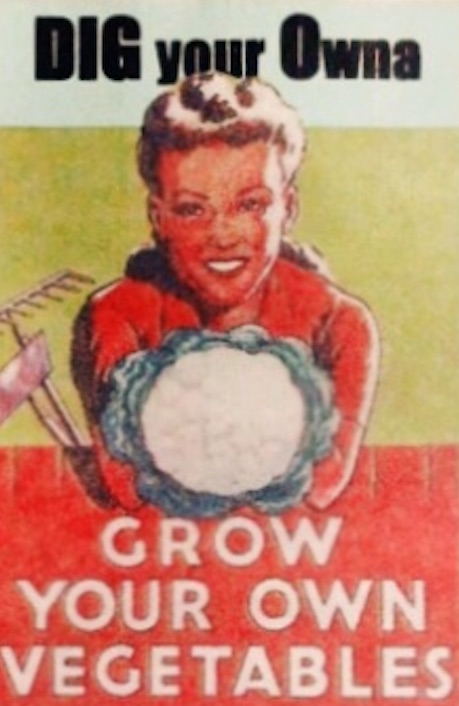 Hurrah! we can invite friends and family around to the garden to have a barbecue and if you've been attentively caring your veg plot all over lockdown, or, as Elaine has been doing, growing salad crops in pots on the terrace, now is your chance to really show off.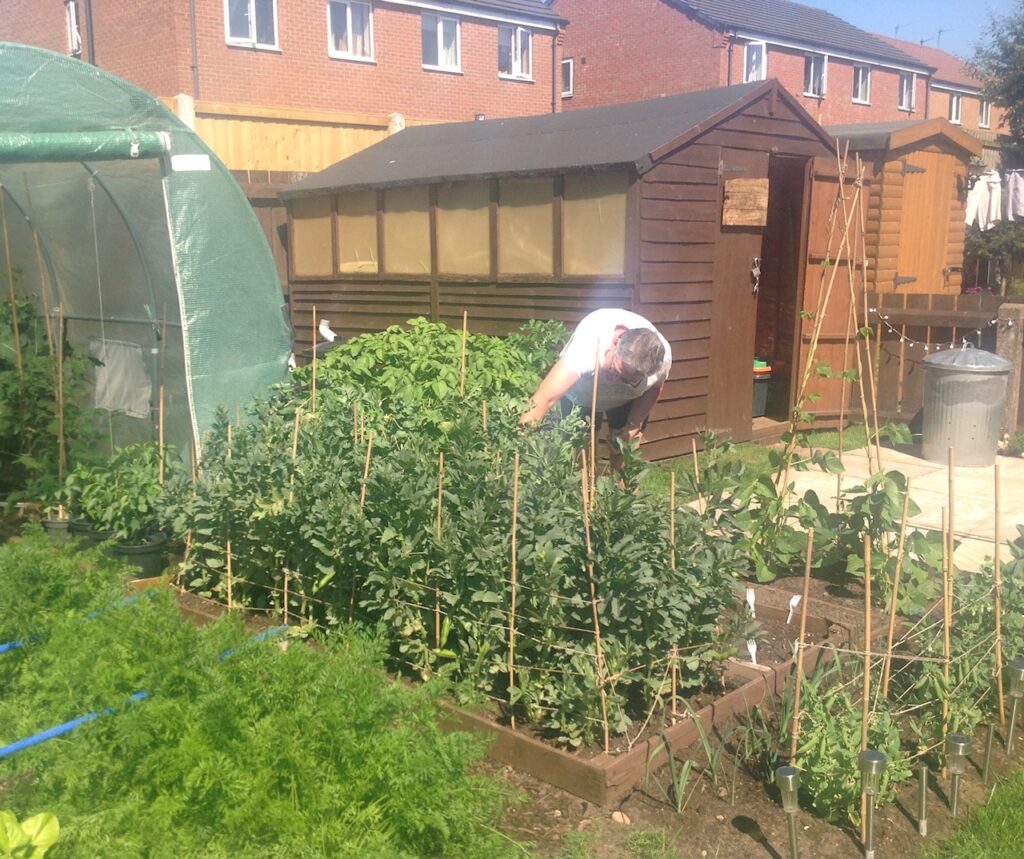 One of the joys of growing your own is that your side salad can be picked straight from the garden, rinsed, trimmed and served in under half an hour, making you the freshest, crunchiest salad on the block. A quick forage in your plot can yield plenty of ingredients (see our feature picture this week) and the herb garden should provide a sprig of mint for the jug of Pimms. I would be surprised if any of you have ripe tomatoes yet (go on – someone prove me wrong) but we already have young cucumbers forming.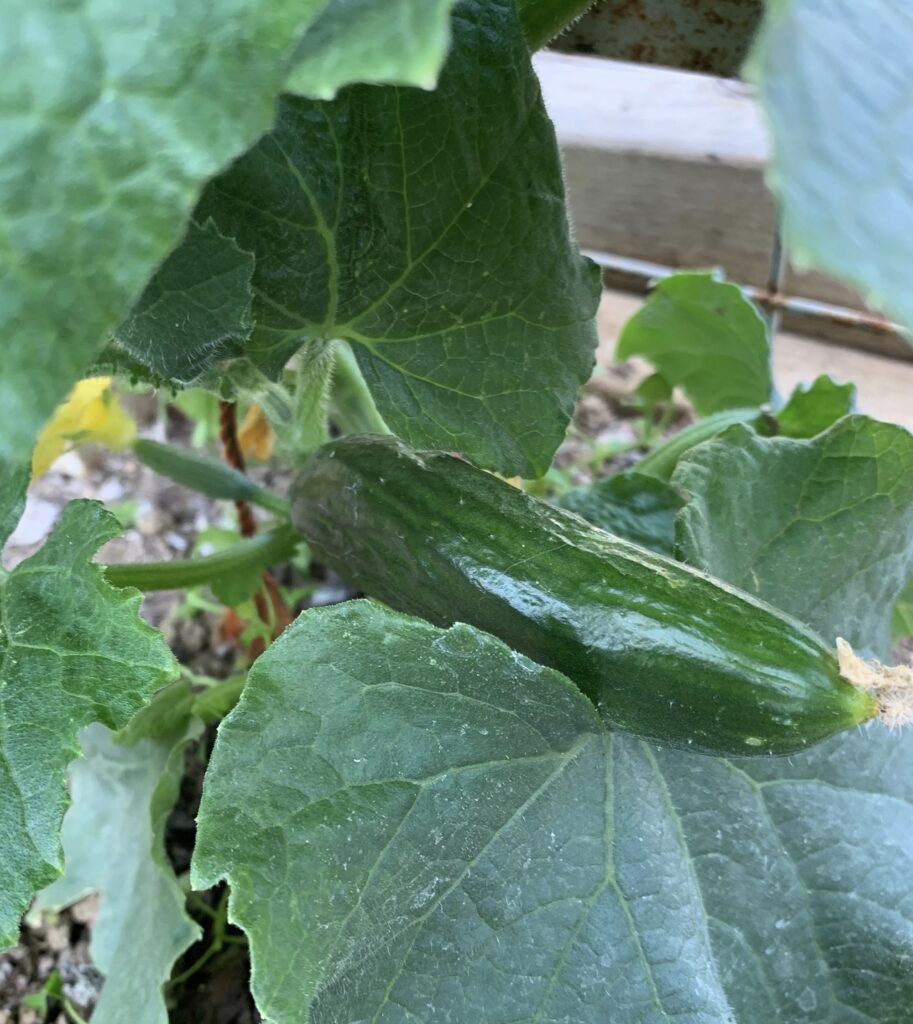 A very simple way to enhance your homegrown salad is to knock up your own dressing to go on it. This is probably teaching grandmothers to suck eggs, but if you don't already know, you simply have to mix three parts olive oil to one part wine vinegar, and a teaspoon or two of Dijon mustard and some sugar to taste, give it a good shake up and this will keep for several weeks in the larder.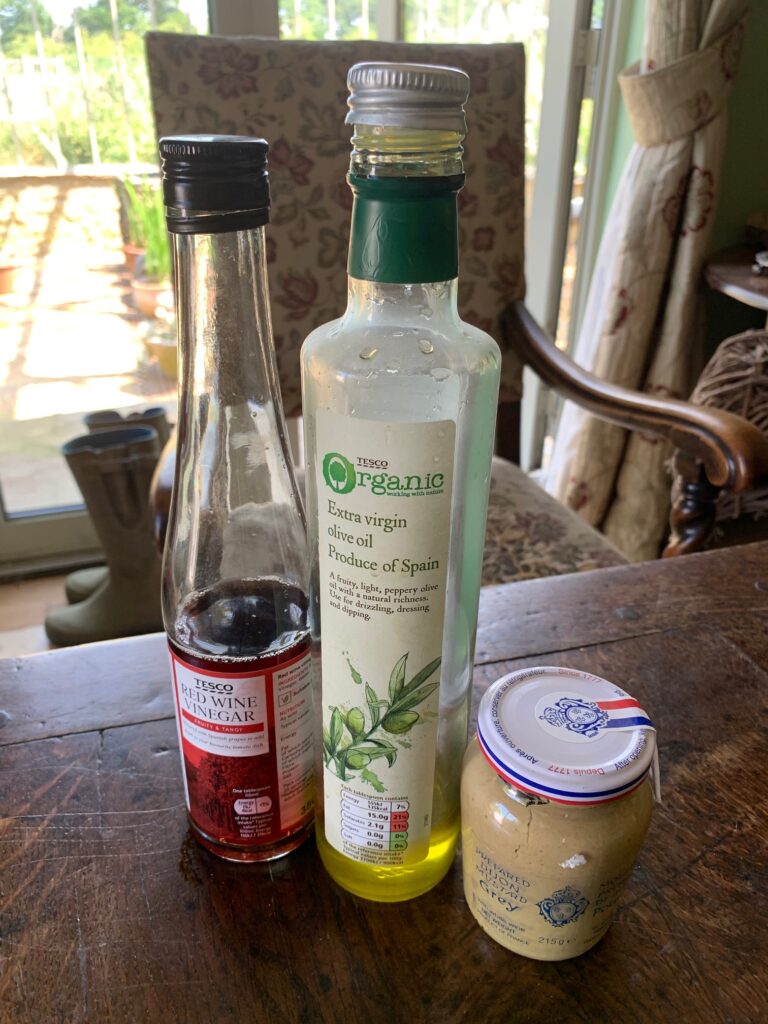 You may be enjoying the blistering heat of blazing June but now that you're a properly canny veg gardener, you need to be one step ahead of the game and need to be thinking ahead to next winter and your lovely leek crop.
Hopefully having lifted your early potatoes or cropped your broad beans you'll have a little space in your plot to plant out the leeks.
If you have sown your own this is a simple job of transplanting from a nursery bed, but you can also buy bundles of them at this time of the year too.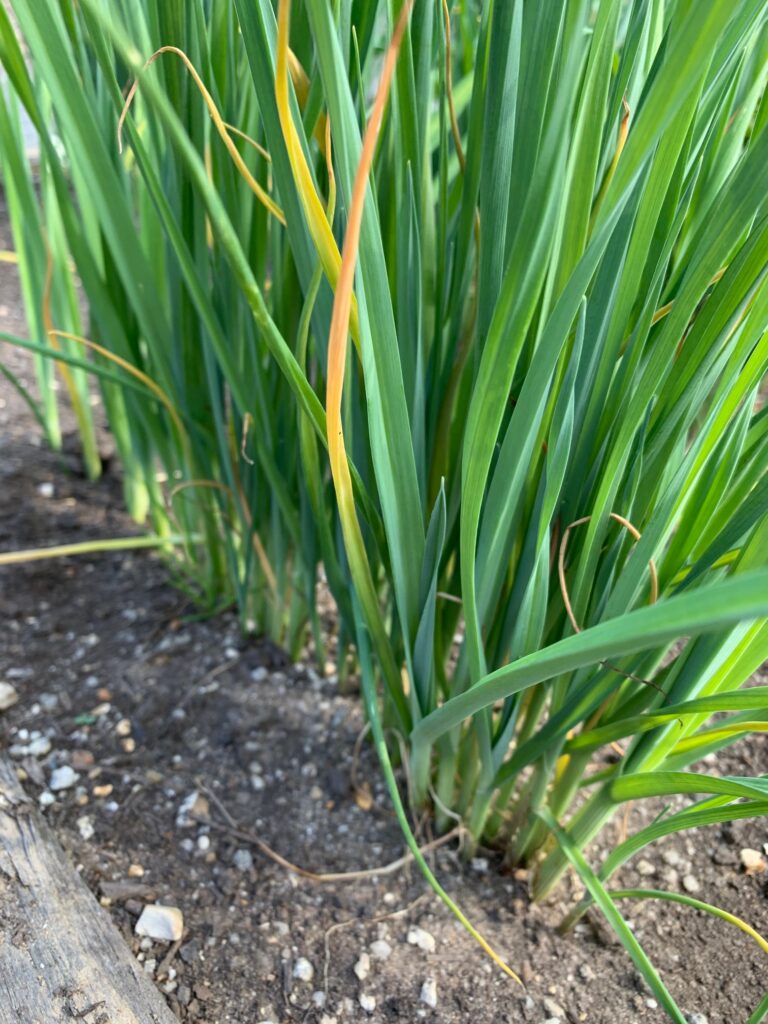 Remember that leeks need a slightly different planting technique to other vegetables as the need space around their stems to expand into, so make cylindrical holes about six inches apart and drop the leeks in do their roots make contact with the bottom of the cylinder. Water them in for few days until the roots have established.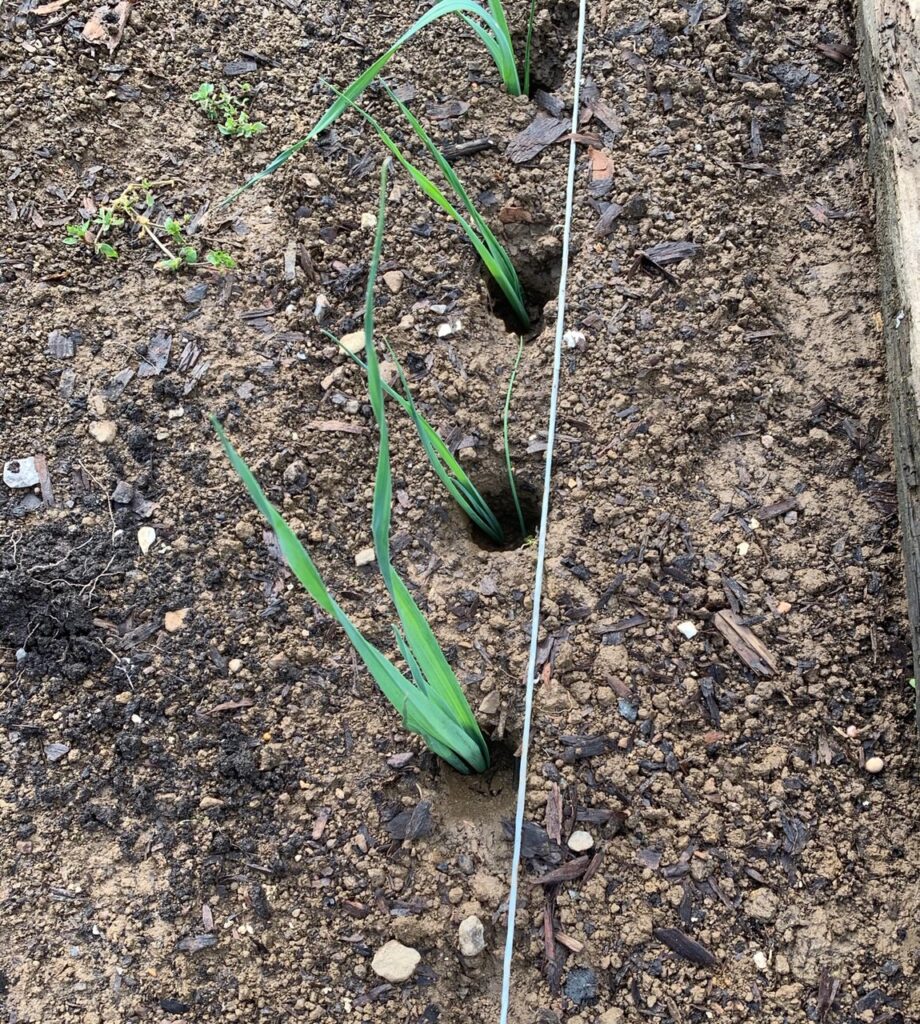 Recipe: Chilled cucumber soup
Last year we had such a surfeit of cucumbers in our greenhouse that I decided to try and do something with them.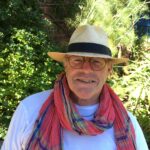 After a few attempts I came up with the following recipe which everyone seemed to enjoy and find refreshing, and to which you can add other salad produce if you have it to hand.
Peel and de-seed a couple of cucumbers and roughly chop. Next take all the flesh out of two ripe avocadoes and chop those.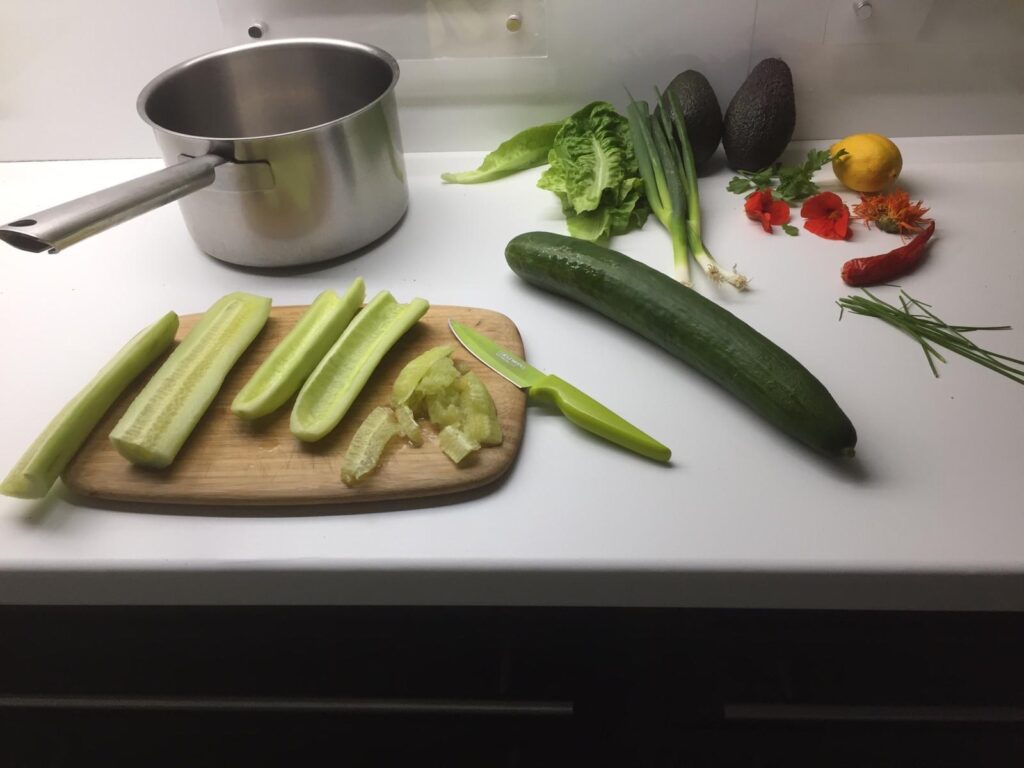 Melt a large knob of butter in an appropriate large saucepan with some lemon juice and gently saute the cucumber and avocado chunks together with a handful of torn lettuce leaves, sliced padron peppers, some diced shallots, rings of spring onion and one or two de-seeded and sliced chillies.
Add about a litre of boiling water, season and simmer for a few minutes.
Mix it in a blender in batches and thin it a bit more with water if you feel it needs it. Leave to cool, preferably in the fridge overnight.
A bowlful looks a bit dull at this point, so swirl some Greek yoghurt into it, and sprinkle liberally with edible flowers and leaves. The taste and the look of the dish is very summery and uplifting – you can even add ripe cherry tomatoes, quails' eggs or even berries to create different effects.
On your daily walk
It pains me greatly to have to admit my sisters are right and I am wrong, but here goes. In a previous blog I was heard to say that I wouldn't give a cherry tree house room in my garden and had a right moan about the insidious suckering habit of a wild cherry on our boundary. Well it's all change. Since I have been working at home I have witnessed first hand the incredible crop of cherries it has produced and the constant delight of our local blackbird population who have been feasting on them for over a fortnight, so Prunus avium is receiving an official pardon from me.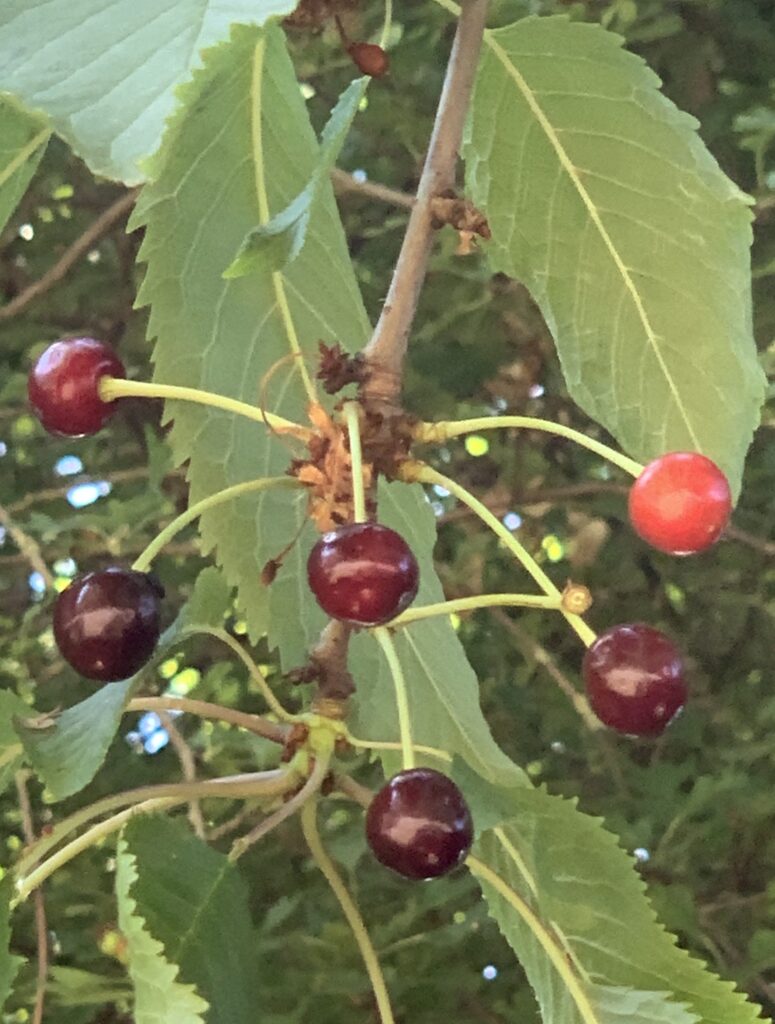 And just because blackbirds are relatively common in our gardens and hedgerows, it doesn't make them any less welcome and their beautiful melodic song, always the last to be heard in the evening, is still really special.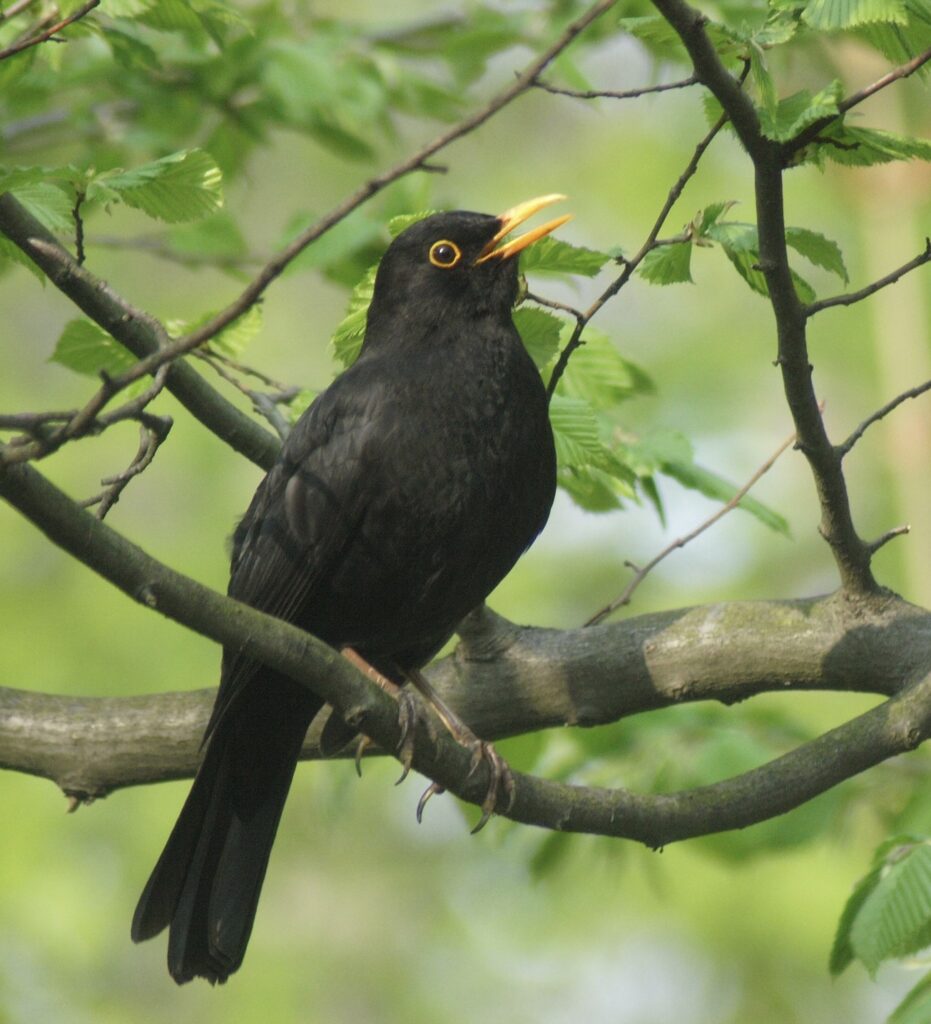 Out in the meadows the hot weather has ripened the yellow rattle early and it is splitting its pods already allowing the wind to rattle its papery seed pods and spread the seed for next year.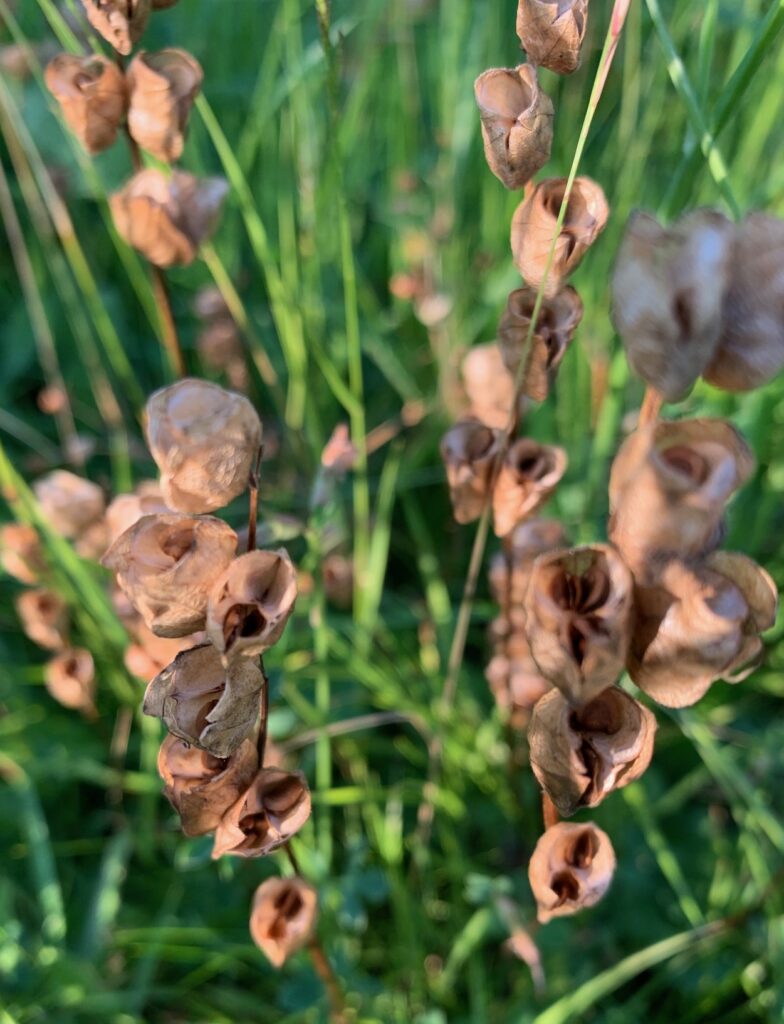 But as one flower goes over another comes to prominence and now it's the turn of black knapweed, Centaura nigra to take centre stage with its tough but strangle attractive bristly buds opening to a soft tuft of purple.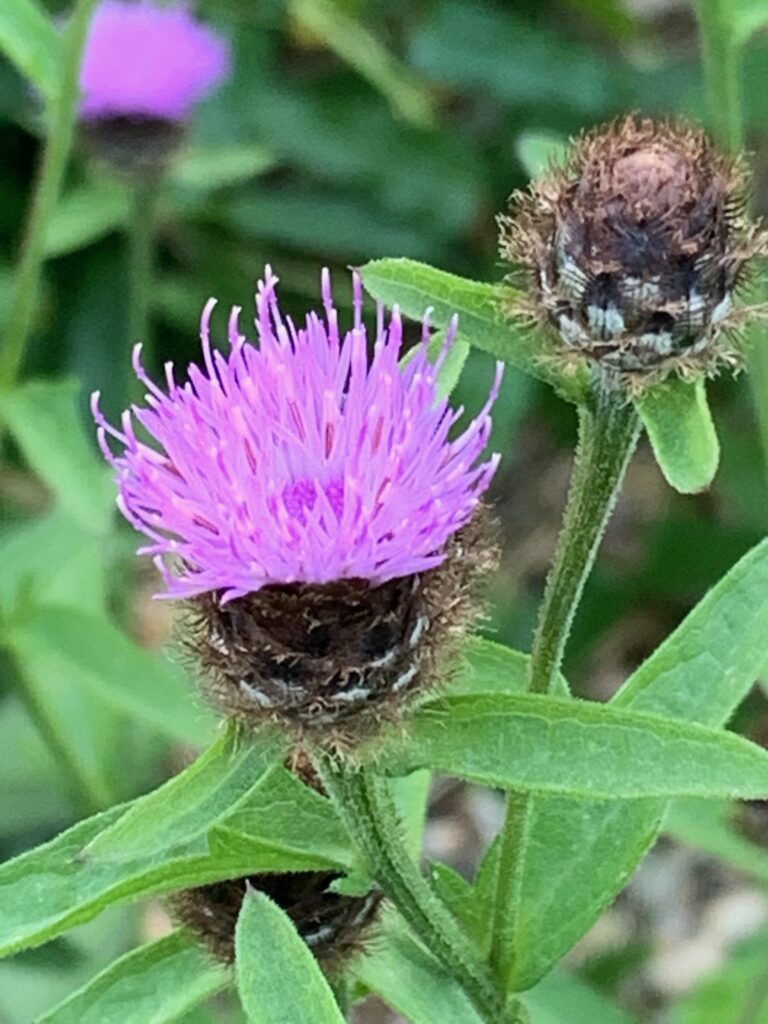 NB If you'd like a reminder of how wrong I was about wild cherry then it's all laid out here in our blog last spring
NB If you'd like a bit more gardening chit-chat from the3growbags do enter your email address here and we'll send you a new post every Saturday morning