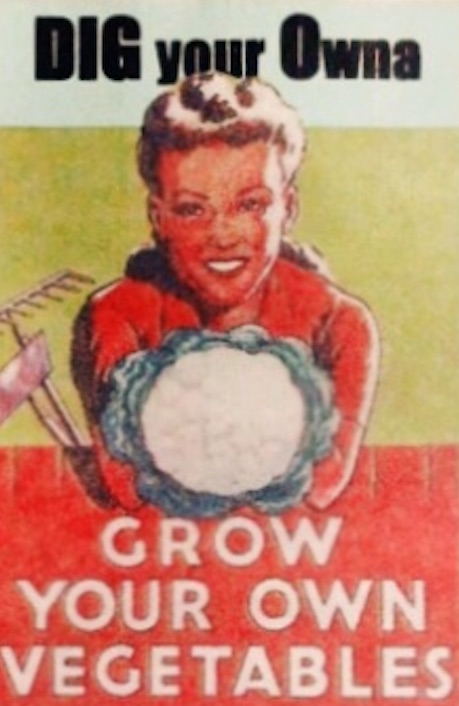 This is the last of our Wednesday DigYourOwnaForCorona posts. We've 100% loved sharing the setting up of a veg garden with you and hope you'll be hooked on the delicious taste of home-grown food this summer.
It's not quite the end though, as you'll see at the bottom. We really hope you'll stay with us – we've still got a lot of veg love to share.
So, we've all had to hunker down for a few days, while what the weather men describe as a 'cold plunge' sweeps across the UK (also a feature of hot-tub parties according to Caroline). But use this time wisely to tackle the dark art of 'runner bean A-frame construction'.
If you have only a few plants or plan to grow them in a large pot, a conventional wigwam approach is fine, but larger quantities demand a civil engineering project robust enough to bear the considerable weight of these vigorous climbers, using just a bunch of canes and some string. There are many bespoke design templates clandestinely guarded on allotment sites but Tim's agreed to share the secret of his superior model, passed down through generations of local countrymen in our neck of the woods.
From left to right (or clockwise from the top on a phone). Push pairs of canes in about a foot apart with a space across the middle of about 20 inches. Cross the pairs of canes and bring a pole up underneath the cross and tie it in. Lower another down to the cross from above and tie it in. Finish off by putting in a slanting strut on either side, in different directions on each side. I'm assured that this will produce a frame of structural integrity second only to the Forth Rail Bridge. You'll be planting a runner bean plant by each cane, so will need this number of poles.
Really keen gardening cliques (particularly those planning to enter the 'Longest Runner Bean' class the village horticultural show later in the summer) will have prepared a runner bean 'trench' some months ago and will have been filling it with weird concoctions including old newspaper, egg shells and even back in the day, according to our rural veterinary surgeon father, the afterbirths from spring calving cows. I don't think you need to go that far, but perhaps investigate making nettle or comfrey tea to pour on as fertiliser if you want to be accepted into the tribe.
Another more mainstream job to be getting on with is thinning carrots and parsnips. Hopefully you will have sown (or will be sowing) these directly into the ground where they will be growing, and if they are now showing their true leaves, (rather than just the pair of seed leaves they first opened), you can thin these out now. Thin parsnips out to 6 inches apart. Carrot thinning can be more circumspect depending on the desired end product; if size matters then give individual carrots room to expand, but we like to use smaller carrots raw in salads over the summer so thinning is less draconian.
Recipe: Cooking with flowers
Not so much a recipe, more a few ideas for using the abundance of your garden to give any dish an extra flavour and sparkle. The list of edible flowers and leaves is huge, and there are many available online.
There are a few words of warning:
Ensure

the flower is what you think it is.
Mostly only use flower petals, except for very small flowers (violets etc.)
Quickly rinse them before use.
So I'm going to mention a few ways you can add drama to your plates:
Vichyssoise – Once you've made some lovely leek and potato soup, seek out some chives and chop over the top and then with a swirl of cream add the chive flowers, or ever better search for wild garlic and use its leaves and white flowers.
Green salad – Make sure you use as many different leaves as possible including nasturtiums (and the ubiquitous pea shoots ) and then sprinkle nasturtium and pea or runner bean flowers over the top.
Pasta – Whether seafood or bolognese, scatter pot marigold or chrysanthemum petals (great choice of colour here) across the plate to make it look sensational
Mashed Potato – You've probably gathered that I love mash, but a handful of borage flowers look pretty over the top and taste great. In fact use with any veg.
Courgettes – Fry them, bake them, steam them, stuff them, but add the fried flowers as well to show off.
Starters – Try viola flowers with a pate, or rosemary flowers, or campanula, or sprigs of lavender to decorate and add flavour.
Desserts – An almost endless choice to add to any sweet dish; clover, pinks, violets, sunflower petals, tiger lilies, etc, and rose petals tossed across a cheese board look stunning.
Fruit – Put strawberries in gazpacho, elderberries over white fish, raspberries around a white sauce.
Overall make any plate a gorgeous work of art with added flavour just using what's available from your patch.
On our daily walk
Out in the countryside, cow parsley is king, swathes of its frothy flowers dominating our hedgerows and shady corners of our gardens.

I have a little colony of a garden variety of this wildflower called Anthriscus 'Ravenswing' which has been selected for the dusky purple colour of its stems and leaves, but because it is essentially the same plant as the wild one it interbreeds and I have to carefully weed out any young plants that look like they have mixed with wild ones, to maintain the purity of my little purple brood.
Another signature plant at this time of the year is the yellow flag, Iris pseudacorus, which lights up pond edges and ditches. You can also get garden sports of this species, with variegated leaves or pale cream flowers, but to be honest in this case there's nothing wrong with the unadulterated wild type.

Ponds themselves are busy places now with early dragonflies emerging, and as you approach you will often hear the noisy splashing of ducks or moorhens as they fuss around their chicks.
NB: If you're new to The3Growbags, we are three sisters (Laura, Caroline and me, Elaine) who write about gardening once a week and enjoy a good laugh.
You can see all 14 steps to creating a veg patch here. Our regular gardening blog now includes a veg-growing and country walk section. We'd love you to join us by entering your email address here. We'll email you every Saturday.